Today, we are sharing our latest instalment in our series of Instant Pot cookbook reviews. We love sharing recipes with you, but we're also eager to share great written resources as the Instant Pot grows in popularity, and more cookbooks or guides are on the market. In this post, we're featuring co-authors, Barbara Schieving and Marci Buttars' Instantly Sweet cookbook.
---
The book: Instantly Sweet: 75 Desserts and Sweet Treats from Your Instant Pot or Other Electric Pressure Cooker cookbook by Barbara Schieving and Marci Buttars
The focus: 75 amazing desserts in your Instant Pot or another electric pressure cooker.
Featured guest recipe: Instant Pot Caramel Pecan Cheesecake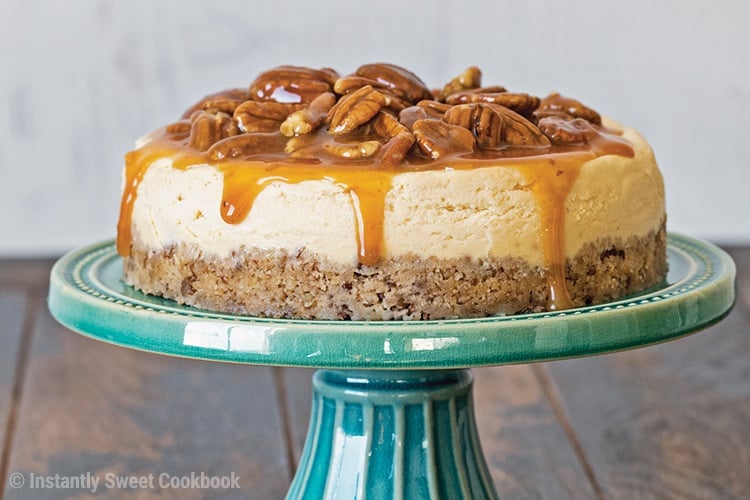 About the cookbook
Making desserts from scratch isn't always easy when you cook with traditional methods, like the oven or slow cooker. This is where the electric pressure cooker comes in. Electric pressure cookers and multi-cookers, like the Instant Pot, are proven to be fast, safe, and more versatile than you'd expect.
In Instantly Sweet, Barbara Schieving and Marci Buttars serve up hot, scrumptious, and satisfying desserts that can be made in a flash in your electric pressure cooker. No one knows  Instant Pots or electric pressure cooker betters than Schieving, author of the bestselling The Electric Pressure Cooker Cookbook, and Buttars, author of Mastering the Electric Pressure Cooker. They deliver their wealth of experience with these appliances to you, which you can take straight to the dessert table.
Instant Pot cakes, cheesecakes, and lava cakes have been sensational hits on the Internet—even when the online recipes were a little shaky. In these pages, you will find lots of tested-to-perfection versions of each of these categories. Each recipe is reliable to follow and delectable in its results. Here, too, are puddings, cobblers, and even pies. This cookbook includes more than just desserts since many quick breads can be made in the Instant Pot or its cousins—perfect treats for breakfasts on the fly, lunchboxes, after-school snacks, and late-night munchies. Instantly Sweet is your go-to guide for quick and easy pressure cooker sweets.
What we love about this cookbook
The book has a section called Sweet Talk where it goes into Instant Pot basics and a section called Sweet Tricks to help the user with troubleshooting. Both are very helpful to read before jumping into a recipe and shows that these authors are there for the reader.
Portion sizes are accounted for in the recipes. This is nice when you only want dessert for two or for one meal, instead of feeding a family reunion. The recipes are also creative, while still encouraging the reader to use their own imagination to mix fillings and toppings. And we do love the gorgeous photos!
Who is this book for?
This book is for anyone who wants to see what else their Instant Pot can do. What's more fun than cooking something sweet? If you already love the different functions of your Instant Pot for hot savoury meals, then the world of desserts will only solidify that love. Baking in a cosy warm kitchen is great on snowy days, not so much on sizzling summer days. When you use your Instant Pot on hot days to make cakes, it contains that heat and keeps your kitchen cool. If you want to enjoy a S'mores Lava Cake without building a bonfire, then this is the book for you!
About the authors
Barbara Schieving's distinctive recipes and conversational style have earned her a dedicated readership around the globe. She is the creator of two popular recipe blogs: Pressure Cooking Today, where she shares family-friendly recipes for the electric pressure cooker/Instant Pot, and Barbara Bakes, where she shares her passion for baking. Her sites receive over 1.5 million page views each month. She is the author of the best-selling Electric Pressure Cooker Cookbook; Instantly Sweet; and the ebook, Simply Sweet Dream Puffs. Barbara's delicious recipes have been featured on iVillage, Betty Crocker, Shape, BlogHer, Babble, The Deseret News, and the Salt Lake Tribune. She lives in Herriman, Utah.
Marci Buttars is the co-creator of the popular blog TIDBITS, where she inspires her readers with wholesome, family-friendly recipes that deliver big on unique and delicious flavor. Her work has been featured on popular websites such as Pressure Cooking Today, on the Instant Pot recipe app, and in Fagor America recipe books. She has also presented on Studio 5 and at Salt Lake City's Pinner's Conference.  She is the co-author of Master the Electric Pressure Cooker and Instantly Sweet. 
Get the Instantly Sweet cookbook here.