After a season of indulging in the savory and sweet, now is the time to get back on track with healthy eating. Many people choose a low-carb diet to shed a few excesses kilos and your pressure cooker can be of excellent help. Today, we're featuring our favorite low-carb Instant Pot recipes to support your healthy eating habits.
---
The past couple of months has put most people in a food coma with all the comfort dishes. Family and parties are a great excuse to indulge but now it's time to gear up for the next season. Perhaps a swimsuit vacation season? A low-carb diet is one way to get back on track. This collection of low-carb Instant Pot recipes are a healthy approach to dishes you already love from breakfast to main entres and from sides to desserts. You will find carbohydrate gram count for each dish.
What is a low-carb diet?
A low-carb diet is a diet that restricts carbohydrates found in sugary foods, pasta, and bread. You can still eat high protein, fish, eggs, vegetables, fruit, nuts, seeds, high-fat dairy, cooking fats and healthy oils.
The idea is that by reducing the carbohydrates to a minimum, your body will start using its own fat deposits for energy and you will begin to lose weight. As with any diet, the calories still matter but the reason low-carb diets may be more effective for some people is that you feel more satiated between meals and are less likely to want to snack or eat again within a couple of hours.
Popular Low-Carb Diets
A typical low-carb diet: Carb intake depends on individual goals and preferences but is usually somewhere between 50 grams to 120 grams per day. There is no restriction on types of foods, as long as you keep the overall carbohydrates down.
Ketogenic Diet: Reducing carbs to under 50 grams per day, which helps to induce a metabolic state called ketosis. Some people try to stick to under 30 grams per day. Dairy is usually allowed.
Low-Carb, High Fat (LCHF): Focuses mostly on whole, unprocessed foods and is pretty similar to Ketogenic but with less strict carbohydrate intake.
Low Carb Paleo Diet: Eating low-carb while sticking to unprocessed foods and avoiding grains, legumes and dairy.
The Atkins Diet: Allows you to consume plenty of fat and protein, this is similar to Keto and LCHF but allows more protein and isn't as concerned with the food sources.
Eco-Atkins: Vegan version of the Atkins diet.
Low-Carb Mediterranean Diet: It includes more fish and extra virgin olive oil.
Low-Carb TIPS
Carbs: You start cutting the carbohydrates intake down to 50-120 grams to begin with and then progress to under 50 grams of carbs per day if you want to get into ketosis and reap the full metabolic benefits.
Protein: Excessive protein will have some amino acids turn into glucose which can prevent you from getting into ketosis.
Fat: You need a healthy high-fat diet to get enough energy or nutrition to sustain yourself.
Sodium: Low-carb diets lower insulin levels, which make your kidneys have excess sodium. This can lead to sodium deficiency. Make sure to stay hydrated and consume sufficient sodium (salt) while following a very low-carb diet.
Quitting: Your body needs to adapt to this new habit of burning fat instead of carbs, so you may feel a little under the weather at first. It's tempting to quit, however, it may take a week to adjust to the new regimen.
Keeping the nutrients up: going low-carb doesn't mean you can't have fruit and veggies and it's important to be strategic with your choices. Leafy greens and cruciferous vegetables like spinach, cabbage, broccoli and kale are low in carbohydrates and are full of nutrients and fibre. Avocados, radishes, celery, cucumbers and zucchini are great for salads and snacks. Low-sugar fruit like berries and papaya can be included in small amounts and will provide you with lots of antioxidants.
A well-balanced diet and exercise are essential to achieving your goal this new year. So be patient, stick to your routine, and be determined to keep your fabulous self on the mission.
---
LOW-CARB INSTANT POT BREAKFAST
Instant Pot cheesy egg bites are easy to make and are super convenient for breakfast, lunch or as a snack. These egg bites and gluten-free and grain-free. 3 grams of net carbs.
This Instant Pot Breakfast Casserole with Sausage is an easy, 4 ingredient breakfast that is low carb, gluten-free and healthy! You will LOVE it! Under 1 grams net carbs. Recipe from Food Faith Fitness.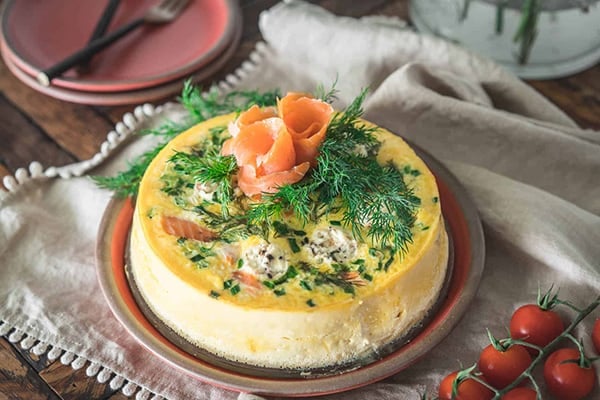 Fluffy eggs, savory smoked salmon, fresh dill and scallions with creamy pockets of everything bagel cream cheese made in your pressure cooker. Smoked Salmon Frittata is perfect for any time of the day you're looking for a delicious and nutritious low-carb meal! 3 grams of net carbs. Recipe from Health Starts In The Kitchen.
In these Instant Pot egg bites, bacon and Gouda cheese add tons of smoky flavor, while ricotta cheese makes each bite light and velvety. These egg bites are perfect for a quick grab-and-go breakfast. 2 grams of net carbs. Recipe from Delicious Little Bites.
---
LOW-CARB INSTANT POT MAINS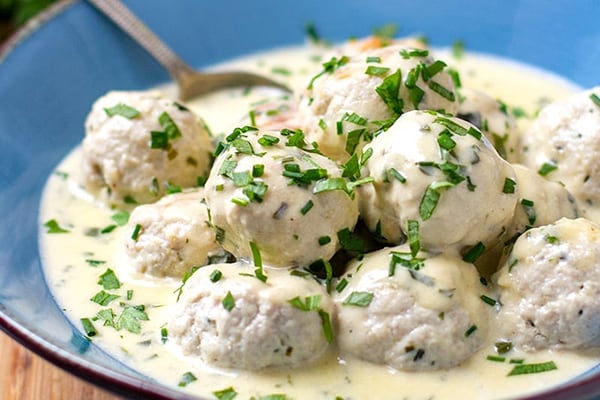 Smothered in creamy white sauce and served over sauteed leafy greens, these Instant Pot chicken Alfredo meatballs have the potential to get on our weekly cooking rotation. Plus, this meal is gluten-free, low-carb and keto-friendly and kids love 'em. 7.2 grams of net carbs.&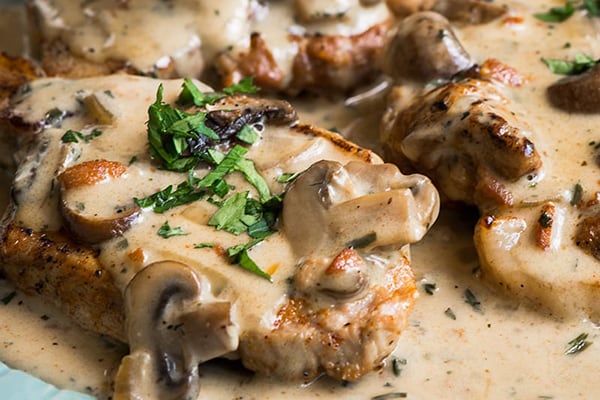 These Instant Pot pork chops cooked in a mouthwatering creamy mushroom sauce will make you wonder why you ever made pork chops the old-fashioned way all these years! This delicious low-carb and keto dish is a guest recipe from Dr. Karen S. Lee's latest cookbook Keto Cooking With Your Instant Pot. 10 grams net carbs.
Delicious comforting Keto Lasagna recipe is easily done using an Instant Pot! It's a low carb and gluten-free lasagna version. 6 grams of net carbs. Recipe from Low Carb Yum.
This Instant Pot chicken stew with mushrooms is hearty, creamy and delicious. Using a pressure cooker, it's a quick and easy dinner for the whole family. Serve with rice, potatoes, pasta or veggies. Keto-friendly! 8.5 grams of net carbs.
These keto chicken legs have only 8 grams carbs per two-leg serving or 4 grams for one leg. They are easy to make and taste great! No need for sugary sauce. Recipe from Instant Pot Cooking.
Tender, juicy lamb chunks infused with aromatic spices in a rich curry sauce and topped with spinach and bell peppers. Each serving contains 7 grams of net carbs. Recipe from Low Carb Africa.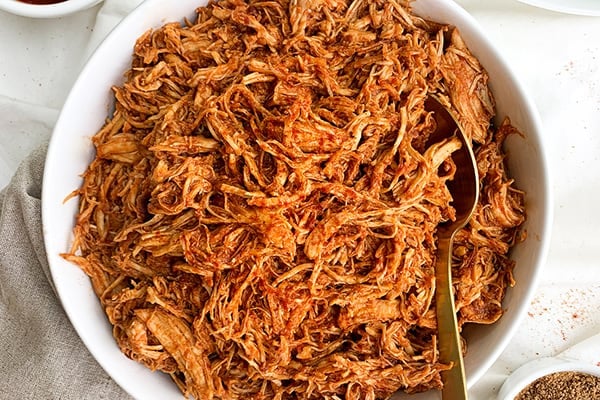 This Healthy Pressure Cooker BBQ Pulled Chicken recipe is perfect for meal prep for make-ahead lunch and dinner. Protein-packed & made low in sugar with only 3 ingredients. A gluten-free, low calorie, and low carb healthy meal ready in 30 minutes. Recipe from Hello Spoonful.
Instant Pot Egg Roll in a Bowl is a quick dump and start low carb recipe. Easy to make and delicious! Recipe from Simply Happy Foodie.
These Instant Pot meatballs are so easy and quick to make–no stove or oven required–and are the ideal paleo and Whole30 comfort food. You can leave out the carrot to make them even lower carb. 9 g carbs/7 g net carbs per serving. Recipe from A Calculated Whisk.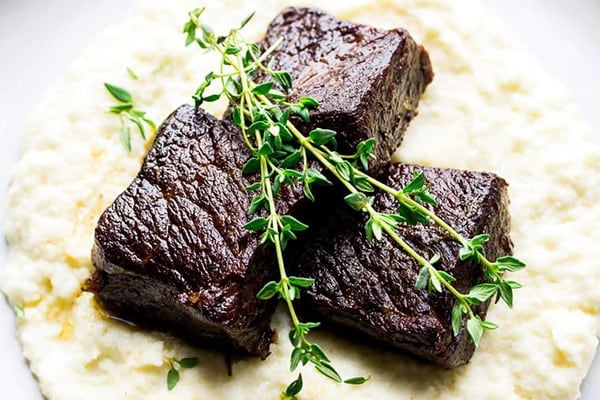 Garlic Butter Instant Pot Short Ribs are flavored with a simple combination of butter, garlic, and fresh thyme. Now you can enjoy fall apart, incredibly tender short ribs in a fraction of the time! 1 gram net carbs per serve. Recipe from Delicious Little Bites.
This Instant Pot Salmon Tikka Masala is super flavorful, warm and creamy, perfect to satisfy those curry cravings. Marinated salmon steamed along with tikka masala sauce in the pressure cooker. Serve over basmati rice or enjoy with naan for a scrumptious dinner! 8 grams of net carbs. Recipe from Piping Pot Curry.
---
LOW-CARB SIDE DISHES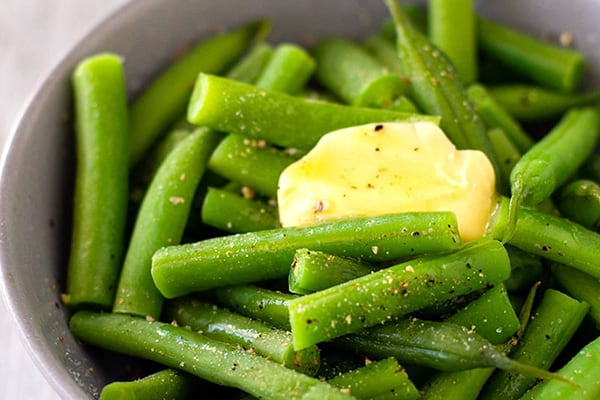 Want a tasty vegetable side dish that requires minimum effort and hardly any cooking? Try these simple Instant Pot green beans with melted butter, sea salt and cracked pepper for a perfect hit of nutrients and fibre. 3.5 grams of net carbs.
Palak Paneer is one of the most popular dishes from North India. It is made with Spinach and Cottage Cheese, cooked with ginger, garlic, onions and aromatic spices. This is a simplified one-pot version of the authentic palak paneer, made in Instant Pot, which takes just 20 minutes to prepare. This is a nutritious Vegetarian, Gluten-free and Low Carb dish. 9 grams of net carbs. Recipe from Piping Pot Curry.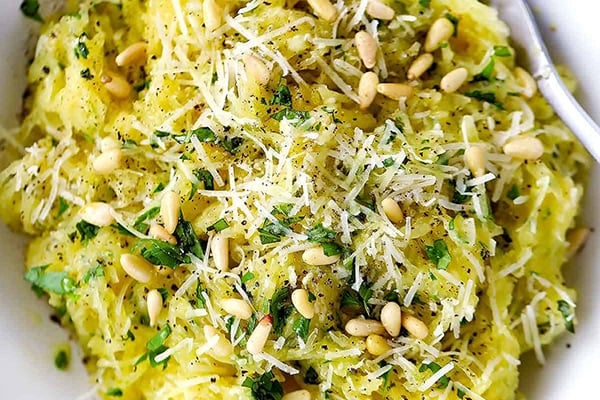 This Instant Pot Spaghetti Squash Recipe is tossed with garlic, herbs, parmesan cheese, and olive oil, and cooks up in only a few minutes in your pressure cooker! This is the perfect low-carb alternative to pasta or a delicious vegetable side dish for any occasion. 14.5 grams net carbs. Recipe from Bowl Of Delicious.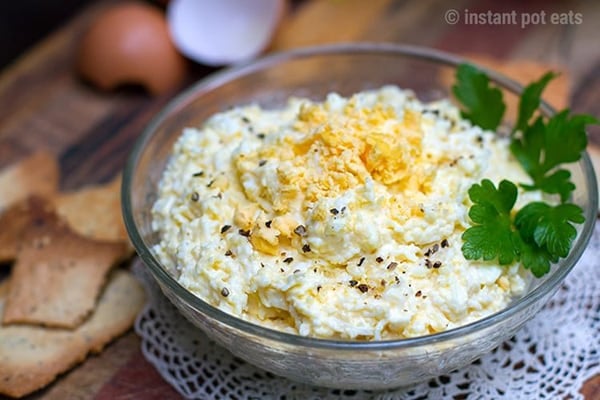 This tangy and sharp Instant Pot egg salad (or dip) is made with cheese, mayo, and garlic and is inspired by a Ukrainian family recipe, often prepared for celebratory feasts and parties. Perfect for using up hard-boiled eggs, this recipe is gluten-free, keto and low-carb friendly. 1.5 grams of net carbs.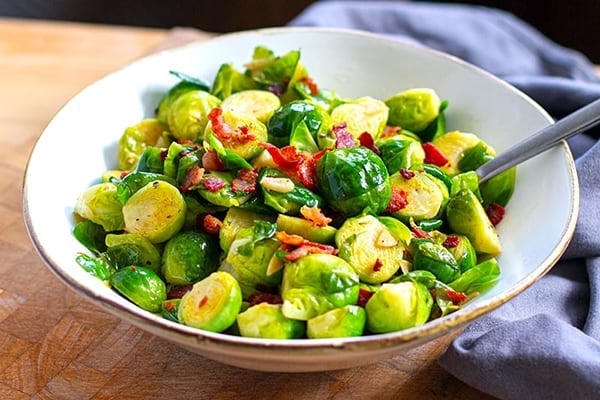 With only a handful of ingredients, this recipe for Instant Pot Brussels sprouts with crispy bacon and garlic is a must-have not just for Christmas or Thanksgiving, but for any day of the week. These mini cabbages have a nutty, sweet flavor and make for a great side dish to any mains. 5.5 grams of net carbs.
You might be a sceptic when you hear about cauliflower mac and cheese but this is an awesome gluten-free, keto version of the real thing. In this Instant Pot recipe, you'll learn the best way to steam cauliflower in order to make this low carb mac and cheese recipe. 4 grams of net carbs. Recipe from Yellow Glass Dish.
A quick and easy sausage and cabbage recipe that only takes 4 minutes in the pressure cooker. Only 6 everyday ingredients! 8 grams net carbs. Recipe from Fanantabulosity.
Low Carb Brussels Sprouts Alfredo is a creamy and cheesy side dish loaded with bacon which quickly cooks in the Instant Pot pressure cooker. 11 grams net carbs. Recipe from This Old Gal.
This Instant Pot Bone Broth Recipe is delicious, packed full of natural collagen and nutrients, and is so easy to make. Made with both chicken and beef bones, learn how to make this super versatile Instant Pot Bone Broth and enjoy all the amazing health benefits of traditional bone broth in a fraction of the time. 3 grams of net carbs. Recipe from The Forked Spoon.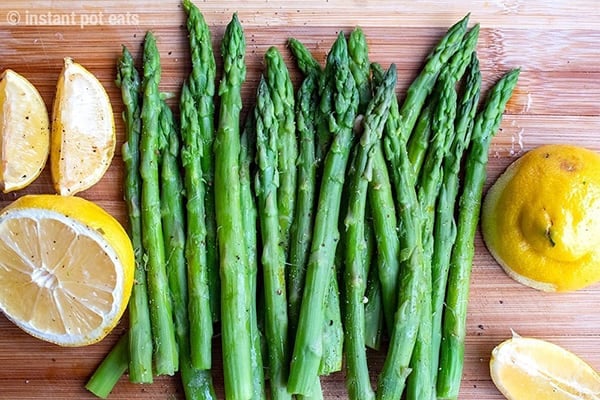 Looking for new recipes with spring greens? This Instant Pot asparagus dish is super quick and easy and makes for a great side accompaniment to both meat, seafood and plant-based mains. This recipe is vegan, paleo, Whole30, and keto-friendly. 3 grams of net carbs. Recipe from Instant Pot Eats.
---
LOW-CARB INSTANT POT DESSERTS
This low-carb vanilla mousse is a breeze in the Instant Pot. Decorated with strawberries and blueberries, these cute little jars only have 2.5g net carbs! Recipe from My Life Cookbook.
Why heat up the oven when you can easily whip up this decadent Chocolate Cheesecake using an Instant Pot. It's low carb, gluten-free, sugar-free and Keto. 5-6 grams net carbs (13 total). Recipe from Low Carb Yum.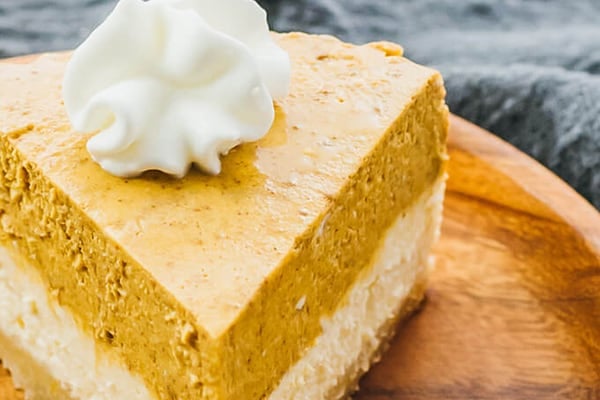 This is a layered cheesecake with a top pumpkin layer and middle plain cheesecake layer, supported by a thick almond crust. It's a modest cake, only 6 inches in diameter, and uses a small pan that easily fits inside the Instant Pot. It's Keto, low carb, and gluten-free. 6.2 grams of net carbs. Recipe from Savory Tooth.
You won't believe that this Banana Bread Bottom Cheesecake is low-carb or how easy it is to make using your pressure cooker. If you don't have an Instant Pot, don't worry! This recipe also includes directions for baking in the oven. 5 grams of carbs. Recipe from This Mom's Menu.
Chocolate flavored Japanese souffle cheesecake that is just 3 ingredients. This cake is cooked in the Instant Pot but can also be baked. The cake is flourless and can be made with sugar or sugar-free for a low carb and keto-friendly cake. 2 grams of net carbs. Recipe from Kirbie Cravings.
---