A new year brings new healthy eating resolutions. There are many dietary approaches out there and we like to help our readers with cooking inspiration. In today's post, we are featuring delicious Weight Watchers Instant Pot recipes (with points!) to help our healthy chefs in the kitchen.
---

Has this season of festivities caused your clothes to be a little tighter than what you would like? Or has the whole year been stress eating? Well, it's a new year for new beginnings. Some of our readers have seen results through Weight Watchers. This is not a sponsored post. We just want to help our Instant Pot loving chef's to make healthy living easier and stress-free.
What is the Weight Watchers diet?
Weight Watchers' is a subscription-based diet program with community-style support for health and wellness. It emphasizes fruits, vegetables, lean proteins, foods high in whole grains and low in saturated and trans fats. They assess each member by age, weight, height, and gender, then determine how much food he or she needs to eat to lose weight at a safe rate by assigning each member a daily point target to spend those points on food.
The Points system
A person can eat any foods they choose but are allotted a certain number of points each day. The point system is used on a daily basis to monitor the amount and type of food a person eats. Foods are assigned a specific number of points based on the food's calories, total fat, protein, sugar and dietary fibre content.
There are also 100+ Zero Point foods such as non-starchy vegetables and fruits, which you don't need to count towards your daily points.
What if you aren't good at keeping track? There is The Core (no-counting) Plan. This is based on eating wholesome foods from all the food groups, including fruits and vegetables, grains and starches, lean meats and poultry, and eggs and dairy products.
Weight Watchers provides a variety of ways to help you stay on track. They have in-person group meetings to support, workshops, an online community, coaches, and their own app. They understand that everyone's weight-loss needs are different so their program is customized to you. Check out the Weight Watchers Official Website.
Weight Watchers Instant Pot Recipes WITH POINTS
---
INSTANT POT SHRIMP IN TOMATO GARLIC SAUCE

Made with frozen shrimp, tomatoes, garlic and chili, this recipe is Italian-inspired and only takes 15 minutes. It's gluten-free, paleo, low-carb, Whole30-friendly. 4 WW (SmartPoints) per serving. Recipe from Instant Pot Eats.
Corn Sweet Potato & Chipotle Soup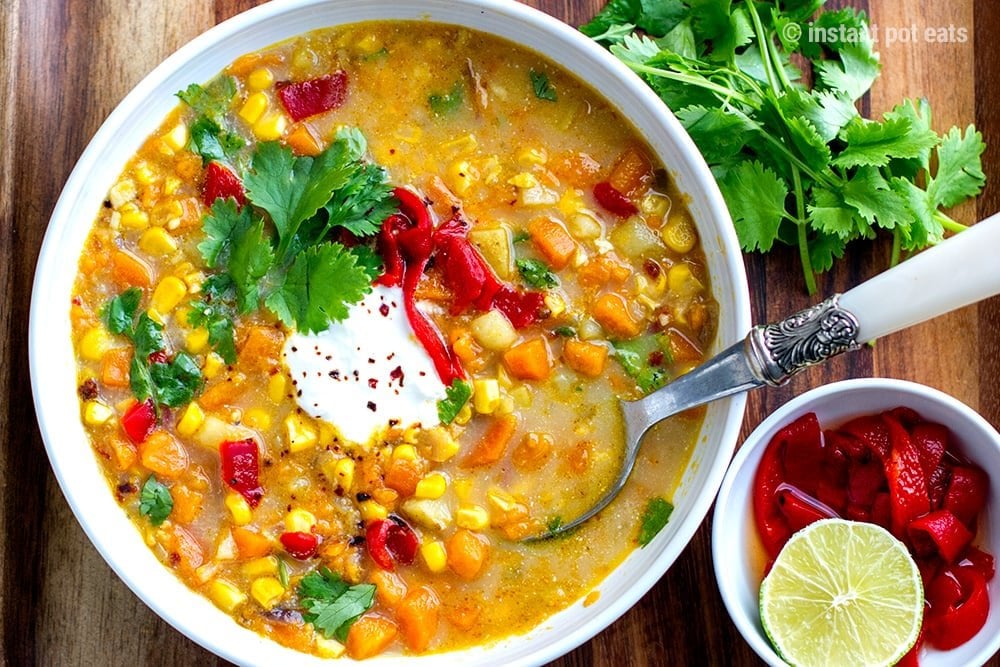 This Mexican-inspired Instant Pot sweet potato and corn soup is made with healthy ingredients, flavourful spices, lime and a little chipotle for a smoky, chilli kick. It's gluten-free, vegan-friendly, light and super quick and easy to make. 7 WW SmartPoints per serving. Recipe from Instant Pot Eats.
CHEESY TURKEY BURGER MACARONI

When you need comfort food while on Weight Watchers, try this cheesy turkey burger macaroni recipe. It's made in the Instant Pot (or another electric pressure cooker) and only takes 6 minutes once it reaches pressure. 8 WW points per serving. Recipe from Dash Of Herbs.
WEIGHT WATCHERS ITALIAN LENTIL SOUP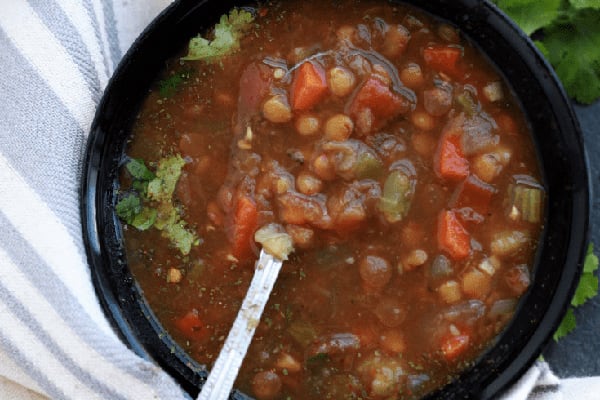 This Italian Lentil Soup is your everyday Lentil Soup. A hearty nutritious bowl of plant-based powerhouse made with lots of veggies, lentils, herbs, and seasonings. Super easy to make & ready in 15 minutes (Vegan, Gluten-Free, Oil-Free. Meal-Prep and Freezer Meal Option). Zero WW points. Recipe from The Belly Rules The Mind.
HEALTHY MASHED BUTTERNUT SQUASH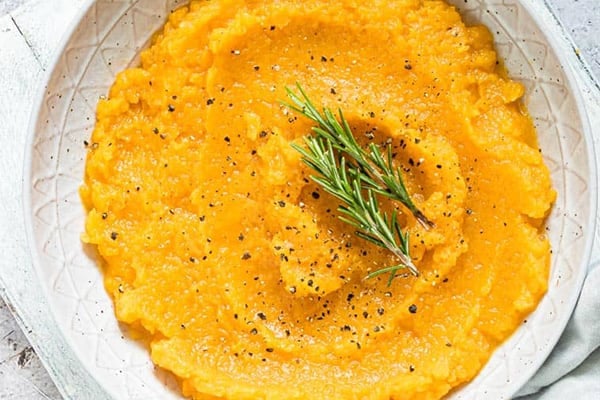 Instant Pot Mashed Butternut Squash is the perfect side dish for your meals. It is a colorful, vibrant, delicious and healthy mash that is easy to make in the Instant Pot. Serve it up for weeknight suppers, Thanksgiving, Christmas and all the holidays. Zero WW points. Recipe from Recipes From A Pantry.
Instant Pot WEIGHT WATCHERS CRACK CHICKEN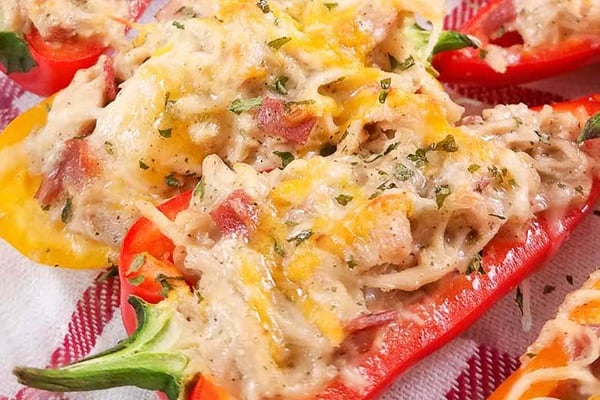 Crack Chicken has recently become a huge thing and of course, there must be a way to lighten it up a little bit. This is one a great Weight Watchers friendly shredded crack chicken with 3 WW points per serving. Recipe from My Crazy Good Life.
TUSCAN BEEF CASSEROLE

Beef stews or casseroles always go down amazingly well in any household. It's a dish that is guaranteed to get fussy kids to eat some vegetables. This Tuscan beef casserole is hearty and delicious and a firm family favorite. 4 WW freestyle points per serving. Recipe from Slimming Eats.
INSTANT POT BAKED BEANS
These Instant Pot Baked Beans are a savory, homemade side dish that you will soon be adding to your favorite recipe collection! This easy, pressure cooker side is so delicious… it will have you wondering how it's even weight watcher friendly! Zero WW points. Recipe from Low Carb With Jennifer.
WEIGHT WATCHERS CHICKEN NOODLE SOUP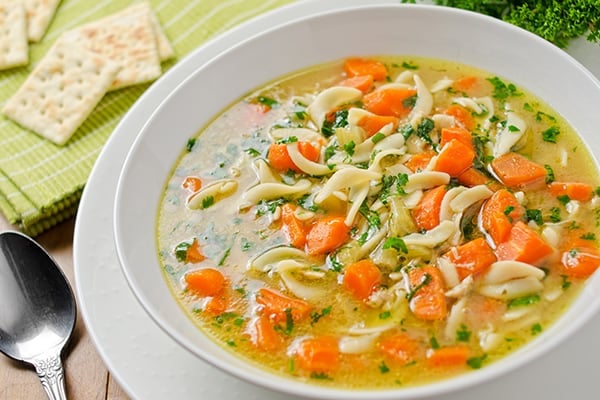 Instant Pot is great for stocking the freezer with yummy dishes. First on your freezer meal plan should be this delicious, healthy and quick Instant Pot Chicken Noodle Soup. 3 WW points per serving. Recipe from Dee Dee Does.
MEXICAN INSTANT POT SHREDDED CHICKEN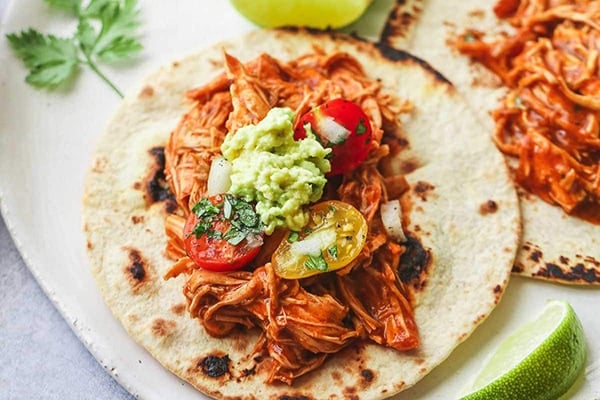 Easy 3-ingredient Mexican Instant Pot shredded chicken made in under half an hour! This shredded chicken is perfect for tacos, fajitas, quesadillas, taquitos, and burritos. 3 WW points per portion. Recipe from Little Sunny Kid. Recipe from Little Sunny Kitchen.
EASY HEALTHY CHICKEN BREAST RECIPE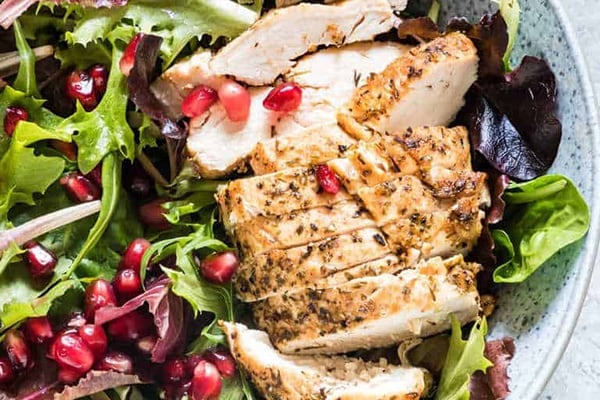 Looking for the best Instant Pot chicken breast recipe? You've found it. This method produces flavourful, tender, perfect chicken breasts using fresh or frozen chicken. Excellent for meal prep and make-ahead meal solutions. Zero WW points. Recipe from Recipes From A Pantry.
LOW-CARB CAULIFLOWER SOUP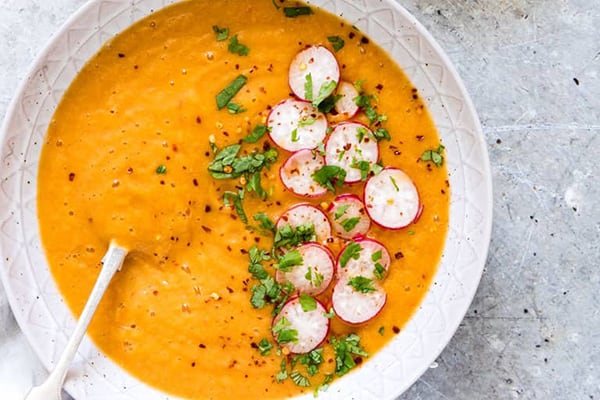 This Mexican Spiced Instant Pot Cauliflower Soup is easy, comforting, smooth and creamy with just a handful of ingredients. It is a great low-carb, gluten-free recipe for weeknight dinners. If you replace the 1 tbsp olive oil used for frying with a calorie-controlled cooking spray, there are ZERO Freestyle and PointsPlus points in this soup! Recipe from Recipes From A Pantry.
INSTANT POT CHICKEN ENCHILADAS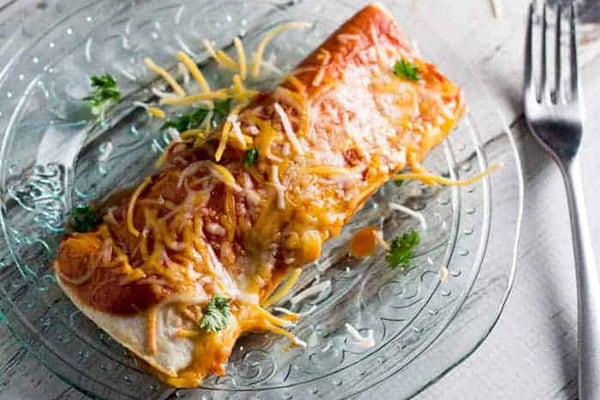 When you don't have a lot of time during the work work, try this Instant Pot chicken enchiladas recipe. It can be on your table in about 30 minutes and is a wonderfully juicy dinner option. It's 9 Blue WW points per serving (2 enchiladas), so it's healthier than your favorite Mexican restaurant. Recipe from Dash Of Herbs.
VEGAN INSTANT POT TIKKA MASALA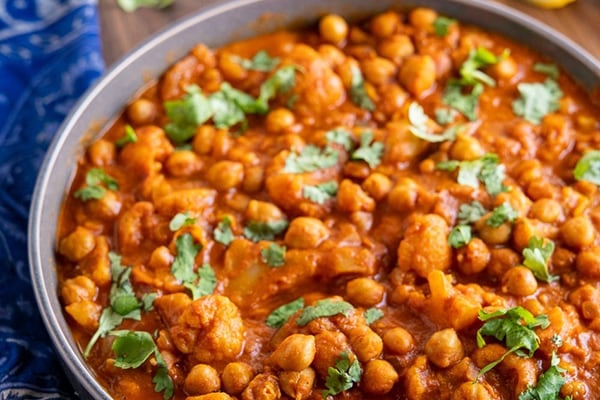 Even the simplest of curry recipes can come packed with flavor if you use the right ratio of ingredients and spices. This cauliflower chickpea curry uses nothing complicated but items most of us have in our store cupboard or pantry. Vegan, gluten-free and comes at 2 WW points per serving. Recipe from Slimming Eats.
MEXICAN CAULIFLOWER RICE BOWL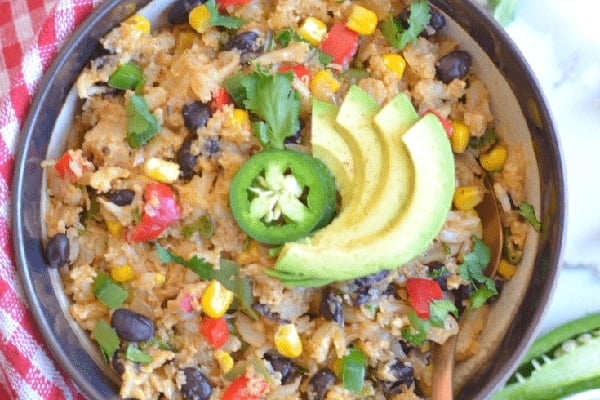 Cut down your carb intake through this awesome and delicious Instant pot Mexican Cauliflower Rice Bowl. This easy cauliflower rice bowl recipe tastes amazing and works for any meal of the day. Don't forget to check out my meal prep tips + serving ideas! Zero WW points. Recipe from The Belly Rules The Mind.
DUMP & START MOROCCAN CHICKPEA STEW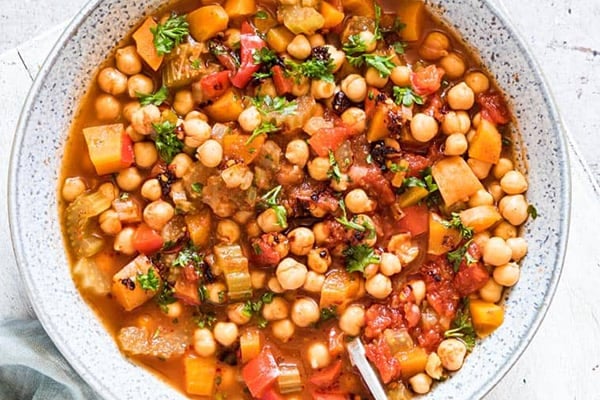 The easiest ever, best and creamiest Dump and Start Instant Pot Chickpea Stew is just a few ingredients and minimal effort away. Comfort food, quick weeknight dinners, and lazy lunches are at your fingertips with this awesome Moroccan Harira. Zero WW points. Recipe from Recipes From A Pantry.
RICOTTA SPINACH & LEMON PASTA
Who says you can't have pasta on a Weight Watchers program? This fresh and light Instant Pot pasta is a perfect example of how to enjoy Italian cuisine in a healthy way. Made with nutritious ingredients such as protein and calcium-rich low-fat ricotta, spinach and lemon, it's a dish is that is both tasty and easy to prepare. 10 WW SmartPoints. Recipe from Instant Pot Eats.
INSTANT POT SALSA CHICKEN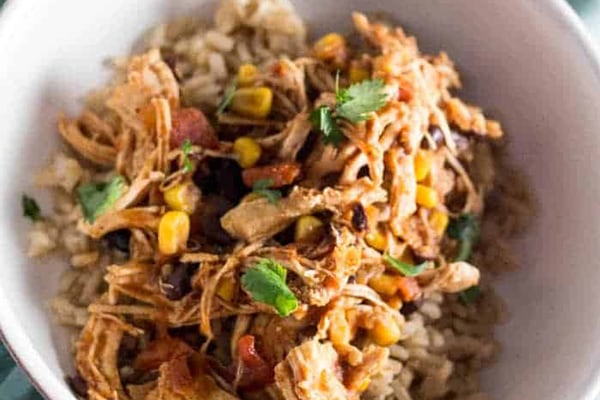 If you need to dress up your typical weeknight meal, try this Instant Pot Salsa Chicken recipe. It's delicious, simple to make and is a one-pot meal through the Instant Pot. It's also healthy and only 3 WW Blue points per serving. Recipe from Dash of Herbs.
Instant pot CAMPFIRE STEW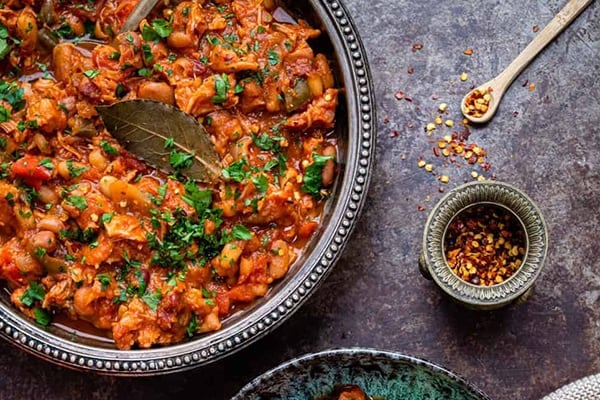 Looking for a campfire stew recipe? This flavor-packed pork stew is super easy to make in your oven, slow cooker or the Instant Pot. Slimming friendly and completely delicious! 11 WW SmartPoints and around 400 calories for one serving without any sides. Recipe from Supergolden Bakes.
CAJUN SHRIMP AND GRITS
Yes, you can make a delicious Shrimp & Grits recipe in your Instant Pot. This is Weight Watchers Freestyle version for Cajun shrimp with creamy grits and it comes at 5 WW points per serving. Recipe from Dee Dee Does.
FIRECRACKER CHICKEN MEATBALLS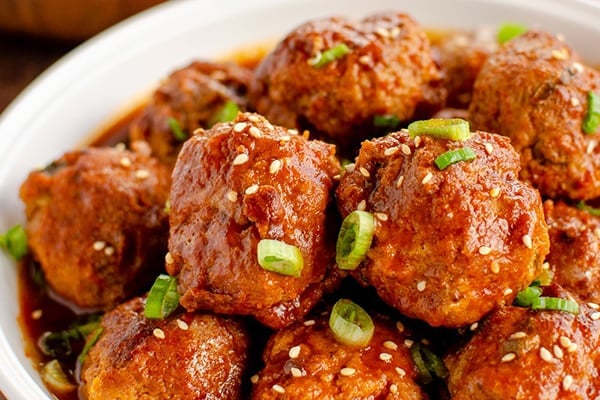 Tender Firecracker Chicken Meatballs in an amazing spicy and sweet sauce, it will become a regular feature on your meal plan. That amazing fiery sauce uses a combination of soy sauce, tomatoes, brown sugar and sriracha as well as the usual garlic and ginger because you can't have an Asian inspired dish without those in my opinion. 2 WW points per serving. Recipe from Slimming Eats.
INSTANT POT WHOLE CHICKEN
Cook a whole chicken in the Instant Pot to get rotisserie-style juicy and tender chicken that you're going to love! Easy, quick and delicious! There are 3 WW points in 1 portion of Instant Pot chicken. Recipe from Little Sunny Kitchen.
LOW-CALORIE SOUP WITH VEGETABLES & LENTILS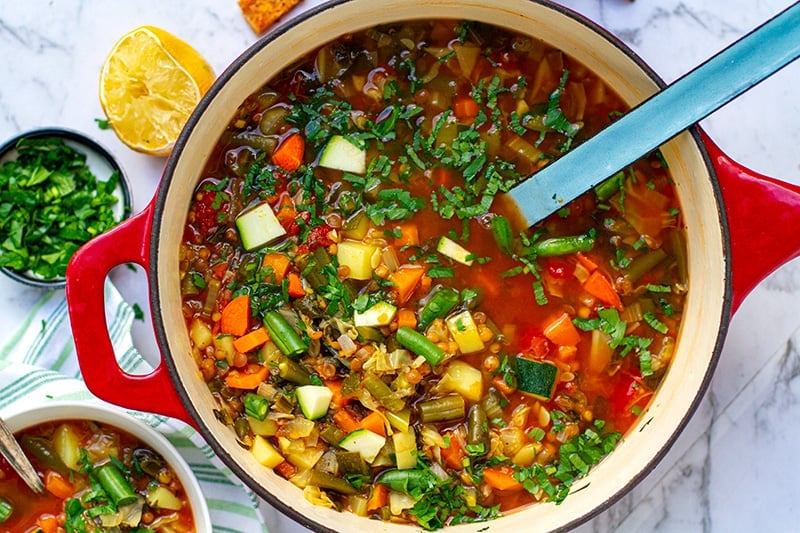 This soup is loaded with vegetables and lentils. It's naturally low in calories and full of nutrients and flavor without added oil or sugar. Perfect for healthy eating. Get the recipe here.
---