Heads up, pressure cookin' pals! There's a new Instant Pot on the market, appropriately named the Instant Pot Ultra. If you've already developed a healthy love affair with your Instant Pot, perhaps you're considering an upgrade. After all, you deserve it, you kitchen aficionado!
A loyal Instant Pot user should have the best product on the market, of course. Maybe you're still considering taking the plunge in the first place. In that case, I suggest you check out my review of the original Instant Pot to see why I like it so much if the recipes aren't convincing enough.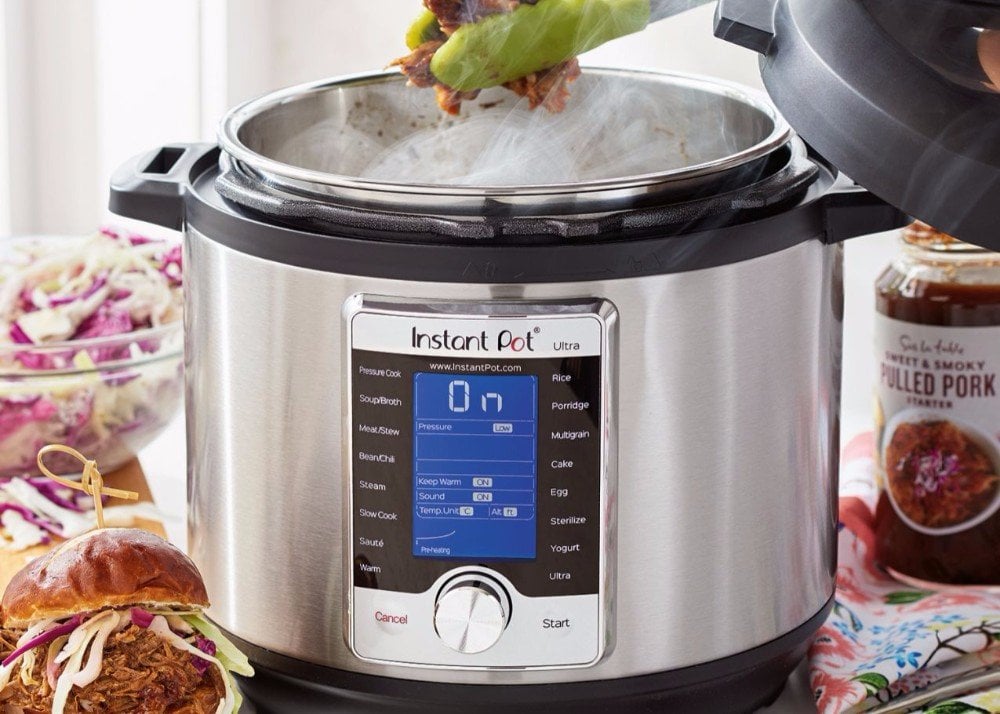 Regardless of where you stand, it's worth noting your original Instant Pot is probably doing the trick and you know what they say: don't fix it if it ain't broke. At the same time, I do mention in my review that I have two Instant Pots, and I hardly find it excessive. Double the cooking power is double the fun, so maybe your lone pot deserves a companion.
I'm going to delve into the difference in the Instant Pot Ultra versus its predecessor, the pros, the cons, and everything in between. It's our review of sorts.
What makes the Instant Pot ultra?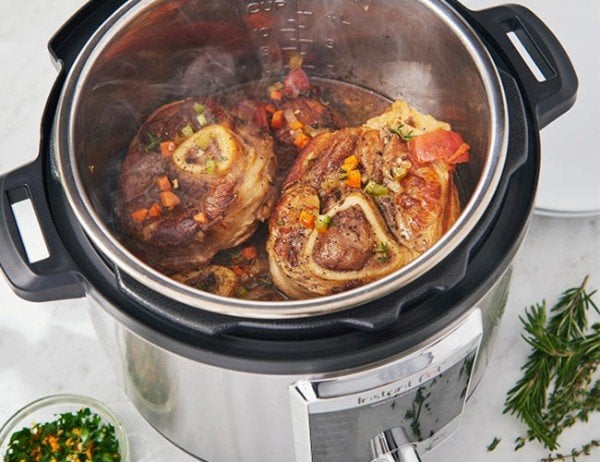 The pros of the new and improved Instant Pot are pretty amazing. It's taken on 'gadget' territory outside of the kitchen, and it's safe to say that even someone who prefers tech over the kitchen could appreciate this device's feature upgrades. Let's run through the list of pros.
Easy sous vide cooking
It sounds fancy, but the Instant Pot makes it easy. With a generally hands-off approach to cooking, the Ultra is taking it one step further. Cooking sous vide in the IP doesn't require a circulator to keep the water moving while cooking which is the trick to sous vide in the first place. Instead, it holds the water at the proper temperature for desired cooking within a five degree range, making it pretty precise and pretty failproof.
Altitude adjustment
If you've ever moved around from low to high elevation or vice versa, you know that cooking times and following recipes can be a struggle. Take this from someone who lives in the mountains! The Instant Pot knows what's up. Instead of doing all the guesswork yourself, the Instant Pot Ultra does it for you. You can adjust the cooking settings up to 9,900 feet by simply plugging it into the machine, and it will subsequently adjust cooking time for you under the assumption that the cooking time plugged in is for cooking at sea level.
Turn the dial
The original Instant Pot model features plenty of incredibly useful buttons, but there's no doubt some of us were missing a simpler way to turn things up a notch.
The sterilise button
Yoghurt makers – rejoice! You can't make yoghurt without a clean slate because you're adding good bacteria to the mix. Bad bacteria is something you want to avoid at all costs. With this model, a push of the button means a clean pot and lid. Moreover, you can set it to low, medium, or high, choosing from a steam/sterilisation lasting from as little as a minute up to four hours. If you own an Instant Pot, you know that time is of the essence.
Other differences
Larger display. Because you know, being able to see what your Instant Pot is up to from across the room is important. The display is larger, easier to read, and overall a more beautiful interface. It displays cooking progress while the IP is hard at work so you can better monitor (patiently or not) when your food will be done and how long the food is taking to preheat.
Fewer time limits. The previous version allowed you to pressure cook for two hours at a time. The Instant Pot Ultra allows you to pressure cook for six hours! While we can't quite think of a recipe that needs such a long cooking time, it's nice to have the flexibility.
It automatically keeps your food warm. Once the pressure is off, the contents of the pot are officially on 'keep warm' mode so you can enjoy your dish after the fact without worrying about food safety.
Button vs. valve. The Instant Pot Ultra implements a button that you'll press to release pressure rather than having to handle the valve. While this is hardly dangerous, it can get hot fast, and it can cause injury if you're not careful.
Set it for later. You can choose 'delay start' so that cooking begins after you dump the food in. This is great for people on a schedule that needs some flexibility, or those of us who just want dinner WHEN we want it. Plus, remember – it will kick into 'keep warm' mode right after. Hands-off cooking at its finest here!
There's a cake button. Need I say more? Have your cake and eat it too… by pressing a button. It's never been easier. Be careful with this one.
There's also an egg button. You know we LOVE eggs in the Instant Pot every which way. For seamlessly perfect "boiled" eggs every time, this is going to be a button that gets pushed quite a bit.
It's still the same as the original at the core. The Instant Pot Ultra was all about addition; it still features all of the same functionality as the previous Instant Pot model, so you won't be lost without your favourite settings.
Cons of the Instant Pot Ultra
There isn't much negative to say about the Instant Pot Ultra! It's new and improved with the same classic features you already love about your current model. What can we say? The IP can do no wrong.
The Instant Pot Ultra is still a 6-quart model. While it isn't necessarily a con, that is the only size option. This is the same size as the original Instant Pot, so you won't be getting a roomy upgrade. This probably won't be a turn-off for most, though, as you can fit quite a bounty of food into the pot.
There will be a learning curve. New things take time. This is especially true with any electronic item! If you've been using the original Instant Pot for a while, you're probably quite accustomed to its abilities and how to use it for what you want. The Instant Pot Ultra might take some time, trial and error, and maybe a few "oops" meals before you get the swing of things. Practice makes perfect.
Where to buy the Instant Pot Ultra
The Instant Pot Ultra is currently only available from Sur La Table. You can pick it up here online or in-store. You can also order it on Amazon!
What's the verdict for you? Are you going to upgrade, or will the Instant Pot Ultra be your first pressure cooker? Let us know, and make sure to take it for a test drive with one of our delicious and healthy recipes! Happy cooking.