Learn how to make a delicious recipe for Instant Pot tortellini alfredo with Italian sausage. At $2.16 per serve, it's a simple crowd-pleaser that won't break the bank. Both rich and flavorful, this tortellini will make you feel like you're at the finest Italian restaurant—but right at home and without the hefty bill at the end! The Italian sausage keeps costs low and rounds this dish out to be a meal you will be coming back to again and again.
This pressure cooker tortellini recipe is from The Frugal Cooking With Your Instant Pot cookbook by Drew Maresco with Dallyn Maresco. © Page Street Publishing Co. 2020. Photo credit: Toni Zernik
---
This Instant Pot tortellini recipe is a simple yet super tasty combination of your favorite comfort foods: cheese-filled-pasta, sausage and creamy sauce. It's a budget-friendly one-pot dish that is perfect for a midweek dinner. And, with the addition of a little spinach, it packs quite a bit of nutrition too.
WHAT YOU NEED TO MAKE TORTELLINI ALFREDO
Tortellini – for this recipe, we're using cheese-filled tortellini but you could also use spinach and ricotta or any other flavor. The KEY is that the tortellini has to be frozen! Fresh tortellini cooks really fast and because we're cooking it together with the sausage, we want to get our cooking times aligned (so to speak). Plus, using frozen tortellini is more affordable, which is what keeps the costs down for this dish.
Italian sausage – you can use ground Italian sausage or scoop out the meat from the casings. Mid or sweet sausage is best in this recipe but you could spice it up if you like. Choose the brand that best suits your budget.
For the Alfredo sauce – Parmesan cheese, cream cheese and heavy cream are used to finish the sauce once pressure cooking is done. You can use low-fat cream cheese and cream to lighten up the sauce.
Spinach – simple baby spinach can be used; alternatively, you can chop some Enlighs spinach or any other leafy greens you have on hand. Some pre-steamed broccoli, carrots or peas could also be stirred in right at the end for extra veggies.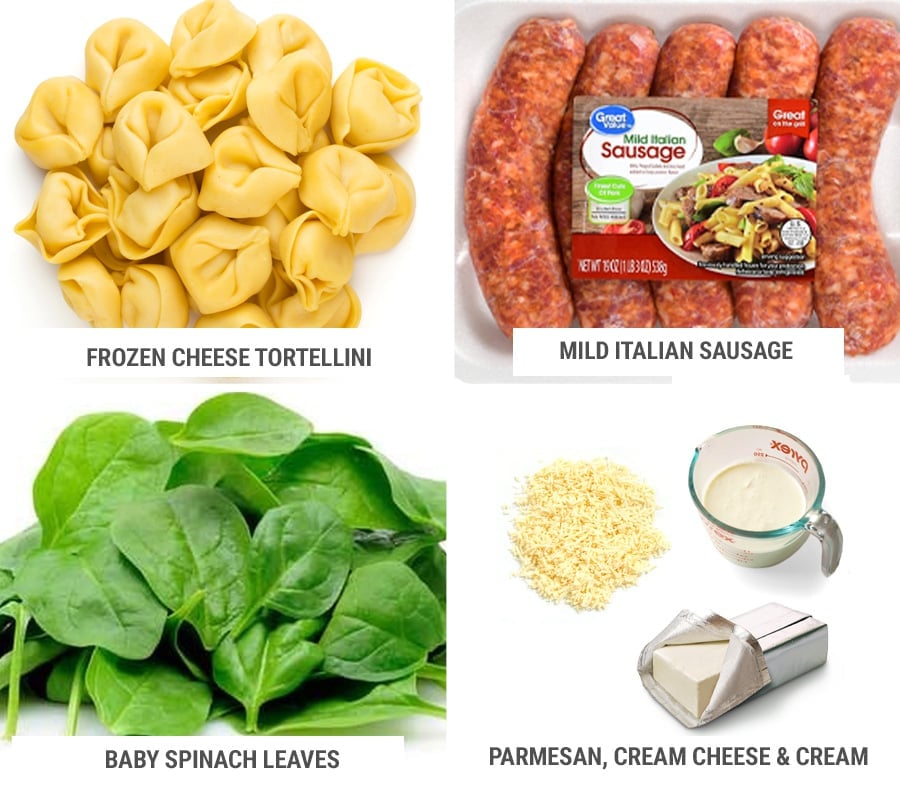 As we mentioned above, this one-pot tortellini pressure cooker recipe is from The Frugal Cooking With Your Instant Pot cookbook by Drew Maresco with Dallyn Maresco. You can read about in our review post here.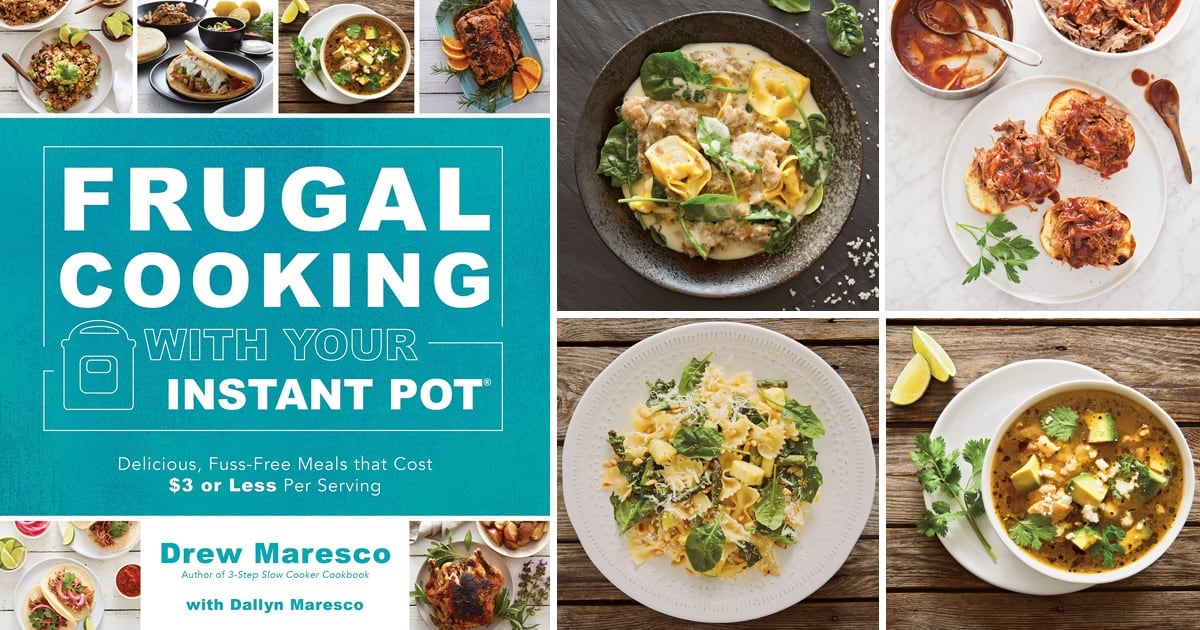 ---
WATCH OUR TOP 10 VIDEO RECIPES
---
MORE INSTANT POT PASTA RECIPES HERE
SAVE THIS INSTANT POT TORTELLINI ALFREDO TO PINTEREST