These Instant Pot crowd-pleasing potluck recipes are so good they will get you invited to every gathering this season. From big casseroles, chicken wings, stews, pasta, to risottos, we got the dish to make everyone wanting more.
---
Festive seasons bring in a lot of visitors to the table for dinner. When invited you often have to bring a dish that can stand alone, yet play well with other dishes. We have collected some awesome crowd-pleasing dishes that are good for sharing around. This includes big casseroles, chicken wings, stews, pasta, and risottos. They are all so good your host will invite you back to dinner again.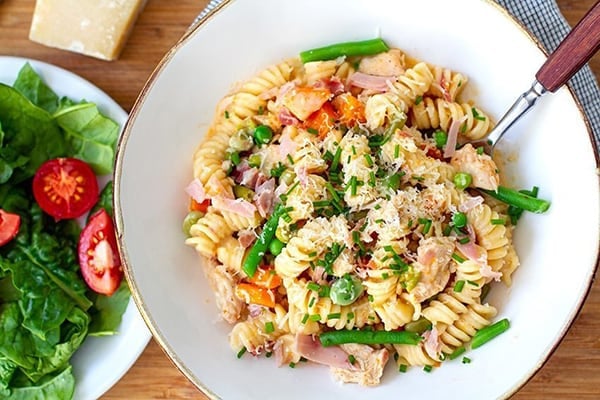 This kid-friendly Instant Pot chicken pasta with ham and vegetables is tasty and nutritious, with just a touch of cream and cheese that makes it velvety and hearty and provides a good serving of calcium and fat-soluble vitamins. Recipe from Instant Pot Eats.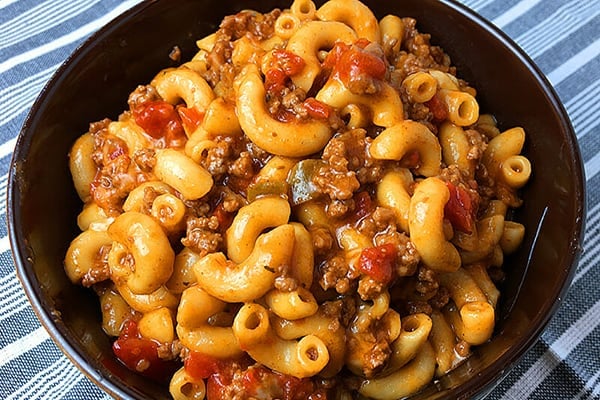 Instant Pot chili mac is perfect for a quick, easy weeknight meal. With under 5 minutes prep, just one pot, and no veggies to cut up, it's perfect for feeding a hungry crowd on short notice. Recipe from Recipe Teacher.
Instant Pot Chicken Bacon Ranch Pasta is a creamy and satisfying dish that the whole family will love! The best part is that you don't have to cook the noodles separately. Recipe from Sweet and Savory Meals.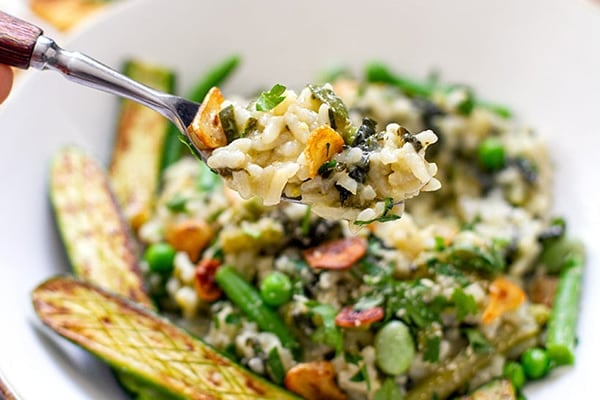 A creamy, velvety risotto that is much lighter and is made without butter or cheese? You got it! Our Instant Pot vegan risotto is loaded with green vegetables like kale, green beans, and zucchini and is topped with fried garlic for amazing aroma and flavor. Learn how to make this gluten-free, plant-based risotto recipe and enjoy a meatless dinner that is filling and nutritious. Recipe from Instant Pot Eats.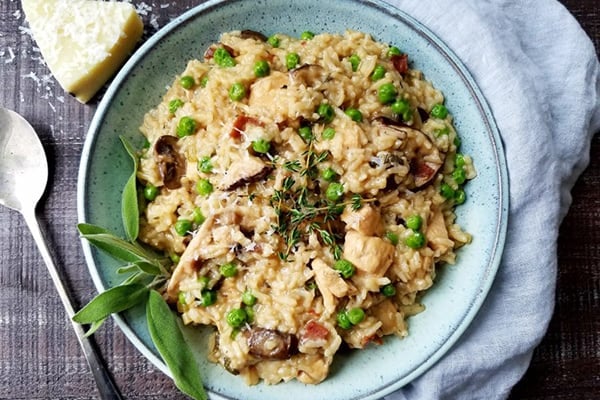 A culinary collision of two craved comfort foods and without all of the stirring! Arborio rice, chicken, prosciutto, mushrooms, shallots, celery, garlic, sage, and thyme all mingle perfectly with Marsala wine. Recipe from Give It Some Thyme.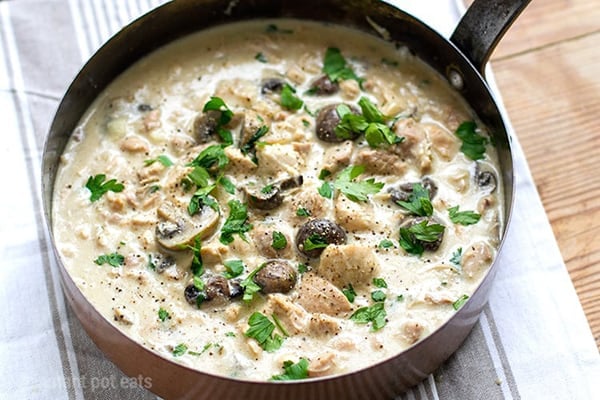 This Instant Pot chicken stew with mushrooms is hearty, creamy and delicious. Using a pressure cooker, it's a quick and easy dinner for the whole family. Serve with rice, potatoes, pasta or veggies. Keto-friendly! Recipe from Instant Pot Eats.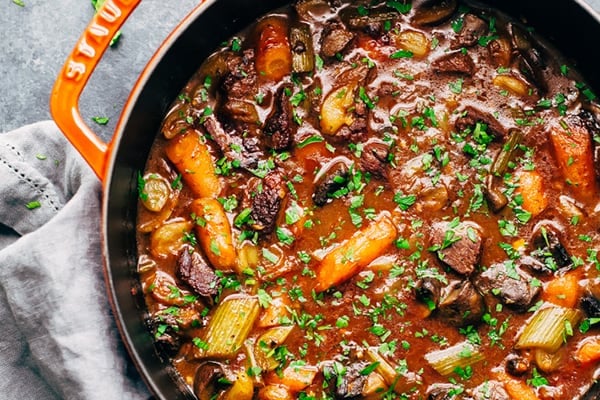 Learn how to make the perfect instant pot beef stew in less than an hour and it tastes just like a Mississippi pot roast! The flavors of this meal make it taste like it's been slowly simmered all day long. Serve it on a bed of egg noodles, with hot crusty bread, or over mashed potatoes! Recipe from Little Spice Jar.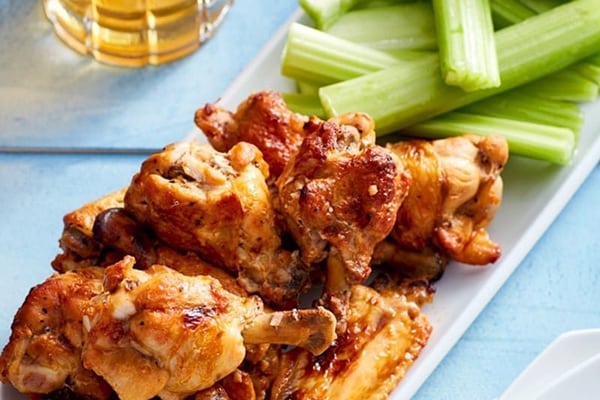 If you're looking for a super fast and easy recipe for how to make Instant Pot buffalo chicken wings from frozen, this is it! The wings thaw quickly and cook in no time, and smothered in the delicious buttery hot sauce, they are so delicious! Suitable to low-carb, gluten-free and keto diets. This is a guest recipe from the cookbook From Freezer To Instant Pot by Bruce Weinstein and Mark Scarbrough. Recipe from Instant Pot Eats.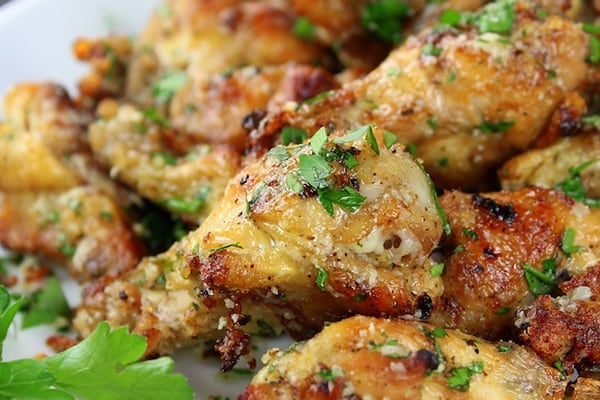 Tender on the inside, crispy and golden on the outside, and no frying involved makes this a complete crowd-pleaser. Plus, the cheesy garlic flavor is such a delicious and kid-friendly combination. Recipe from Taste and See.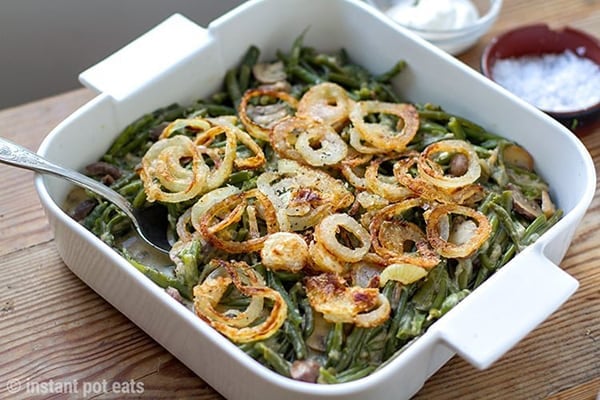 When it comes to green bean casseroles, it's easy to go with the lazy option of using pre-made canned mushroom soup for the sauce. But making it from scratch with whole ingredients tastes so much better! Especially with crispy fried onions on top. Recipe from Instant Pot Eats.
This Instant Pot Healthy Chicken Broccoli Rice Casserole is a delicious, lighter version of the traditional cheesy rice dish, and it's made in the pressure cooker so it's a one-pot 30-minute dinner idea. Recipe from Eating Instantly.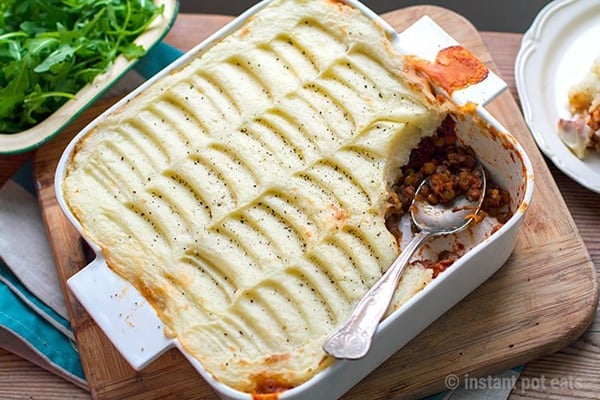 While the traditional recipe uses minced lamb or beef cooked in gravy and baked with a layer of mashed potato on top. This hearty Instant Pot Shepherd's pie is vegan and gluten-free and is made with nutritious lentils, mushrooms, and vegetables, topped with creamy mashed potatoes. Recipe from Instant Pot Eats.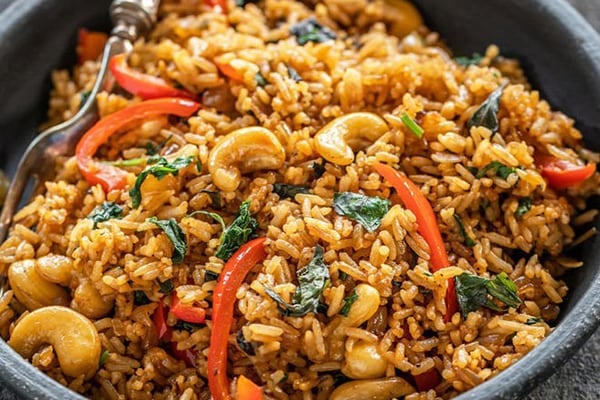 This quick and easy fried rice is super flavorful with the aroma of basil, soy sauce and crunchiness from the cashews. Pairs well with vegan panang curry.
Recipe from Cook With Manali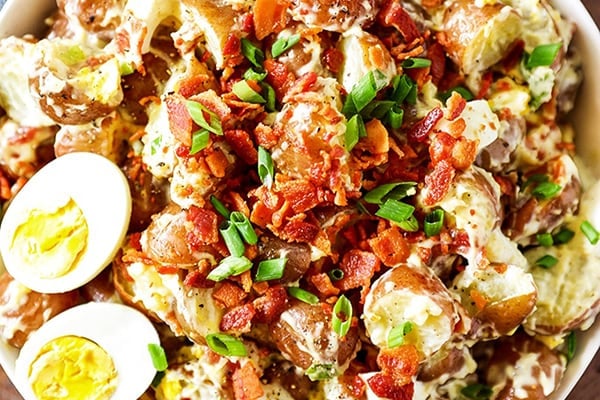 This Instant Pot Potato Salad is loaded with flavor! Tender baby red potatoes, bacon, hard-boiled eggs, sour cream, and green onions.Recipe from Number 2 Pencil.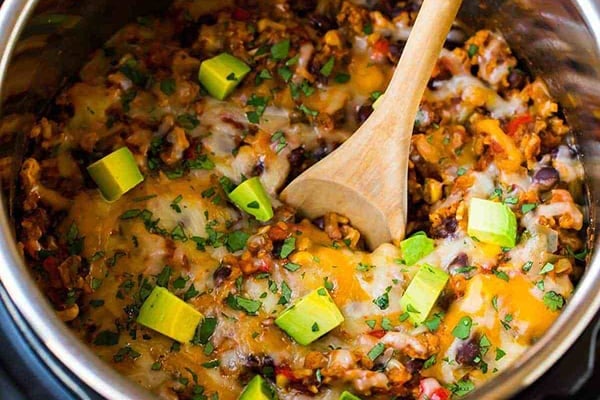 True to its "casserole" name, this recipe yields a generous portion, so it can feed a crowd. It also reheats well, meaning that if you make this Instant Pot Mexican Casserole for a smaller group or even just yourself, you'll have tasty leftovers to enjoy all week. Recipe from Well Plated.
---