Dishes like Jambalaya, Etouffee, and Gumbo have made it on the world culinary scene and today we're sharing some of our favorite Instant Pot Cajun & Creole recipes so you can bring Louisiana to your home kitchen.
---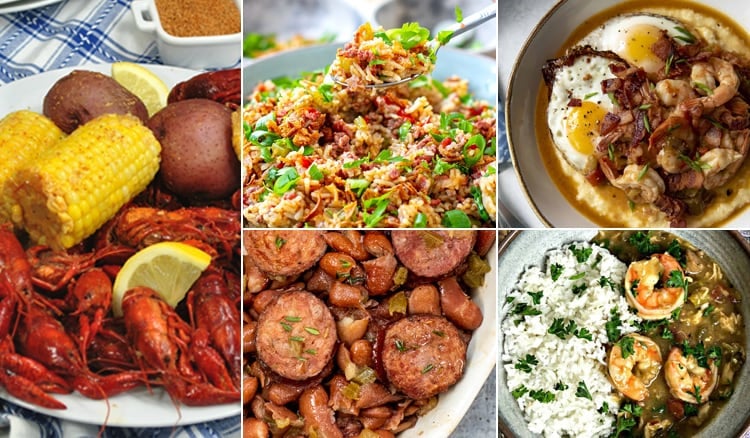 When you think of Cajun, Creole, Low Country or Louisiana food, a crawfish boil is immediately at the top of the list. Have you ever experienced a true Crawfish Boil? Heaps of crawfish, sausage, potatoes, mushrooms, and corn are boiled in an amazing cajun seasoning in a gigantic pot. Once everything is cooked, all this goodness is dumped directly onto long tables covered in plastic tablecloths and newspapers. Everyone eats with their hands and finds their own little territory on the table since there are no plates. The cycle of pouring new portions keeps going as everything is devoured and crawfish carcasses are left in a pile. This experience is truly Southern and the ultimate gathering for friends and family.
When you crave the flavor of those memories, you can recreate the experience in your own home using the Instant Pot. Many Cajun and Creole recipes have been passed on by generations of families. The French greatly influenced the cuisine with a touch from Spain, Africa, and Native Americans as the colonies settled in New Orleans.
CREOLE vs CAJUN FOOD
In the simplest terms, Creole is considered city food and Cajun is considered country food. Creoles bought off of the ships coming into New Orleans, while Cajuns adapted to Louisiana's agriculture and wild game.
The type of roux is an important distinguishing factor since it is used as the base for the classic sauces, stews, soups, and many other savory dishes. Creole roux is made from butter and flour as in France since they had access to ice boxes allowing for the preservation of butter or seafood from the gulf. While a Cajun roux is usually made with lard or oil and flour due to the lack of dairy products in some areas and the ability to refrigerate so they preserved by smoking and salt. Both styles carried on with their heritage and adapted to a new world.
The culinary world has taken notice of the depths of flavor accomplished by this cuisine with restaurants specializing in traditional dishes like Jambalaya, Etouffee, and Gumbo while also experimenting with new methods making it accessible to the home kitchen of the modern day.
Get in the mood for cooking with our selection of Instant Pot Cajun & Creole-inspired recipes below.
---
INSTANT POT CRAWFISH BOIL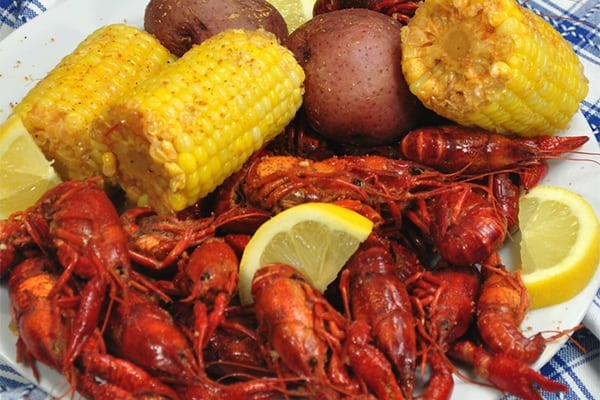 It wouldn't be a complete list without crawfish! This Instant Pot Crawfish Boil is so easy to make! The part that takes the longest is just letting it sit in the marinade. If your family likes crawfish, they are going to love this recipe. Recipe from Kitchen Fun With My 3 Sons.
NEW ORLEANS INSTANT POT SHRIMP ETOUFFEE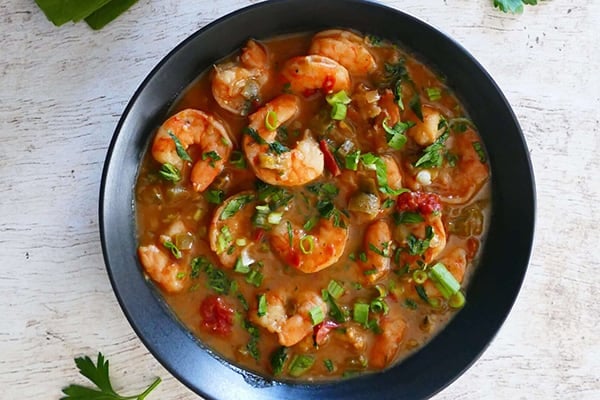 What is étouffée? The meaning of étouffée as translated from French is "smothered". Smothering is a cooking technique used in both Cajun and Creole cuisines of Louisiana where food is cooked in a covered pan over low heat without a lot of liquid. This Instant Pot Shrimp Étouffée is a classic New Orleans recipe made with Creole spices and plenty of shrimp in a spicy tomato-based sauce. The rich and delicious stew tastes great over rice. Recipe from Paint The Kitchen Red.
INSTANT POT CORN ON THE COB (WITH CAJUN BUTTER & LIME)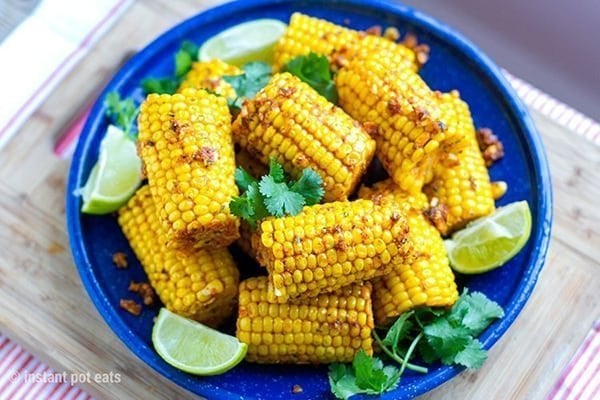 Perfect for families and big groups, this Instant Pot corn on the cob recipe comes with a spectacular flavor twist. Smothered in Cajun butter and lime juice, sweet corn takes on a whole new meaning. Recipe from Instant Pot Eats.
Instant Pot Louisiana Seafood, Chicken, and Sausage Gumbo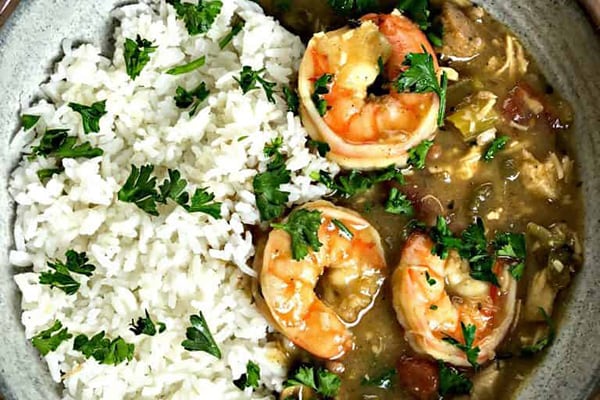 An easy pressure cooker recipe with shrimp, okra, rice, and New Orleans cajun spicy Creole seasoning. The dish is prepared by creating a roux to thicken. This is the perfect comfort food dish that can be whipped up on weeknights. Recipe from Stay Snatched.
INSTANT POT DIRTY RICE – A DELICIOUS ONE-POT DISH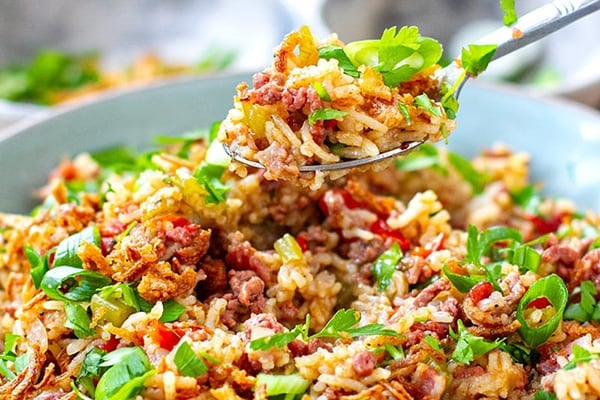 A popular Creole dish made with white rice cooked together with ground beef, pork, or chicken, often some liver, as well as bell peppers, celery, onions, and spices. These additions change rice's color from white to grey or brownish, hence the name 'dirty rice'. Of course, there is nothing dirty about it and it's a very delicious and comforting dish. Other names include rice dressing or chicken and rice. It's a bit like a rice casserole. Recipe from Instant Pot Eats.
Instant Pot Jambalaya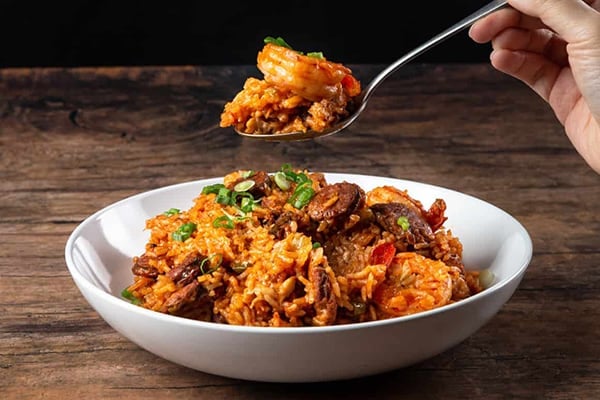 This delicious Chicken and Sausage Jambalaya is an incredible flavor-party in your mouth bursting with savory-umami-spicy-tangy-sweet flavors. Comforting, satisfying, family-friendly one-pot meal. Recipe from Pressure Cook Recipes.
INSTANT POT SHRIMP AND GRITS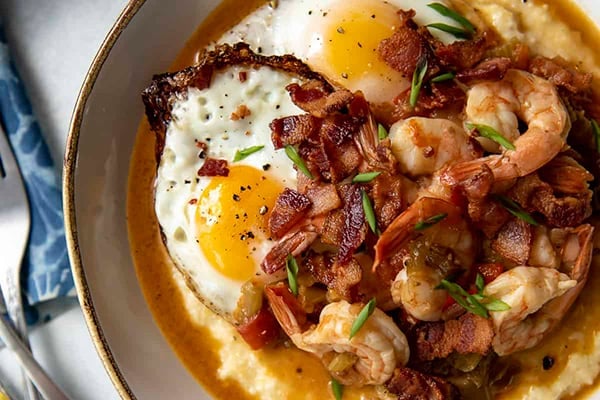 Enjoy a taste of the South with a batch of this cheesy Shrimp and Grits, an easy brunch recipe completely prepared in your Instant Pot in about 30 minutes! Salty bacon, spicy sauteed tomatoes, and crispy fried eggs share the bowl with juicy shrimp and creamy grits in this comforting dish. Recipe from The Crumby Kitchen.
Cajun potato soup in Instant pot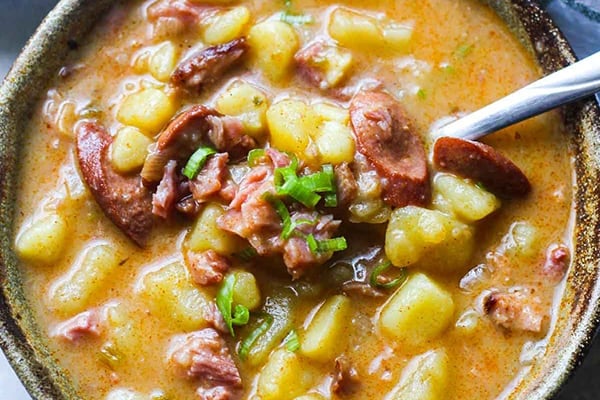 Cajun spices are so warming and fill the house with a delicious aroma. Thick and creamy, absolutely delicious, and comforting cajun potato soup in instant pot will warm you up on a cold day. Very easy one-pot dinner recipe with cajun spices! Recipe from Berry Maple.
INSTANT POT RED BEANS AND RICE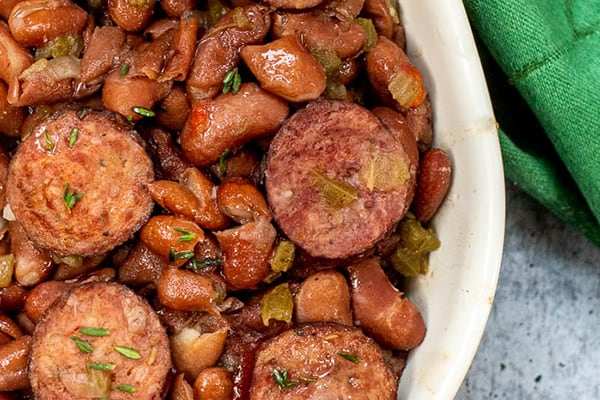 A taste of New Orleans. This recipe has all the zesty flavor of the andouille sausage, red beans, onions, peppers, celery, spices, and rice, but is ready in under an hour! If you soak the red beans overnight, this Instant Pot Red Beans And Rice can be ready in 30 minutes. Recipe from Flavor Mosaic.
Cajun chicken pasta for Instant pot Mini 3 qt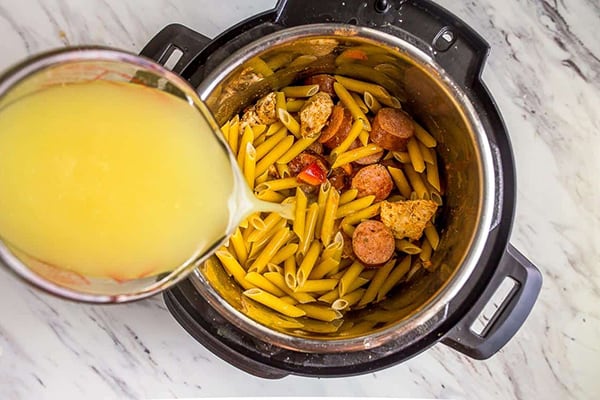 Instant pot Cajun chicken pasta is a creamy, spicy pasta dish full of bites of chicken, sausage, and vegetables. It's hard to believe it all cooks in one pot in just 5 minutes! Recipe from Dessert For Two.
Cajun Meatball Stew for 8 qt Instant Pot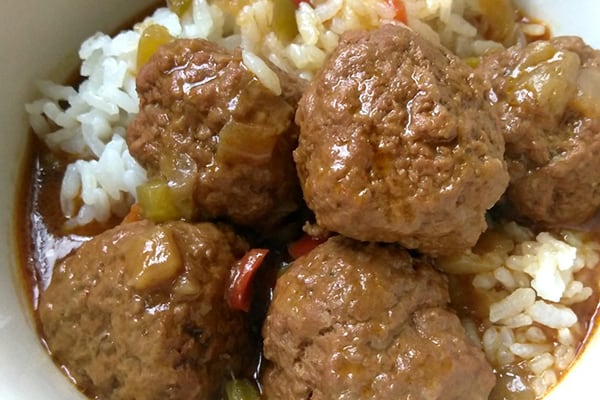 Similar to gumbo, this stew is made with brown roux gravy and served over rice. The Instant Pot saves time by cooking in a half an hour rather than a couple of hours, giving you the option to make homemade meatballs from scratch or from the grocery freezer section. Recipe from The Peculiar Green Rose.
Easy Cajun White Chili In Your Instant Pot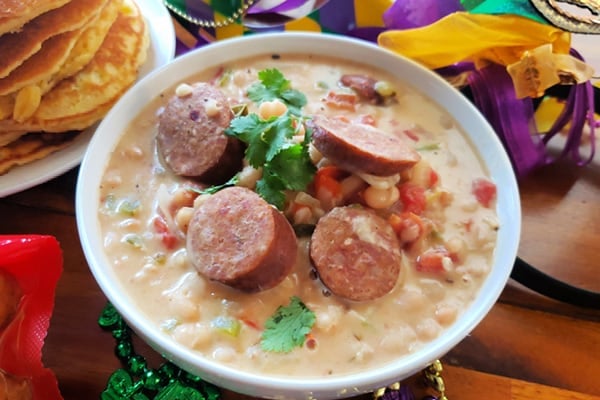 This Cajun White Chili Recipe is an opportunity for you to use amazing white beans that are often forgotten. They cook super fast and the texture is perfectly creamy. Recipe from Acadiana's Thrifty Mom.
Instant Pot Cajun Shrimp
Cajun Instant Pot shrimp cooked in just 0 minutes! This meal is so quick to make as it's ready in 20 minutes from start to finish. Cooked in a tasty spiced stock, with seasoning, bell peppers, onion, and garlic. Serve over rice, quinoa, or noodles. Perfect for mid-week dinners and meal prep. Recipe from Little Sunny Kitchen.
GLUTEN-FREE INSTANT POT CREAMY CAJUN CHICKEN PASTA
This Instant Pot Creamy Cajun Chicken Pasta comes together quickly in the pressure cooker and is packed with veggies, chicken, and creamy cajun flavor. And it's gluten-free! Recipe from Lexi's Clean Kitchen.
INSTANT POT BLACK EYED PEAS (SOUTHERN STYLE)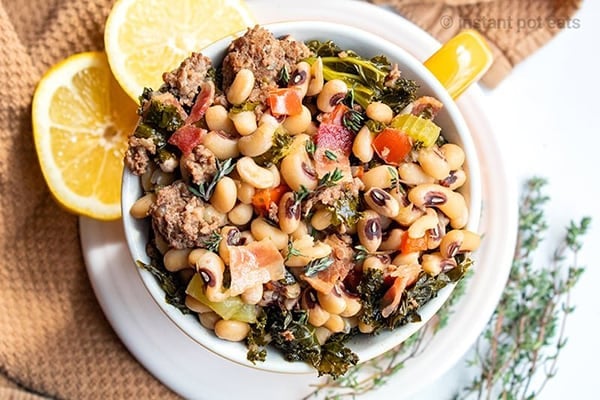 Inspired by the Southern classic and adapted for the pressure cooker. A great rendition of the classic using the black-eyed peas, kale, bacon, and sausage. Recipe from Instant Pot Eats.
Instant Pot Cajun 15 Bean Soup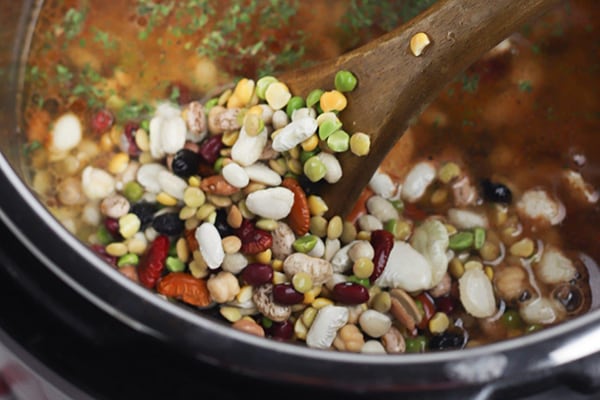 Combining the delicious and nutritious flavors of 15 different beans, bacon, ham and a yummy soup base, this recipe is sure to please your entire family. It will warm them from the inside out, satisfying their hearts and their stomachs. Recipe from I Don't Have Time For That.
INSTANT POT COLLARD GREENS WITH SUN-DRIED TOMATOES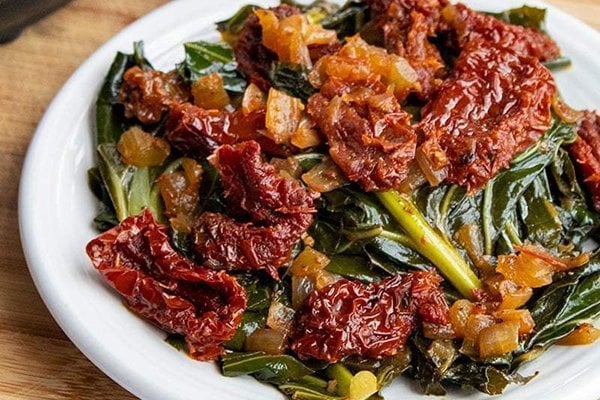 Cooked collard greens get their fame from the Southern U.S. cuisine, where they are usually braised with diced bacon or ham hock which adds that lovely, salty and smoky flavor to the leafy greens.We're swapping bacon for sun-dried tomatoes in this vegetarian-friendly version. This delicious side dish is also gluten-free, Whole30, and paleo-friendly. Recipe from Instant Pot Eats.
Instant Pot Cajun Boiled Peanuts Recipe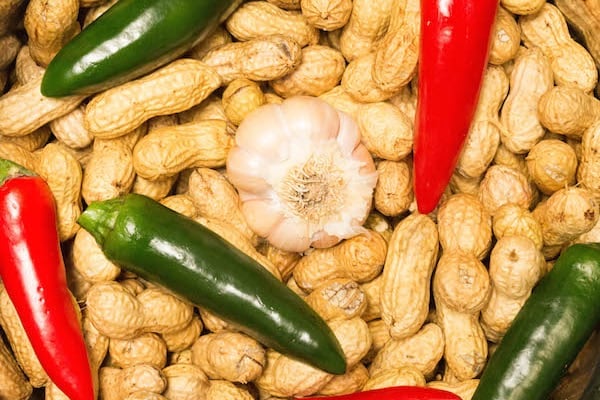 Classic cajun boiled peanuts with cajun seasoning, garlic, and hot peppers made quick & easy in the Instant Pot. The perfect tailgating snack! Recipe from Cooking With Janica.
Instant Pot Candied Cajun Trail Mix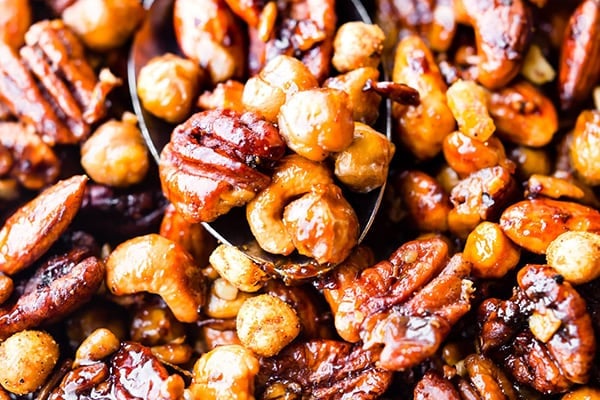 This candied cajun trail mix is the perfect quick and healthy snack and a total crowd-pleaser. Cajun Spices, maple syrup, nuts, seeds, and chickpeas all cooked together then mixed with dried mango for a sweet touch. It's vegan-friendly and naturally grain-free! Recipe from Cotter Crunch.
AIR FRYER BEIGNET FRENCH TOAST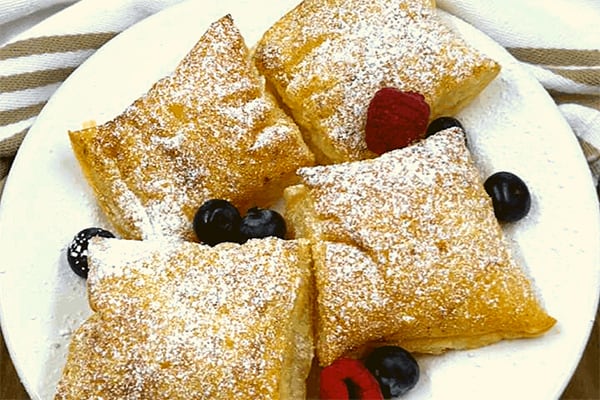 This is a twist on the traditional French Toast and New Orleans Beignet made in the Vortex Plus Instant Pot Air Fryer Oven. Serve with some chicory coffee and you will feel like you are sitting at Cafe du Monde. Get the recipe from Fork To Spoon.
---
---
SAVE These Instant Pot Cajun & Creole REcipes TO PINTEREST