Today, we are sharing our fifth instalment in our series of Instant Pot cookbook reviews. We love sharing recipes with you, but we're also eager to share some kitchen library staples as the Instant Pot grows in popularity, and more resources are on the market. In this post, we're discussing Laurel Randolph's 'The Instant Pot No-Pressure Cookbook.'
---
The book: The Instant Pot No-Pressure Cookbook by Laurel Randolph
The focus: Taking your Instant Pot cooking skills a step above basic with traditional cooking methods.
About the author
Laurel Randolph has been a food write for a decade, and a cook since she was old enough to properly hold a whisk. She is based in Los Angeles, and has contributed food articles to Paste Magazine, Wise Bread, The Spruce, and Serious Eats. In her free time, you can usually find her browsing a farmers' market, eating tacos or Vietnamese food, or cooking up a storm at home. She knows her way around using the Instant Pot quite well, and has also published the best-selling recipe collection, The Instant Pot Electric Pressure Cooker Cookbook. You can find all of her books on Amazon or wherever books are sold.
About the book
Are you feeling a little bored in the kitchen? I think it's so easy for us to get caught up in ruts where we're making the same things over and over, and quite frankly, it's uninspired. It can be discouraging and deter you from dishing out those awesome, healthy, homemade meals. This book is about to change the game.
Even the simplest recipes are jazzed up with stellar ingredients and flavour-boosting accompaniments like brown butter in your wheat berry bowl, or chive sour cream to pair with your glazed beets. Like the tagline boasts, this collection contains 100 low-stress, high-flavour recipes.
Randolph kicks off the book with an organised table of contents. You can peruse through dishes for b'fast, meaty mains, veggie mains, grainy and beany sides, veggie sides, soups and stews, and sauces and sweet stuff. Yes – she saved dessert for last, and you won't be disappointed. Just reading through the recipes will have you so excited to cook your way through this carefully curated collection.
Try these Vietnamese Beef Brisket Tacos recipe from the cookbook.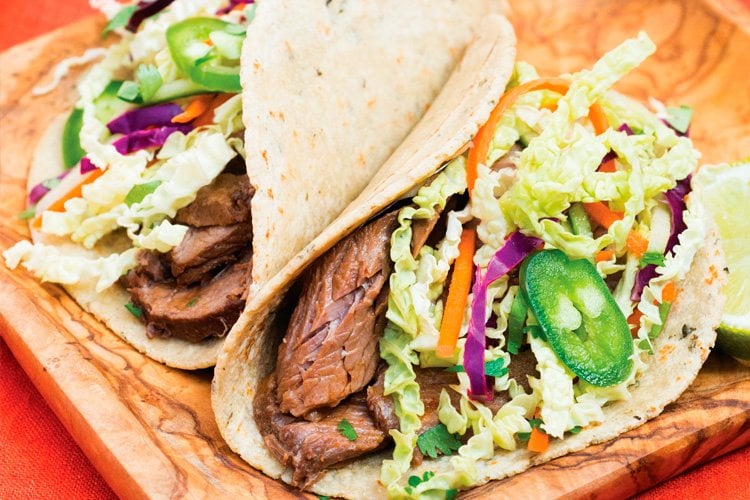 What we love about this cookbook
First and foremost, what stands out in this collection is the astounding array of ingredients. Immediately, you see unique and healthy dishes crafted with jackfruit, rhubarb, kabocha squash, wheat berry, farro, parsnips, and hominy. Most of these ingredients are humble, easy to source, and nutritious. There are tons of options for using new-to-you grains, beans, produce, and more – and the end results are stunning.
Another striking feature about this book that makes it a fabulous choice is the long list of vegetarian-friendly recipes. This book is perfect for the omnivore who may want to reduce meat consumption by learning to cook exciting, interesting, and protein-rich plant-based main dishes. From the Parmesan pumpkin risotto to the white bean ragu spaghetti, you'll find a long list of filling and satisfying meat-free dinner ideas.
Oh, and I can't forget the breakfast section which is personally my favourite part. If brekky is the most important meal of your day, you definitely want to pick up this cookbook. How about starting your day with a savoury chickpea and tomato blend topped with fried eggs? If you're feeling like something sweet, you could whip up some cherry chocolate chip oatmeal, or perhaps some pear wheat berries with delectable brown butter.
Other recipe highlights include smoky shrimp pozole, mashed plantains, creamy cauliflower and white cheddar rotini, and vanilla stewed stone fruit. Many of these dishes come off as perfect for entertaining. They're simple, you can make big batches, and your guests are bound to enjoy some classic ingredients used in unique and exciting ways.
Who is this book for?
Randolph writes in her introduction: "Do you love to cook? Do you love pressure cooking? How about food, do you like food? A lot? Then keep reading, because this is the book for you." It's just about as simple as that. If you want to try new and exciting ingredients, learn more about developing well-rounded flavour in your cooking, or simply master the Instant Pot and its mysterious methodology, this book is a fantastic choice. I would also highly recommend this book to someone who is quite visual, because the photographs are beautiful and appetising.
You can find the book in most major book stores and online on Amazon here.
---