From the classic soup to stews with a twist, you will love these hearty, delicious, and nutritious Instant Pot split pea recipes. They take less time and are mostly fuss-free, one-pot dishes.
---
While a bowl of split pea soup may not be the most attractive thing to take a picture of or it might not sound appealing, it sure is comforting food that's full of flavor and packed with nutrition. You might be familiar with the more traditional split pea and ham soup, but there are so many other hearty dishes you can make using split peas in the Instant Pot.
WHAT ARE SPLIT PEAS?
The split peas are the same as dried green peas. The difference is how they are processed. To make a split pea, the green pea is peeled and dried. The skin is removed and a natural split occurs in the cotyledon. The split can be further exaggerated manually or mechanically. This split encourages faster cooking and eliminates the need to presoak. Split peas are a type of field pea, which is a pea grown specifically for drying and harvested as the seed of the plant.
There are yellow and green pea varieties. Green split peas are sweeter and less starchy than milder yellow split peas. Since they are dried they can be stored in an airtight container for up to one year.
TO SOAK OR NOT TO SOAK?
There is no need to soak split peas before cooking. They turn very creamy when cooked through. However, soaking peas overnight in water shortens their cooking time and makes them easier to digest.
Split peas absorb lots of water as they cook, so check the soup often and add liquid as needed if doing it on the stove, or make sure to follow the water ratio recommendations in the Instant Pot recipes. They only need to be cooked until they are tender, but if a smoother, creamier texture is desired, cook them longer until they soften and fall apart then pureeing with an immersion blender.
SPLIT PEA NUTRITION
Split peas are high in plant-based protein and fiber, and low in fat. A 1/2 cup of cooked split peas contains about 115 calories, 8 grams of protein, and 8 grams of fiber. They are also a great source of non-heme iron, magnesium, some B vitamins and other minerals. Great for those following a vegetarian diet!
Okay, let's look at some of the best Instant Pot split pea recipes to try!
---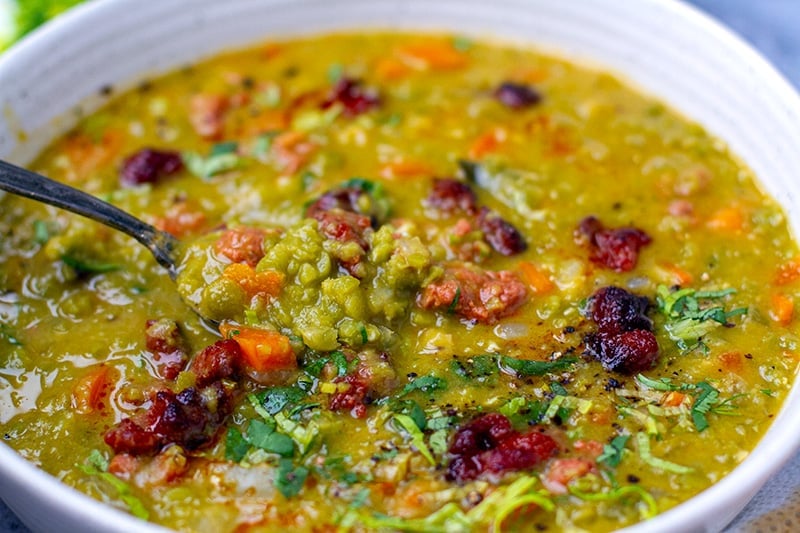 In this recipe, chorizo is used instead of ham or ham hock and it gives a lot of flavor to the soup, which will vary depending on the type of chorizo sausage you use. For example, if you use smoky chorizo or spicy one, you will get more of that flavor in the dish. You will use half of the chorizo when cooking the split pea soup and pan-fry the rest to use as a topping when serving it. Get the recipe from our blog.
This gorgeous split pea soup (or a thin stew) is adapted from a classic Turkish lentil soup, also known as Mercimek Çorbası. It's a simple, rich and nutritious soup that is full of warm, aromatic spices and flavours that will get you asking for seconds. Vegan and gluten-free. Get the recipe from here.
Often split pea soup is made with ham, this recipe is a plant-based version that's equally rich in flavor. It begins with sautéing onion and garlic for their aromatic quality that provides the base of flavor, while potatoes add creaminess. This soup is enhanced with coconut milk, plus fragrant fresh and dried herbs. Recipe from Minimalist Baker.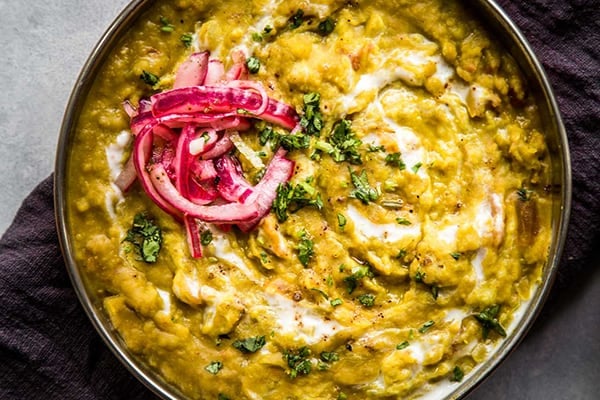 Hearty Indian staple, this dal is made with split peas and is creamy and full of flavor. Serve over rice, quinoa or with some nice naan bread. Recipe from Pulses.org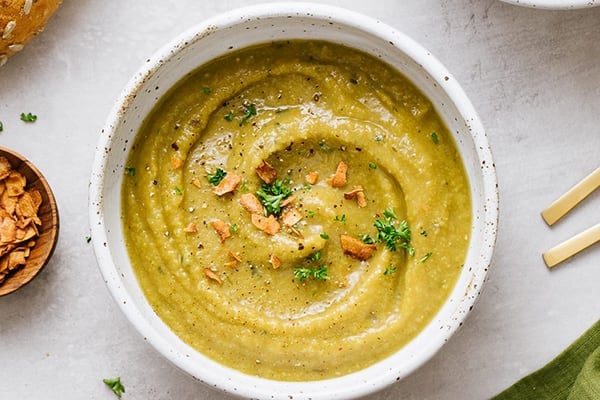 A hearty mix of green split peas, carrots, celery, onion, and green cabbage simmered with flavorful herbs. Full of protein, virtually fat-free, and so easy to make! Recipe from Simple Veganista.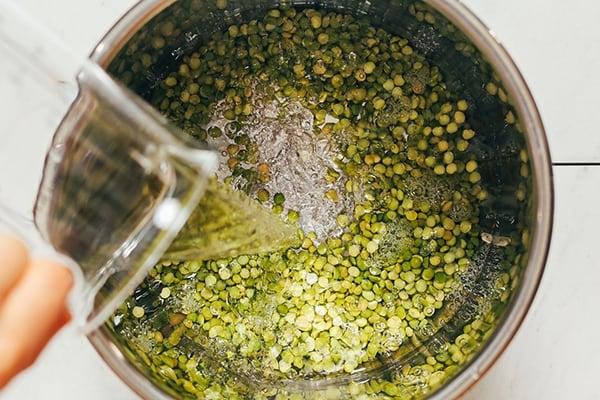 A quick & simple method for making PERFECT cooked green split peas! Plus, a versatile template for creating split pea soup or stew. Recipe from Minimalist Baker.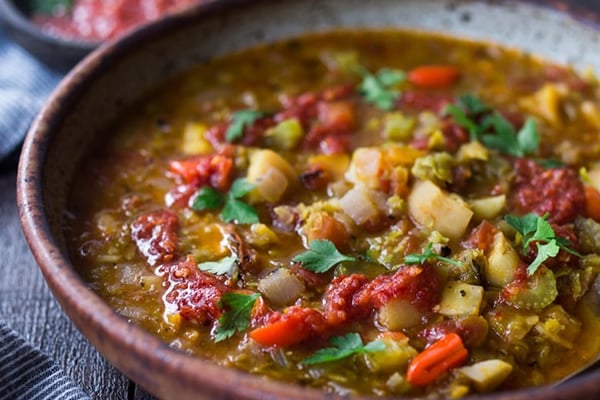 Packed full of winter veggies and seasoned with North African spices. It only takes 15 minutes in an Instant Pot. When it is done, serve it up with spicy Harissa paste and a drizzle of olive oil. It gives sombre split peas a boost of flavor along with lovely heat. Together, it's magic. To cool down the palate, swirl yogurt into the bowl. Recipe from Fasting At Home.
What goes well with a chilly, fall day? A hearty bowl of steamy-hot chicken soup! But this soup is unique and fantastic. It's light but also tastes rich and satisfying. It will also do a great job of keeping chills at bay and make you feel warm and cozy inside. Recipe from Valya's Taste of Home.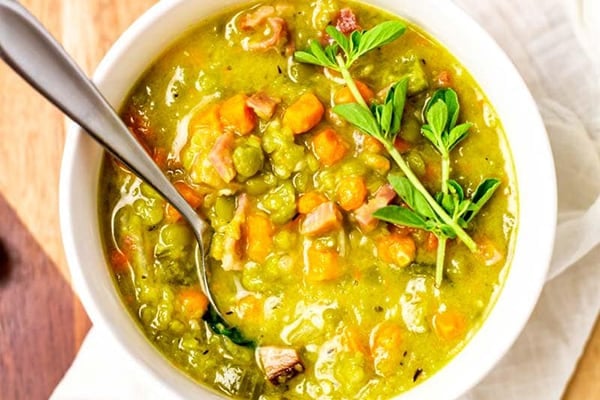 And of course, we had to include the classic split pea soup with ham. It isn't going to win any beauty contests, but it's most tasty, cozy dish. Recipe from Wholefully.
---
SAVE Split pea Instant Pot Recipes TO PINTEREST