Get ready to have friends over this summer with these Instant Pot pulled pork recipes with a twist. Whether seasoned with coffee, Dr. Pepper, siracha or apple cider, these tender and full of unique flavors pork recipes will please a crowd when piled high on a sandwich, tacos, veggies, rice or pizza. 
---
WHY PULLED PORK IS SO POPULAR
We can't get enough of pulled pork. It's a popular dish that is great for feeding a crowd on hot a summer day or in winter, depending on how it's served. From Massachusetts to South Carolina and Tennessee, it seems that every State has its own BEST sauce or method for making pulled pork.
To make pulled pork, some people use pork shoulder, others use pork butt. Traditionally, the meat is cooked slowly until it's ready to be "pulled" into shreds and dressed with sauce. Using the Instant Pot to pressure cook pork saves a lot of time and results in equally delicious and tender pulled pork.
Pulled pork is so versatile, making it a good meat option in place of pricier beef or lamb. The cut of meat is relatively easy to make and hard to overcook, especially with a pressure cooker. It works well in sandwiches and tacos, perfect for a busy culture of people on the go.
You can stick to the basics and keep it traditional or get inspired by one of our Instant Pot pulled pork recipes with a twist.
---
BASIC INSTANT POT PULLED PORK RECIPES
If you have never made pulled pork in an Instant Pot pressure cooker before, try one of these basic recipes. It's always good to have a go-to master methods that you can adapt and put your own spin on.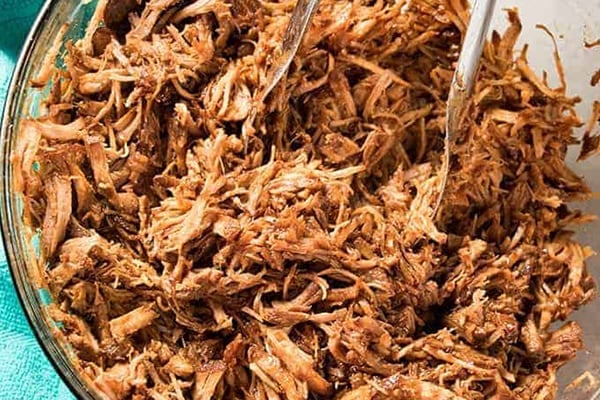 Make this easy and super flavorful pulled pork using a pork loin roast and have your family's new favorite instant pot pork recipe on the table in an hour. Recipe from The Salty Marshmallow.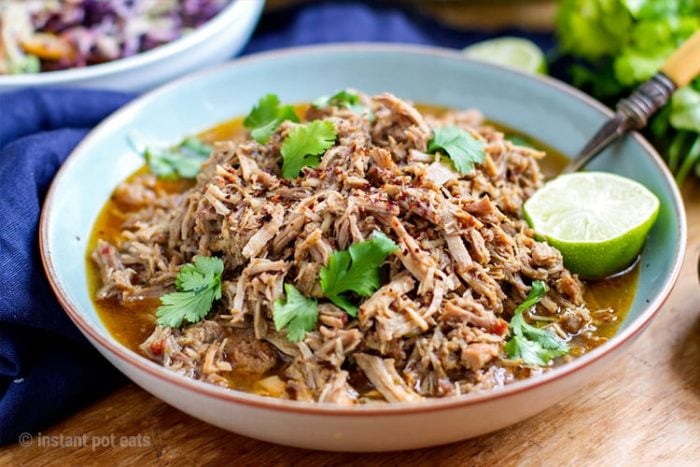 Barbacoa is often associated with Mexican and Caribbean cuisines, but it's often more about the smokey flavors of chipotle chili or smoked paprika spices used than the traditional method of slow-cooking meat. Get the recipe here.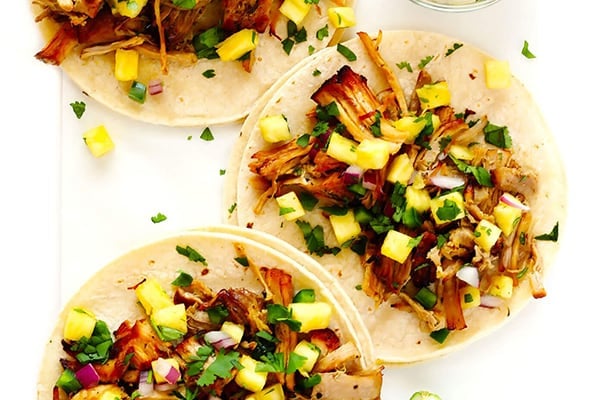 Seasoned with a zesty garlic-citrus mojo sauce, making each bite of pork extra flavorful even before any extra salsas or toppings are added. Recipe from Gimme Some Oven.
---
PULLED PORK RECIPES WITH A TWIST
Ready for something a little different? You might have had a smokey or spicy BBQ sauce pulled pork before but have you ever tried the Korean version? What about creamy pulled pork? Coffee? Apple Cider? Yep, these are all fun and creative twists on the traditional Instant Pot pulled pork recipe.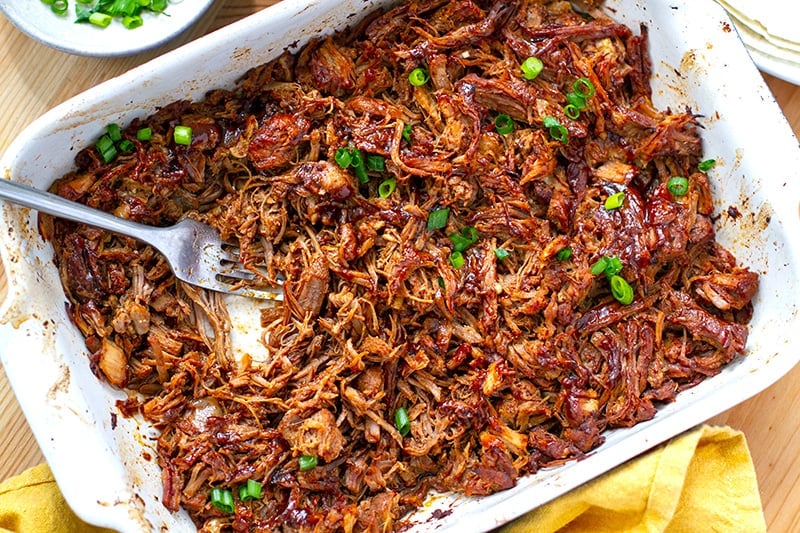 Tender meat in a sauce that gives a real explosion of flavors – sweet, salty, smoky and a little spicy – kind of like a firecracker, hence the name. Get this recipe here.
Tender Asian-style pulled pork is a deliciously savory and slightly smoky treat. It's a versatile dish you can enjoy over rice, on noodle bowls, in salads, and in sandwiches. Recipe from Omnivores Cookbook.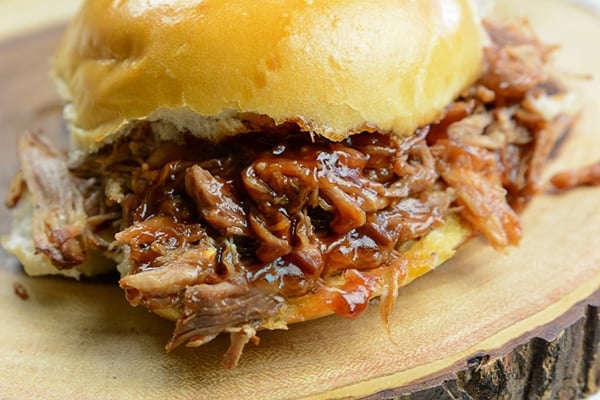 These leftovers are just as good as the first night you serve them up. Dr. Pepper adds a nice flavor to the pork, but it also helps tenderize it, so you have that juicy and tender pork. Pile on a sandwich or top some fries. Recipe from Adventures Of A Nurse.
Perfect for game day. Pile this easy Instant Pot Pulled pork on pizza and score a touchdown for dinner with your pals. Recipe from Cravings Of A Lunatic.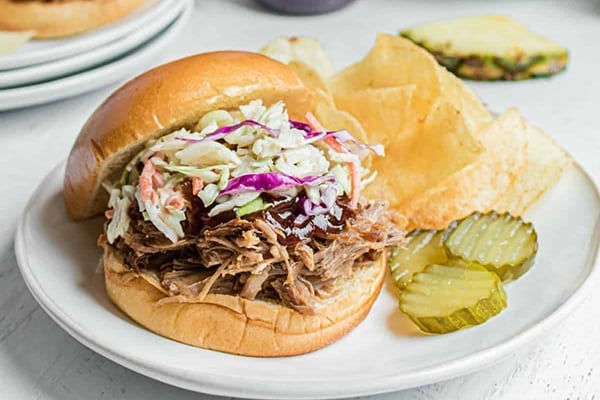 This recipe is loosely based on the traditional Hawaiian pork called Kalua Pork. It's made by slow roasting a pig covered in banana leaves in a pit for hours. When you don't have hours, this Instant Pot version is a time saver. Recipe from Shugary Sweets.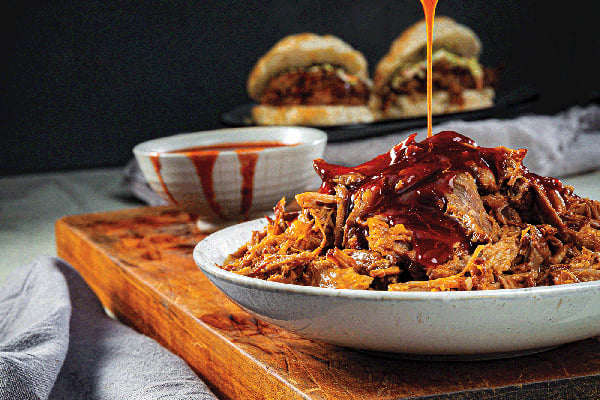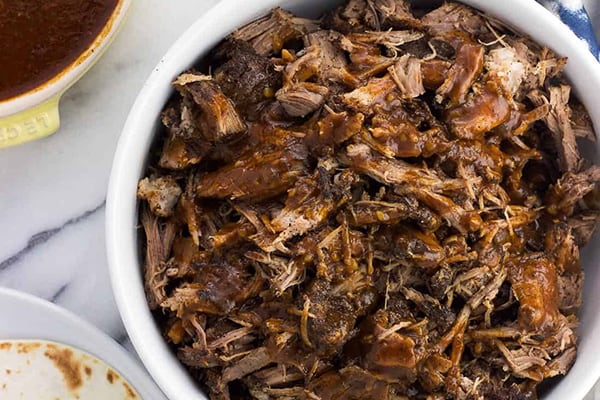 The pork features a coffee rub along with a blend of smoky spices and cooks in a savory BBQ sauce. Coffee may sound strange but works well with the bold flavorings. Using finely ground coffee ensures it won't be gritty or crunchy, rather it would blend right in with the brown sugar, kosher salt, and other ground spices. Recipe from My Sequined Life.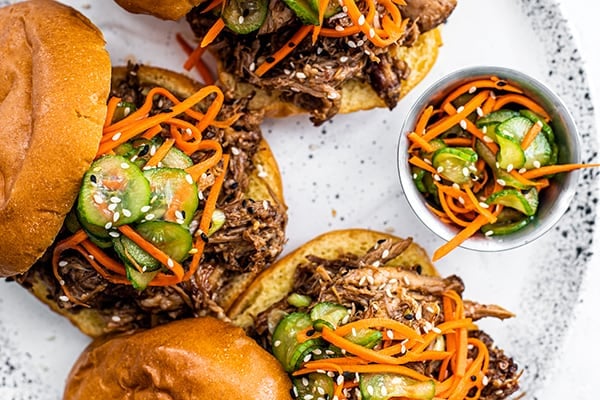 This recipe isn't authentic Korean cuisine but the flavors in these pulled pork sandwiches are downright luscious. You get a bit of everything—sweet, salty, spicy, and sour. Recipe from Killing Thyme.
This sweet and (slightly) spicy meat is a fun twist on pulled pork! It's great in tacos, wraps, on baked potatoes, or any way you'd eat BBQ pulled pork. Recipe from Perry's Plate.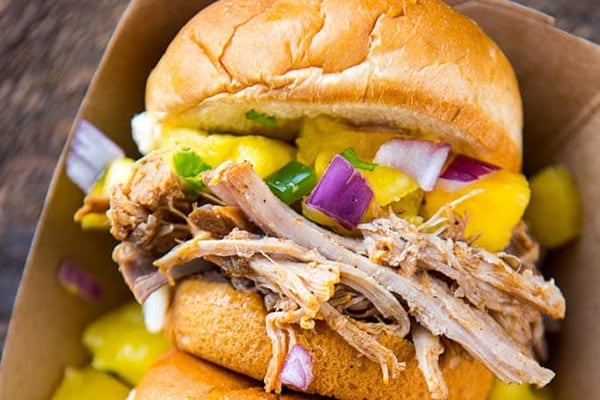 Delicious juicy pulled pork with a Caribbean Jerk kick! A key component of this recipe is the pineapple salsa. Recipe from Slow Cooker Gourmet.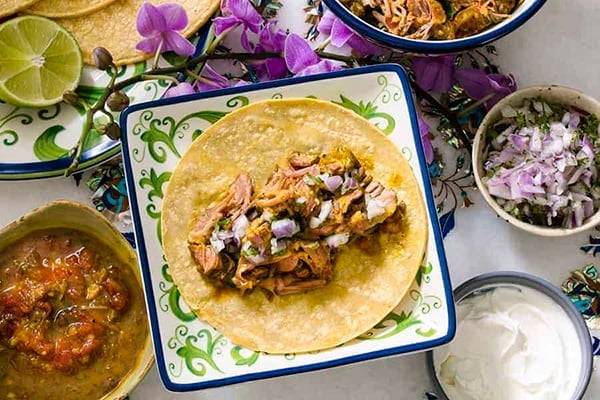 This is nothing like you've ever had, a burst of flavor from the Indian spices and the tender pork. Recipe from Two Sleevers.
A twist on the tomato-based bbq sauce pulled pork sandwich. Instead, the tender shredded pork is coated with a mustard-based bbq sauce that is prevalent in South Carolina. A super easy recipe that can easily feed a hungry crowd. Recipe from 365 Days of Slow and Pressure Cooking.
The fennel seeds, orange juice, and chili flakes add so much flavor to this Italian-style Instant Pot pulled pork. Recipe from Sip and Feast.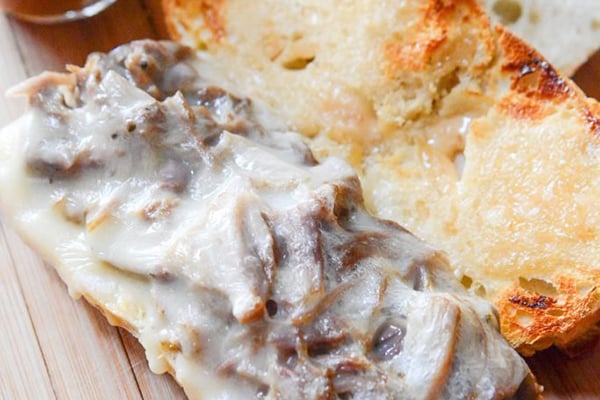 Juicy and tender pulled pork nestled in a soft bun that's just perfect for dipping in that savory au jus. Recipe from The Salty Pot.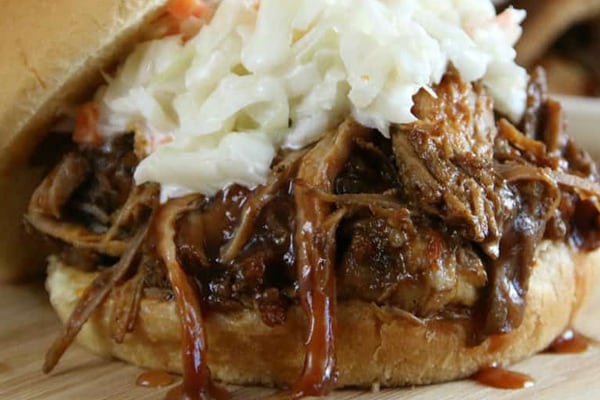 This recipe is all about the seasonings and one secret ingredient. Isn't it amazing how you can just dump a few ingredients in a pressure cooker and have one heck of a meal? Recipe from I Save A to Z.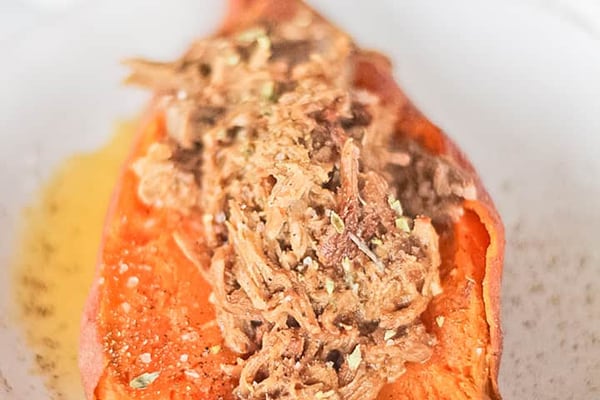 An easy and versatile fall healthy pulled pork recipe. It's slightly sweet yet sugar-free. Recipe from Finished with Salt.
Here's our standard recipe for pulled pork. We use smoked paprika to give the meat that characteristic "smoker" flavor, rather than a bottled barbecue sauce that can end up too sweet. Even without burnt ends, the flavor will be intense and sweet. Remove any big fatty blobs from the pork so that the sauce is not too greasy. Recipe from Instant Pot Official.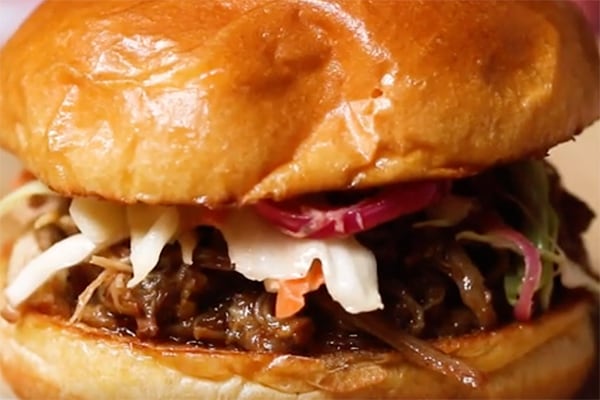 We can't get enough of this easy root beer pulled pork recipe. Let the Instant Pot do all the work, leaving you with the juiciest barbecue pork. Serve on buttery brioche buns or as sliders and top off with a simple pickled onion slaw. Recipe from Tasty.
---