Moroccan food ranks high on lists of the world's tastiest cuisines and is well worth exploring if you haven't tried many recipes before. With incredible variety, beautiful spices, and unique flavor combinations of savory and sweet, you can make these Instant Pot Moroccan recipes in the comfort of your own kitchen.
---
If you're searching for multi-layered flavors and textured ingredients, try this uniquely irresistible global cuisine. Moroccan dishes are layered with sweet and spicy, earthy, and bright flavors that take advantage of the vast variety of spices available in local markets. The combination of salty (olives), sweet (dried apricots), and sour (lemon) is a combination that is common in Moroccan recipes.
A LITTLE ABOUT MOROCCAN CUISINE
The first inhabitants of Morocco were nomads called Berbers. They used local ingredients, such as olives, figs, and dates, to prepare lamb and poultry stews. Traditional Moroccan cooking today is a blend of cultures. Morocco's location on the northern tip of Africa, with coastlines on both the Atlantic Ocean and the Mediterranean Sea, lends to its influences by both its European and Mediterranean neighbors, as well as, traditional African, Middle Eastern, and even South American flavors.
The strongest influence on native cooking was by the Arabs. They introduced spices including cinnamon, ginger, saffron, cumin, and caraway. They also introduced sweet-and-sour cooking. The country has an abundance of imported spices from traders around the world throughout history. The blend of these spices with its backbone ingredients creates Morocco's most iconic dishes.
essential spices FOR MOROCCAN COOKING:
Cumin
Saffron
Turmeric
Ground ginger
Cardamom
Paprika
Hot red peppers
White or black pepper
Cinnamon
MOROCCAN CUISINE ingredients:
Couscous
Garlic
Parsley
Preserved lemons
Olives
Meats (chicken or lamb)
Sesame seeds
Cilantro
Onions
Almonds
Honey
Orange flower water
Dried fruits like apricots, dates, raisins, and figs
Harissa
Most common MOROCCAN dishes
Couscous: tiny balls of wheat semolina, cooked so they are soft and fluffy.
Tagine: slow-cooked stew is usually made with chicken or lamb, a variety of vegetables, dried fruits, nuts, and spices. Traditionally made in a conical clay pot.
Harira Soup: Tomato-based soup filled with meat, vegetables, lentils, and chickpeas.
Bastilla: Sweet and savory pie made with shredded chicken, mixed with beaten eggs and spices, topped with fried, crushed almonds and wrapped in a flaky pastry shell and dusted with confectioners' sugar and cinnamon.
Chicken with preserved lemon: Slow-cooked in a tagine with preserved lemons and olives.
Kefta w/Baked Egg – A beef dish served with eggs and various spices in a sauce.
Charmoula Sardines – A plate of sardines filled with finely chopped and lightly spiced veggies.
Moroccan Mint Tea – The country's most popular drink poured by holding the pot high above the glasses, allowing the air to mix with the tea.
---
WATCH OUR TOP 10 VIDEO RECIPES
---
INSTANT POT MOROCCAN RECIPES
Now that you are a little more familiar with the Moroccan cuisine, we want to inspire you to try it at home. We've collated some of the tastiest looking Instant Pot Moroccan recipes to get you started. From meaty stews to vegetarian-friendly soups and legume dishes, you can take a trip to Morocco without leaving your kitchen.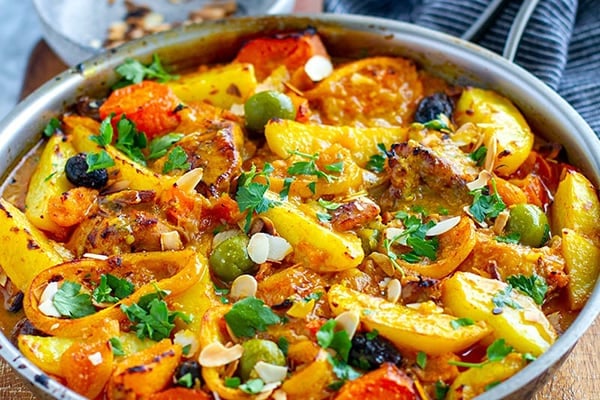 Try our Instant Pot Moroccan chicken stew with olives, potatoes, and apricots. It's beautifully spiced, a little sweet with citrusy, lemony notes. Perfect one-pot dish to serve with couscous, rice or cauliflower rice, or crusty bread on the side. It's gluten-free and Whole30-friendly. Recipe from Instant Pot Eats.
We're swapping a traditional tagine pot with and an Instant Pot, and showing you how to make a fabulous Moroccan lamb stew right in your house. Filled with veggies like potatoes, carrots, and peas, this one-pot dish is perfect on its own or you can serve it with a favorite side dish. This recipe is dairy-free and gluten-free and can be made Whole30 and Paleo-friendly. Recipe from Instant Pot Eats.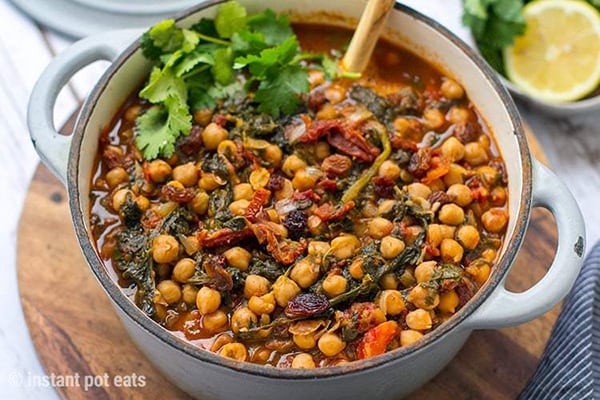 This vegan and gluten-free friendly Instant Pot chickpea stew with sun-dried tomatoes and spinach is a delicious main meal full of Moroccan-influenced spices and flavors. Serve it over rice, couscous or with some crusty bread. Recipe from Instant Pot Eats.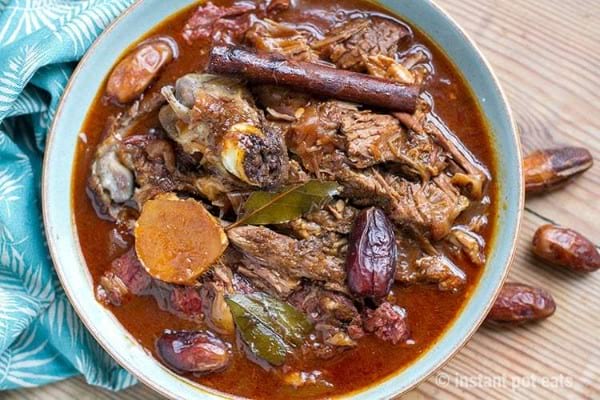 If you've never cooked leg of lamb or shoulder in an Instant Pot, now is the time to try it. You can get the most tender, fall-of-the-bone lamb meat in just under 2 hours, instead of slow cooking it in the oven for 4-6 hours. Cooked in a Moroccan tagine inspired broth with dates, cinnamon and ginger, this lamb stew will keep you asking for seconds. You can serve this dish with couscous, turmeric rice, or rice and chickpea pilaf, quinoa or over cauliflower rice for a low-carb version. Recipe from Instant Pot Eats.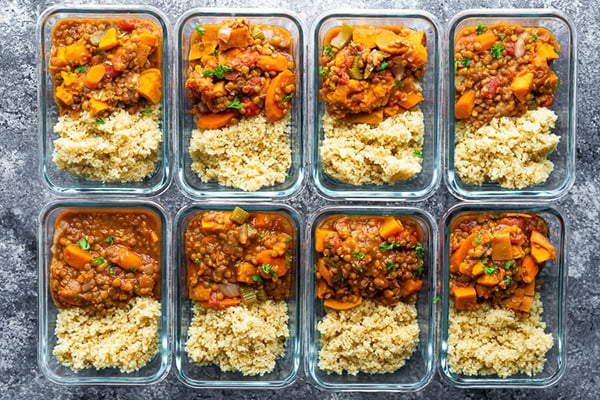 These Moroccan Instant Pot lentils are perfect for meal prep! They are vegan, gluten-free, freezer-friendly and delicious. The Instant Pot is my hero when it comes to meal prep. It bulk preps so many ingredients and it gets dinner on the table quickly! Recipe from Sweet Peas and Saffron.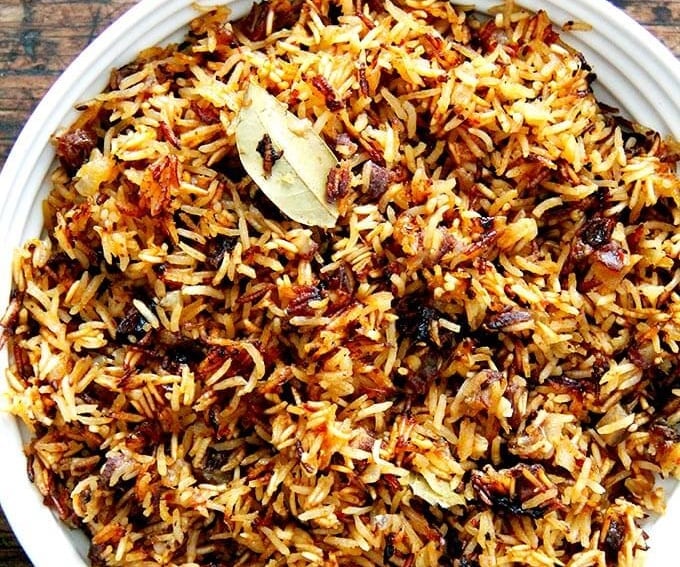 This Instant Pot Moroccan rice is so flavorful, a mix of spicy, smoky harissa with sweet dates and fresh orange. If you don't have an Instant Pot, don't worry — stovetop instructions are included. Recipe from Alexandra Cooks.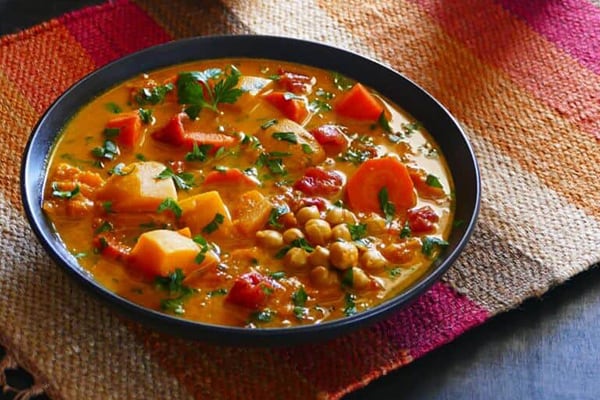 This Vegetarian Instant Pot Moroccan Stew recipe is so good that you won't miss the meat! The stew has a dynamite combination of ingredients that gives it a rich, complex flavor that you're going to love. Serve with a lemon and herb couscous, or quinoa. Recipe from Paint The Kitchen Red.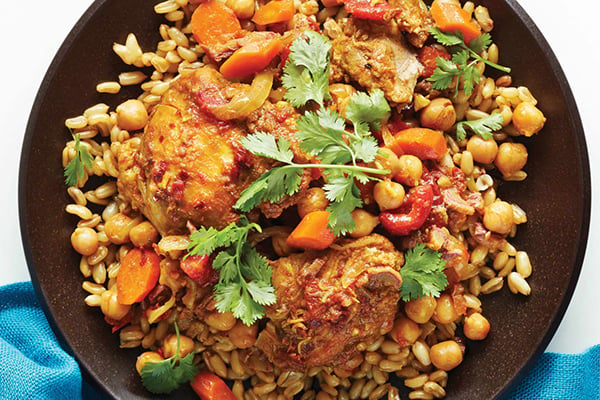 Serve this zesty North African stew made in the Instant Pot with Kamut, a deliciously plump and chewy ancient wheat. It's an inexpensive staple you'll find in bulk and natural food stores. Recipe from Clean Eating.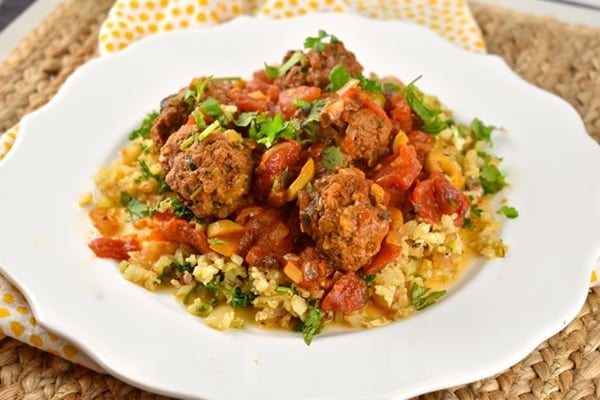 Usually referred to as Kefta, Moroccan meatballs are traditionally cooked in a tagine, but since that is one more cooking tool These Moroccan Meatballs are super tender, juicy, and wonderfully seasoned with Moroccan spices and fresh herbs. They are simmered in a delicious, rich tomato sauce that is so good, everyone will want seconds! Recipe from Laa Loosh.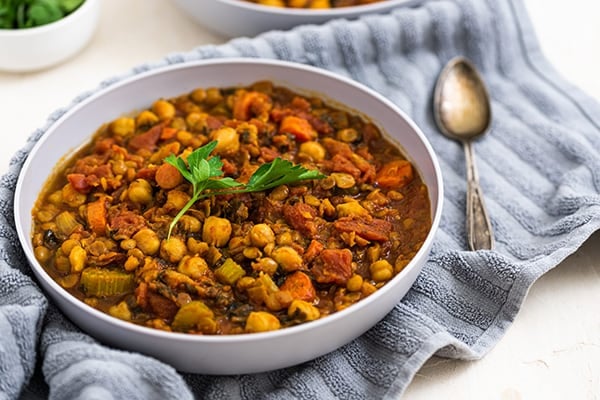 Keep cozy during the winter months with this recipe for the delicious Moroccan soup called Harira. It's full of flavorful vegetables, legumes and spices. And when you make it in the Instant Pot it's super fast! Often served during Ramadan, Harira has a broth base and is loaded with vegetables and legumes. The classic recipe calls for meat, which is omitted in this version. Recipe from The Nut-Free Vegan.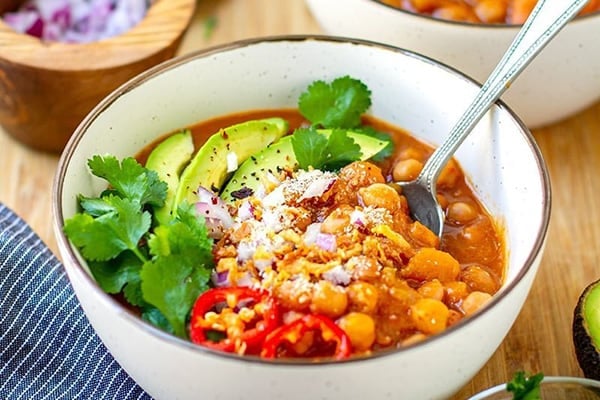 Made with butternut squash pumpkin and garbanzo beans (or chickpeas), this Instant Pot chili is comforting and hearty, perfect for a fall or winter dinner. Served with diced avocado and cilantro, this is a must-go gluten-free, vegetarian, and vegan chili for your pressure cooker. This is a great make-ahead, freezer-friendly recipe. Recipe from Instant Pot Eats.
---
SAVE THESE Moroccan INSTANT POT RECIPES TO PINTEREST