Who doesn't love tender, melt-in-your-mouth roast with veggies cooked in savory juices? Whether it's beef, chicken or lamb, we've collated some of our favorite Instant Pot roast recipes to inspire your next family meal. Yes, you can have a Sunday pot roast on the table in less than an hour! An economic meal that feeds a crowd and still has leftovers for the workweek.
---

When you think of a Sunday comfort meal that gathers family, in many households a pot roast comes to mind. Succulent whole chicken or tender beef and vegetables, cooked in juices are perfect when you need something hearty and filling. It's an economic meal where you can purchase a four-pound roast or a whole bird, feed a family, and still have leftovers.
INSTANT POT POT ROASTS WITH RED MEAT
The tougher the cut, the better the pot roast. A cheaper cut of beef stands up to the long cooking process (shortened significantly by pressure cooking!). Chuck roasts tend to be the best cut for pot roast, which comes from the front of the cow because it is very rich and flavorful; brisket and round cuts slice neater but aren't as tender.
Traditionally, a pot roast is braised, browned on the stovetop, and then cooked in a liquid such as water, wine, stock, or broth. Cooking it "low and slow" was the key in a covered casserole dish or Dutch oven at a high temperature resulting in soft middle and crispier, dark golden outsides. Inexpensive vegetables such as onions, celery, carrots, turnips, and potatoes can be added to cook with the roast to complete the meal.
Weekends used to be the best time to prepare for the slow process. Allowing the meat to simmer for hours results in the tender, melt-in-your-mouth roast. Patience is no longer needed thanks to your Instant Pot! You can throw this meal together in under an hour now. You don't have to wait for the weekend to start cooking the roast, you can have this comfort meal any time you are craving it.
Below we've included some of the best Instant Pot pot roasts and a couple of whole roast chicken recipes.
---
BALSAMIC POT ROAST WITH DIJON MUSTARD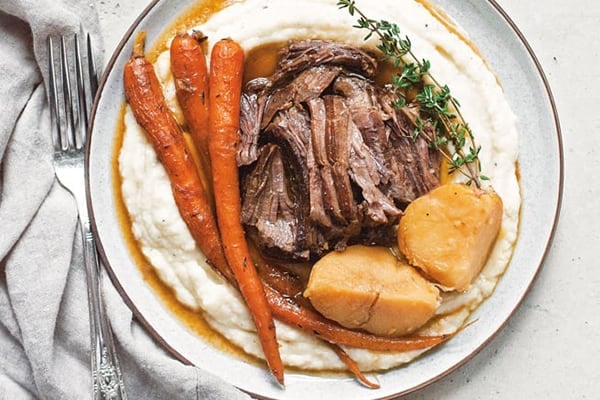 Perfect for family dinners or entertaining friends, this Instant Pot Balsamic pot roast with Dijon mustard is heaven on a plate. Served with creamy potatoes and carrots for a delicious meal. This recipe is gluten-free and Whole30 friendly. Recipe from Instant Pot Eats.
SIMPLE Instant Pot Pot Roast
The fastest and easiest version of this classic comfort food! It's fall-apart tender, moist, and covered in a flavorful gravy. Plus the creamy baby potatoes and tender carrots are made right in the same pot! Recipe from Platings And Pairings.
BEEF POT ROAST WITH GRAVY, POTATOES & CARROTS
Cooking beef pot roast in the oven would usually take up 3-4 hours, but you can slash that time by more than half by doing it in a pressure cooker. This is a guest recipe from Nancylynn of Confessions Of A Fit Foodie. Recipe from Instant Pot Eats.
CRAZY DELICIOUS INSTANT POT 3 PACKET ROAST
It's called Instant Pot 3 packet roast for one reason. You use 3 packets of seasonings to make it, but it should be called Magic Roast because it's THAT CRAZY GOOD. Recipe from The Salty Pot.
GREEK-STYLE INSTANT POT LAMB SHOULDER ROAST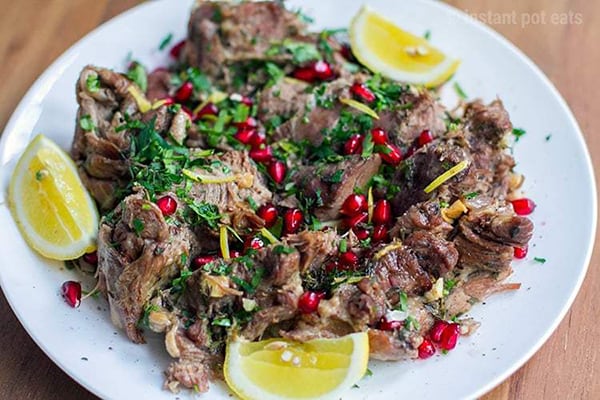 This succulent, melt-in-your-mouth Instant Pot lamb shoulder roast only takes just a little over an hour instead of 4-5 hours of slow cooking in the oven. The meat is flavoured with fresh thyme, garlic, and honey. Topped with fresh parsley, lemon rind and pomegranate. Recipe from Instant Pot Eats.
Instant Pot Mississippi Pot Roast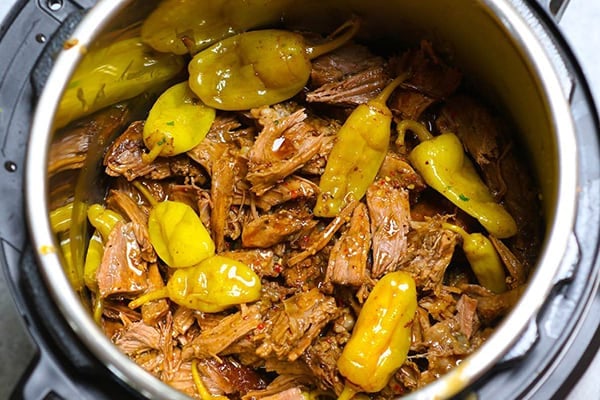 This instant pot pepperoncini beef roast tastes like it's been simmering away for hours. An easy and comforting dinner recipe that even picky eaters will devour. The chuck roast is fall-apart tender with a flavorful gravy. Recipe from Tip Buzz.
Tender Frozen Roast in Instant Pot

You can still get a tender, flavorful, piece of beef even if you forgot to thaw out your roast beforehand. Recipe from The Typical Mom.
Instant Pot Pork SHOULDER Roast & GRAVY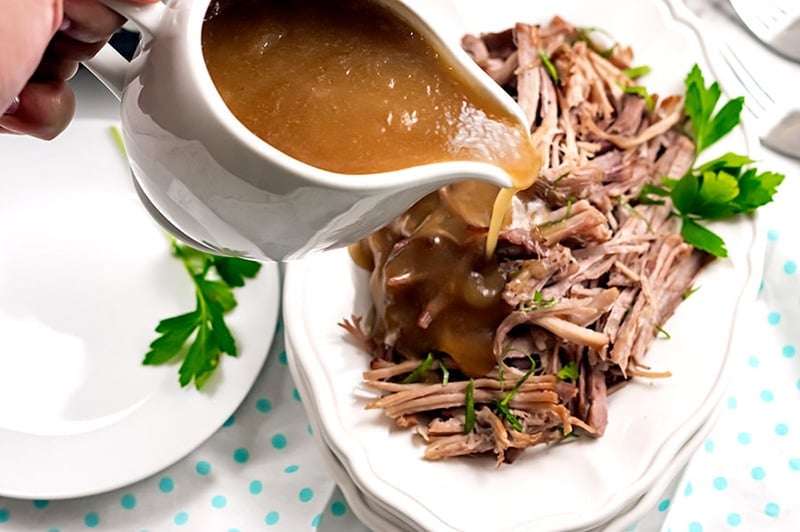 This flavorful Pork Roast is so deliciously comforting & satisfying to eat. A simple, budget-friendly meal that's super easy to make with few simple ingredients. Pork Shoulder is a great cut of meat for cooking in an Instant Pot Pressure Cooker because it's fatty and full of connective tissues. Recipe from Instant Pot Eats
Instant Pot Venison Roast
This Instant Pot venison stew uses backstrap, potatoes, and carrots, cooked in a rosemary and garlic broth. Venison is tenderized with salt and vinegar, then flavored with allspice and tomato paste. A simple meal perfect for a busy night and a fantastic way to cook your wild-caught game. Recipe from Tasty Oven.
Instant Pot French Onion Pot Roast
Tender pieces of chuck roast with caramelized onions and gravy. Recipe from 365 Days of Slow Cooking and Pressure Cooking.
Instant Pot: Sauerbraten (German-Style Pot Roast)
A traditional Sauerbraten, which is a German-style pot roast is marinated in a combination of cider and red vinegar, along with water and a few spices. Traditionally, juniper berries are used in making this dish. The roast marinates for 2-3 days (I marinated for 2) and then sugar is added to both the marinade and meat. It's then pressure cooked and the results were amazing! Recipe from What's Cookin' Chicago.
Instant Pot Red Wine Beef Roast
Made with beef, tenderized, and seasoned in the pressure cooker. Since it has red wine in the ingredients, the flavor that develops is rich just like those served in restaurants! Simple and comforting, this dish is a show-stopper dinner. Recipe from Sweet And Savory Meals.
WHOLE30 POT ROAST
Fall-apart tender, this Whole30 Pot Roast is the ultimate comfort food. It is filled with all the classic flavors. Choose a cut that has decent fat marbling as it will add more flavor to the dish. Recipe from Sustainable Cooks.
INSTANT POT BOTTOM ROUND ROAST
There is hardly any work involved thanks to your pressure cooker, the meat turns out moist, the gravy is tasty and the vegetables cook directly with the meat, which gives them great flavor. Recipe from Dishes Delish.
INSTANT POT WHOLE ROAST CHICKEN RECIPES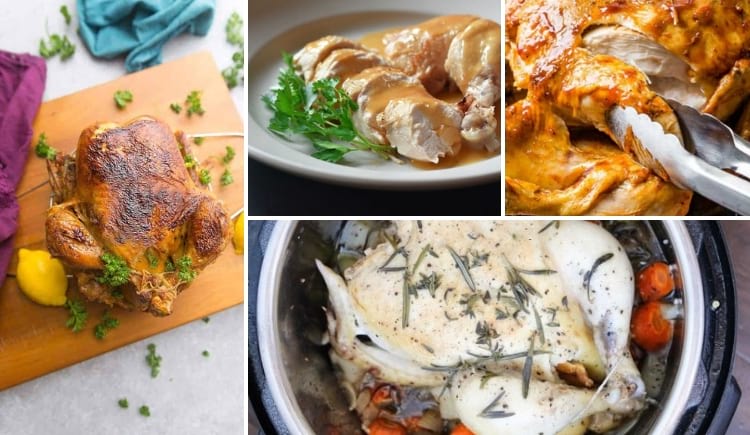 The pressure cooker is one of the quickest and easiest ways to make a delicious family dinner using larger cuts of meat or a whole bird. Some of our favourite Instant Pot whole chicken recipes are in this roundup.
---
---
SAVE TheSe INSTANT POT Roast REcipes TO PINTEREST