Today, we want to share some of our favourite Instant Pot shrimp recipes you can make at home. Shrimp is one of the most versatile ingredients that pair well with any cuisine for fast healthy meals that are packed with flavor. From cajun shrimp broil to Indian curry or from pasta to stir-fry, this seafood ingredient works with any dish you crave or spices in your pantry.
---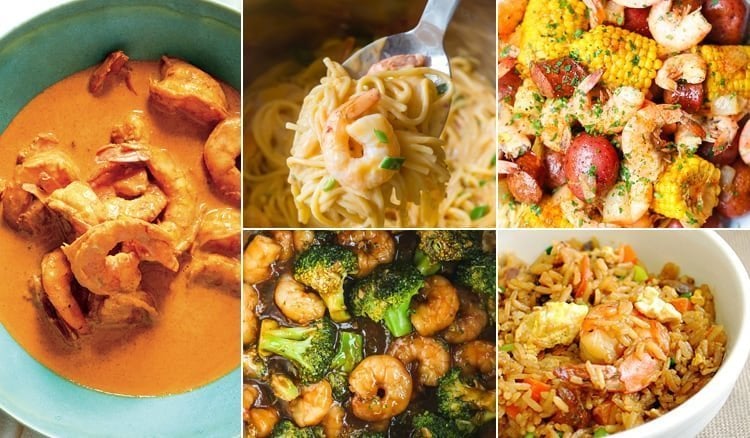 "Shrimp is the fruit of the sea. You can barbecue it, boil it, broil it, bake it, sauté it…" said Benjamin Buford "Bubba" Blue (1994's Forrest Gump). He couldn't be more right. Shrimp is so versatile in all the dishes you can incorporate them in. They also have a bit of sophistication to them when you see them added to a menu.
CAN YOu COOK SHRIMP IN THE INSTANT POT?
Yes, shrimp can be cooked in the Instant Pot! It is a quick and easy way to cook shrimp, and the Instant Pot can infuse the shrimp with flavor while keeping them tender and juicy. They cook fast. Sometimes a little too fast, so you have to be careful not to overcook them. Follow our recipe for simple Instant Pot shrimp below or choose one of the dishes that incorporate it.
What's the Difference Between Shrimp and Prawns?
Shrimp and prawns are two different types of crustaceans that have some differences in size, anatomy, and habitat.
Shrimp are usually smaller and have claws on two pairs of their legs, while prawns are typically larger and have claws on three pairs of legs. Prawns also have branching gills, and their second pincers are larger than their front ones. Shrimp have lamellar gills, and their front pincers are typically their largest.
In terms of cooking, both shrimp and prawns can be used in similar ways as they have a similar texture and mild flavor. However, because of their size difference, prawns may require longer cooking times than shrimp.
They can both be boiled, grilled, baked, fried, or sautéed and can be used in a variety of dishes like pasta, salads, stir-fries, and soups. So, although there are differences between the two, they can still be used interchangeably in many recipes.
Health Benefits of Shrimp
Shrimp contains an antioxidant called astaxanthin, which promotes brain and heart health. Many people are deficient in iodine which is required for proper thyroid function and brain health. Shrimp is one of the best food sources of iodine. It is also a good source of omega-6 and omega-3 fatty acids. It is low in calories, providing only 84 calories in a 3-ounce (85-gram) serving.
An overview of the nutrients in a 3-ounce (85-gram) serving of shrimp:
Calories: 84
Protein: 18 grams
Selenium: 48% of the RDI
Vitamin B12: 21% of the RDI
Iron: 15% of the RDI
Phosphorus: 12% of the RDI
Niacin: 11% of the RDI
Zinc: 9% of the RDI
Magnesium: 7% of the RDI
More information on Is Shrimp Healthy? Nutrition, Calories and More.
Purchasing Shrimp
When purchasing raw shrimp, the shells should be translucent greyish-green, pinkish-tan or light pink in colour. If it has blackened edges or black spots on the shells this may indicate a lack of quality. Raw and cooked shrimp should have a mild, "ocean-like" or salty smell, but it if has an overwhelming "fishy" or ammonia-like odour then it is most likely spoiled and not safe to eat. Also, make sure your shrimp is firm in texture.
If you're on the budget, frozen raw or cooked shrimp is an excellent choice and once defrosted, tastes and cooks in the same way as the fresh stuff.
Now, that we've covered some shrimp basics, let's get you inspired with these delicious, healthy Instant Pot shrimp recipes.
Best Instant Pot Shrimp Recipes
We've gathered the best Instant Pot shrimp recipes that are perfect for any occasion. From classic shrimp scampi to flavorful Cajun shrimp and rice, these recipes are quick, easy, and packed with flavor. So grab your Instant Pot and get ready to cook up a storm with these mouth-watering shrimp recipes!
Instant Pot Shrimp Recipe With Garlic & Butter
Here's a simple and delicious recipe for cooking shrimp in the Instant Pot with garlic and butter. It takes hardly any time and can be served over rice, quinoa, spaghetti or other pasta, noodles or with a side of vegetables. This recipe is simple, quick, and delicious, and the shrimp turn out perfectly tender and flavorful every time. Enjoy!
Print Recipe
Pin Recipe
Ingredients
1

lb.

shrimp

cleaned and deveined

1/2

cup

water

2

tbsp

butter

2

garlic

cloves, minced

salt and pepper

to taste

parsley

to garnish (optional)

lemon

wedges, for serving (optional)
Instructions
Add 1/2 cup of water to the Instant Pot, and place the trivet inside.

In a small bowl, mix together the butter, minced garlic, salt, and pepper.

Place the cleaned and deveined shrimp into the Instant Pot, and pour the butter mixture over the top.

Close the lid, and set the Instant Pot to Manual or Pressure Cook mode on high pressure for 1 minute.

Once the cooking time is complete, use the Quick Release method to release the pressure.

Open the lid and remove the shrimp from the Instant Pot with a slotted spoon. You can scoop the sauce over the shrimp and whatever it is served with (e.g. rice in our case).

Serve the shrimp with lemon wedges and parsley, if desired.
Nutrition
Calories:
298
kcal
|
Carbohydrates:
1
g
|
Protein:
46
g
|
Fat:
13
g
|
Saturated Fat:
7
g
|
Polyunsaturated Fat:
1
g
|
Monounsaturated Fat:
3
g
|
Trans Fat:
0.5
g
|
Cholesterol:
395
mg
|
Sodium:
363
mg
|
Potassium:
614
mg
|
Fiber:
0.1
g
|
Sugar:
0.04
g
|
Vitamin A:
350
IU
|
Vitamin C:
1
mg
|
Calcium:
156
mg
|
Iron:
1
mg
---
Best Instant Pot Shrimp Recipes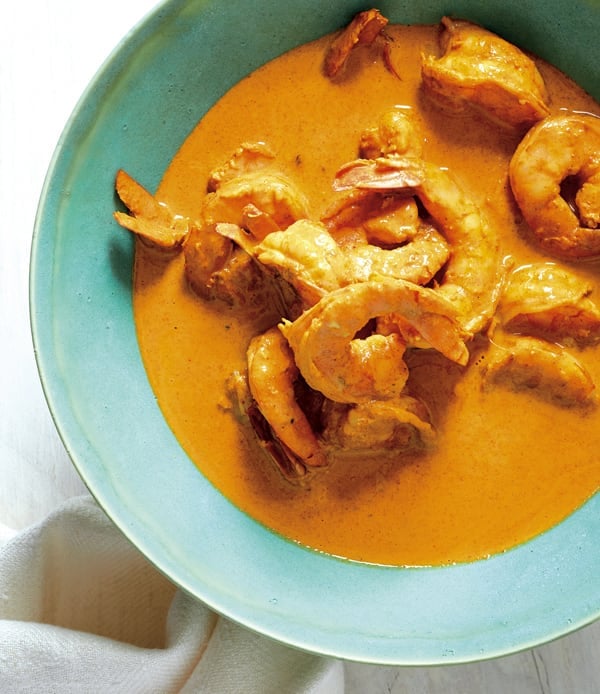 This is a hot prawn curry with origins from the beaches of Goa, a state on the southwestern coast of India. It is simple to prepare but has complex flavors and a little chili spice to keep every bite interesting and exciting. Serve with rice, cauliflower rice or some naan bread. This recipe is from Madhur Jaffrey's Instantly Indian Cookbook. Get this recipe on our blog here.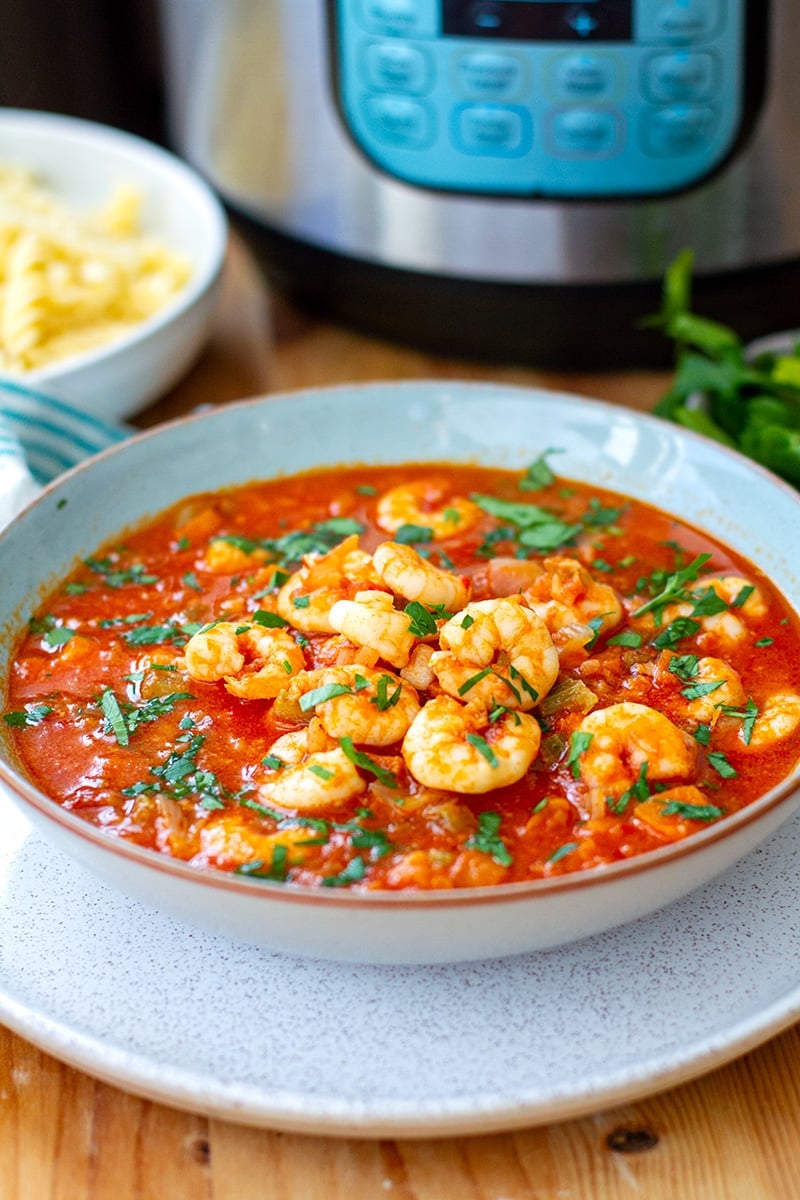 Cooked from frozen, this tomato garlic shrimp dish can be made in 15 minutes using the Instant Pot. It's gluten-free, paleo, Whole30 and low-calorie and can be served with a variety of sides. Get the recipe here.
Just throw a bag of frozen shrimp into the Instant Pot, add water, lemon juice, and Old Bay. Then stir it up and turn on the Instant Pot. It is possibly the easiest recipe for a busy weeknight dinner. Recipe from The Garlic Diaries.
The comfort of noodles with the spicy-sweet wow-factor of the Asian spiced shrimp in 8 minutes. The sauce is made with mayo, Thai sweet chili sauce, and sriracha. In one bite it will hit you with flavor. Recipe from A Spicy Perspective.
The great thing about this recipe is that you don't even have to defrost the shrimp. To avoid shrimp from getting rubbery is short cooking time and using jumbo frozen shrimp with shell on. This will ensure your shrimp is perfectly cooked. To get this meal on the table even faster, prep your ingredients ahead of time by chopping the onions, peppers, and garlic. Recipe from My Forking Life.

Instant Pot Chipotle Shrimp Soup is really hearty and filling. And it's also thick enough that you might even call it a chowder. The Chipotle adds that spicy touch and is counter-balanced by the cream. The word Chipotle comes from Mexico and means 'smoked chili pepper' in the Aztec language. Recipe from Paint The Kitchen Red.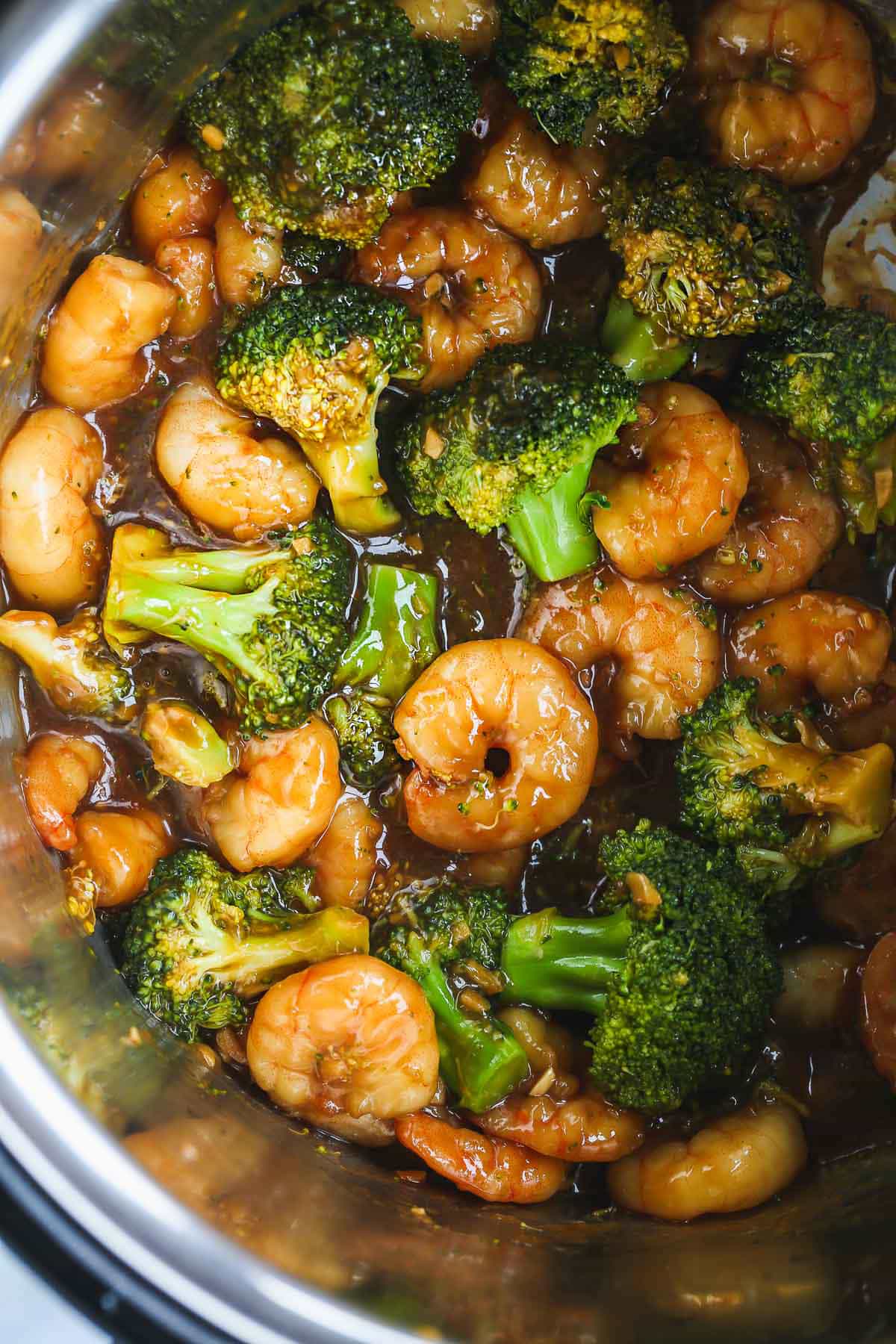 The most popular stir fry take out dish is probably shrimp and broccoli. This one is healthier, better than take-out and faster with pressure set to 0 minutes. Serve over white rice, and garnish with sesame seeds. Recipe from Little Sunny Kitchen.
This incredibly easy dump meal calls for sauteing some onion and garlic in a little bit of butter then tossing in the frozen vegetables, orzo pasta, frozen shrimp and chicken stock. Set it for 3 minutes on high pressure. After releasing the pressure, you can choose to shell them before serving. Top with lemon juice and some fresh parsley. Recipe from The Creative Bite.
Shrimp and grits no longer have to be a southern thing. It's so good everyone needs to have a bowl. It has unexpected ingredients that work deliciously together. Just garnish with some bacon because that always makes things better. Recipe from Southern Kitchen.
Cold rice is the secret for the best-fried rice, so if you can make the rice a day beforehand and chill it in the fridge overnight. The Indonesian sauce here is perfectly balanced with sweet and salty flavors. Recipe from What's Cooking Chicago.
A true cajun crawfish broil is memorizing seeing a long table filled with a smorgasbord of corn, potatoes, mushrooms, sausage, and crawfish. It's a community eating style experience like no other. But if you have no access to crawfish and prefer eating on a plate, then this recipe will satisfy your craving for some cajun tradition. Recipe from Damn Delicious.
The most mouthwatering combination of shrimp, tomatoes, and feta creates a rich tomato sauce, fragrant with parsley and dill herbs. It is a simple and hearty meal, with lots of Mediterranean flavor as well as many health benefits. Recipe from What's In The Pan.
This risotto is cheesy, creamy, and perfect for weeknight dinners or meal prep! Arborio rice is paired up with asparagus and spinach ingredients, but you can also mix it up and add chicken, mushrooms, or peas. Recipe from Stay Snatched.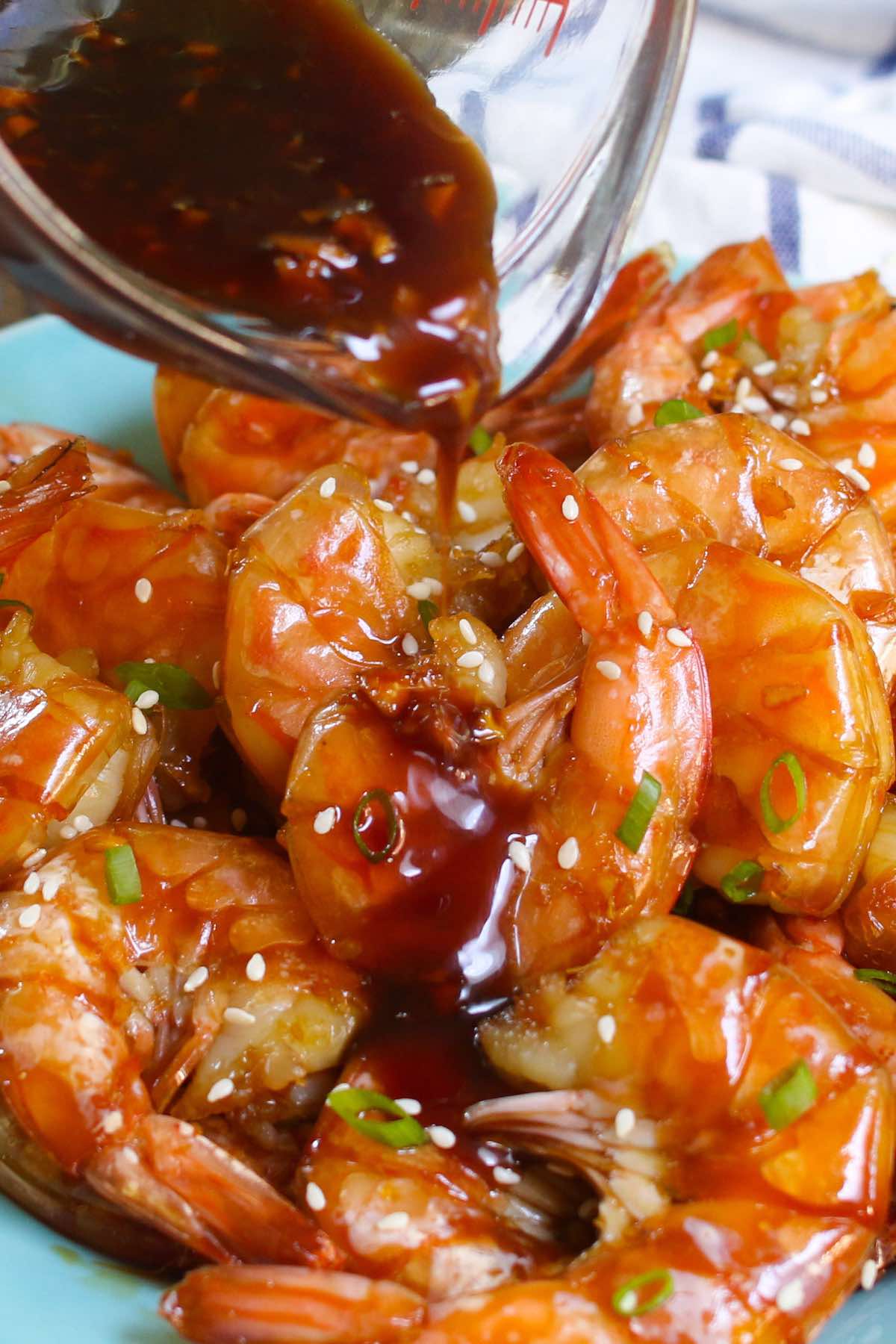 Enjoy sticky and sweet pressure cooker shrimp over some rice. The honey garlic sauce infuses into the shrimp after pressure cooking so there is no need for marinating. What a time saver! Recipe from Tip Buzz.
There are only a few ingredients in this easy shrimp recipe, mainly including coconut, cilantro, and curry. Make this low-carb, keto, paleo, and whole30 recipe in your slow cooker or Instant Pot today. Recipe from Fit Slow Cooker Queen.
The 21 Day Fix is a nutrition and fitness program that uses color-coded, portion-controlled containers along with daily workouts to promote weight loss. This Instant Pot Shrimp and Spaghetti Squash Fra Diavolo fit right into that program. It's also gluten-free & dairy-free. Recipe from The Foodie and The Fix.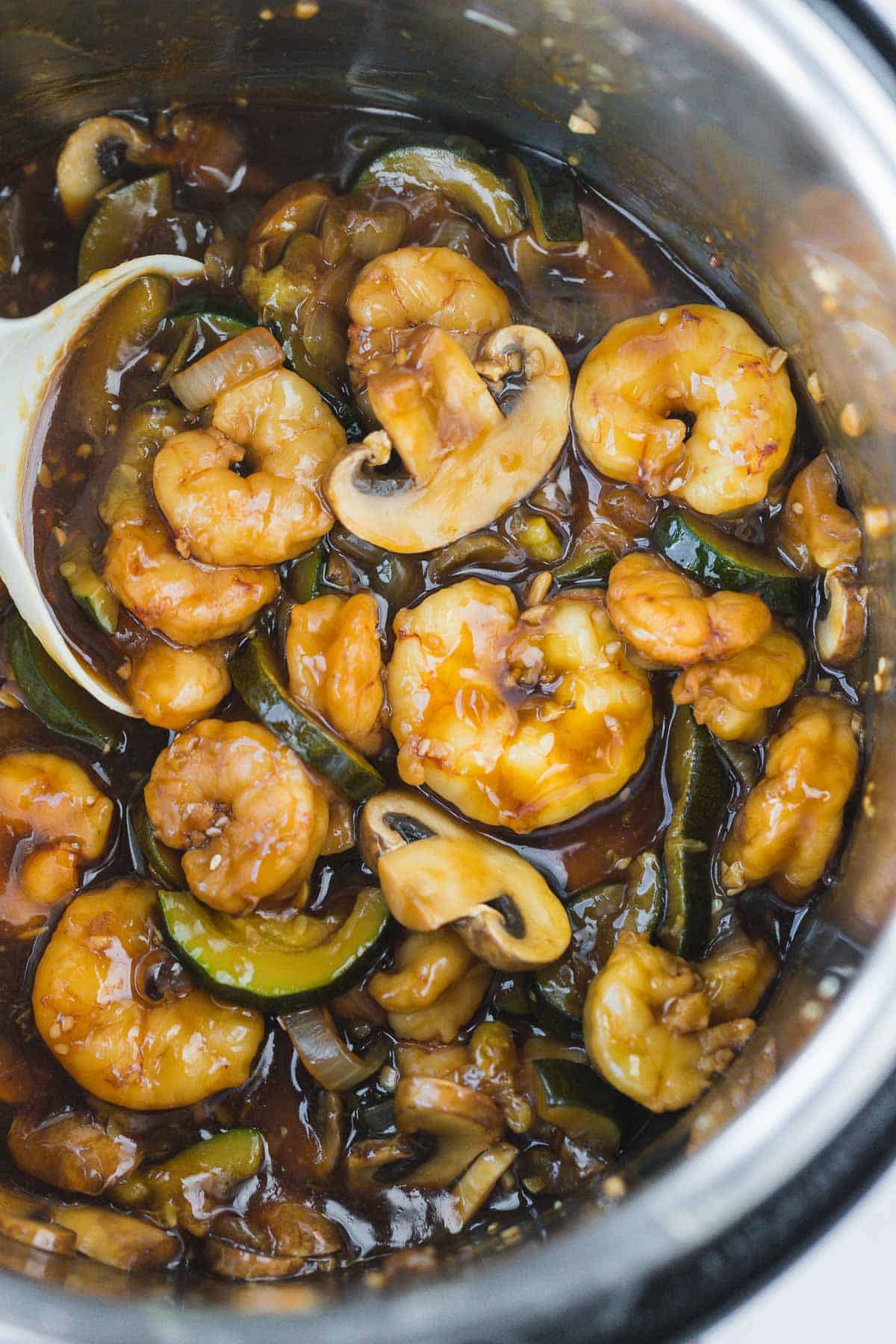 To make a hibachi-style dish, you will need shrimp, sliced vegetables (onions, mushrooms, zucchini) soy sauce, and ginger. This dish is usually served with rice and garnished with toasted sesame seeds. Recipe from Little Sunny Kitchen.
Instant Pot Shrimp Pasta with Vodka Sauce offers bold zesty flavor, a luxuriously creamy sauce, and perfectly cooked pasta and shrimp… In minutes. Recipe from A Spicy Perspective.
Featuring a spicy tomato sauce that's packed with Italian flavor and just the right amount of heat. This healthy meal is paleo and gluten free AND a one-pot, no-thaw meal. Recipe from Pressure Cooking Today.
This dish comes bursting with flavor and delicious ingredients like sea bass filets, bell peppers & shrimp! It's the perfect one-pot meal to add to your rotation and is dairy-free, paleo, and low-carb. Recipe from The Movement Menu.
A mix of fresh vegetables, shrimp, pasta, and a flavorful sauce all cooked together in the Instant Pot for an Asian-inspired meal. Recipe from Buns In My Oven.
Learn how to cook shrimp perfectly every time, from raw or frozen, and ready to dip into some shrimp cocktail. Recipe from Don't Waste The Crumbs.
Rich in flavor, light and almost guilt free. This creamy shrimp recipe is the perfect dinner that will have your family running to the table. Recipe from A Lily Love Affair.
A classic New Orleans recipe made with Creole spices and plenty of shrimp in a spicy tomato-based sauce. The rich and delicious stew tastes great over rice. Recipe from Paint The Kitchen Red.
Creamy and savory, this creamy potato shrimp soup is the ultimate comfort food on a cold night! Loaded with healthy veggies such as celery, carrot, onion, and garlic, this chowder is delicious with a big chunk of country bread. Recipe from Eat Well 101.
The Instant Pot is a great hands-off and easy way to make seafood or shrimp stock. Use this Instant Pot Shrimp Stock for soups, stews, or any seafood dish including Cajun and Creole dishes like étouffée. Recipe from Paint The Kitchen Red.
---