From Japanese pork to vegan options, these Instant Pot Ramen Recipes go beyond that little packet of seasonings and prepackaged noodles. Make your own broth and customize your own toppings to create a hearty dish.
---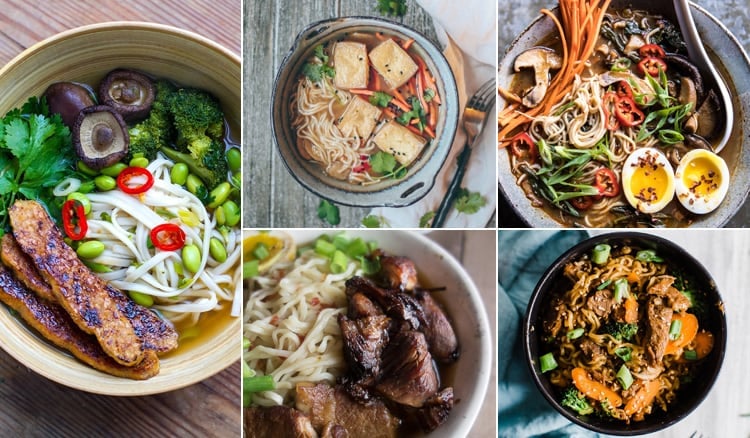 Are you familiar with ramen? It got its popularity as a budget-friendly dehydrated packaged college food staple. It's as easy as boiling water. For most people that was their only exposure to ramen. But authentic ramen goes so far beyond that little packet of seasonings.
Japanese ramen was originally created by Chinese who emigrated to Japan. A combination of Chinese ramen soup and Japanese buckwheat soup stock. Ramen has gone through a process of innovation of the years.
JAPANESE ramen types
Ramen are typically categorized according to their soup base. The main types of soup are:
Shoyu – soy-flavored, darker broth
Shio – salt-flavored, usually clear broth ramen soup
Miso – cloudy, rich miso-based broth
Tonkotsu – hearty, meaty pork bone broth soup
The variations today extend into vegan and vegetarian territory with tomato broths, more Thai or Malaysian inspired ramen with coconut milk and Korean broths.
RAMEN Toppings
Toppings are a fun part to customize your own noodle bowl. You can have a ramen party with an assortment on the table similar to a taco bar for guests to add according to their taste buds.
Chashu: Fatty slices of roasted or braised pork.
Menma: Preserved bamboo shoots with a salty flavor
Negi: Chopped or shredded leeks or green onions.
Moyashi: Raw or cooked bean sprouts add sweetness and crunch.
Tamago: Hardboiled, soft boiled, raw and marinated eggs.
Seaweed
Kamaboko: Slices of steamed fish cake.
Corn
Butter: A thick pat of butter adds creaminess and depth. Typically added to miso or shio ramen.
Bean sprouts
Noodles are important to ramen. Typical ramen noodles are long and elastic, but they can vary from thin and straight to thick and wavy. Noodles must be completely covered with soup stock so that the noodles taste good with flavors of the soup.
Ramen noodles get soggy quickly so eaten immediately after served. Ramen noodles are eaten with chopsticks. Then you lift up the bowl to drink the soup directly from the bowl. Slurping sounds enhance the flavors! Trust us!
More on Ramen: Why Did Ramen Get So Popular So Fast?
Below, you will find our collection of best Instant Pot ramen recipes, including brothy soups but also simple saucy noodle dishes that have put ramen on the map in many countries.
---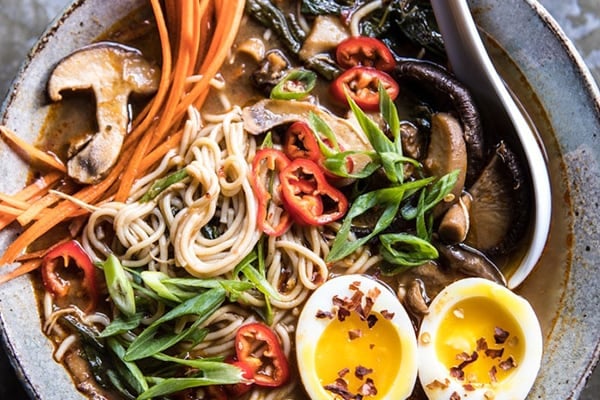 Try using brown rice ramen noodles (they taste just like the regular ramen) with lean chicken, lots of mushrooms, and spinach, and finished off each bowl with some soft-boiled eggs, and raw veggies. Recipe from Half Baked Harvest.
There is nothing better than a rich, warming broth on a cold day, and this Instant Pot Chicken Ramen does the trick. Load up your bowl with all the toppings – the green onions are especially nice, and the cut the rich broth with their slightly sharp flavor. Recipe from Fox and Briar.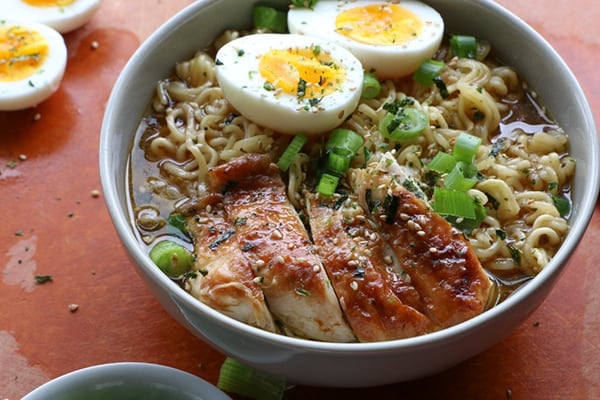 The perfect blend of earthy and salty flavors in this ramen recipe comes from a variety of wholesome, simple ingredients. You'll see that I use a combination of both chicken and mushroom stock or broth. Recipe from Hip Foodie Mom.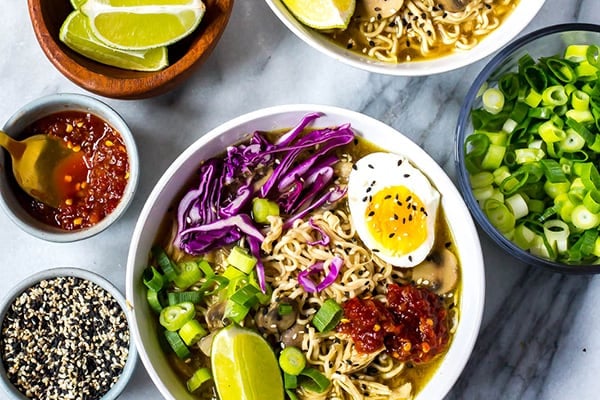 This ramen basically checks all the boxes on healthy, easy and delicious. It's kinda like chicken noodle soup on steroids. You can throw in everything but the kitchen sink. Recipe from Eating Instantly.
More Chicken Ramen Recipes:
30 Minute Thai Peanut Chicken Ramen Recipe from Half Baked Harvest
Quick & Easy Instant Pot Chicken Ramen Recipe from Forkly
Instant Pot Chicken Wing Ramen Recipe from Simply Recipes
---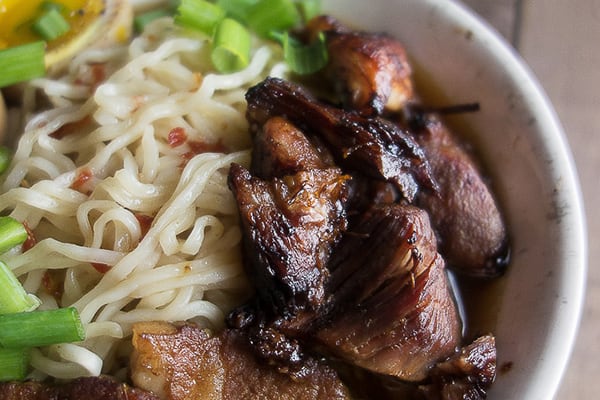 This crispy Instant Pot caramelized pork ramen is the ultimate comfort food, with tender pieces of melt-in-your-mouth pork, an ultra-rich and flavorful broth, ramen noodles and that oh-so-loved ramen egg. Recipe from Went There 8 This.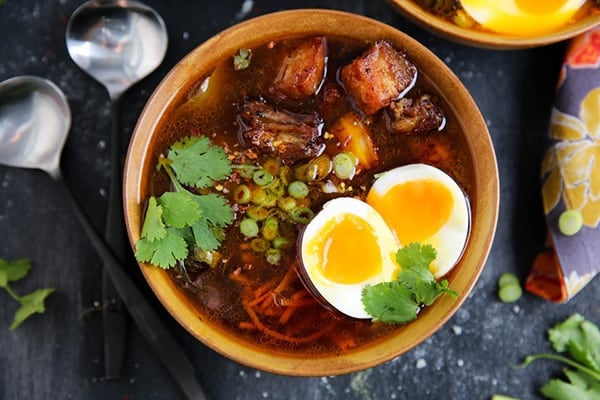 Just because you are on a paleo diet doesn't mean you can't enjoy ramen! You just jazz things up with other ingredients. Recipe from PaleOMG.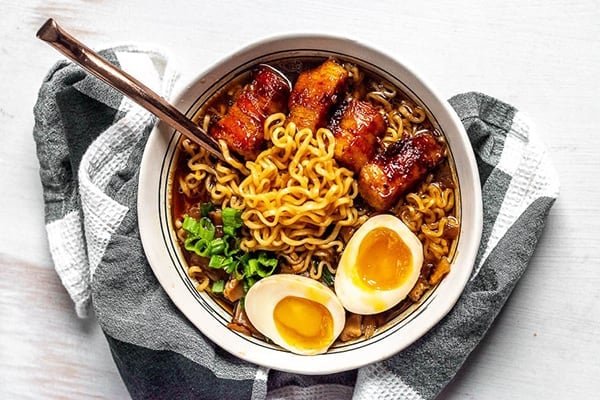 Ramen may look intimidating, but it really is quite easy! This recipe is perfectly portioned out just for two people to stay cozy. Recipe from Sprinkles and Sea Salt.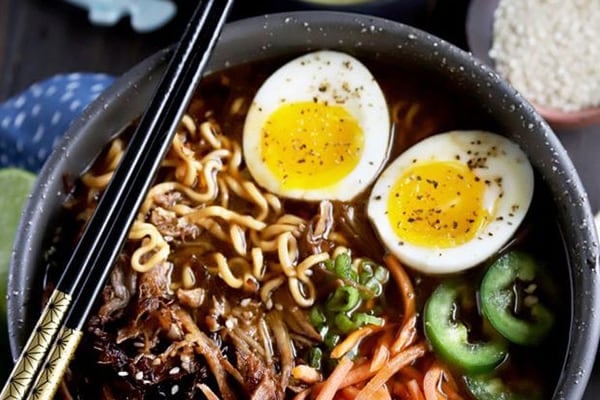 Spicy Crispy Pork Instant Pot Ramen is made with homemade broth with caramelized pork and all the toppings you love are just the comforting meal you need tonight. It's like taking a trip to Japan, right in your own home! Recipe from Cake N Knife.
---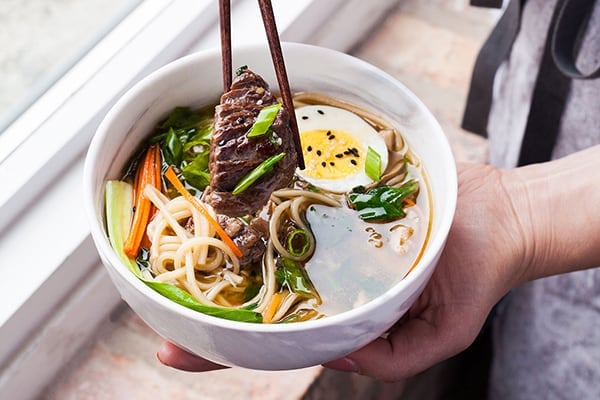 Warm yourself up with a bowl of flavorful beef broth ramen. Recipe from Eat Pre.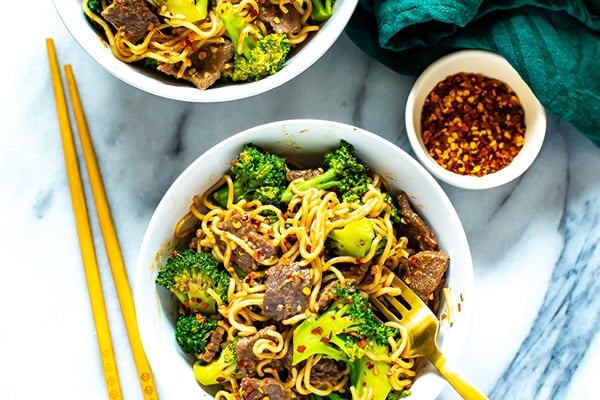 This Instant Pot Beef and Broccoli Ramen is a great way to use up ramen noodle packets you may have kicking around in the cupboard while turning them into more of a healthier option with beef and broccoli. Recipe from Eating Instantly.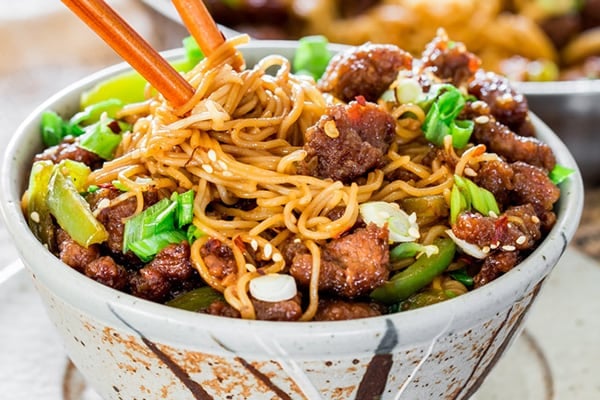 They might be considered a college kid staple but that doesn't mean we can't spruce them up a bit. Let's take this dorm room dish from meh to mmm. A copycat recipe of the popular PF Chang's Mongolian Beef but made better with green peppers and ramen noodles. Recipe from Jo Cooks.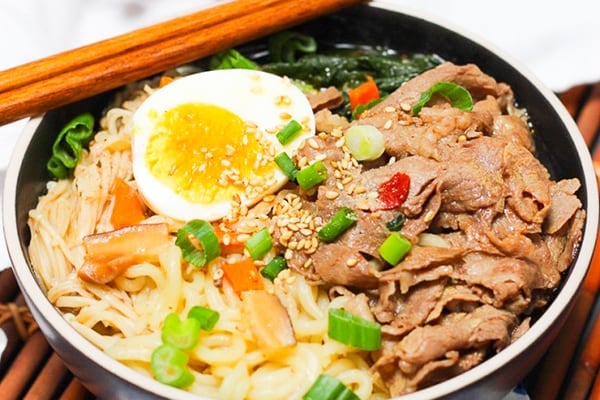 This dish is a perfect candidate for a quick and cozy meal. Planning to cook yourself a bowl of instant ramen noodles? Why not giving it an upgrade. Recipe from Spice The Plate.
---
VEGAN RAMEN SOUPS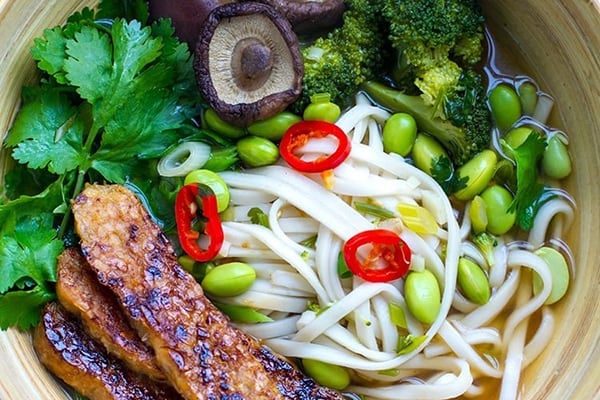 There are three elements to this dish: the tasty broth with mushrooms and vegetables, the udon noodles and the crispy tempeh. While the broth is cooking in the pressure cooker, you can simultaneously prepare the other two components and have the dish ready in a flash. Recipe from Instant Pot Eats.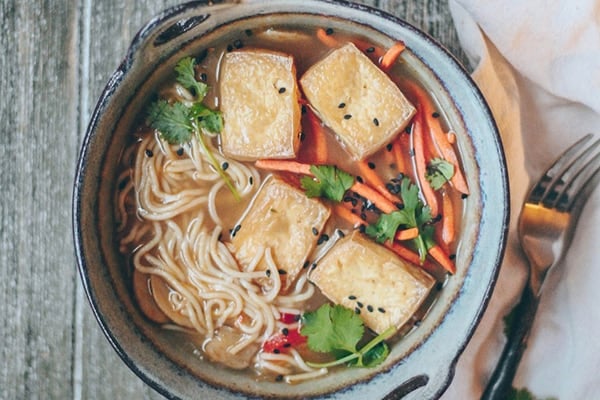 This ramen is extremely tasty and no big mess, minimal ingredients, and cheap. With a flavorful broth, crispy tofu, and crunchy toppings this will surely satisfy your taste buds. Recipe from Healthie Nut.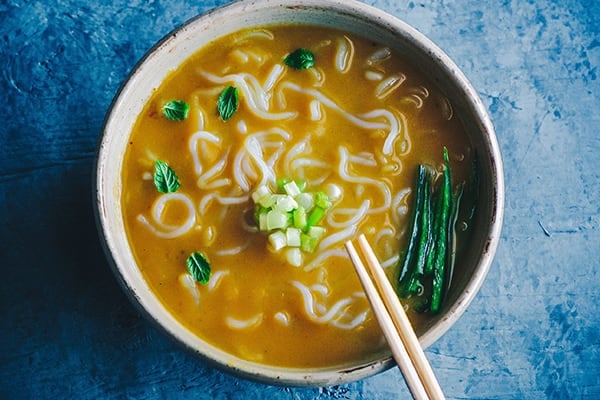 This quick & easy autumn-inspired vegan ramen bowl is filled with nutritious and delicious butternut squash for a creamy texture and comforting flavor. Whether using rice, traditional ramen, or miracle a.k.a. shirataki noodles, this gluten-free vegan ramen dish is a super healthy and delicious noodle bowl of goodness! Recipe from Moon and Spoon and Yum.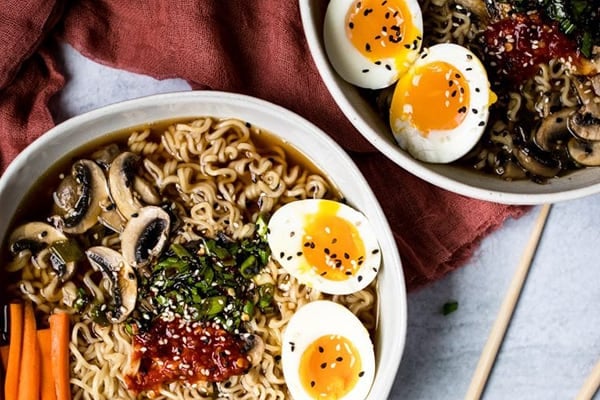 Slow simmered broths are the rich bases of typical ramen recipes. But there is nothing slow about this recipe. This vegetarian ramen is a healthy noodle bowl with flavorful components like fresh ginger. Recipe from Krollskorner.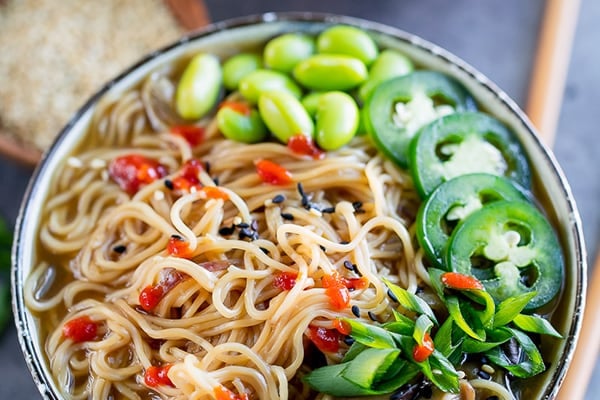 These Instant Pot Ramen Bowls feature a delicious and flavorful broth infused with garlic, ginger, onion, and mushrooms. This one-pot recipe is a tasty way to jazz up ramen! Recipe from Peas and Crayons.
---
MORE Instant Pot RAMEN IDEAS
---