Today, we're sharing some healthy and delicious Instant Pot farro recipes. Farro is a plump, chewy grain with a sweet full-bodied nutty flavor. It's great for adding texture to casseroles, soups, and salads. It's also very versatile so you can substitute refined grains with this more nutritious option.
---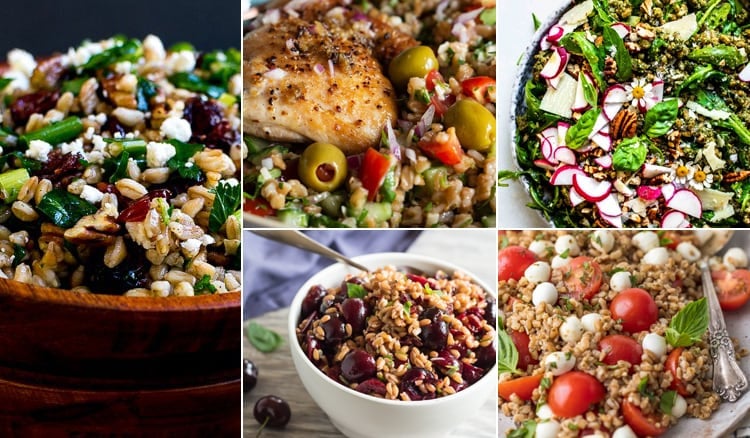 WHAT IS FARRO?
Farro is a hearty, chewy textured ancient whole grain that has an almost nutty flavor to it. It's a little like barley, brown rice, or quinoa. Farro also is known as emmer wheat and can be served hot or cold. As it is made from wheat, it is not gluten-free.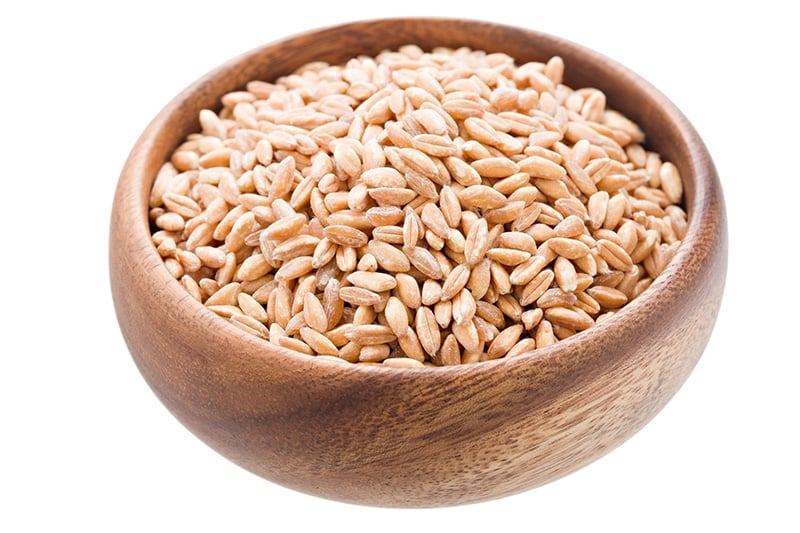 FARRO NUTRITION
Farro is fairly rich in plant-based protein with 7 grams per serving and has a healthy dose of fiber with one cup providing 20% of the daily recommended intake. Fiber helps to lower the risk of diabetes and heart disease, prevents spikes in blood sugar levels, lower cholesterol, and boosts gut health.
This grain is also rich in zinc, magnesium, and vitamin B3. Zinc is essential for a healthy immune system. It also helps break down carbs during digestion. Magnesium is needed for strong bones, immunity, healthy nerve and muscle function, and keeps your heartbeat regulated. Blood glucose levels and improved insulin sensitivity are also regulated. B vitamins help break down and convert food into energy and it keeps your hair, skin, and eyes healthy.
Cooking farro
You have the choice of cooking farro on the stove or in a pressure cooker. Using the Instant Pot speeds up the cooking time for whole farro but is similar to stovetop when cooking pearled or semi-pearled farro. However, it is hands-off, so you don't have to babysit it as you would on the stove. This frees up space to use the stove for another dish or give you the time to attend to other tasks.
In the summer, cooking it in the Instant Pot can contain the heat and keep your kitchen cool for a light summer salad with cranberries and goat cheese.
You can add flavor to farro when it's coking. A few options are toasting the farro in the Instant Pot on Saute function before adding the cooking liquid. Cooking the farro in broth, either chicken, beef or vegetable stock to add more flavor. Or you can add aromatics like onion, shallot, garlic, or fresh herbs to the liquid before cooking.
There are a few varieties of farro. The different variations affect cooking time.
10-minute farro – precooked and is fastest to cook.
Pearled – most of the bran has been removed but isn't pre-cooked.
Semi-pearled – some of the bran has been removed, retaining most of the nutrients.
Whole – the entire grain is intact and cooks up dark and plump; requires longest cooking time.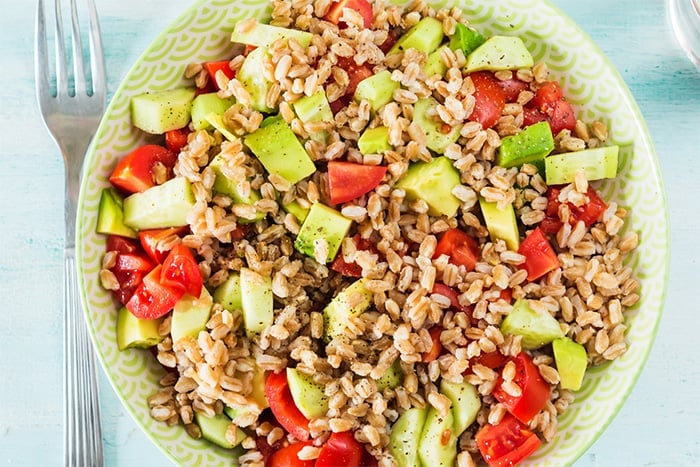 HOW TO COOK FARRO IN THE INSTANT POT
Rinse 1 cup of farro grain under cold water.
Add strained farro + 3 cups of water and 1 teaspoon of salt to the pot. Lock the lid and select Manual/Pressure Cook and adjust pressure and times depending on the type of farro using. With 3 cups of water, it should take about 5 minutes to come to pressure.
Cooking Times for farro in the Instant Pot
Pearled + semi-pearled farro: HIGH pressure for 7 minutes for al dente (for salads) or 8 minutes for softer farro (for soups). Quick-release.
Whole farro: HIGH pressure for 10 minutes with 5 min natural release.
10-Minute Farro: LOW pressure for 1 minute with 5 min natural release.

Drain any remaining liquid as not all of it will be absorbed unlike when you're cooking rice.
---
FARRO RECIPES USING INSTANT POT
Farro Risotto with Mushrooms and Toasted Pecans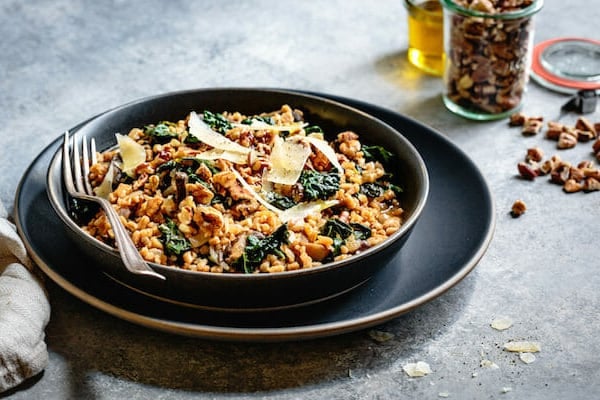 Looking for an easy, nutritious, tasty, and economical supper, this Instant Pot Farro Risotto with Toasted Pecans has you covered. The sweetness of the pecans balances the earthy flavors of farro and mushrooms. Recipe from Mom's Kitchen Handbook.
Brothy Farro with Sausage and Leeks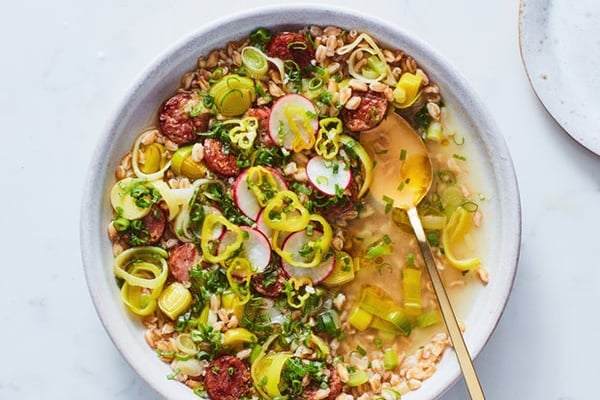 A scattering of fresh radishes and scallion greens keeps this simple Italian sausage Instant Pot dinner feeling fresh and springy. Recipe from Epicurious.
INSTANT POT CHICKEN STEW WITH FARRO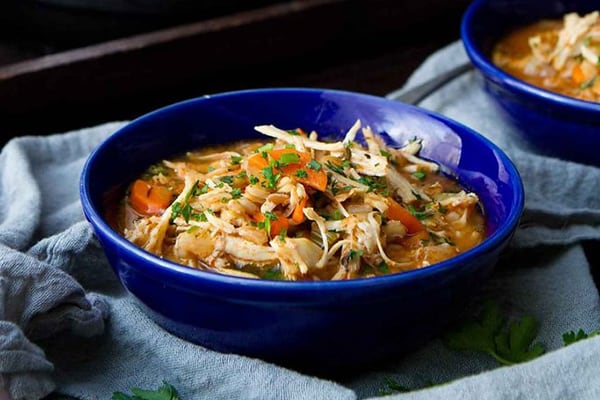 Dig into this Instant Pot Chicken Stew with Farro for a dose of whole grains and lean protein. It is the ultimate healthy comfort food. And if you don't have an electric pressure cooker, stovetop instructions are also included. It has 336 calories and 4 Weight Watchers Freestyle SP if you are watching your health. Recipe from Cook In Canuck.
Pressure Cooker Farro Risotto
Don't make your risotto with the same old Arborio rice. Add some nutrition and nutty flavor by using farro, an ancient grain that creates a lightly chewy and surprisingly creamy risotto. Add your choice of vegetables and serve with a nice salad for a complete meal. Recipe from The Spruce Eats.
Pressure Cooker Farro and Cherry Salad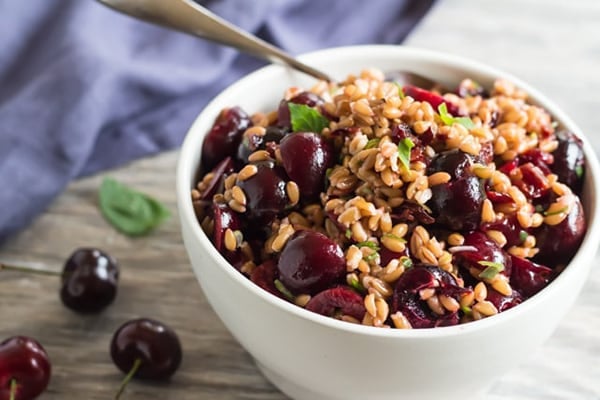 Pressure Cooker Farro and Cherry Salad showcase farro's nutty chewy texture and the sweet-tart flavor of fresh and dried cherries. Bits of piquant mint and green onion and a lemon dressing balance this vibrant satisfying salad. Perfect to serve on its own or as a side dish. Recipe from Pressure Cooking Today.
Instant Pot Farro Enchilada Casserole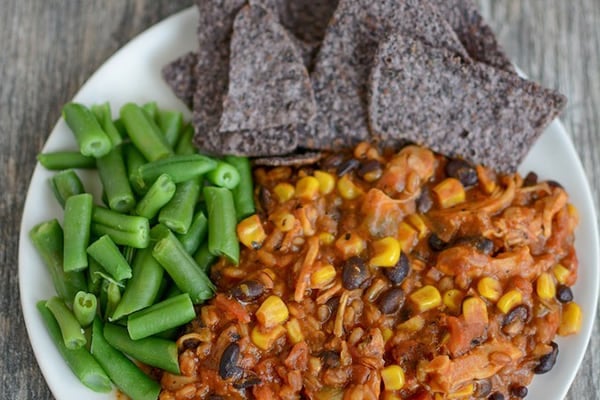 This Instant Pot Farro Enchilada Casserole is great for meal prep, freezes well, and is made with pantry staples! Adding chicken and cheese is an option. Or you can leave the chicken out for a vegetarian version. It is so customizable and it's perfect for scooping with chips! Recipe from The Lean Green Bean.
FARRO RISOTTO WITH BUTTERNUT SQUASH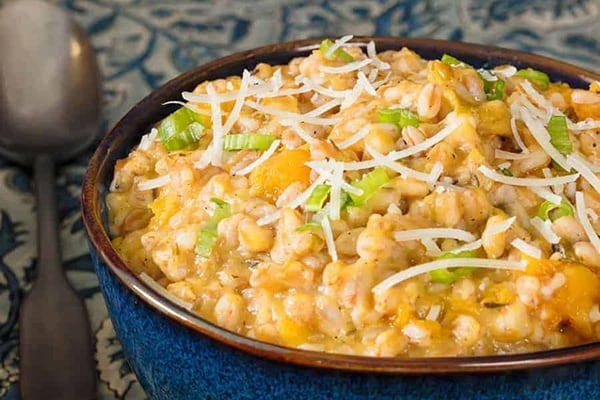 This Farro Risotto With Butternut Squash gives you both savory and sweet flavors in one delightful dish! Make this risotto easily in your Instant Pot with minimal effort! Recipe from Two Sleevers.
FARRO STUFFING WITH SAUSAGE AND SWEET POTATOES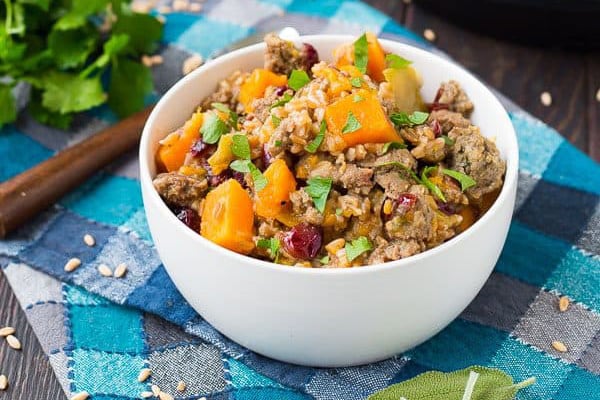 Great any day as a complete meal, this Instant Pot Farro Stuffing with Sausage and Sweet Potatoes is everything you would ever need in a bowl. Recipe from Rachel Cooks.
RECIPES USING PRE-COOKED FARRO
These recipes are made with pre-cooked farro, which you can use the pressure cooker for.
Festive Fall Farro Salad with Kale, Cranberries, Pecans & Goat Cheese
Munch on this for lunch, as a snack, or with soup and a sandwich. Mixed together some cranberries, kale, pecans, cranberries and goat cheese, some scallions, and tossed it all in a light lemon dressing. It's gorgeous and it tastes as good as it looks. Recipe from Stuck On Sweet.
Farro Salad with Basil Lemon Tahini Dressing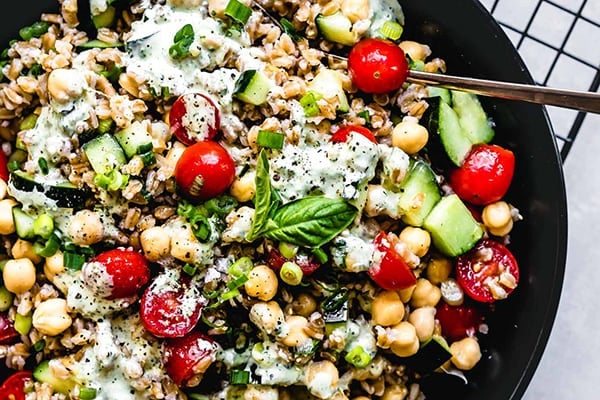 You can't beat this Farro Salad with it's flavorful Basil Lemon Tahini Dressing. It is a delicious salad that can be made ahead of time, making it perfect for busy workday lunches or potlucks. Recipe from Platings and Pairings.
CAPRESE FARRO SALAD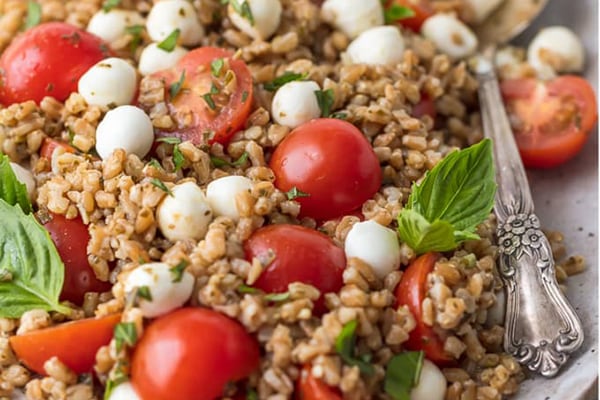 Caprese Farro Salad is a healthy side dish sure to please every member of the family. Farro is such an easy and good for you grain to prepare and goes with just about any main dish. Enjoy tomatoes, mozzarella, basil, and balsamic in the perfect summer salad. Recipe from The Cookie Rookie.
Brussels Sprouts and Farro Salad
Hearty and filling Instant Pot side dish is great for a crowd and looks great on the table. It gets a lot of flavor from the bacon but you can omit this for a vegetarian version. Recipe from My Recipes.
Pecan Pesto Farro Salad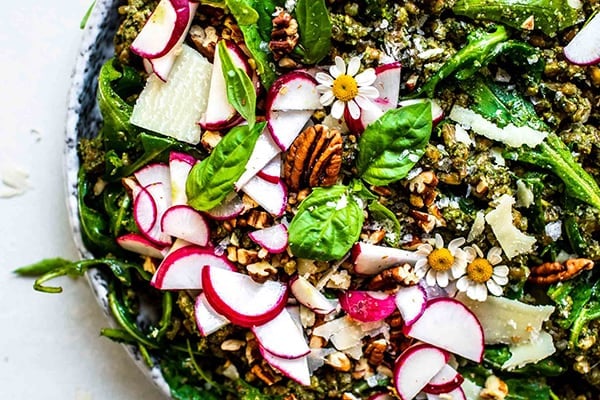 This Pesto Farro Salad is tossed with pecan pesto, parmesan & arugula, then topped even more pecans for a great crunch. Have you seen anything as beautiful as this? Looks like a garden! Recipe from Platings and Pairings.
Mediterranean farro salad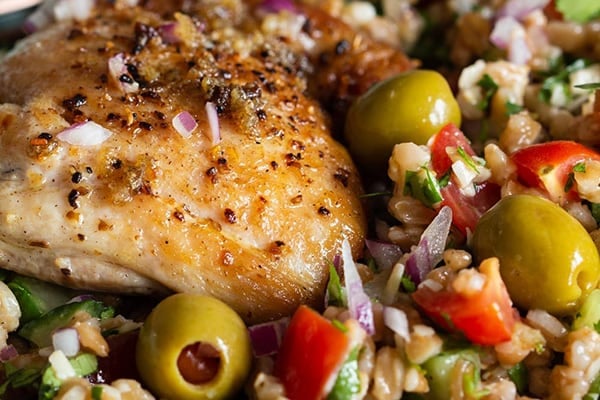 This Mediterranean farro salad is packed with the flavors of Greece! Featuring pan-seared chicken thighs on an ancient grain salad of farro with green olives, tomato, and cucumber. Your Instant Pot cooks the farro to chewy, tender perfection. As a result, this recipe is perfect for a hearty, wholesome dinner. Recipe from Green Healthy Cooking.
---
SAVE THESE INSTANT POT FARRO RECIPES TO PINTEREST