Eggplant, also known as aubergine, is a summer favorite. From baba ganoush to eggplant parm to ratatouille, these are some of the best Instant Pot Eggplant Recipes.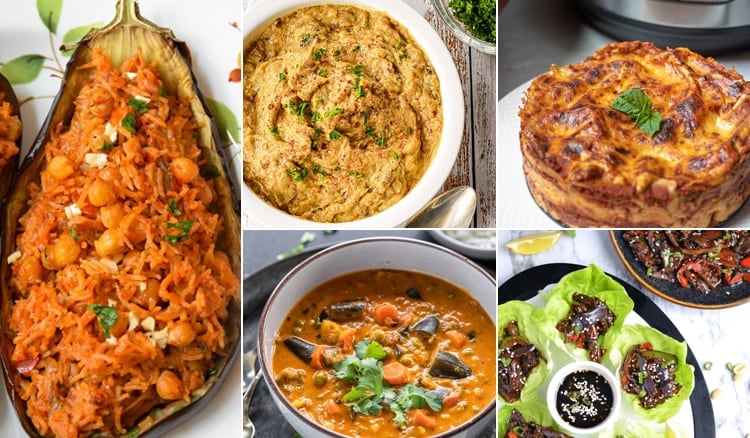 WHY WE LOVE EGGPLANT
Eggplant, also known as aubergine, is a summer favorite. From baba ganoush to eggplant parm, there are plenty of delicious reasons to enjoy this nightshade.
They are so versatile in ways you can cook them and recipes you can seamlessly incorporate them into. They are a great alternative for vegan-friendly meals or even Meatless Mondays. Most grocery stores have them easily accessible as another possible option for gluten-free meals.
On the health side, eggplants give you a decent supply of potassium and fiber. It has antioxidants like vitamins A and C, which help protect your cells against damage. It's also high in polyphenols, which may help cells do a better job of processing sugar if you have diabetes.
Eggplant is a nightshade that contains solanine, which some people claim adds to inflammation and makes diseases like arthritis worse. If you notice pain or other flare-ups after eating eggplant, avoid it.
IS EGGPLANT VEGETABLE OR FRUIT?
Eggplants are often considered as a vegetable, however, they're technically a fruit, as they grow from a flowering plant and contain seeds. Just like a tomato. Summer is the time to enjoy these beauties as their season starts in May and ends in October depending on the planting zone.
The most common eggplants are deep purple and teardrop shaped measuring about 8 inches long. However, they grow on vines in a variety of sizes, shapes, and colors. Eggplants have a spongy flesh and meaty texture making them a great substitute for vegan recipes.
Female eggplants contain more seeds and are more bitter, while male eggplants contain fewer seeds and have a slightly sweeter flavor. To determine the sex of an eggplant, check the bottom: a female will have a deep indentation shaped like a dash while a male eggplant will have a shallow, round indentation.
COOKING EGGPLANT IN THE INSTANT POT
Choose eggplants that are shiny, firm, and heavy for their size. Avoid those with wrinkled skin, dull in color or has brown or soft spots. Store fresh eggplant in a cool, dry place for up to 2 days or a warmer spot in the refrigerator if stored longer.
Before you cook eggplant, wash it and cut off both ends. The skin is safe to eat. You can cook it whole, sliced, or cubed. The larger size eggplants tend to be more bitter. So letting it sit for 30 minutes, coated in salt will draw out some of the bitterness. Make sure to rinse off the salt before cooking it.
You can roast, grill, bake, steam, puree, or sauté eggplant. It's great in curries, stews, and pasta. And, of course, as a dip like baba ganoush. When cooking eggplant diced in the Instant Pot, the pressure cooking time may be as little as 5 minutes.
When cooking eggplant whole: Poke the eggplant 2 to 3 times on each side with a knife. Put the eggplant on the rack in a 6-quart Instant Pot® and pour 1 cup of water into the pot. Lock the lid and set to pressure cook on high for 20 minutes. Followed by Quick Release.
BEST INSTANT POT EGGPLANT RECIPES
Made with layers of hearty meat sauce, creamy ricotta filling, gooey cheese, and tender pasta, Instant Pot Lasagna comes together fast, while still delivering the classic flavors of the classic recipe. Recipe from A Mindfull Mom.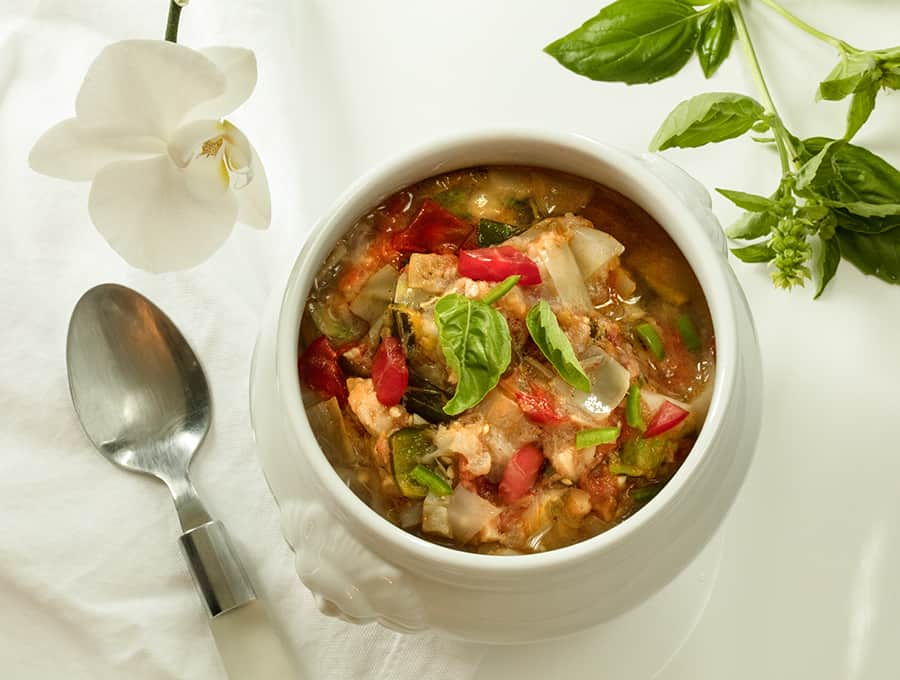 This is such a great vegan soup recipe! Pour everything into your Instant Pot, and you'll have a wonderful Mediterranean soup for dinner in under 30 minutes. Recipe from Two Sleevers.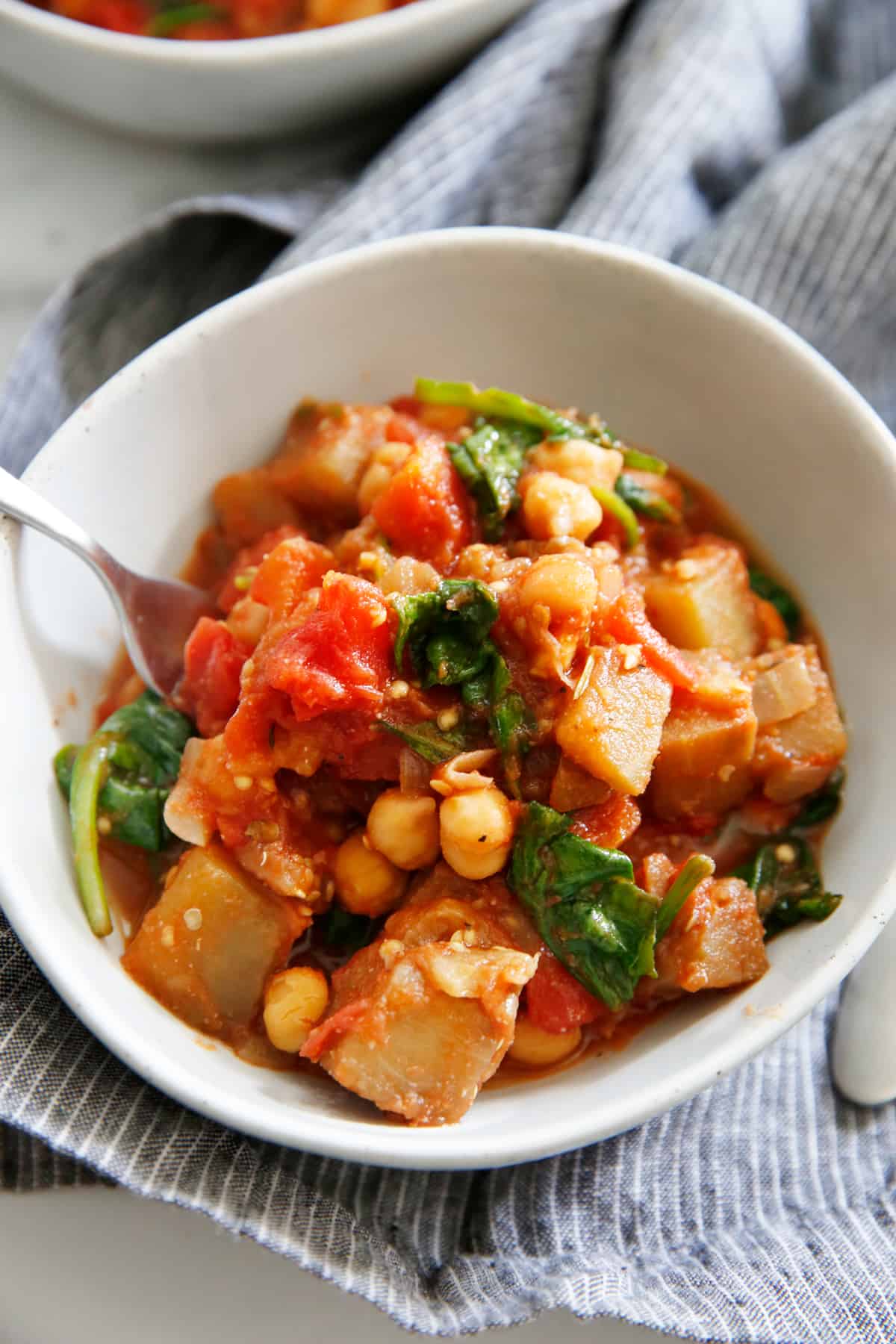 A quick, hearty weeknight meal that uses up all the fresh veggies that are roll in. Serve it as a vegetarian meal, or pair it with your favorite protein for a gluten-free and dairy-free dinner. Recipe from Lexi's Clean Kitchen.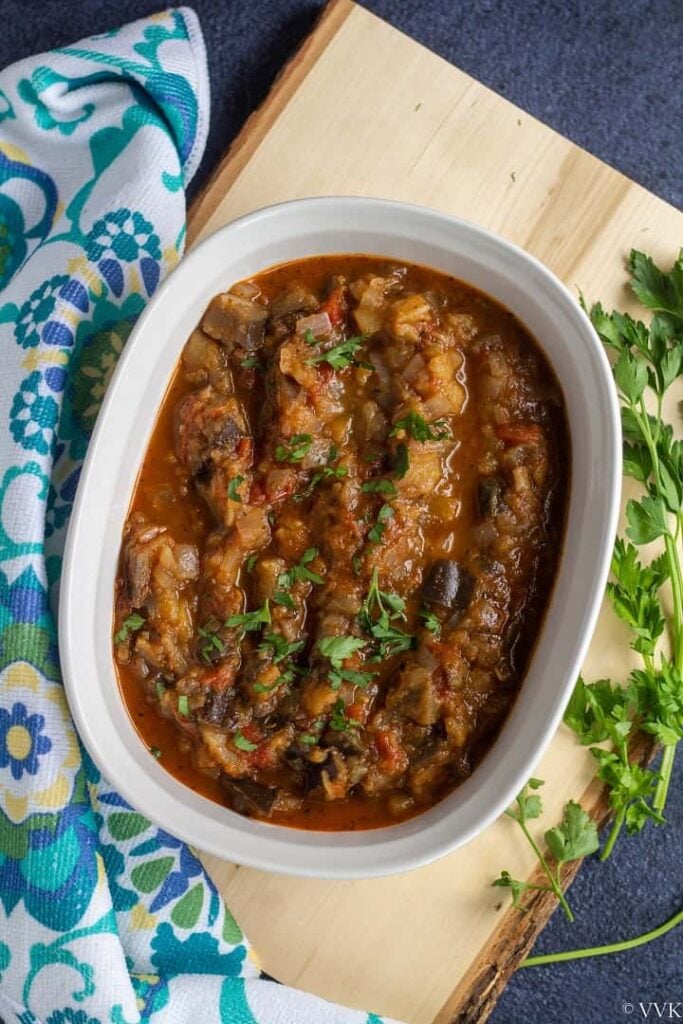 Quick and delicious Mediterranean Greek style eggplant ragout or stew made in Instant Pot. Pair it with rice or bulgur wheat or quinoa for a hearty meal! Recipe from Vidhya's Vegetarian Kitchen.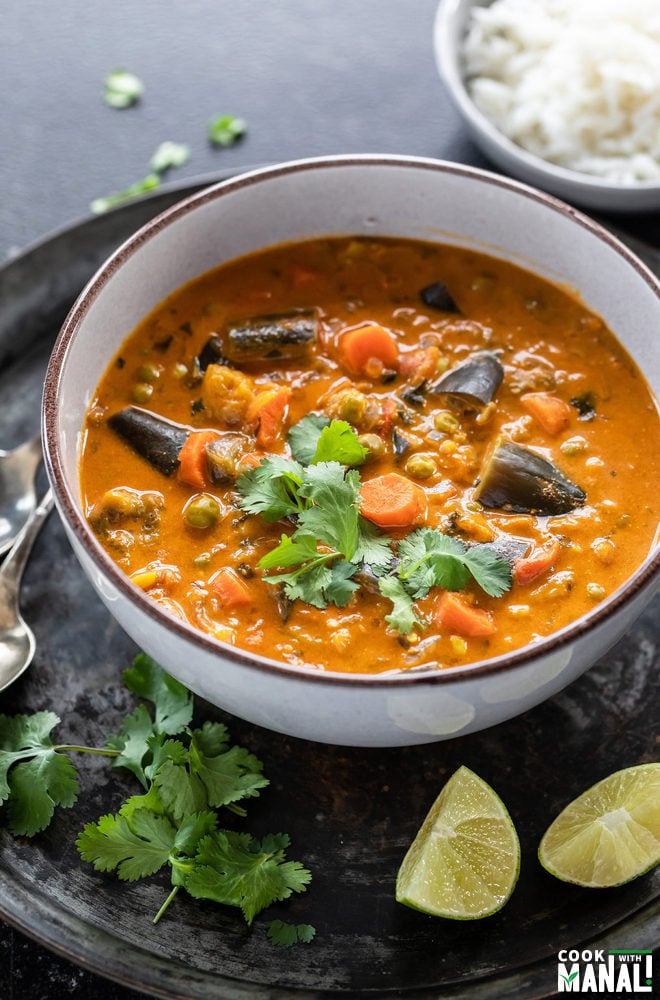 This curry is packed with flavors so even if you aren't an eggplant fan, this might make you one. Pair with quinoa, brown rice, or white rice for a comforting and flavorful meal. Recipe from Cook With Manali.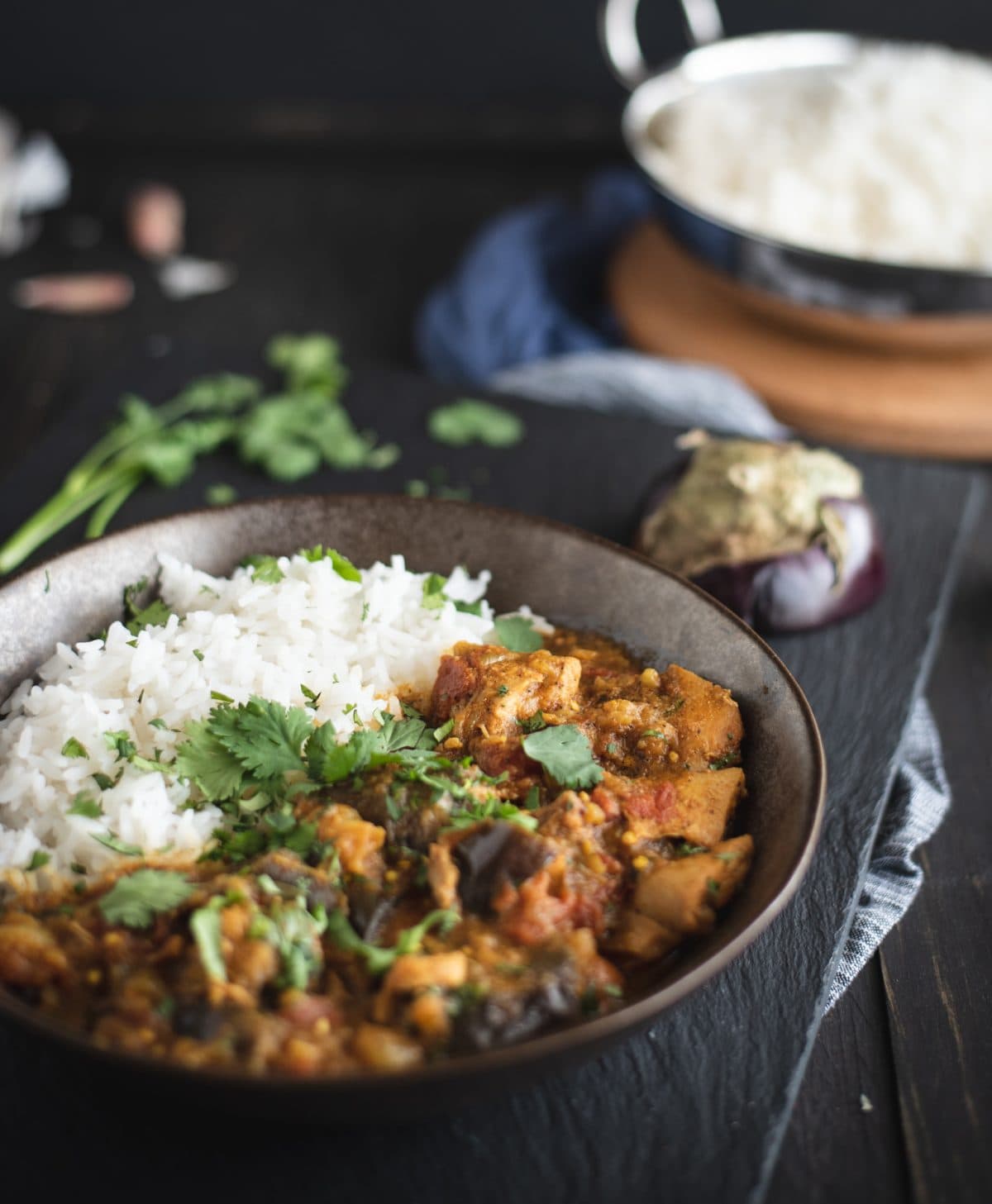 This curry version is a bit thinner than others that use coconut milk as a base and has a strong tomato flavor that is complemented by the most delicious blend of spices. The fresh cilantro and touch of lime add just a touch of freshness to the simmered brothy dish. Recipe from Feasting Not Fasting.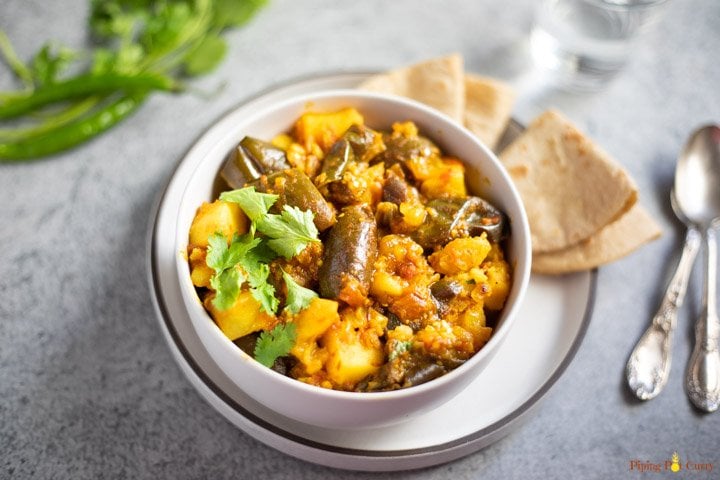 Easy one-pot curry made with potatoes, eggplants, and aromatic spices in instant pot or stovetop. A vegan and gluten-free Potato & Eggplant Curry that is a perfect side with roti, naan or parathas. Recipe from Piping Pot Curry.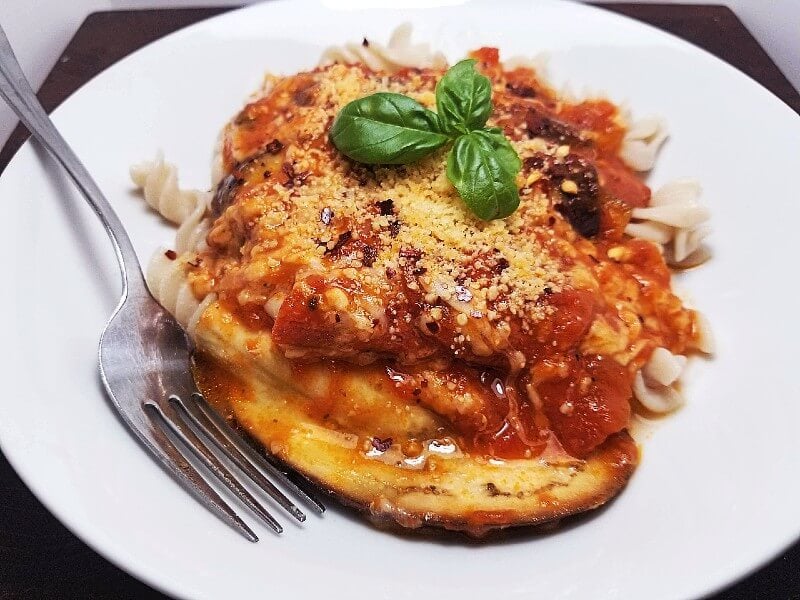 Classic cheesy, saucy, delicious Italian classic eggplant Parmesan made simple in the instant pot. Recipe from Veggie Converter.
A fast dump-and-go dinner with eggplant in a cheesy Italian-flavored tomato sauce with penne pasta and crisp panko bread crumbs. Recipe from Pressure Cooking Today.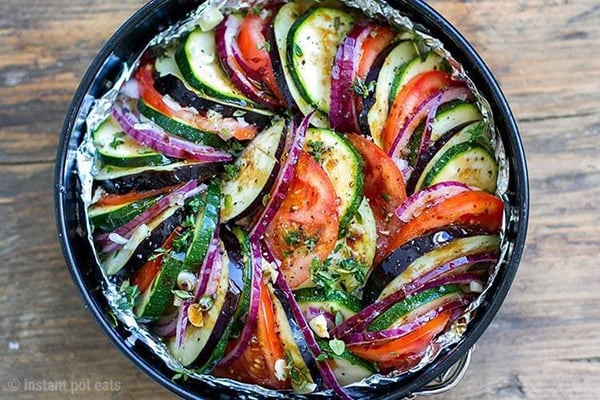 Originating in the south of France, ratatouille is a dish of stewed vegetables. You can dice the vegetables or make a more artistic arrangement. It's a great side or a main with rice, couscous, or pasta. Get The Recipe Here.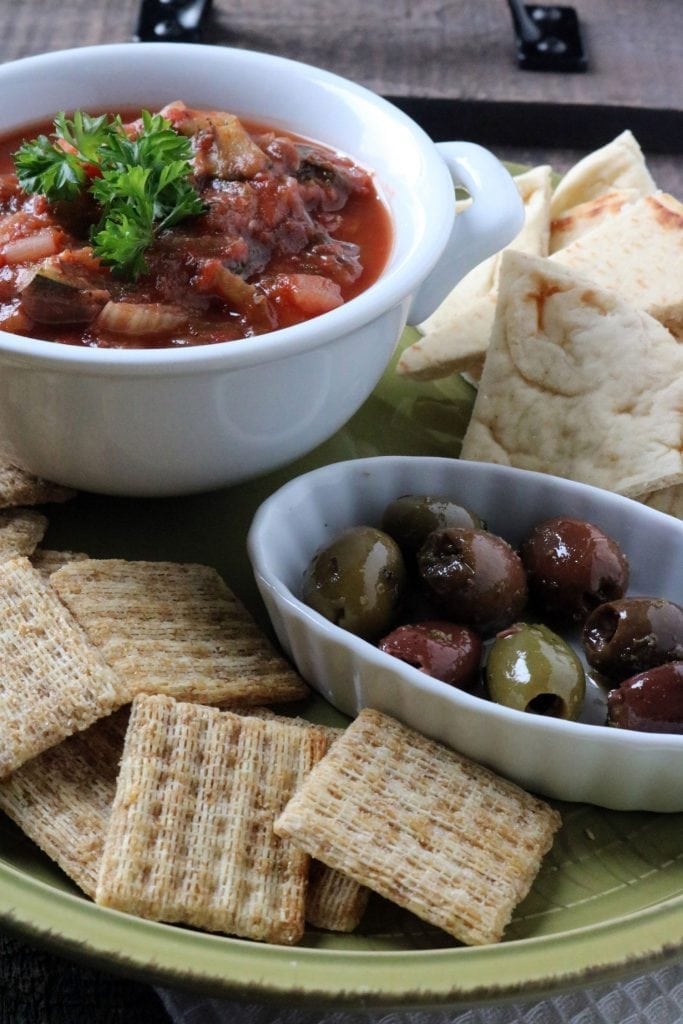 Caponata is a Sicilian eggplant dish consisting of a cooked vegetable salad made from chopped eggplant and celery seasoned with vinegar and a sweet and mildly spicy sauce. Recipe from The Holy Mess.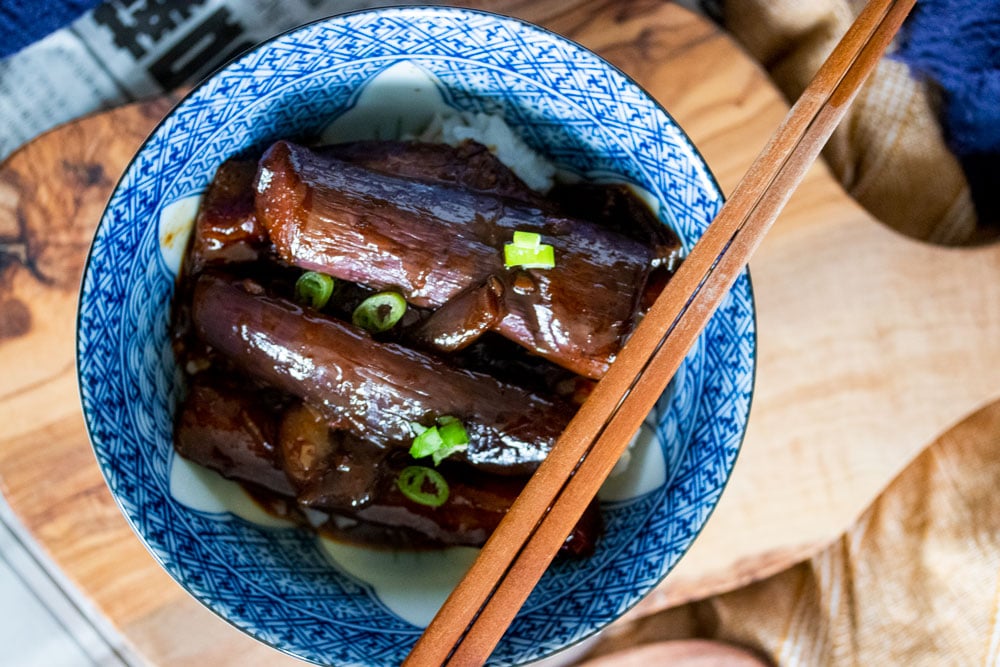 Most Chinese recipes will require you to fry the eggplant in oil and then let it cook down in a sauce. This recipe has much less oil in an Instant Pot. Still, it's great for soaking up any sauce you cook it in and perfect for serving over rice. Recipe from The Floured Camera.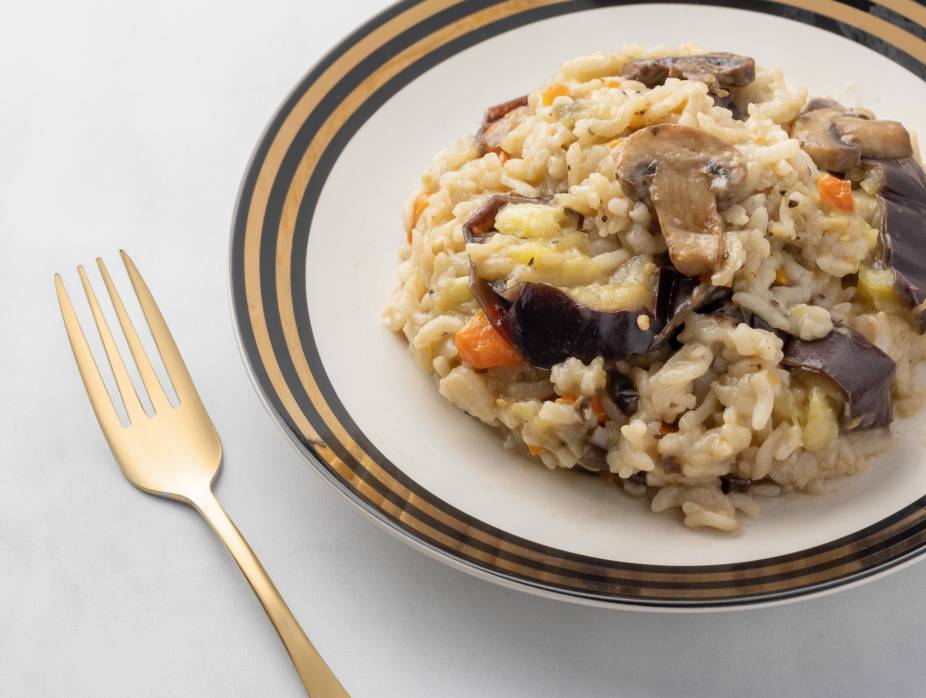 Take your risotto to another level by adding eggplant. It's great to incorporate another veggie into the meal and this one make complete sense with the flavors and texture. Recipe from Kosher.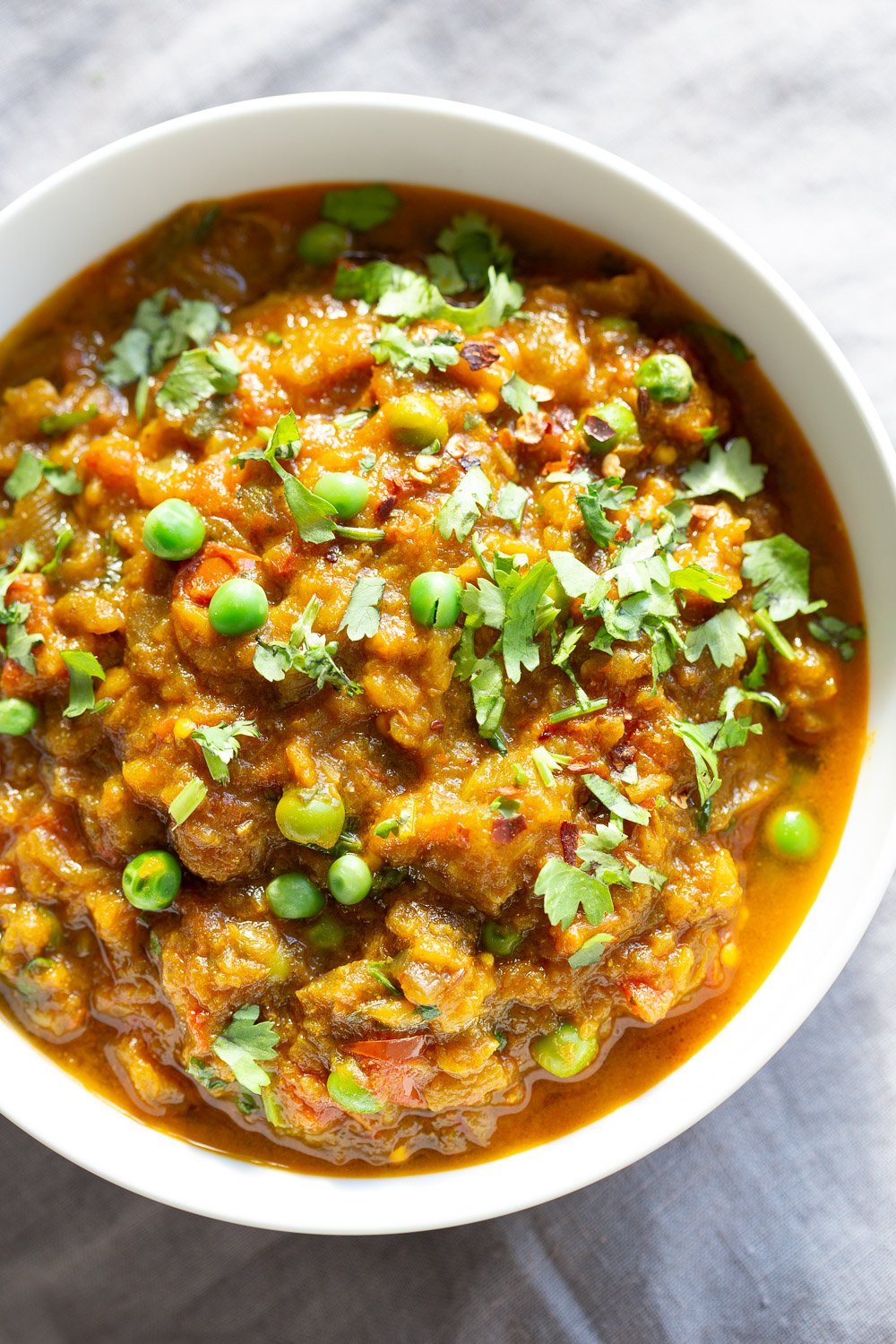 Traditional bharta is a long process, large eggplants are roasted over a flame or grill to char the skin. Now it is 1 Pot 30 Min. Serve as dip with flatbread or with curries or Dals. Add chickpeas to make a meal Vegan Gluten-free, Nut-free, and Soy-free. Recipe from Vegan Richa.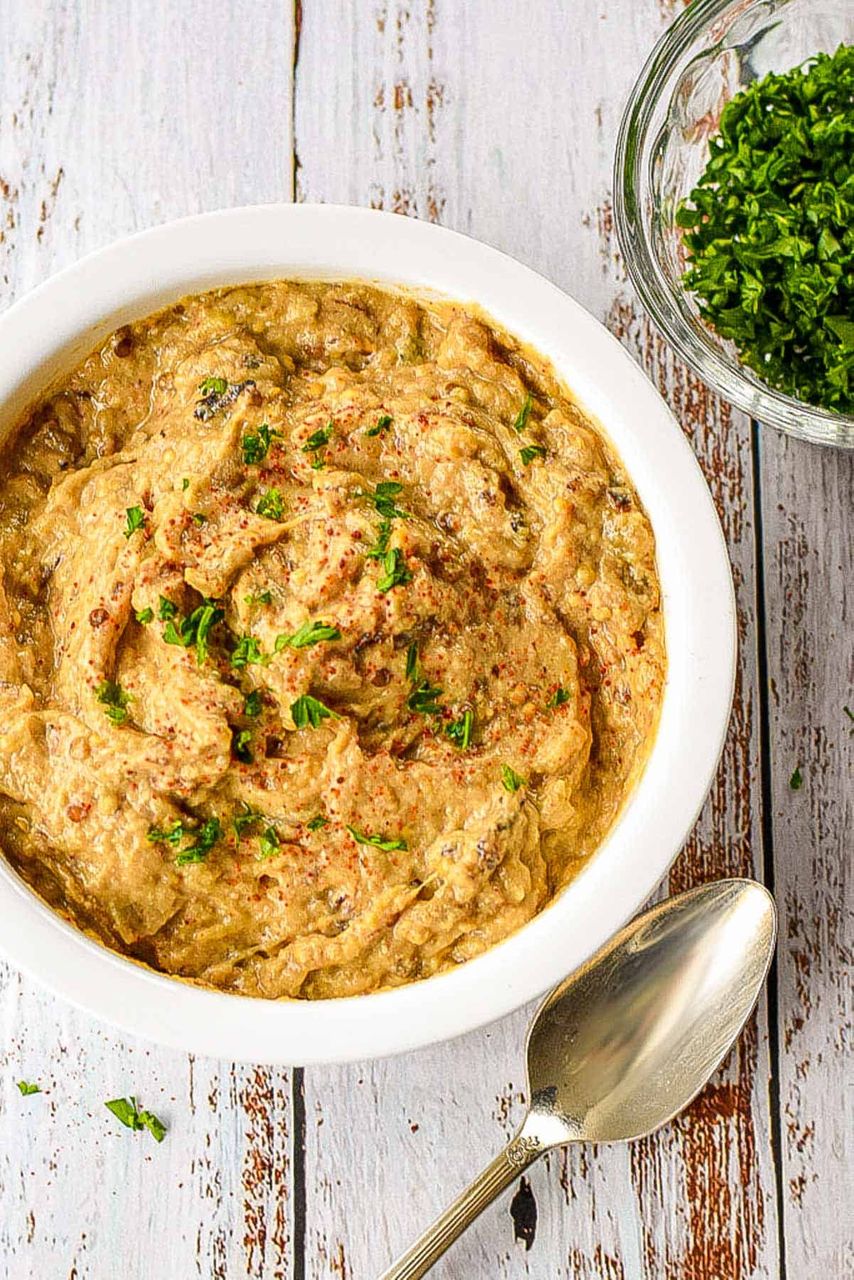 Whip up a quick and healthy snack or appetizer with this eggplant dip recipe. Similar to hummus in flavor. It's low FODMAP, Paleo, and Whole30 compliant. Recipe from Good Noms Honey.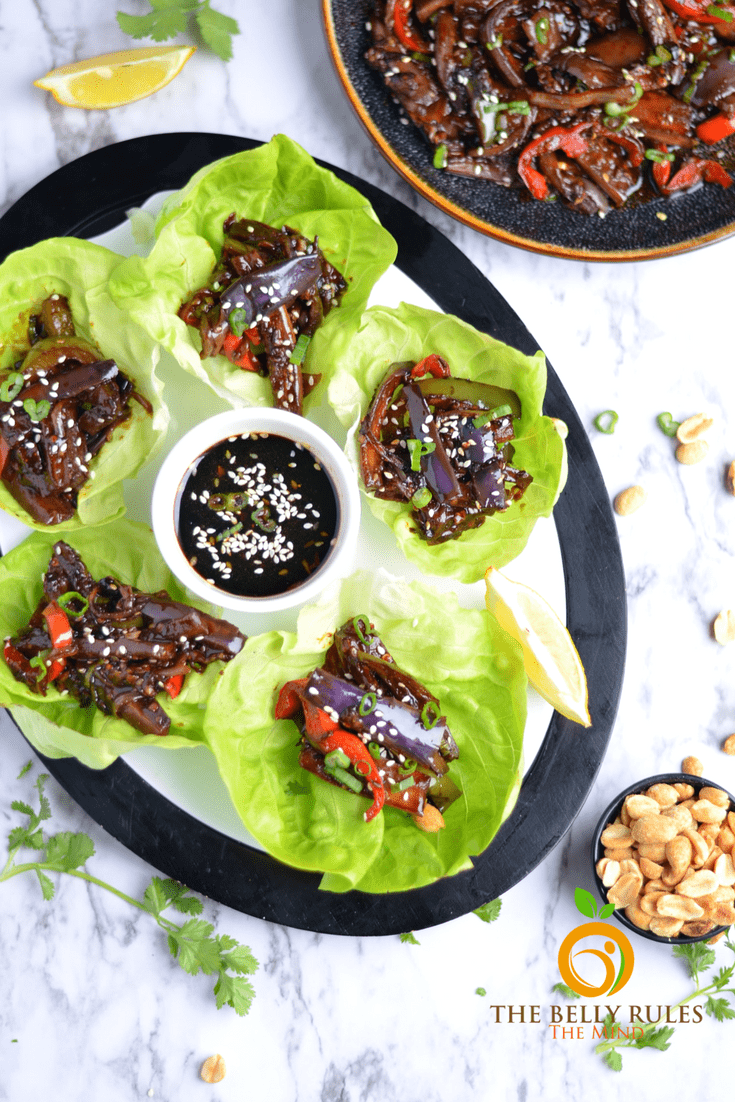 A delicious Meatless Monday recipe that is healthy, quick, and full of flavors! This sweet and spicy Instant Pot eggplant stir-fry is so addictive and versatile. Cooked to perfection in minutes, each bite is bursting with flavor! Recipe from The Belly Rules The Mind.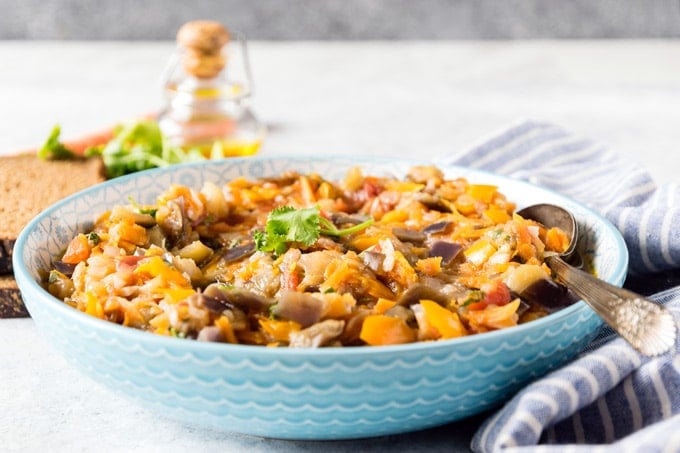 Russian Eggplant Caviar is a great side dish, spread, or condiment. Perfect to add to a sandwich or eat on top of pasta. Delicious cold or hot. Can be made on the stove or in Instant Pot. It's gluten-free and vegan. Recipe from Imagelicious.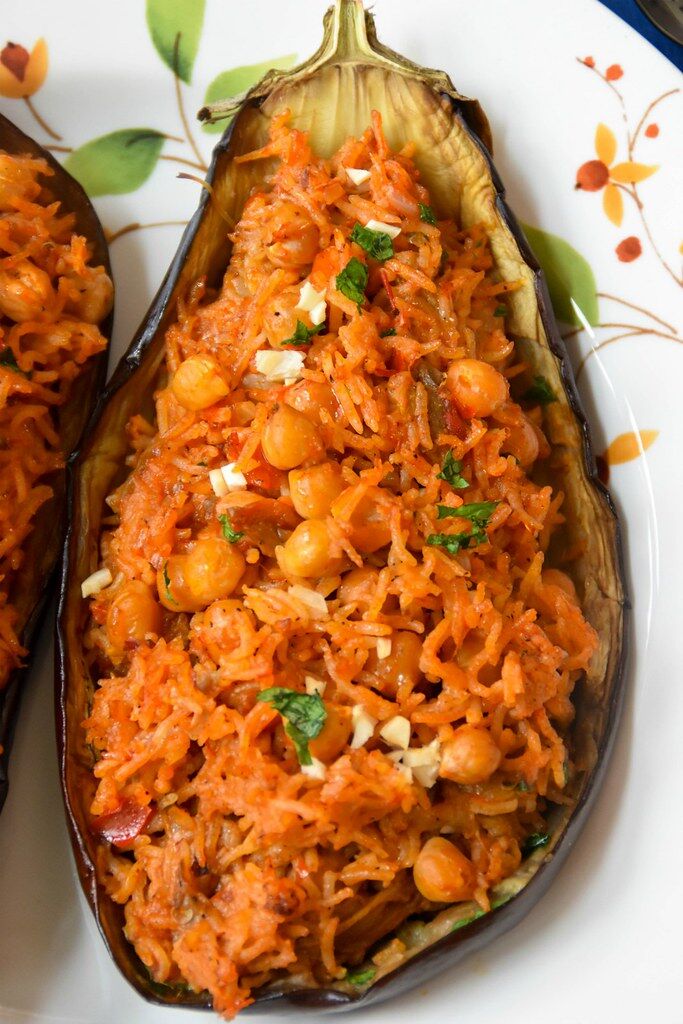 A one-pot vegetarian version of delicious eggplant and chickpea dolma served inside the hollowed-out eggplant shell. Recipe from Zesty South Indian Kitchen.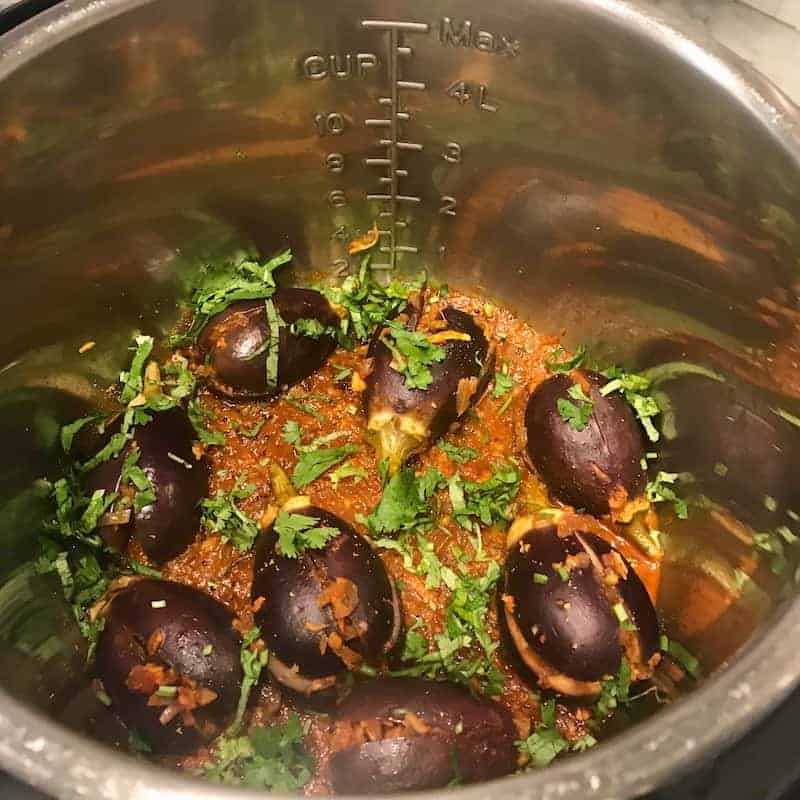 A simple recipe to make delicious curried stuffed eggplant also known as "Baingan Masala". In this quick and easy dish, small Indian baby eggplants are stuffed with onion, ginger, garlic, and a few earthy spices. The eggplants are cooked in the Instant Pot for an authentic-tasting Indian curry that is ready in just minutes. Recipe from Ministry Of Curry.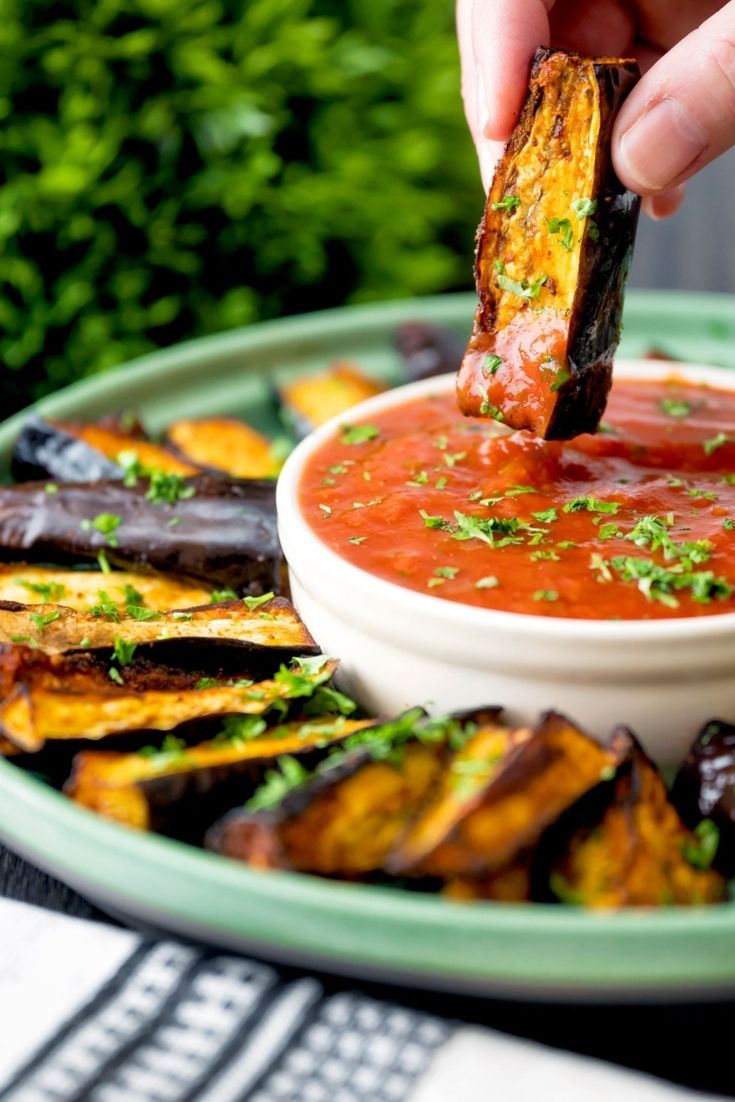 Air fryer eggplant is a healthy, easy alternative to deep-fried eggplant. The air fryer makes the eggplant fries nice and crispy, just like a deep fryer, but since it uses a fraction of the oil, it is much healthier for your entire family so you can feel good enjoying a wholesome treat. Recipe from The Belly Rules The Mind.
SAVE EGGPLANT INSTANT POT RECIPES TO PINTEREST