In this post, we've put together a collection of the Best Instant Pot Barley Recipes that are sure to satisfy your taste buds and provide a healthy, nutritious meal for you and your family. From soups and stews to salads and risottos, these recipes showcase the versatility of barley and the ease of cooking with an Instant Pot. So get ready to try something new and add some wholesome and delicious barley dishes to your mealtime lineup!
---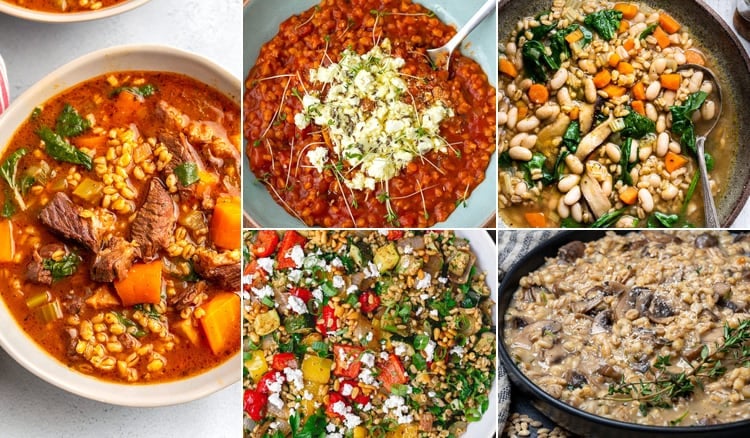 If you're looking for a versatile, nutritious, and tasty grain to add to your mealtime repertoire, barley is a great option. This ancient grain has been used for thousands of years and is packed with fiber, protein, and other essential nutrients.
And what better way to enjoy barley than in an Instant Pot? The Instant Pot is a game-changer in the kitchen, allowing you to cook grains like barley quickly and easily, while also infusing them with flavor.
That's why we've put together a collection of the Best Instant Pot Barley Recipes for you to try out. From soups and stews to salads and risottos, we've got a range of recipes that showcase the versatility of this nutritious grain.
WHAT IS BARLEY?
Barley is a cereal grain that has been used for thousands of years for food and for brewing beer. It is a member of the grass family and is closely related to other grains such as wheat, oats, and rye.
Barley is a nutrient-dense whole grain that is high in fiber, protein, B vitamins, iron, and other minerals. It has a nutty flavor and a chewy texture and is used in a variety of dishes such as soups, stews, salads, and pilafs.
Barley is also used to make malt, which is an ingredient in the production of beer and whiskey.
Pearled Barley vs Hulled Barley
Pearled barley and hulled barley are two types of barley that differ in how they are processed. Here are the main differences between the two:
Hulled barley: Hulled barley is the whole grain form of barley, which means that only the tough outer hull has been removed. The bran and germ are still intact, which makes it a more nutritious option than pearled barley. However, the hull also means that hulled barley takes longer to cook and has a chewier texture than pearled barley.
Pearled barley: Pearled barley is hulled barley that has been polished to remove the bran layer, leaving just the endosperm. This makes pearled barley quicker to cook than hulled barley, as it has a softer texture and cooks faster. However, this also means that pearled barley is less nutritious than hulled barley, as it has lost some of its fiber and other nutrients.
In summary, hulled barley is the more nutritious option, but it takes longer to cook and has a chewier texture. Pearled barley is quicker to cook and has a softer texture, but is less nutritious. The choice between the two will depend on your personal preferences and the recipe you're using them for.
---
BEST INSTANT POT BARLEY RECIPES
Our Instant Pot Beef and Barley Stew is a comforting and hearty meal, while the Barley and Mushroom Risotto is a delicious vegetarian option. The Barley Greek Salad is a healthy and satisfying lunch, and the Barley Salad with Roasted Vegetables is a fresh and colorful side dish that's perfect for any meal.
No matter which recipe you choose, you can feel good about enjoying a nutritious and delicious meal that's easy to make in your Instant Pot. So go ahead and give barley a try – we're sure you won't be disappointed!
---
Basic Instant Pot Barley Recipe
Here is a simple recipe for cooking barley in an Instant Pot. Cooked barley can be used as a base for salads, stews, soups, or pilafs. It's a versatile and healthy ingredient that can add a nutty and chewy texture to any dish. One cup of uncooked barley will yield about 3 cups of cooked barley.
Print Recipe
Pin Recipe
Ingredients
1

cup

pearled barley

2 1/4

cup

water

1

tsp

salt

or 1 stock cube (for extra flavor)
Instructions
Rinse the barley with cold water and drain it.

Add the barley and water to the Instant Pot. Season with salt or add the stock cube. Stir.

Close the lid and set the valve to the sealing position.

Cook on high pressure for 20 minutes.

Once the cooking is complete, allow the pressure to release naturally for 10 minutes, then quick-release any remaining pressure.

Open the lid and fluff the barley with a fork. You can add a little olive oil or butter and fresh herbs.
Notes
Notes: If cooking hulled barley, use 2 + 2/3 cups of water and increase cooking time to 25 minutes.
Nutrition
Calories:
176
kcal
|
Carbohydrates:
39
g
|
Protein:
5
g
|
Fat:
1
g
|
Saturated Fat:
0.1
g
|
Polyunsaturated Fat:
0.3
g
|
Monounsaturated Fat:
0.1
g
|
Sodium:
593
mg
|
Potassium:
140
mg
|
Fiber:
8
g
|
Sugar:
0.4
g
|
Vitamin A:
11
IU
|
Calcium:
19
mg
|
Iron:
1
mg
---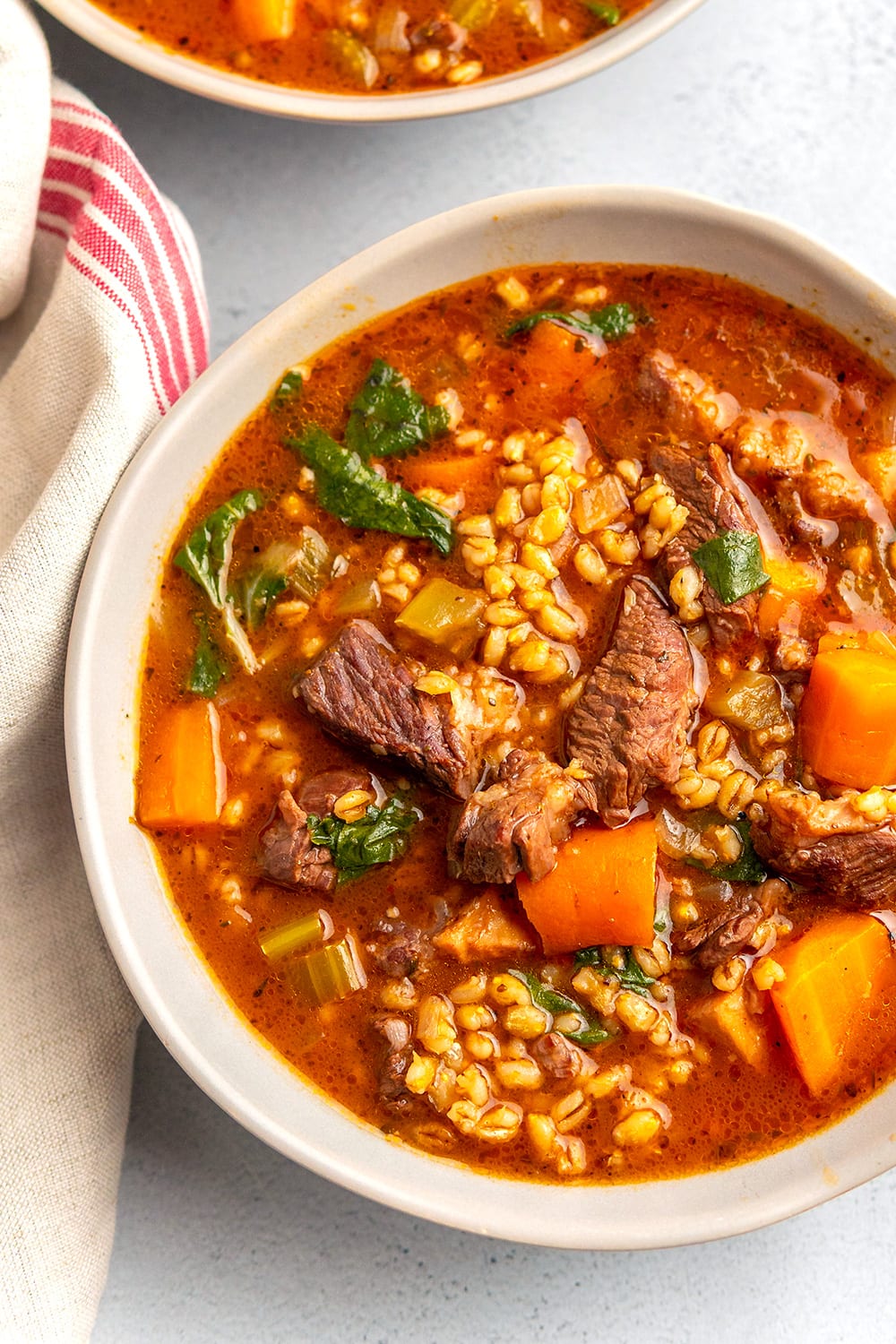 If you're looking for a hearty and flavorful soup that's easy to make this delicious recipe combines tender beef, nutritious barley, and a variety of savory herbs and vegetables to create a comforting and filling meal. Get The Recipe Here.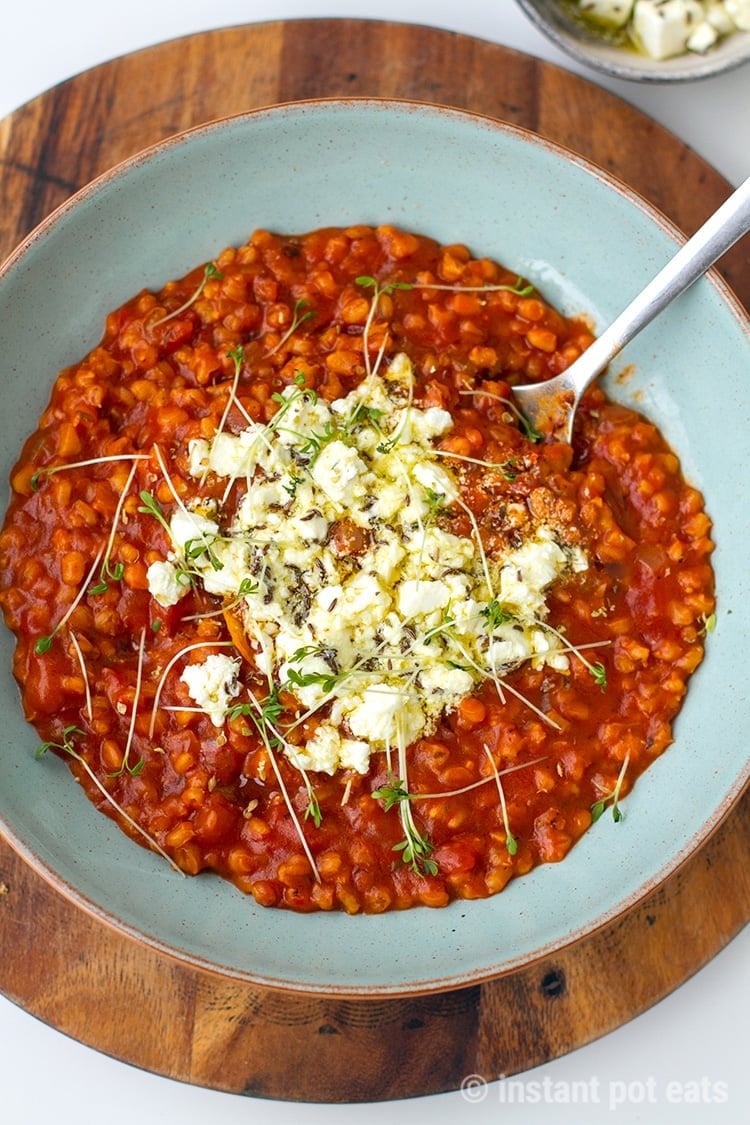 It has become quite fashionable to experiment with risottos made with other grains instead of traditional Arborio. This tomato-based Instant Pot risotto is made with pearl barley and topped with marinated feta cheese. Get The Recipe Here.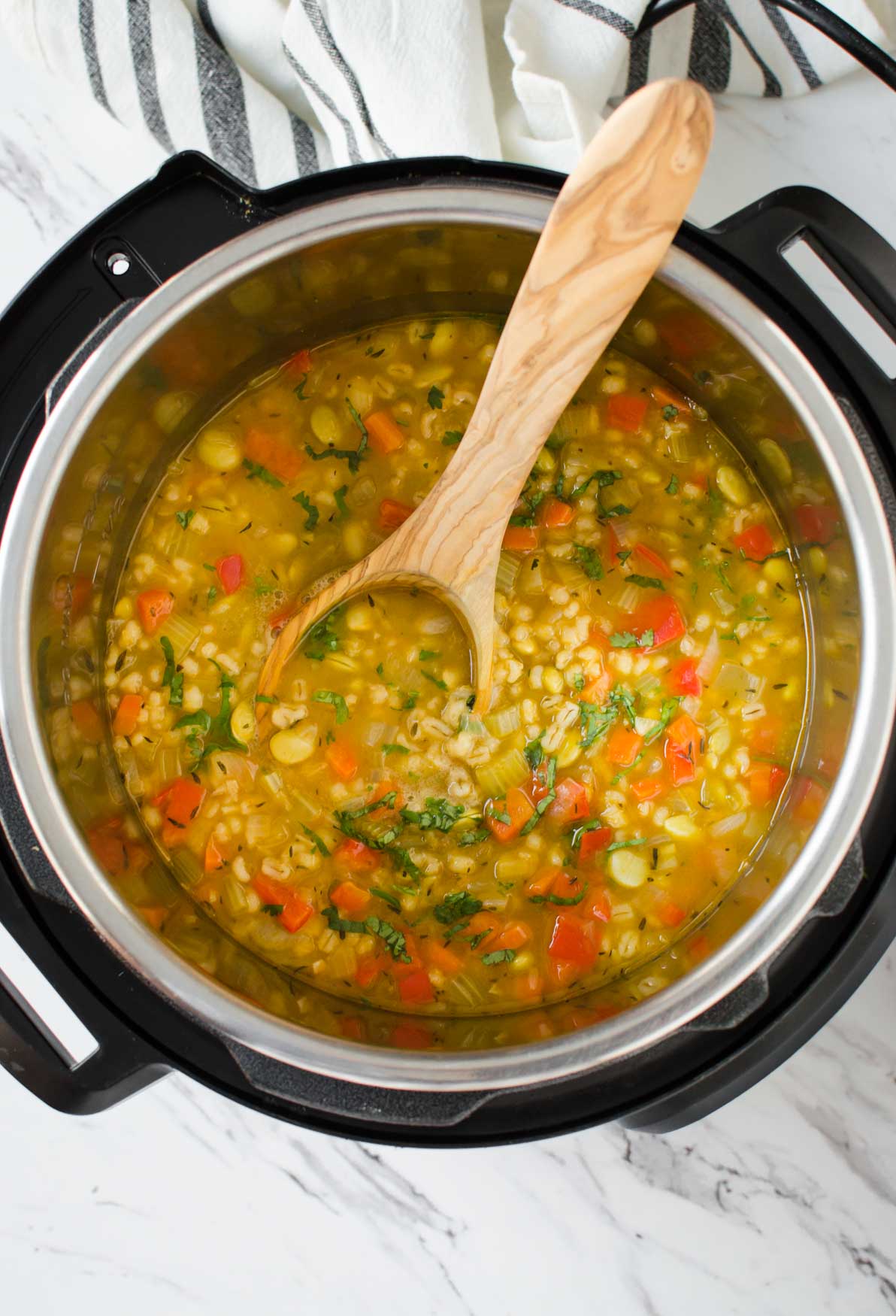 Cook fresh vegetables and whole barley in Instant Pot to prepare this one-pot delicious and healthy soup in about 30 mins. Overcooking the barley in the soup results in a starchy and thick consistency. Therefore cook the barley for 20 min with quick release. Recipe from Watch What U Eat.
A great way to add more whole grains to your diet. Barley risotto is tender and creamy, and making it in the pressure cooker is quite effortless. Recipe from Skinny Spatula.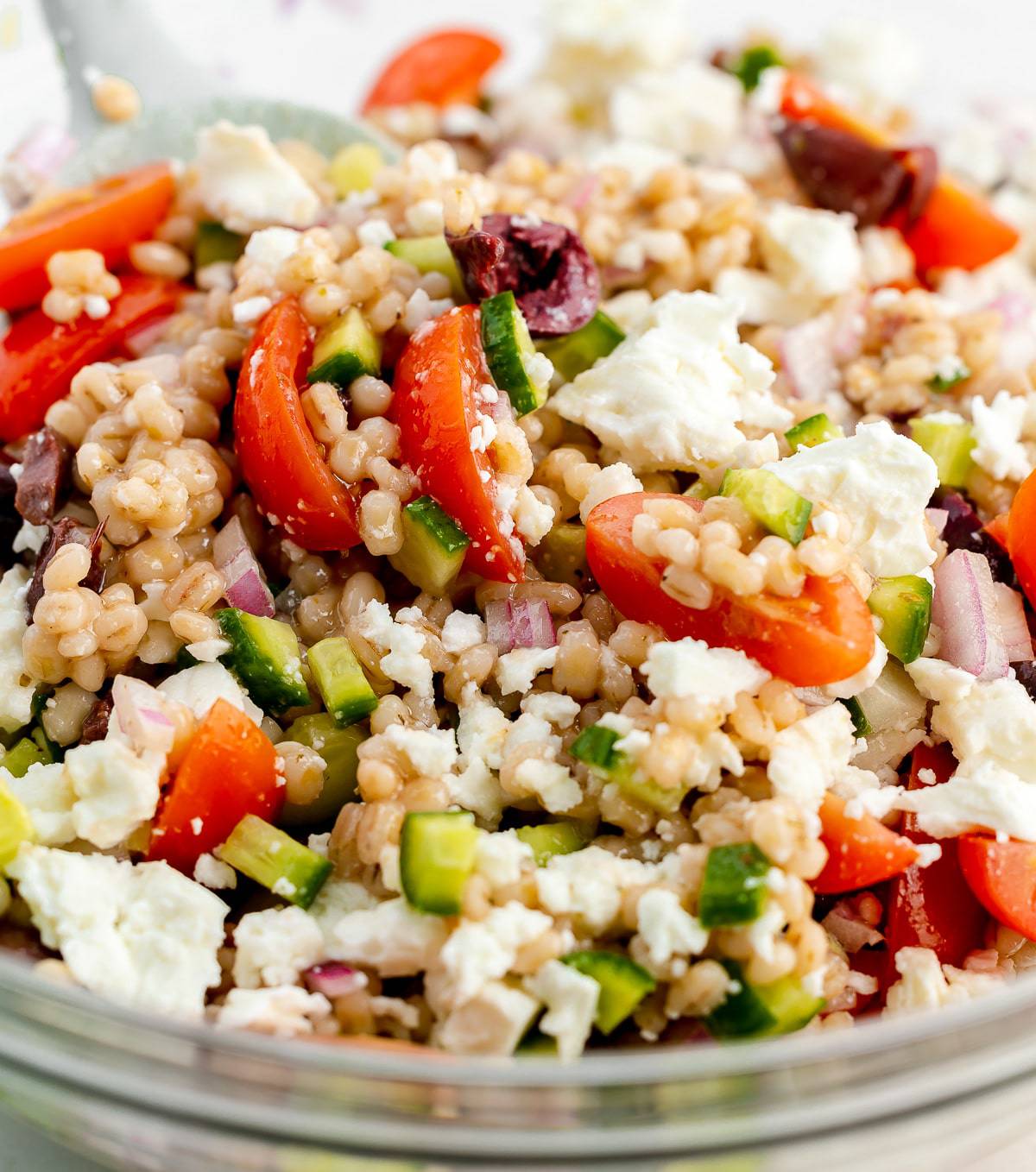 This barley Greek salad is packed with fresh, bright Mediterranean flavors and vegetables. Fresh cucumbers, juicy tomatoes, balanced with the punch and zest of olives, onions and feta, make for a delicious salad! Recipe from The Sassy Foodie.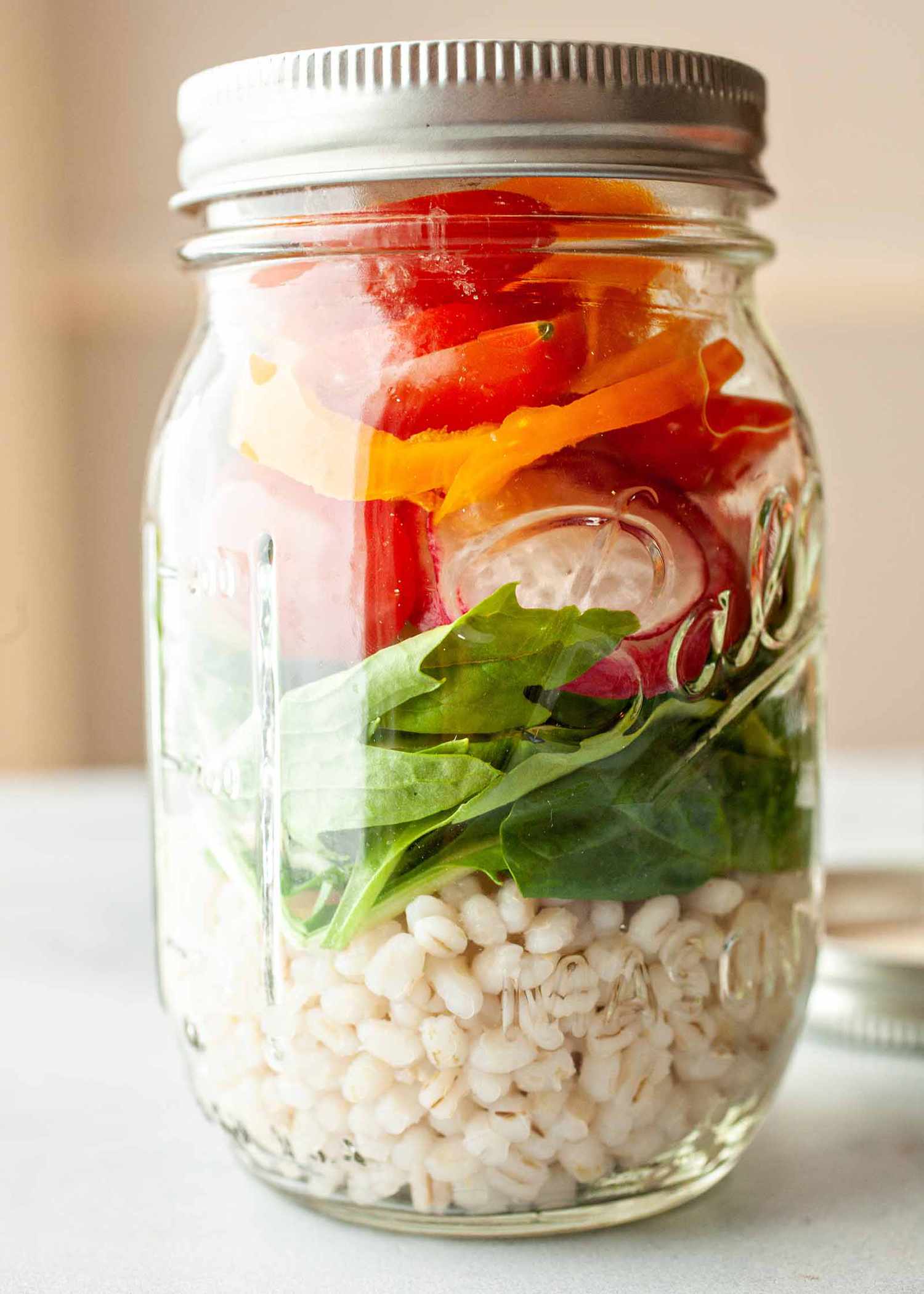 A must-try for a quick and easy weekday lunch! Make a few on Sunday and you're set for the week. Recipe from Simply Recipes.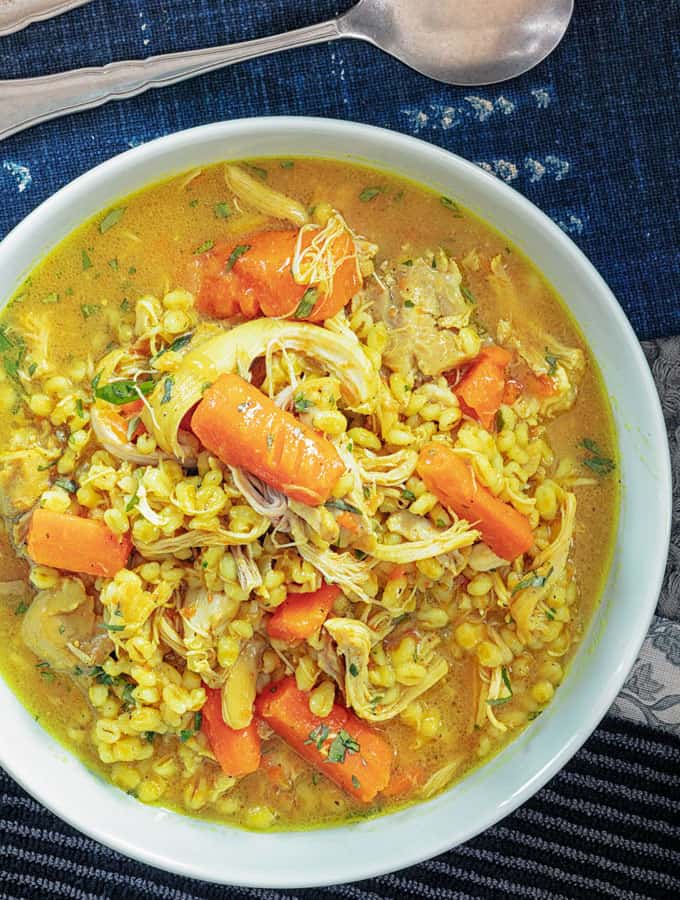 The beauty of this soup is that it's totally unnecessary to cook the barley before making this chicken and barley soup. Just pour it in with the rest of the ingredients and cook it at high pressure, all in one step. Recipe from Two Sleevers.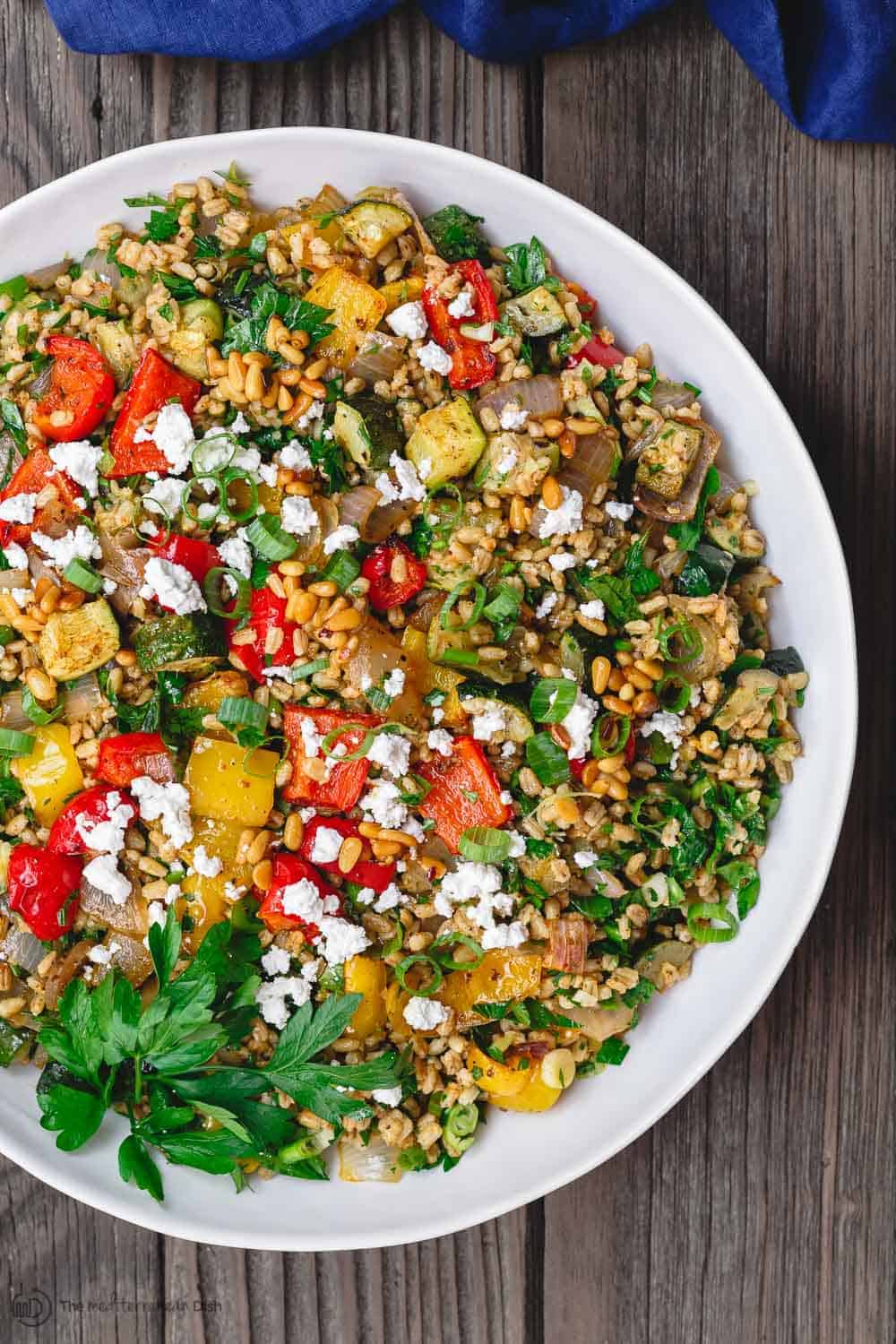 This roasted vegetable barley recipe is prepared Mediterranean-style…chockful of flavor, texture and goodness. Bonus, you can make this ahead as part of your meal-prep. Recipe from The Mediterranean Dish.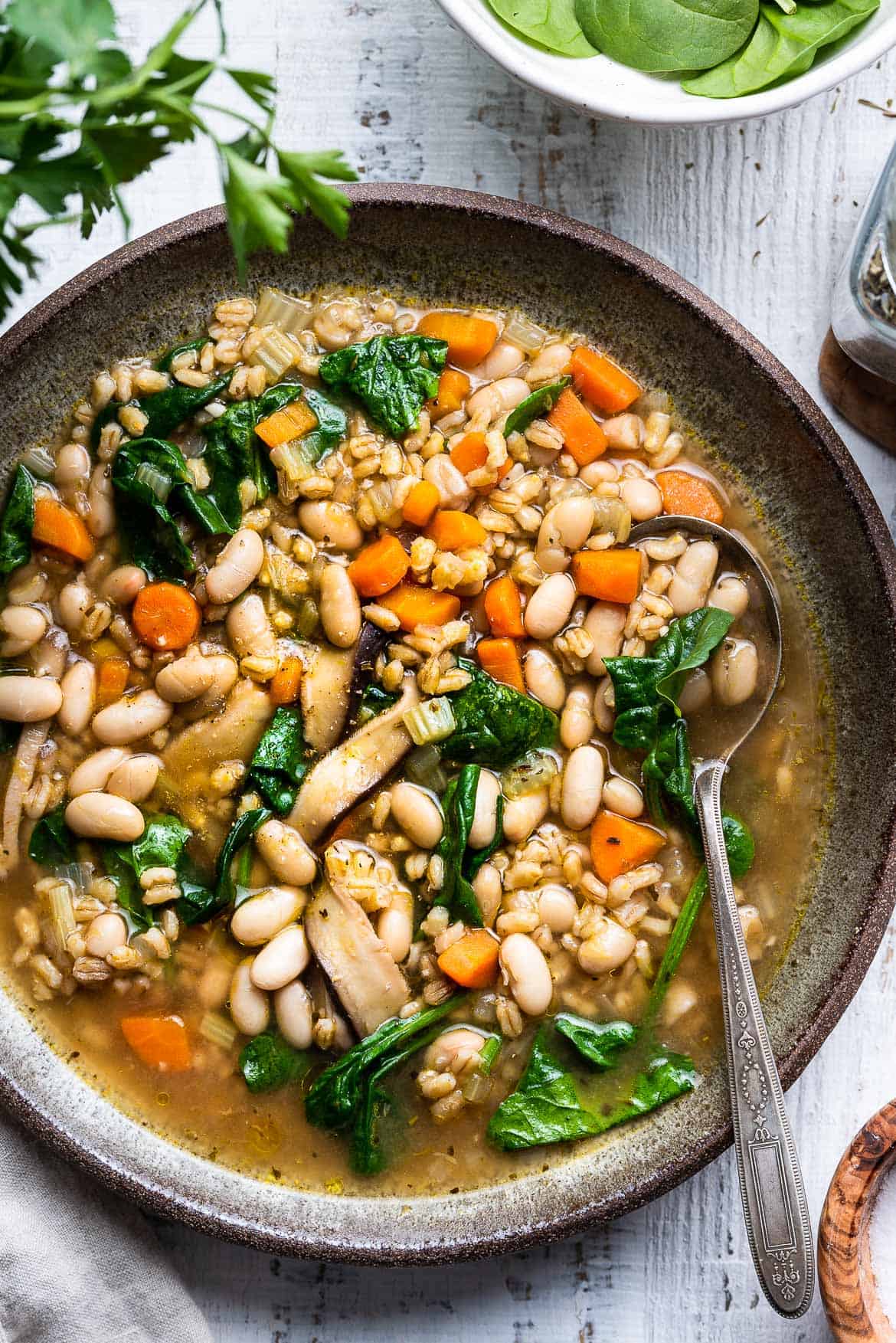 Cozy up with a bowl of Instant Pot Bean Soup with Pearl Barley! Hearty and wholesome, this simple bean soup recipe is made easy with canned beans and pantry basics. Recipe from Kitchen Confidante.
This barley soup packed with colorful vegetables and hearty lentils all simmered into a flavorsome broth elevates this soup from an accompaniment into a well-balanced weeknight meal. Recipe from Ruchis Kitchen.
A rustic, comforting soup packed with mushrooms, veggies and hearty pearl barley. Recipe from Flavor The Moments.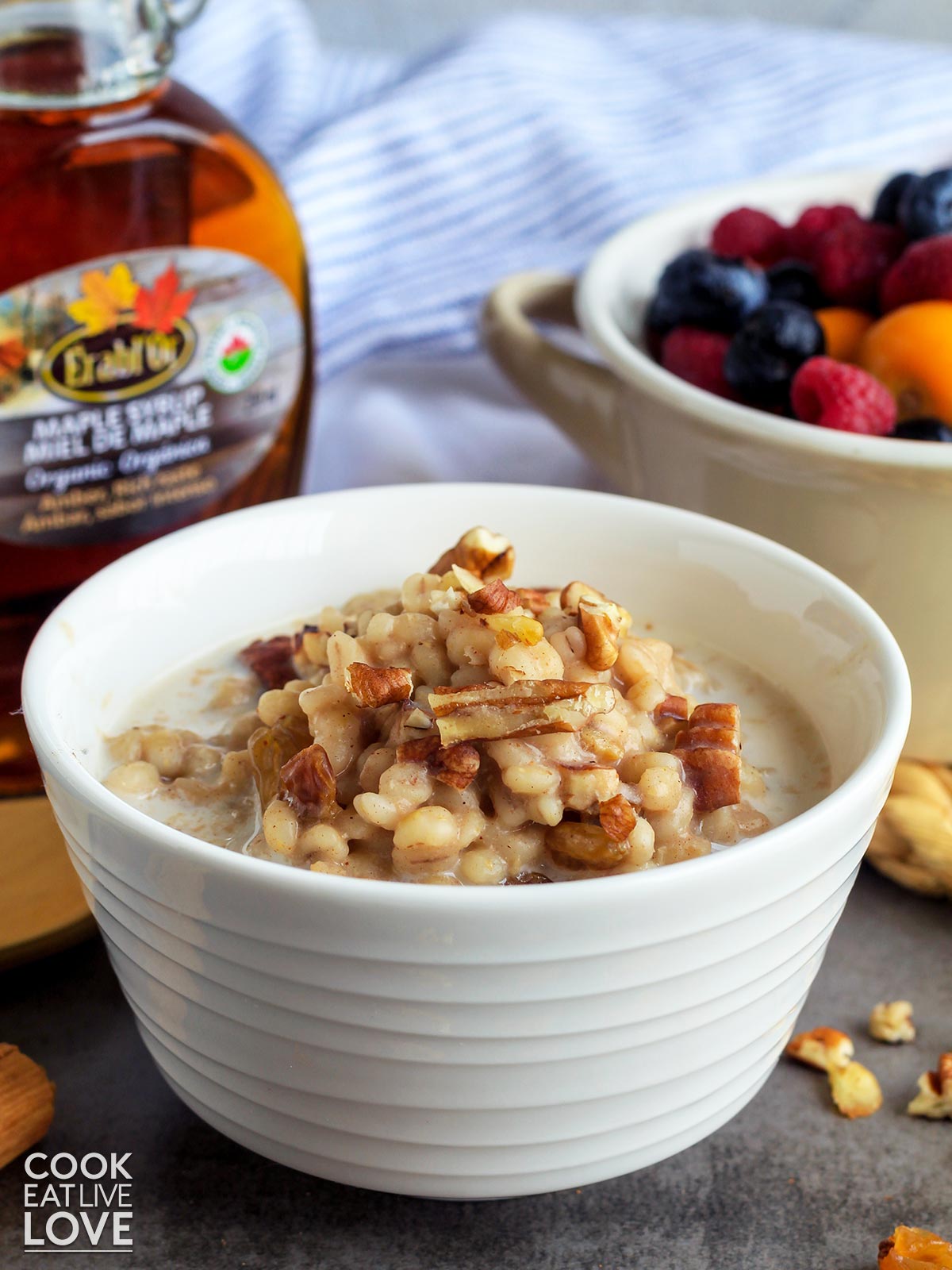 An easy breakfast hot cereal alternative to oatmeal or other hot breakfast cereals. This easy breakfast bowl is flavored with cinnamon and nutmeg while golden raisins give it just a touch of sweetness and pecans or walnuts for a little crunch. Recipe here Cook Eatl Live Love.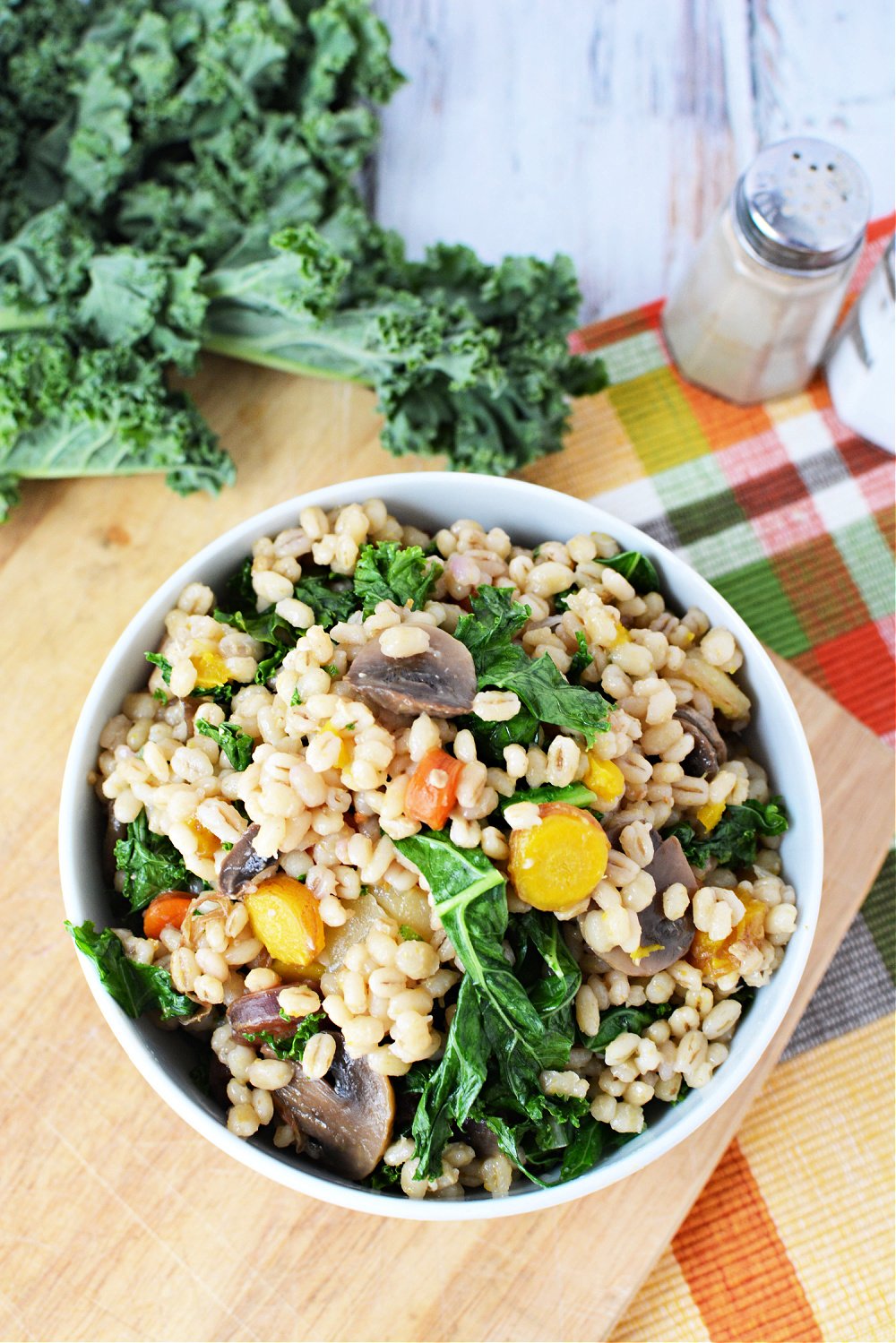 Great for lunch or dinner, and LEFTOVERS. Everything taste better the next day, right? They have all of that extra time to marinate and soak up the flavors! Recipe from The Rebelc Chick.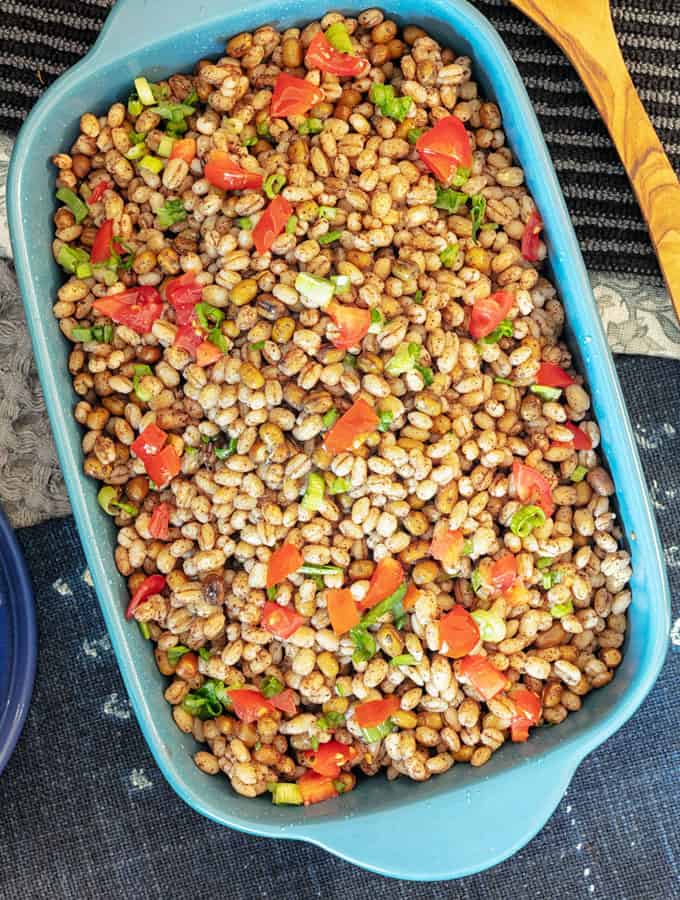 This side dish is absolutely bursting with nutrients like fiber, magnesium, iron and it's a good source of plant protein, making it a fantastic vegetarian option you don't have to feel guilty about eating. Recipe from Two Sleevers.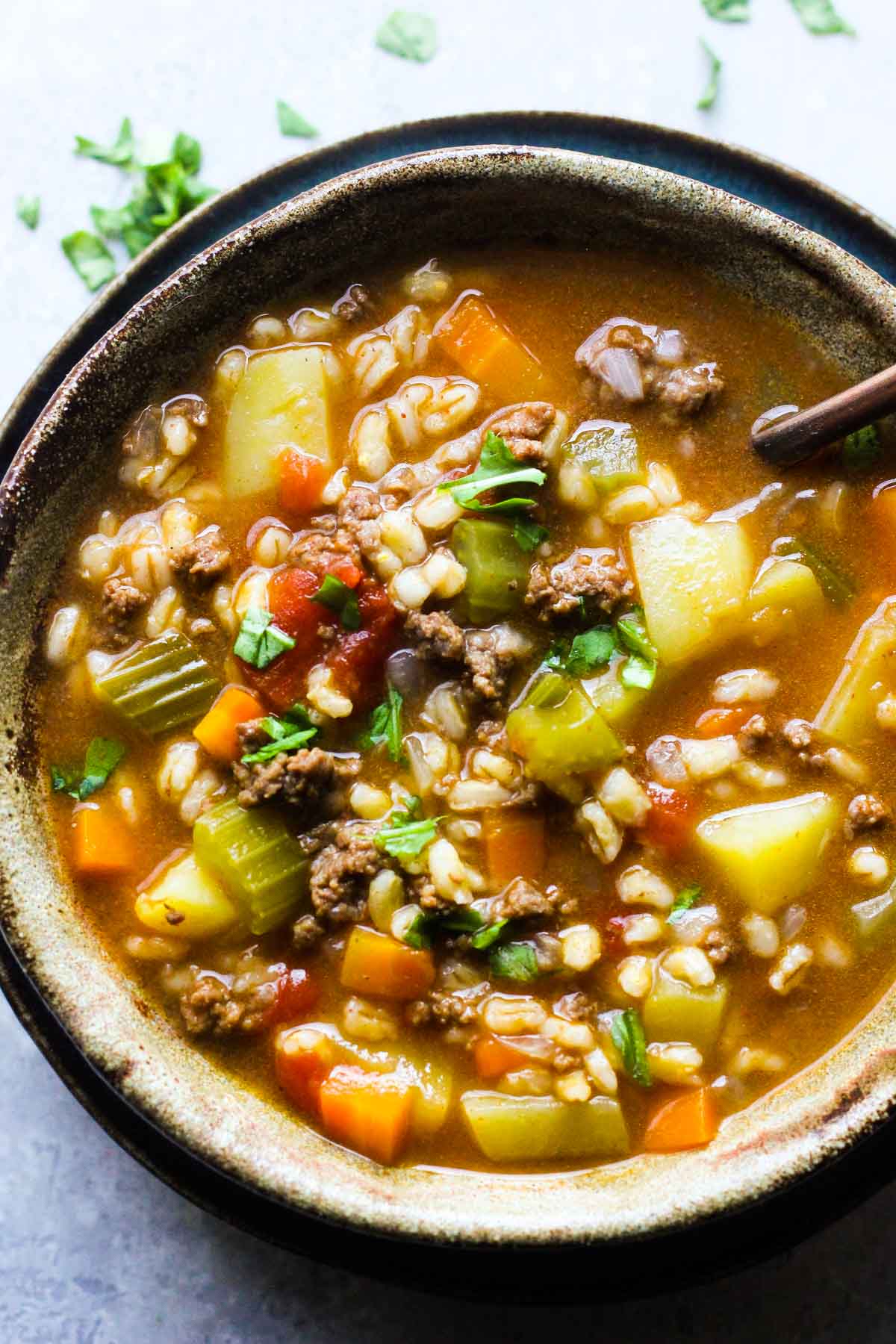 The soup will be pretty thick and delicious. Barley will cook perfectly and all vegetables will still have a bite in it. Serve with chopped cilantro on top, some crackers on the side, a little bit of hot sauce or a dollop of sour cream. Recipe from Berry Maple.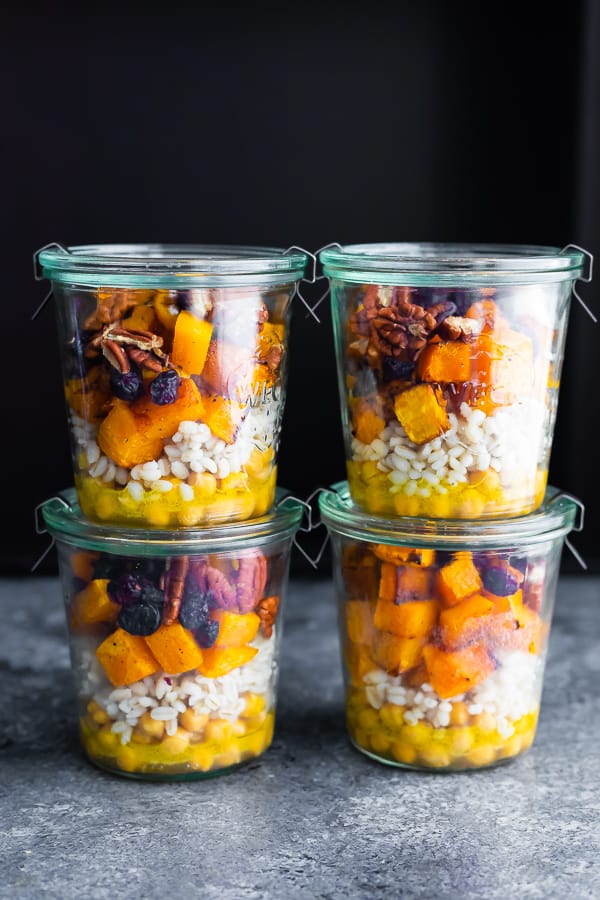 Make ahead chickpea, barley and butternut squash jar salads will have you looking forward to lunch all morning! Vegetarian, ready in under 1 hour, and tastes amazing, even on day 4. Recipe from Sweetpeas & Saffron.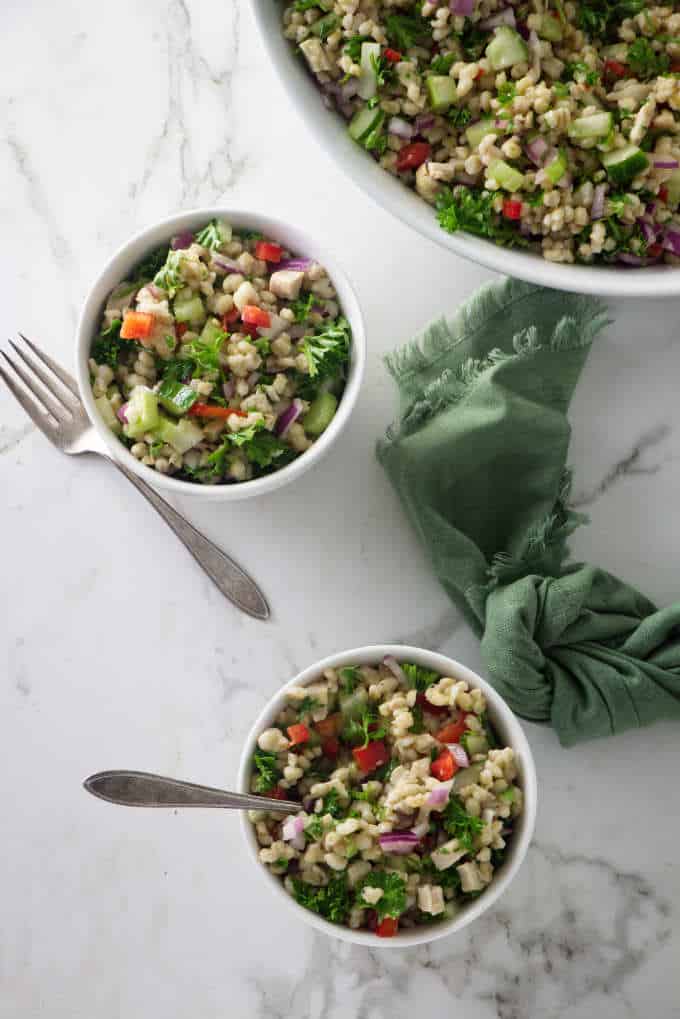 This roasted chicken barley salad hits all the right notes. Vibrant crunchy veggies, chewy barley, lemony dressing, and tender shreds of chicken. Packed with protein, fiber, and healthy nutrients, this salad is a complete meal that won't leave your tummy rumbling. Recipe from Savor The Best.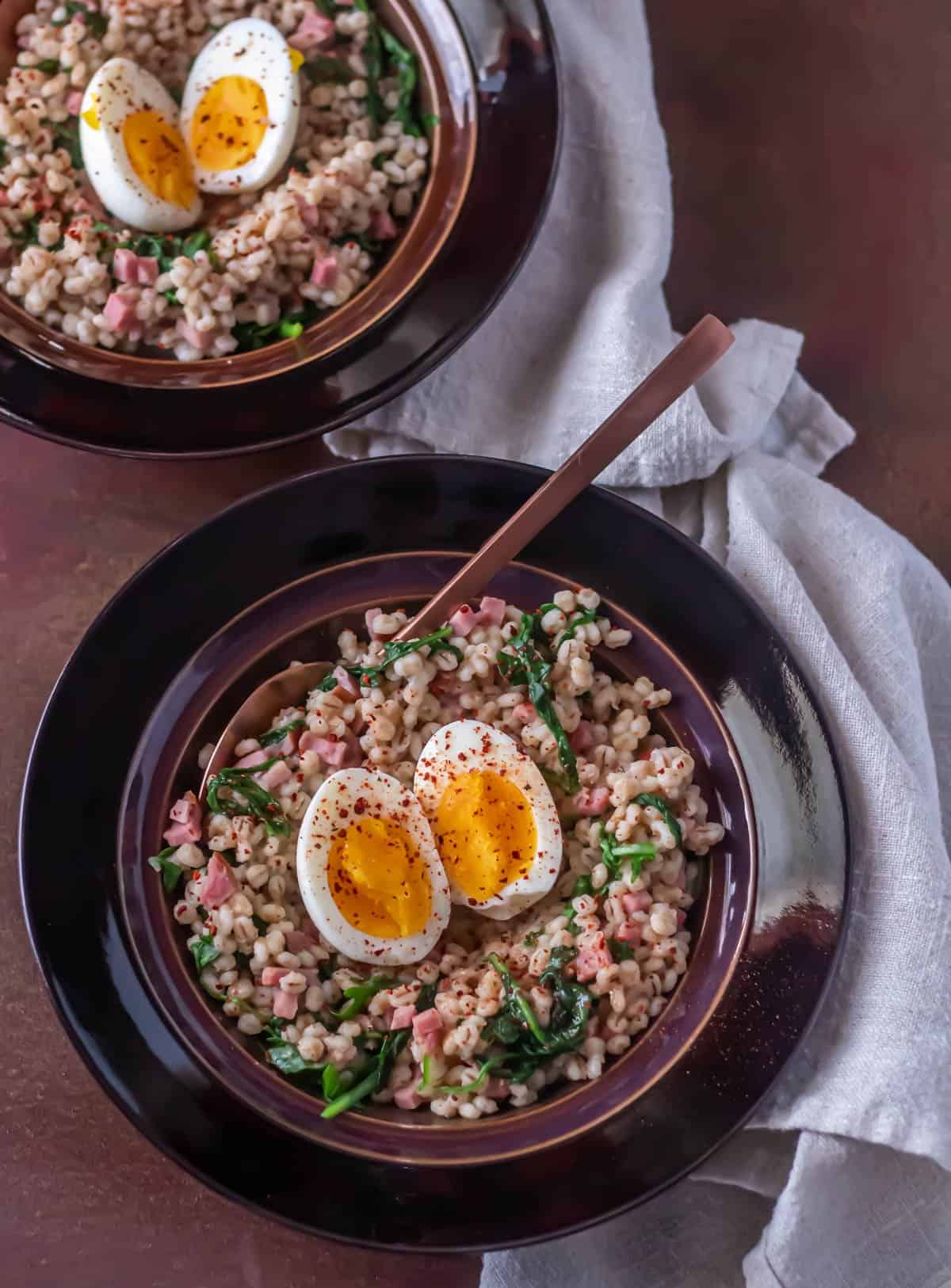 Savory Instant Pot Barley is a healthy breakfast that requires only a few ingredients, and will fire up your "engine" for the busy day ahead! Fresh greens, diced turkey ham, and an egg (your choice) add loads of flavor and nutrition. Recipe from Beyond Mere Sustenance.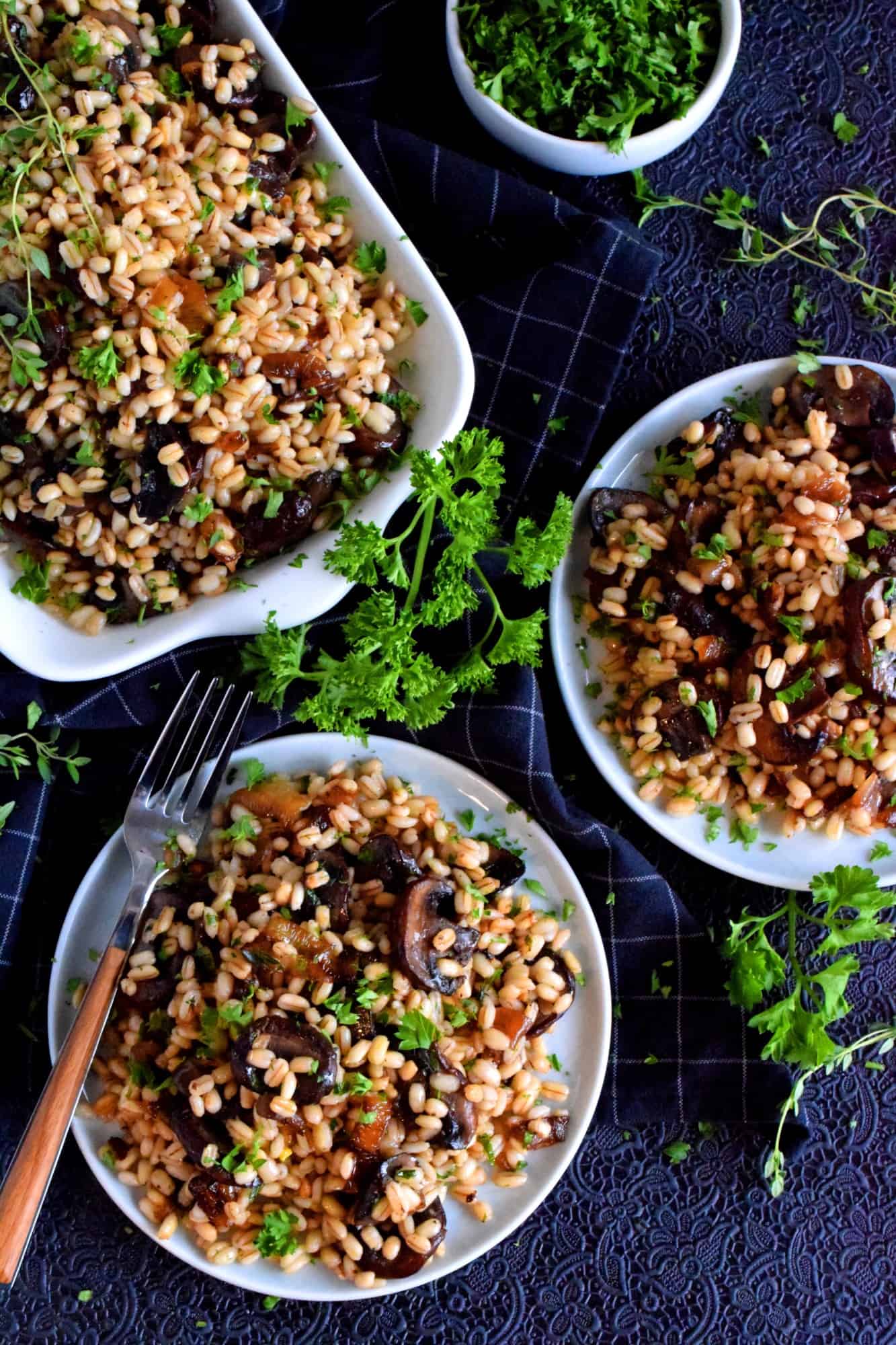 A warm, hearty salad is a great wintertime dinner option, but it's also quite delicious served as a main on a warm, spring evening. Warm Mushroom and Barley Salad is prepared with caramelized shallots and is bursting with bright citrusy flavour too. Recipe from Lord Byron's Kitchen.
---
SAVE INSTANT POT CHICKEN SOUP RECIPES TO PINTEREST