Pork tenderloin and loin cuts are tender and delicious making them favourite with the whole family. We've put together our favourite Instant Pot pork tenderloin recipes (and loin) that will make your week tastier with each slice.
---
It doesn't have to be Sunday to have a pork roast with the family. You can have it any time with the Instant Pot. Question is, will you be serving pork loin or pork tenderloin? It's the same thing, right? Or is it? They sound similar but they are
not
the same. They are actually different cuts of pork, with different shapes & sizes. So, they can't be easily substituted in recipes.
DIFFERENCE BETWEEN PORK TENDERLOIN & PORK LOIN
Pork loin and pork tenderloin are not cut from the same part of the animal. They actually look really different from each other. Pork tenderloin is thin and small. A pork loin is wide. Therefore, there's a significant difference in how you cook each of them. Check out Pork Cuts: A Visual Guide. If you're in a hurry or feeding just a few people, choose pork tenderloin. For special occasions or larger crowds, a pork loin roast is better despite taking longer to cook, since it's less expensive per pound.
Pork Tenderloin
This is the most tender cut of pork. It is the muscle underneath the backbone (begins from below the ribs to hip area). It is a lean, delicate, and boneless. It cooks very quickly because it's thin, usually weighing just about 1 – 1.5 pounds. The challenge is that since pork tenderloin is lean and boneless, it's easy to overcook.
But it also means it's quick-cooking meat which is great for getting dinner on the table fast. It is often sold two to a package or as a whole piece that you can cut. Look for one that has no ingredients other than pork on the label since many tenderloins sold in the supermarket are enhanced.
Pork Loin Roast
This is popular because it is boneless, juicy, tender, and evenly shaped. Boneless pork loin cooks faster, but it's more likely to dry out if overcooked. Bone-in pork loin takes longer to cook but better retains its juiciness. A centre-cut roast with a decent fat cap on top will give you more flavor. One loin usually weighs between four and five pounds.
HOW LONG TO COOK PORK LOIN IN INSTANT POT
Whether you are cooking a roast or a tenderloin, you start with the same process. First, brown both sides of pork for 1-2 minutes per side to lock in the moisture and flavor. You can do this by using the Sauté function. Generously season the pork and drizzle the inner pot with 1 tbsp unsalted butter or olive oil. Set aside the pork.
Then add 1 cup of liquid to deglaze the bottom of the pot which will be a delicious gravy later on. Apply a dry rub seasoning to all sides of the browned pork, then place pork in back in the Instant Pot. Pressure Cook at High Pressure.
You will notice that different recipes will have various cook times. Cooking times depend on the size or weight of your pork and how well done you like it (it should ideally be above 145°F (61°C).
Instant Pot Pork Loin Roast:
30 minutes for 145 degrees with Quick Release
Instant Pot Pork Tenderloin:
Between 4-5 minutes with a quick release or a 5-minute natural pressure release for a medium to well-done OR zero minutes with 15 minutes Natural Release (yes, zero minutes because of the heat from "Pressurize" stage & "Depressurize" stage cooks the pork tenderloin) for that 'just cooked' pork.
After removing pork from the Instant Pot, place it on a chopping board to rest for at least 3 minutes then slice. Add cornstarch mixture one third at a time to thicken the cooking liquid until desired thickness and adjust seasoning to taste.
Serve your Instant Pot pork with some roasted red potatoes or rice or noodles. All taste great with the gravy or sauce. A healthier low carb choice would be a salad or some roasted vegetables. The leftovers are great for meal prep as lunch for the week! Try these Instant Pot pork tenderloin & loin recipes.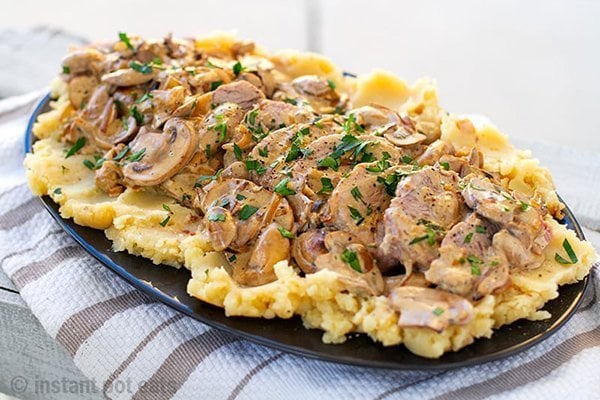 This hearty and comforting meal of Instant Pot pork tenderloin and potatoes with creamy mushroom sauce will please the whole family and is great for serving at a dinner party. This recipe will feed 4-6 people and keeps well for leftovers.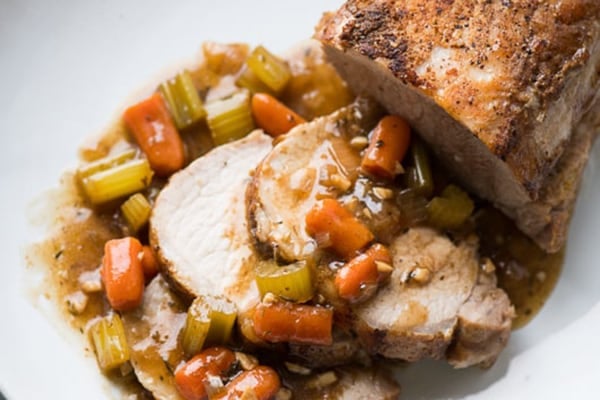 It doesn't have to be Sunday to have a pork loin roast for the family. Especially, since you're Instant Pot does the work in less the time compared to traditional methods. It's easy and delicious! What more could you ask for? Recipe from Best Recipe Box.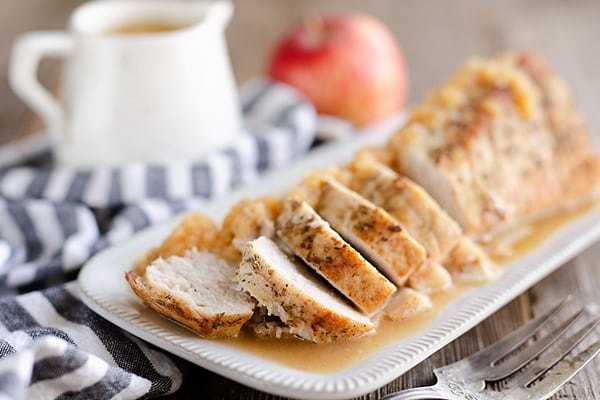 Apples and pork are a classic combination. But let's add some Bourbon for a twist to really add something special to the recipe. Serve the pork with a chunky apple sauce, or give the apples a quick blend with your immersion blender for a smoother, prettier sauce to serve on the side. Recipe from The Creative Bite.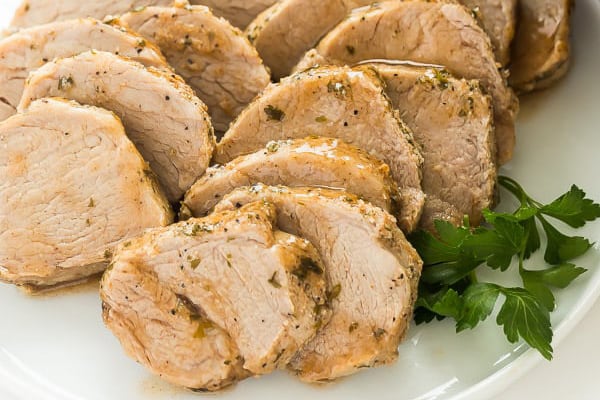 This Instant Pot Pork Tenderloin has a garlic herb rub that gives it INCREDIBLE flavor! Simply cook it in the pressure cooker with some chicken broth or add an easy 4 ingredient honey balsamic glaze to make it extra special. Pork Tenderloin with Garlic Herb Rub
'
Let's go to Japan with this Teriyaki Pork Tenderloin! You can say sayonara to dairy with this meal. It is dairy-free and can be gluten-free if you use Tamari instead of soy sauce and paleo-friendly if you use coconut aminos. Recipe from Slimming Eats.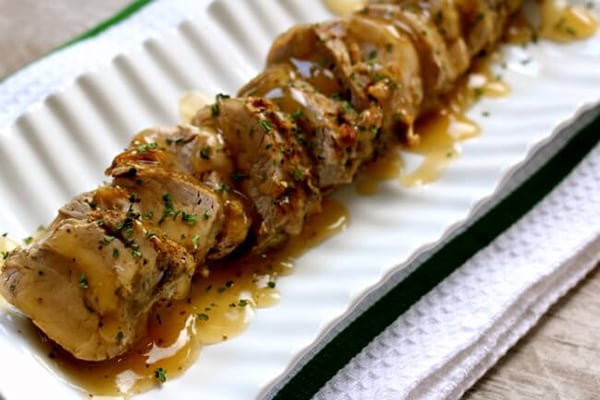 Don't waste those wonderful bits of flavor left from your pork at the bottom of the pot. Save and make delicious gravy to pour over your dish for a mouthwatering presentation. Recipe from 365 Days of Slow and Pressure Cooking.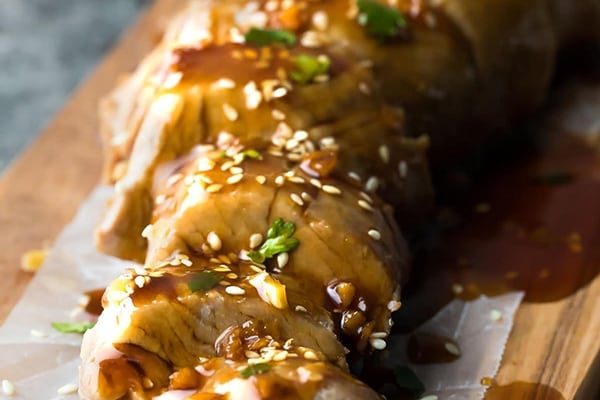 Simply spoon this amazing soy-ginger sauce over the pork tenderloin, rice, or veggies and indulge in the flavors. You can assemble ahead and freeze in Instant Pot freezer packs for an easy weeknight dinner. Recipe from Sweet Peas and Saffron/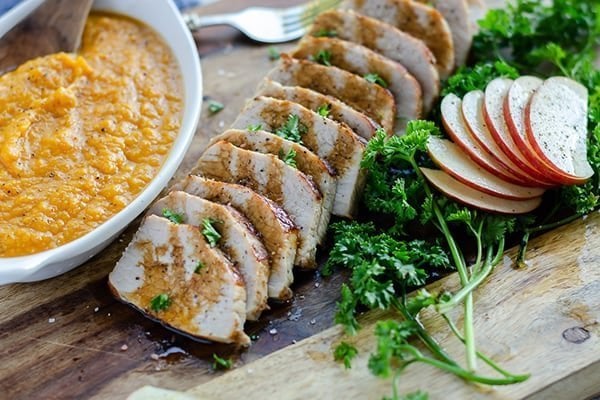 Tenderloin with sweet potatoes and apples can quickly turn into a one-pot meal that still happens to be Paleo, Gluten-Free, and Whole30 approved. Who doesn't love one pot clean up? Recipe from A Mind Full Mom.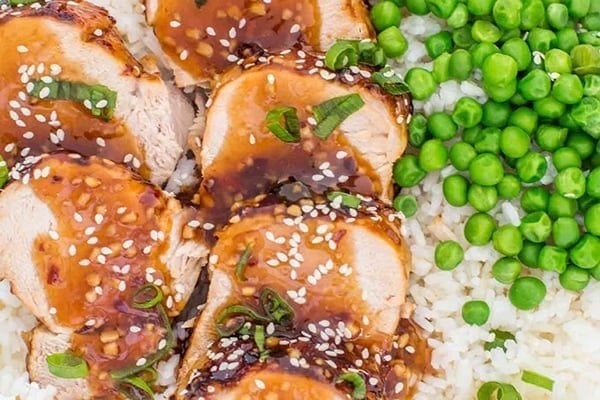 How many times have you planned a delicious dinner, and only to realize that you forgot to thaw the meat?! All too often, right. However, with the help of Instant Pot, you can cook frozen pork tenderloin in the pressure cooker with delicious Honey Garlic sauce. Recipe from Sweet and Savory Meals.
Pork tenderloin is a great cut of meat because it's lean and it cooks up tender, juicy, and quickly. This Instant Pot pork tenderloin recipe includes a simple honey garlic sauce for drizzling over the pork. The pork is flavorful on its own but with the sauce it's irresistible. Recipe from Kristine's Kitchen.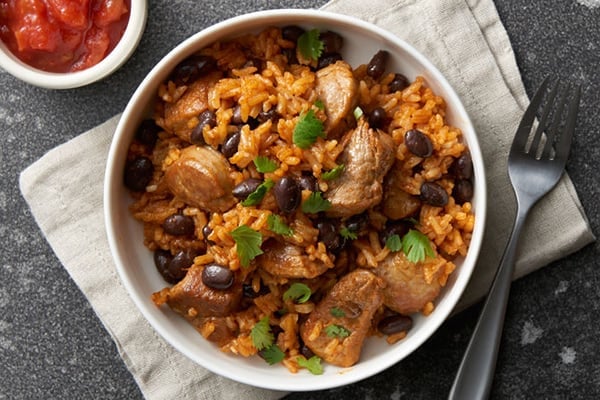 This one-pot Cuban pork and rice meal is a quick and easy dinner, making it perfect for the weeknight rush. The flavors of mojo—a garlic-citrus sauce popular in Cuba—are what bring this dish together. Recipe from Betty Crocker.
|