This curated roundup features our favourite Instant Pot recipes with Jalapeños. If you love a little heat in your dishes or you are growing jalapeños in your garden, then you will love these ideas and they can spice up your menu. From homemade hot sauce to jellies and poppers, jalapeños can bring any recipe to the next level.
---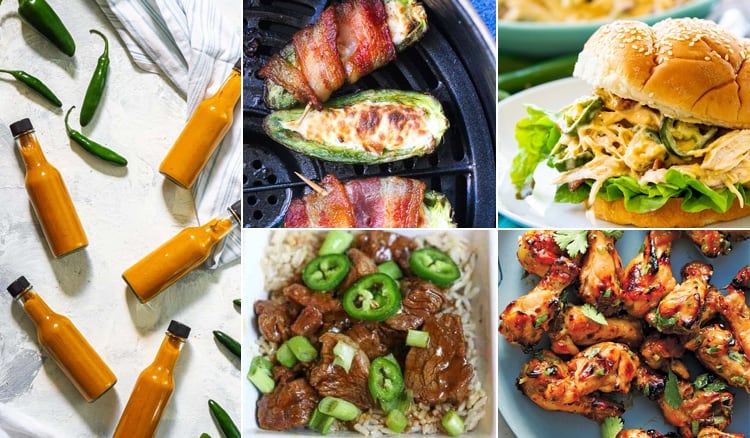 If you love a little kick in your recipes, growing jalapeños in your garden or taking advantage of the harvest season, this roundup will give you a ton of ideas that will put a little heat in your menu.
A LITTLE ABOUT JALAPEÑOS
A jalapeño gets its heat from capsaicin, a chemical compound concentrated in the white pithy ribs of a pepper. It is a medium-sized hot pepper when compared to other chili peppers, measuring an average of 2-3.5 inches in length but growing up to 6 inches long or longer. It's popular for its mild heat level, which averages around 5,000 Scoville Heat Units. That is noticeably spicy, but not too spicy.
Jalapeños have the perfect amount of spice for someone introducing their pallets to spicier foods. When cooking with them, you can core and remove the seeds from the jalapeño to reduce the overall heat. You can also dice them small to spread the heat through a salsa or slice into rings to concentrate the heat into a bite, such as on nachos. They can be incorporated into almost anything, from soups to bread. Remember when working with peppers to be careful since the oils can get on your fingers and cause discomfort if you touch your eyes.
There are some surprising benefits from these little green peppers. They contain vitamins C, A, and K, as well as B6 and folate. They also provide dietary fiber, and the minerals magnesium, potassium, iron, copper, and manganese. The chemical responsible for the heat also helps speed up metabolism and reduce hunger, relieve pain, aid digestion, and even lower blood pressure in some cases.
---
---
INSTANT POT RECIPES WITH JALAPEÑOS
For this roundup, we picked a variety of pressure cooker recipes featuring Jalapeño peppers. In some dishes like poppers, this chili pepper is the star ingredients, while in others it might be used as an added flavor or heat element. In any case, these ideas are fun and delicious so we hope you try them out.
JALAPEÑO POPPER MAC AND CHEESE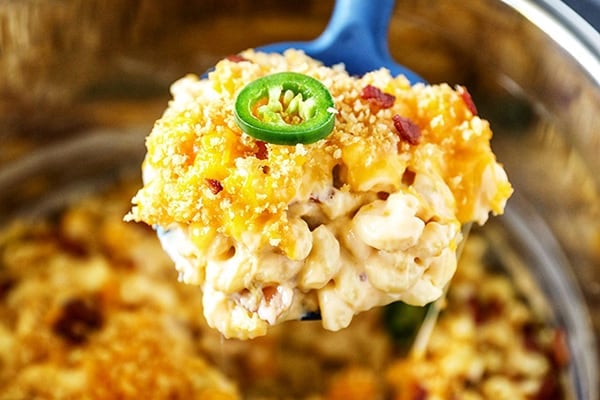 This recipe is loaded: smoky bacon, spicy jalapeños, and tangy cream cheese make this extremely flavorful. Take it a step further and add a crispy panko breadcrumb topping for even more flavor and texture. Recipe from Number 2 Pencil.
INSTANT POT JALAPEÑO POPPER CHICKEN SOUP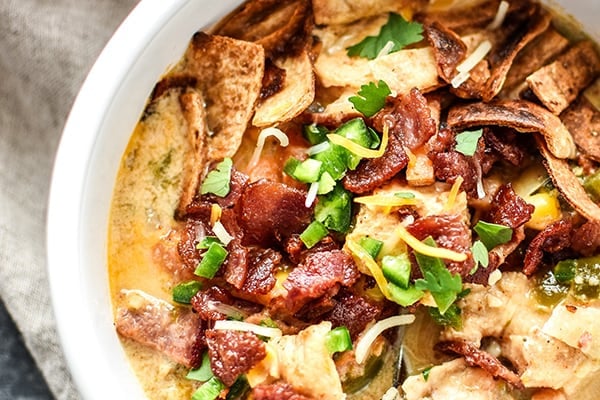 An explosion of jalapeño popper… in soup form! Loaded with hearty chunks of chicken breast, bacon, and jalapeños, this Instant Pot Jalapeño Popper Chicken Soup packs a punch of flavor and heat! Make ahead and eat as leftovers for more intense flavors! Recipe from Project Meal Plan.
JALAPEÑO POPPER CHICKEN CHILI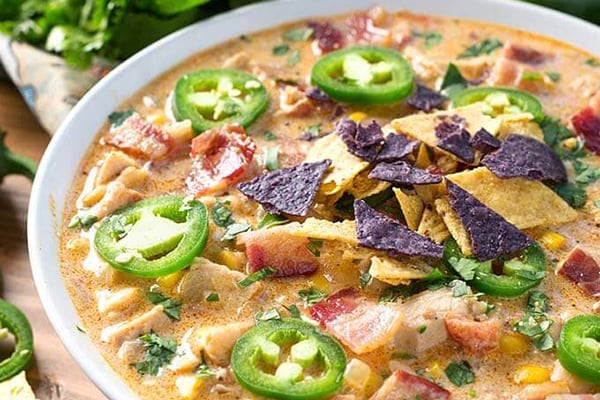 Instant Pot Jalapeño Popper Chicken Chili is a super flavorful creamy, hearty chili. With lots of jalapeño, bacon, chicken, and more, this is a favorite recipe. Pressure cooker jalapeño popper chicken chili is delicious and pretty easy to make! Recipe from Simply Happy Foodie.
JalapeÑo Popper Shredded Chicken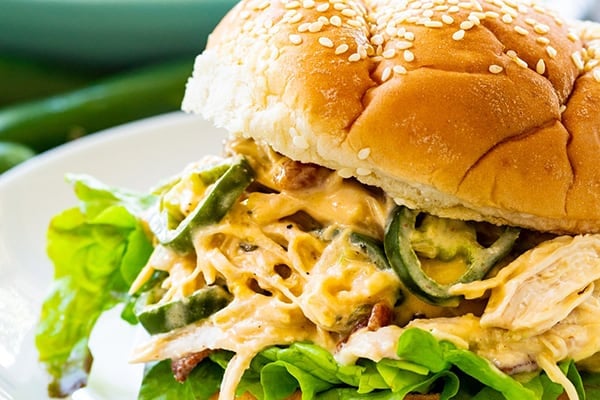 Instant Pot Jalapeno Popper Shredded Chicken is wonderfully creamy and rich and loaded with bacon, jalapenos, cream cheese, and cheddar cheese. Only 15 minutes of cook time. This spicy pulled chicken makes a great sandwich or can be eaten low carb. Recipe from Spicy Southern Kitchen.
Mongolian Beef WITH JALAPEÑOS
Instant Pot Jalapeño Mongolian Beef is a flavorful flank steak stir fry. Make it in 20 minutes and serve over rice for a quick, easy meal! Recipe from A Fork's Tale.
Instant Pot Jalapeño Bacon Lentils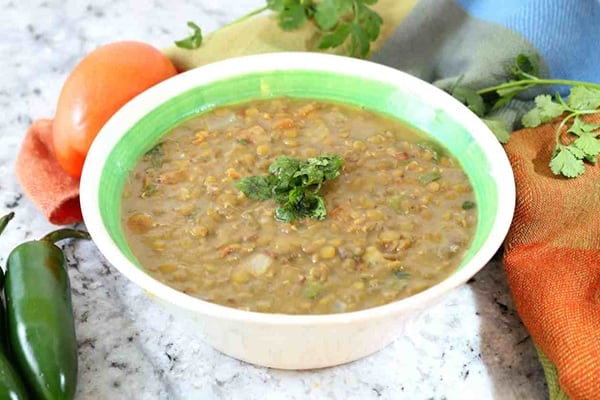 Tender, nutrition-packed lentils, crispy bacon, and spicy jalapeños come together in these Mexican-style Instant Pot Jalapeño Bacon Lentils. Recipe from Everyday Latina.
VANILLA JALAPEÑO CORN CHOWDER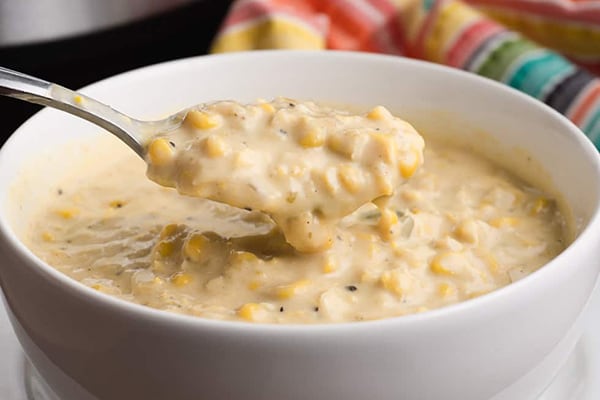 Have you ever heard of vanilla chowder? The combination of vanilla and corn with a kick of jalapeño in every bite makes this soup a delight for your tastebuds! Recipe from One Happy House Wife.
Orange-Jalapeño Chicken Wings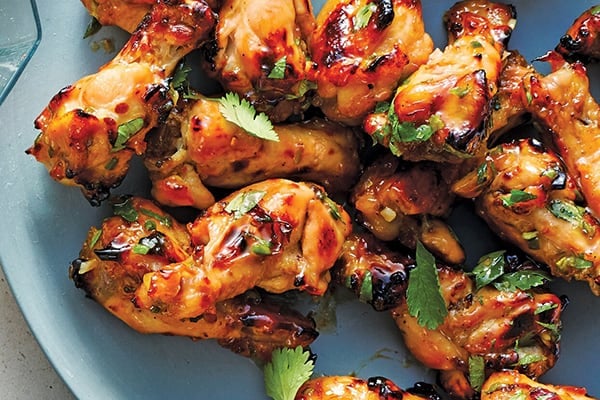 These sweet-hot tender Instant Pot chicken wings boast a balance of orange and lime. They're very tangy and very sticky. Recipe from Eating Well.
Blackberry Jalapeño BBQ Meatballs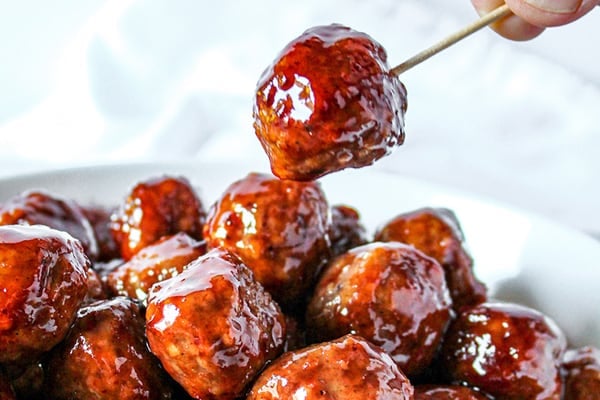 An easy sweet and spicy cocktail meatball appetizer for holiday parties or game day. If you can't find blackberry jalapeño jam or jelly, try something else that's spicy. You can just mix regular pepper jelly, the green stuff, with a berry fruit jam. Look in the speciality areas in the grocery stores or your favorite fruit and vegetable stand for these speciality jams and jellies. Recipe from The Hungry Bluebird.
Hawaiian Chicken Tacos with Jalapeño Ranch Slaw

A good dinner is one that starts with INSTANT POT and ends with juicy pineapple and spiced chicken crisped under the broiler, tucked into tortillas, and rolled up with creamy jalapeño ranch slaw. Recipe from Pinch Of Yum.
Instant Pot JalapeÑo Popper Chicken Dip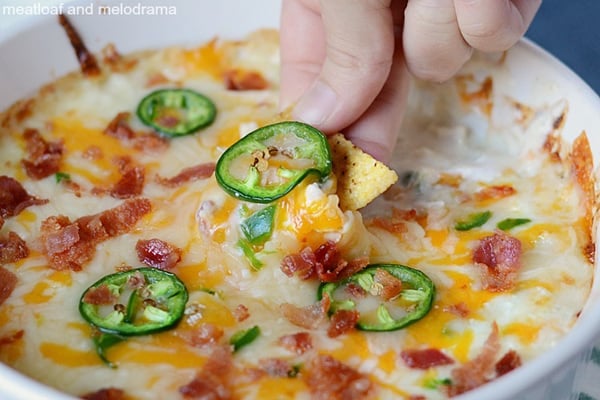 The perfect hot dip for game day or parties! It's spicy, creamy, cheesy, and topped with bacon for extra flavor. Adding the chicken makes it more of a meal and not just a snack. Recipe from Meatloaf and Melodrama.
Creamy Instant Pot Grits with Cheddar and Jalapeño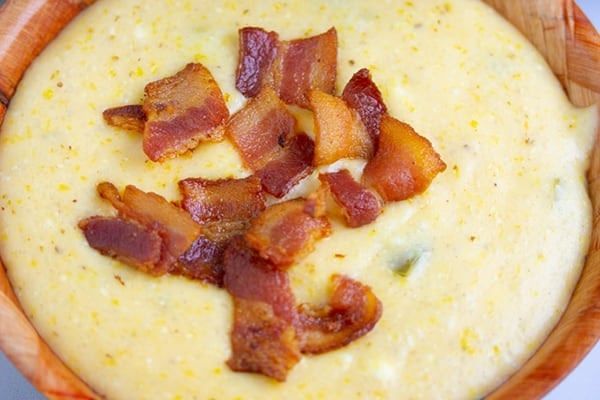 These Creamy Instant Pot Grits with Cheddar and Jalapeño are a delicious addition to your breakfast table. Recipe from My Forking Life.
Instant Pot Cilantro Jalapeño Hummus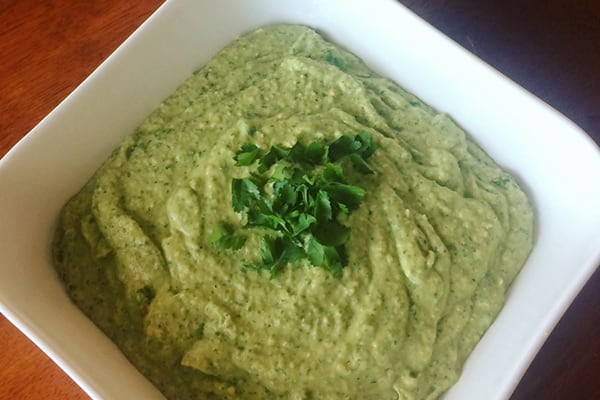 A go-to summer appetizer because who doesn't love hummus. It's a crowd-pleaser dip that's great served alongside tortilla chips, raw vegetables, or inside a taco! Recipe from Instant Loss.
Mango Jalapeño Sticky Rice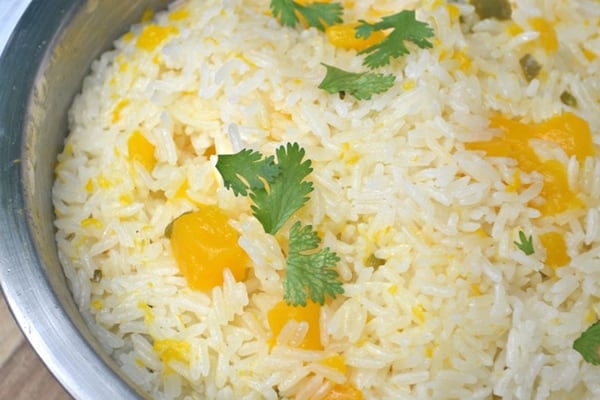 When you make this sticky rice, the goal is to have 3 and 3/4 cups of liquid in total to mix with the two cups of jasmine rice. For this dish canned mango and juice are great sources of liquid. So don't waste it by throwing it out. Recipe from Make The Best Of Everything.
Instant Pot JalapeÑo Jelly FOR Canning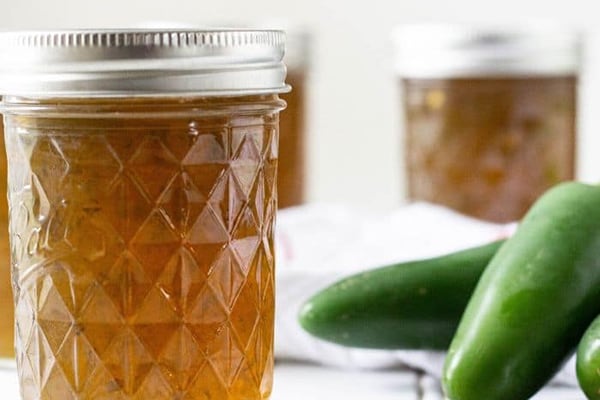 What is jalapeno jelly? Jalapeno jelly brings you a sweet and spiced up jelly that you can spread on crackers, or pair with cream cheese. The Instant Pot speeds up the process, but then use the classic stovetop canning to prepare jars to preserve the jelly. Recipe from Bake Me Some Sugar.
INSTANT POT CORNBREAD MUFFINS
Experimenting with Instant Pot silicone mold led to this muffin-sized variation of cornbread. These sweet, Texas-style Instant Pot cornbread bites are great as an appetizer, on the side of chilies and stews, or on their own with some butter for a snack. For those that like a little kick, the recipe includes an option to add some diced jalapeño peppers, but you can make the recipe without it as well. Recipe from Fab Everyday.
Instant Pot Pickled JalapeÑo Rings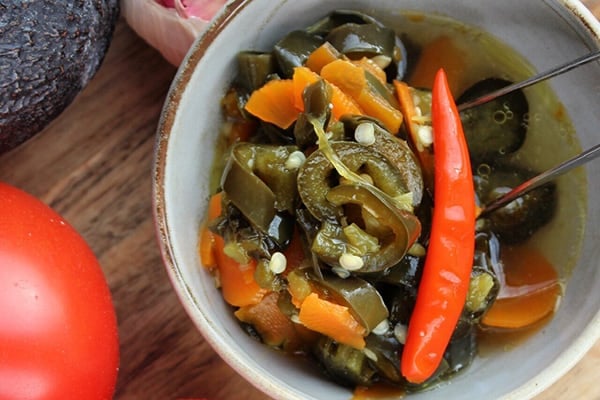 Nothing beats homemade and the Instant Pot® makes it as simple as 1, 2, 3. Do you like all things pickled? Recipe from All Recipes.
HOMEMADE HOT SAUCE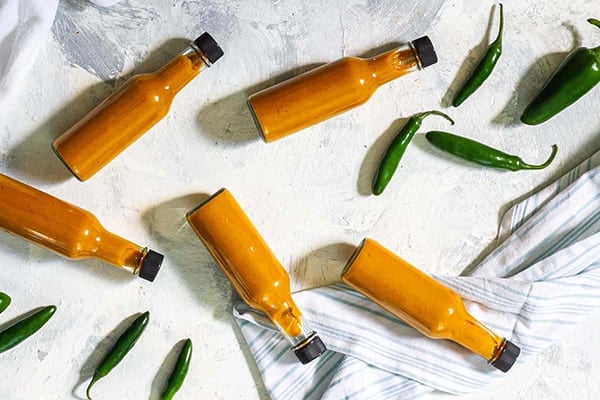 How many hot peppers can one eat at a time? If you are overwhelmed by your garden harvest try making homemade hot sauce. Recipe from Champagne Tastes.
WHOLE WHEAT JALAPEÑO CHEDDAR NO KNEAD CRUSTY BREAD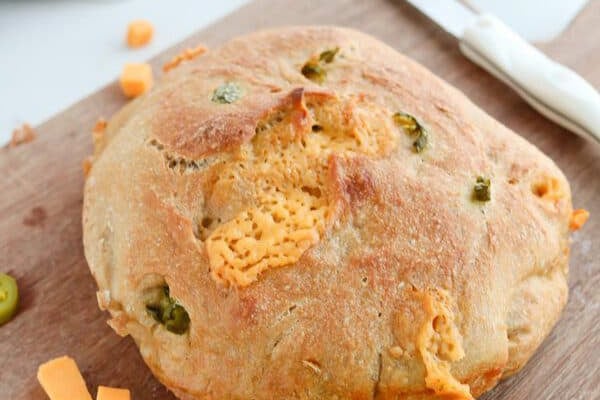 The combination of cheese and jalapeño is absolutely magical. The pockets of melty cheddar and crispy cheddar bits on the outside are irresistible. Recipe from Tidbits.
Air-fryer bacon-wrapped jalapeno poppers
This easy air fryer jalapeno poppers recipe stuffed with cream cheese and wrapped in bacon is keto, low carb and weight watchers friendly. These peppers will be perfect for your next party as an appetizer, they are filling, crunchy outside and creamy cheesy inside. Recipe from Berry Maple.
---
SAVE These JALAPEÑO Instant Pot Recipes TO PINTEREST