Today, we are sharing our latest installment in our series of Instant Pot cookbook reviews. We love sharing recipes with you, but we're also eager to share great written resources as the Instant Pot grows in popularity, and more cookbooks or guides are on the market. In this post, we're featuring author, Megan Gilmore's The Fresh & Healthy Instant Pot Cookbook.
---

The book: The Fresh & Healthy Instant Pot Cookbook by Megan Gilmore
The focus: Healthy eating with 75 delicious recipes for nutritious and satisfying meals made quickly in an electric pressure cooker.
Featured guest recipe: Instant Pot Soy-Ginger Salmon With Broccoli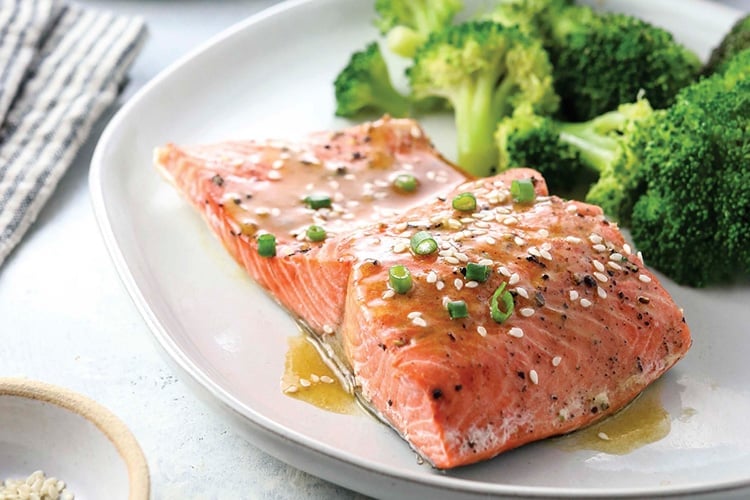 About the cookbook
In The Fresh and Healthy Instant Pot Cookbook, certified nutritionist and author Megan Gilmore presents recipes for simple weeknight meals from morning to night that take advantage of the revolutionary cooking power of the Instant Pot, and electric, programmable multicooker.
While all recipes are free of gluten, refined sugar, and many of the most common food allergens, as well as being low in fat, carbs, and calories, they don't scrimp on flavor. With dishes like Broccoli Cheese Soup, Barbecue-Stuffed Sweet Potatoes, One-Pot Fettucine Alfredo, or Deep Dish Pizza Casserole, following a healthy diet while enjoying your favorite whole foods has never been more achievable. Every recipe is photographed in this highly visual and information-rich collection, and also includes nutritional information (calories, fat, carbs, fiber, and protein) and detailed timing for prep, coming to pressure, cook time, and release time.
What we love about this cookbook
When you cook traditional method on the stove you can check on the ingredients and make adjustments accordingly. But not with an Instant Pot, you can't just open it during a cycle. Therefore, you have to really trust the recipe and the person who developed it. Megan Gilmore, the author of The Fresh and Healthy Instant Pot Cookbook, speaks to you as if she's your go-to friend. She's tested the recipes and gives a personal description intro per recipe. Like a true friend, she candidly acknowledges that using an electric pressure cooker doesn't always shorten the total cooking time, but it will reduce the amount of time spent in the kitchen actively cooking so you can spend more time with family.
There are variation notes, substitution alternatives for vegans and nutritional stats at the bottom of the recipe page. You can tell a lot of thought and care has been put into the development of the recipes to care for various dietary preferences and needs. For example, she recommends a head of cauliflower to create the creamy mac 'n' cheese sauce. And cooking sweet potatoes in the same pot as a chocolate cake, so that the potatoes become a soft and creamy base for a rich, chocolate frosting to top the cake. Voila, hidden vegetables and dairy substitution! Nutrition and health take precedence without being dogmatic.
At the beginning of the book, there is a My Go-To Pantry Staples section to help simplify pantry storage and shopping. Since several of the ingredients cross over into more than one recipe, this makes cooking convenient and easy on the budget. Common Ingredients & Substitutions section is also informative and Best Kitchen Tools section is great for getting your kitchen in order.
Who is this book for?
This book is great for anyone who wants to make healthy choices. There's enough flexibility to each recipe for substitutions or omissions so that it doesn't fit a singular prescribed diet. It simply encourages smart eating habits. Incorporating vegetables as much you can in different unique ways. The book is written with a balanced view of health and time management. Fast food doesn't always mean it's good for you. But in this case, Instant can still be nutritious.
About the author
Megan Gilmore is the author of Everday Detox and No Excuses Detox, and the creator and recipe developer behind Detoxinista.com, a website that makes healthy living easier and more accessible. She is a certified nutritionist consultant and health coach, and her recipes have been featured in The Guardian as well as Shape and Clean Eating magazine.
Get The Fresh & Healthy Instant Pot Cookbook here.
---