Today, we are sharing our latest instalment in our series of Instant Pot cookbook reviews. We love sharing recipes with you, but we're also eager to share great written resources as the Instant Pot grows in popularity, and more cookbooks or guides are on the market. In this post, we're featuring author, Deborah Schneider's The Essential Mexican Cookbook
---
The book: The Essential Mexican Cookbook
The focus: 75 original Mexican recipes for soups, tacos, burritos, tamales, beans, salsas, desserts, and more, all made in minutes in an Instant Pot.
Featured guest recipe: Instant Pot Chicken Tortilla Soup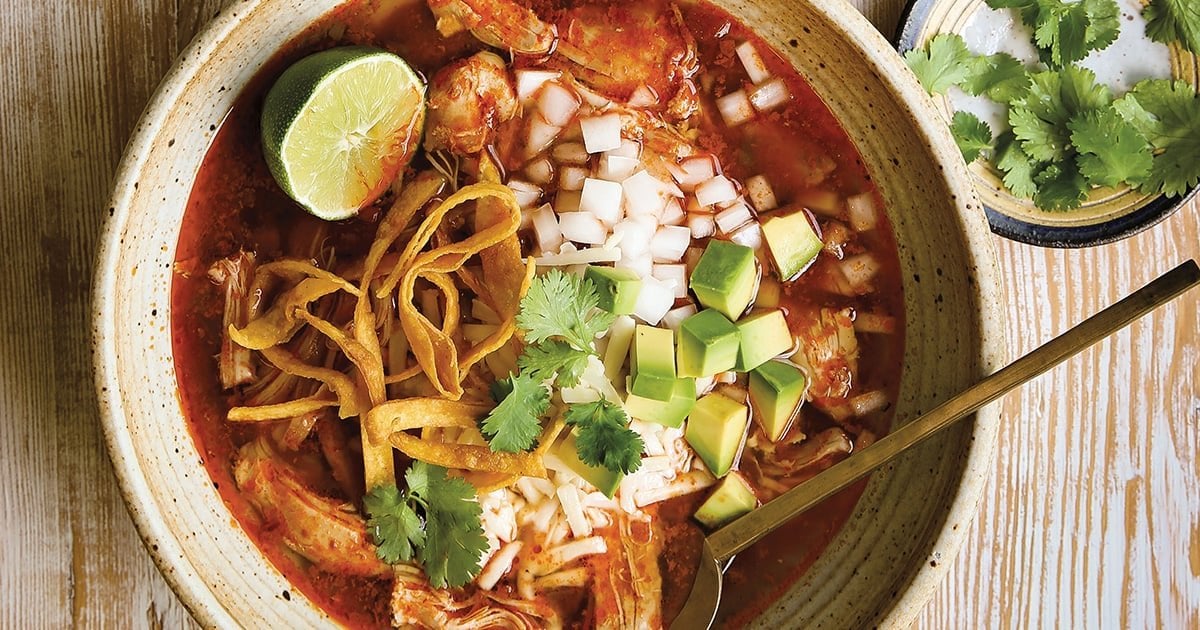 About the cookbook
This book is a complete guide to Mexican cooking with an Instant Pot includes an enticing collection of fresh, authentic recipes, such as heart posole soup, sizzling steak fajitas, tender carnitas tacos, cheesy enchiladas, stuffed tamales, classic refried beans, salsas galore, flan, churro bread pudding, and more. All of the vibrant flavors that make Mexican food such a beloved cuisine are present in this compilation of straightforward and streamlined recipes.
What we love about this cookbook
The cornerstone to Mexican cuisine is their use of heat in their dishes. So it would be wise to be educated in this arena and learn how to roast them. Deborah Schneider includes a guide to Mexican chilies in The Essential Mexican Cookbook. This is not for the faint of heart.
Red posole with pork is described as not just a soup, it's an event! A big hearty bowl of goodness with complex smokey notes. When you think of Mexican food, boring is certainly not what comes to mind. You think of a fiesta! That's what you get in the kitchen and in your mouth with these recipes.
There's a vegetarian section which most people don't equate to Mexican food. These dishes are more than just a salad. The ingredients make veggies take center stage. And don't forget that beans are essential in any Mexican meal. The perfect source of protein. We also loved the salsa and hot sauce section of the book. Are you ready to make things HOT?
Who is this book for?
This book is for someone who wants to spice up their life! Who doesn't want that? These recipes will make cooking in the kitchen fun, easy and fast. Just turn up some music! You will ease into learning classic dishes to dishes that will make you agree that Deborah know's what she's doing to get your taste buds going…. churro bread pudding…. chocolate tamales.
About the author
Deborah Schneider is the executive chef and owner of six Mexican restaurants located in Southern California, Scottsdale, and Denver, and was dubbed "the reigning queen of San Diego chef's by Bon Appetit. She is the author of eight cookbooks, including the James Beard-nominated Cooking with the Seasons at Rancho La Puerta; The Mexican Slow Cooker, Salsas and Moles; and ¡Baja! Cooking on the Edge, which was one of Food & Wine's Best of the Best of 2006.
---