Today, we are sharing our latest instalment in our series of Instant Pot cookbook reviews. We love sharing recipes with you, but we're also eager to share great written resources as the Instant Pot grows in popularity, and more cookbooks or guides are on the market. In this post, we're featuring Archana Mundhe's The Essential Indian Instant Pot Cookbook.
---
The book: The Essential Indian Instant Pot Cookbook by Archana Mundhe
The focus: Learning to master authentic Indian flavours and traditional recipes with flair at home in your Instant Pot.
Featured guest recipe: Instant Pot Butter Chicken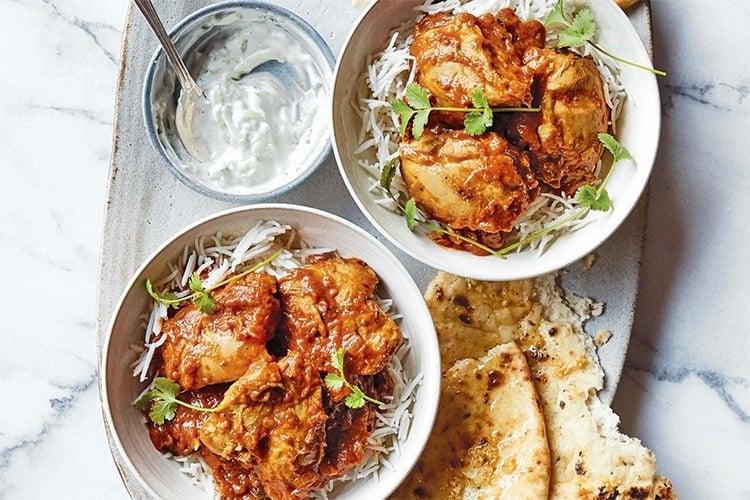 About the author
Archana Mundhe grew up in India and she says that while having a ton of kitchen appliances wasn't common, there is one thing she remembers distinctly: the whistle of the stove top pressure cooker in every home. Perhaps it comes as no surprise to you that now she takes the tradition of cooking Indian food into her own hands with her electric pressure cooker in New Jersey, where she and her family now call home. By trade, she is a software engineer. At heart, she is a chef – and a mother – who takes delight in being creative and keeping alive the tradition of foods she ate as a child in her own mother's kitchen.
She is a cookbook author and runs the blog Ministry of Curry where she regularly shares her Instant Pot creations and more.
About the book
You will find plenty of what you expect in this recipe collection including gorgeous, fragrant curry dishes, pulao and biryani. However, you will likely come across new-to-you dishes and recipes you'd never have thought to try. Indian food for breakfast? You bet. With frittata and porridge creations, you'll never be bored – especially with Indian spices and flavours like saffron.
Not only does this book contain Instant Pot recipes. If you're passionate about Indian food, you know just how important bread is to complete a meal. You will find a recipe for parathas to serve with all your meals – perfect for soaking up those tasty sauces.
Some recipe highlights include raw mango curry, paav bhaji, creamed black lentils, corn on the cob in peanut curry, and Tandoori chicken wings. Oh, and don't worry – there is a dessert section. How about some fig and walnut halva?
What we love about this cookbook
The book starts off with Instant Pot basics, like any good Instant Pot cookbook should. It may very well be someone's first introduction to electric pressure cooking, and learning about the functions, buttons, and more is important.
Archana has a section that highlights how to improvise in the Instant Pot which will come in handy once a home chef is acquainted well enough with the device to feel confident in their cooking intuition. She sets some helpful guidelines for adapting stovetop recipes to the pressure cooker. The intro also gets you set up with the perfect pantry for Indian cooking.
Later, after you drool over all the gorgeous recipes, you'll find a section dedicated to homemade Indian pantry staples like the spice blends that offer so much flavour. Making your own spice blends at home often reduces waste and simplifies your budget while ensuring your spices are fresh.
After that, you'll find an extremely handy section for meal planning to entertain. If you enjoy hosting or throwing parties, this sort of outline is invaluable. Movie night or game night? Covered. Kids' meal? Gotcha! Brunch party? No sweat. Being able to collate a menu from a single book for any event makes things simple, and you'll often use similar ingredients or spices throughout making it even easier – if that's possible.
Who is this book for?
This book is for anyone who wants to branch out and learn the art of cooking authentic Indian food. It can be intimidating to learn to cook at home if you didn't grow up with Indian influence in your kitchen, but the reward is worth it. Archana Mundhe makes Indian cooking accessible, chunking it down into sections that make it so you can recreate dishes you love getting for takeaway while also stepping outside of the box to try new things.
This collection is great for families or couples who adore deep flavours, interesting ingredients, and creativity in the kitchen. Considering the Instant Pot does the work of blending everything together, it's perfect for folks who crave aromatic, savoury meals without spending exorbitant amounts of time to learn the ropes and tend to the simmering meal.
---
SAVE THIS REVIEW TO PINTEREST