Today, we are sharing our latest instalment in our series of Instant Pot cookbook reviews. We love sharing recipes with you, but we're also eager to share great written resources as the Instant Pot grows in popularity, and more cookbooks or guides are on the market. In this post, we're featuring author, Emily Sunwell-Vidaurri and Rudy Vidaurri's cookbook Amazing Mexican Favorites with Your Instant Pot.
---
The book: Amazing Mexican Favorites with Your Instant Pot
The focus: 80 family recipes for making the most popular Mexican dishes the quick and easy way.
Featured guest recipes: Instant Pot Shredded Chipotle Beef Tacos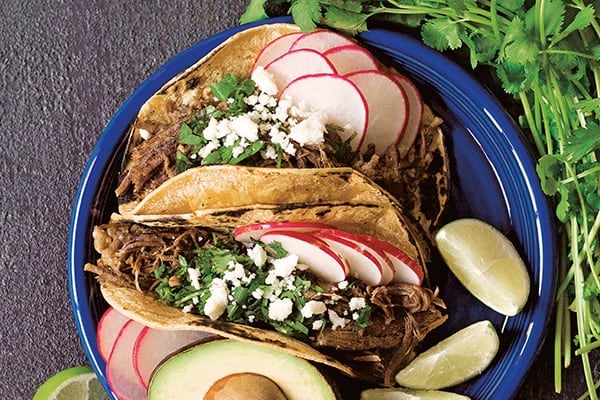 Instant Pot Potato Soup With Poblano Peppers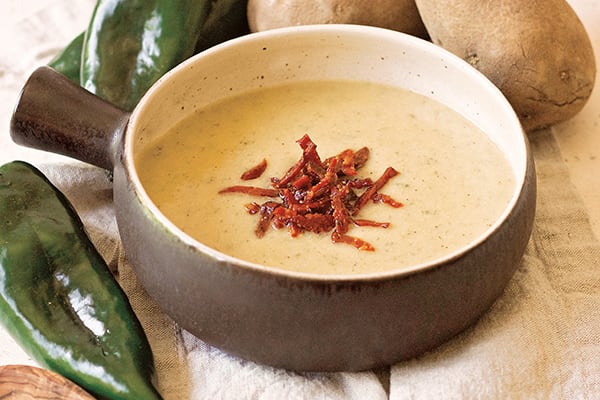 About the cookbook
Enjoy the flavours of Mexico at home with minimal effort and time by harnessing the power of your Instant Pot®. Simply toss meat, spices, and veggies into the pot, and in a matter of minutes, you'll be sitting down to mouthwatering tacos, burritos, fajitas, tamales and more, packed with hearty fillings and your favorite toppings.
Cookbook author Emily Sunwell-Vidaurri and her husband, chef Rudy Vidaurri, share 80 family recipes for making the most popular Mexican dishes the quick and easy way. With Rudy's deep-rooted Mexican heritage and Emily's experience as a busy mom and food blogger, this cookbook brings you the best of both worlds: authenticity and practicality. Use Shredded Chipotle Beef (Tinga de Res) for your new go-to weeknight tacos, Shepherd's-Style Pork (Al Pastor) for next-level burritos and Red Beef Chili (Chili Colorado) for crowd-pleasing nachos.
Each dish has the rich and vibrant flavors you love, streamlined for today's health-conscious home cook. All of the recipes are gluten-free, swapping heavy carbs and processed ingredients for real foods that will nourish your family. With such a huge selection of fantastic main dishes, plus soups, sides, and desserts, every night can be a fiesta!
What we love about this cookbook
The introductions to each recipe were like a little history snippet in a short paragraph. Learning such things as chorizo originating in Spain and Portugal but the Mexican version is more savory and the meat is ground rather than chopped. A whole tv show documentary could probably be devoted to each dish if given the chance.
In these intros, Emily would tell about how the dish was part of Rudy's childhood. This gave the book an intimacy of getting to know how these recipes impacted real lives rather than a commercial feel of just churning out recipes to sell a book. Reading that Rudy's parents owned a restaurant gave these recipes authenticity too. You can easily imagine how that influenced his future and love for food.
Who is this book for?
This book is for a person who likes to learn and read about what they are making. A real passion for food instead of just something to put on the table. These recipes are still quick and health conscientious which is perfect for the lifestyle of readers today. But the book doesn't lose its rustic genuine approach in presenting recipes that were part of the authors upbringing. This is a book for someone who wants to know a culture that surpasses the dinner plate.
About the author
Emily Sunwell-Vidaurri is a water-kefir and chocolate-loving, holistic-minded wife and mom of two little loves. She's the founder of Recipes to Nourish, a gluten-free blog focusing on real food and natural living. Her passion is to make healthy, natural living as uncomplicated and enjoyable as possible.
Emily's recipes, cookbook and/or photography have been featured on Feedfeed, Food and Wine, Food Republic, Good Day Sacramento, Inside Publications, Well + Good, Detroit Free Press, Foodgawker, Sprouts Farmers Market and in "Beautiful Smoothie Bowls". In 2017 she was awarded the "BITAN Award" (Best in Traditional and Nourishing Foods Award). She's a contributor at Traditional Cooking School and has written for Nourished Kitchen, Delicious Obsessions, Homemade Mommy, Naturepedic, Hybrid Rasta Mama, Live Simply, With Food + Love, Red and Honey, Real Food Outlaws and more.
---