---
Description
Learn how to make delicious, satiating quinoa, corn and bacon salad with cherry tomatoes, peppers, cilantro and feta, drizzled with yummy lemon, honey and mustard dressing. You can make this gluten-free recipe using the Instant Pot or on the stovetop. It's perfect for a healthy dinner or hearty lunch and can also be served as a potluck dish.
---
Part 1
1 + 1/4 cups uncooked quinoa (any color, 190–200 grams)
1 + 3/4 cups water
1 teaspoon salt
2–3 sweet corns on the cob, cut in halves (see more options below)
Part 2
8 oz. / 220-230 g bacon rashers
1 heaping cup cherry tomatoes, halved or quartered
1 cup diced sweet red or yellow peppers
3 scallions/spring onions, diced
1/4 cup packed with chopped fresh cilantro
3 oz / 90 g crumbled feta cheese
For the dressing
3 tablespoons lemon juice (1/2 lemon)
4–5 tablespoons olive oil
2 teaspoons wholegrain mustard or Dijon mustard
1 garlic clove (minced, crushed or grated)
2 teaspoons honey
1/2 teaspoon salt
A pinch of pepper

We used the 6-quart Instant Pot for our cooking method.
---
Instructions
Rinse the quinoa under cold water and allow to strain in the sieve. Cut the corn cobs in two halves. 

Part 1 – Instant Pot method. 

Add the quinoa to the inner pot followed by water (1:25 grain to water ratio) and salt and stir through. Gently place the corn halves on top of the quinoa. If using frozen corn kernels, scatter them on top. Pop the lid on, lock and set the pressure cooker to Manual/Pressure Cook for 1 Minute at HIGH pressure. The Instant Pot will take about 5 minutes to build up the pressure. Once the timer is done, allow the pressure to release naturally, which will take about 10 minutes. So the total should be about 20 minutes max.

Once the pressure is released, open the lid and remove the corn to a bowl to cool slightly. Fluff the quinoa with a spatula and allow to cool in the pot or in a salad bowl. The liquid should all be absorbed and the quinoa should be fluffy. If there is still any liquid left, strain quinoa through a sieve.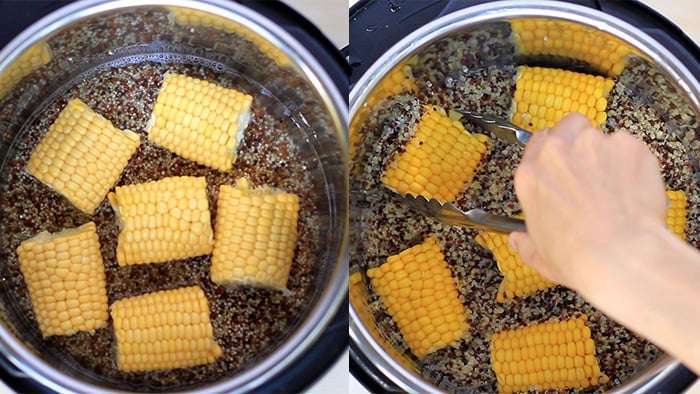 Part 1 – Stovetop. 

Add quinoa, water and salt to a pot and bring to a boil. Reduce the heat to simmering, add the corn on top and cover with a lid. Cook for 10-12 minutes until the quinoa is fluffed up and liquid is mostly absorbed. Keep an eye on the pot so the bottom doesn't burn (if the pot is wider, it might take less time for the water to get absorbed). If it feels like quinoa is not completely cooked but the liquid is absorbing too quickly, add a little more hot water to the pot. The corn will steam on top but you can also cook it in a separate pot. 

Part 2. Prepare other ingredients. 

While the quinoa and corn are cooking, pan-fry bacon rashers in two batches if needed, until crispy on each side. We didn't add any oil to the pan as the fat in the bacon released enough oil while rendering. Once crispy, remove to a plate with some paper towel to absorb excess fat. Diced cooked bacon into small strips or cubes.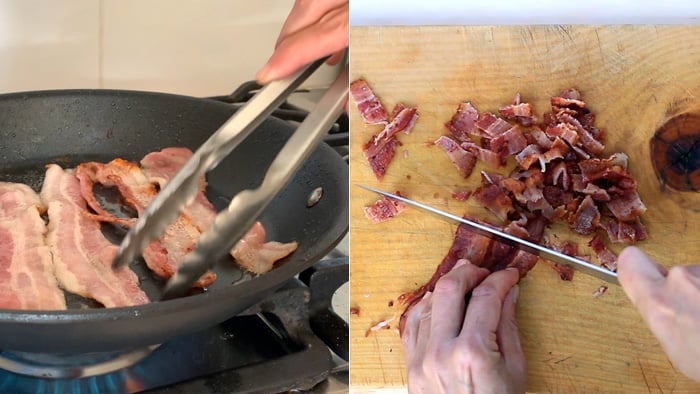 Prepare the remaining salad ingredients and whisk the dressing in a bowl or a small jar.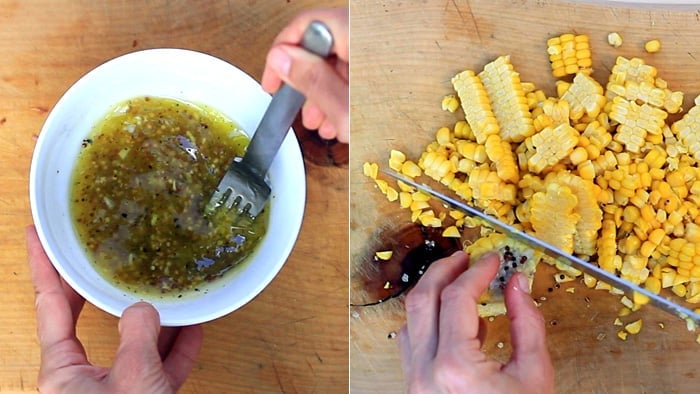 Part 3. Assemble the salad. 

You can serve this quinoa corn salad in a flat platter or in a deep salad bowl. Simply combine pre-cooked quinoa with 

most

 of the other ingredients and the dressing, reserving a little bit of corn, feta, bacon, veggies and herbs to garnish the top of the salad. Drizzle any remaining dressing over the top.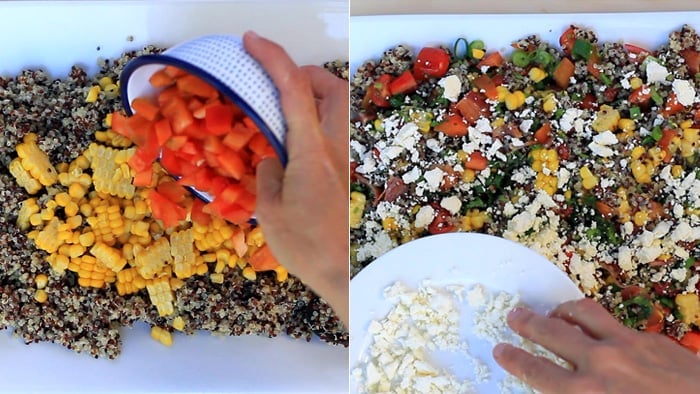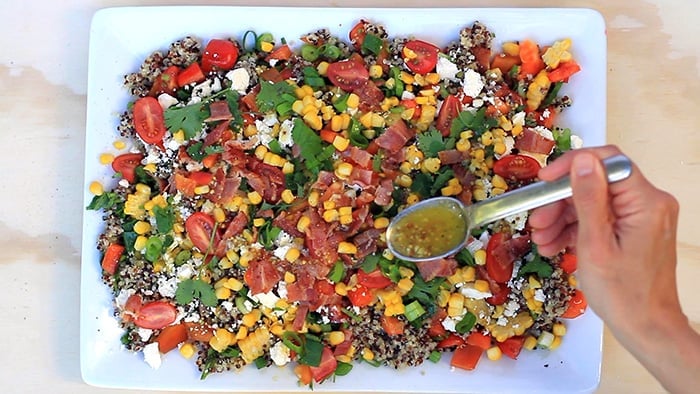 Notes
Corn: We used fresh corn on the cob as we made this salad in the summer. You can use 2-3 cobs, cut in halves, depending on how big they are. Frozen corn kernels can be used, add about 1 cup on top of quinoa. If using canned corn, you don't need to cook it, simply open the tin, strain and use in the salad.
Vegetarian option: Omit the bacon and replace with either grilled halloumi cheese, more feta, sun-dried tomatoes or pan-fried mushrooms.
Bacon-free: For a pork-free version, you can use turkey bacon or some grilled chicken or shrimp instead.
Nutrition
Serving Size:

2 cups of salad

Calories:

658

Sugar:

10.6 g

Sodium:

1181.4 mg

Fat:

42.2 g

Saturated Fat:

12.3 g

Carbohydrates:

53.4 g

Fiber:

6.3 g

Protein:

19.3 g

Cholesterol:

51.3 mg
Keywords: Quinoa, Corn, Healthy, Salad