With over 300 pressure cooker recipes on our website, it can be hard to choose which ones to cook. That's why at the end of every year, we do a wrap-up post featuring our most popular Instant Pot recipes of the year. These are dishes our readers cooked, loved, commented on, and shared the most, and feature both savory and sweet creations. We'd love to know which of these you've tried and if you have your own Instant Pot Eats favorite? Let us know in the comments.
---
Every December, we like to do a little analysis of the most popular Instant Pot recipes for the year passed. We look at which recipes our readers and followers have visited the most, and which have gotten the most social shares and positive feedback. It's always fun to share these recipes with you, as we know that not everyone gets to try everything we publish. We like to think of this as our annual highlight reel.
This year, we've included our own recipes but also a few winning creations from other bloggers that we've shared with you and got very positive feedback. We hope you enjoy this year's best Instant Pot recipes!
You might want to check out our top recipes from 2019 here.
---
MOST POPULAR INSTANT POT EATS RECIPES OF 2020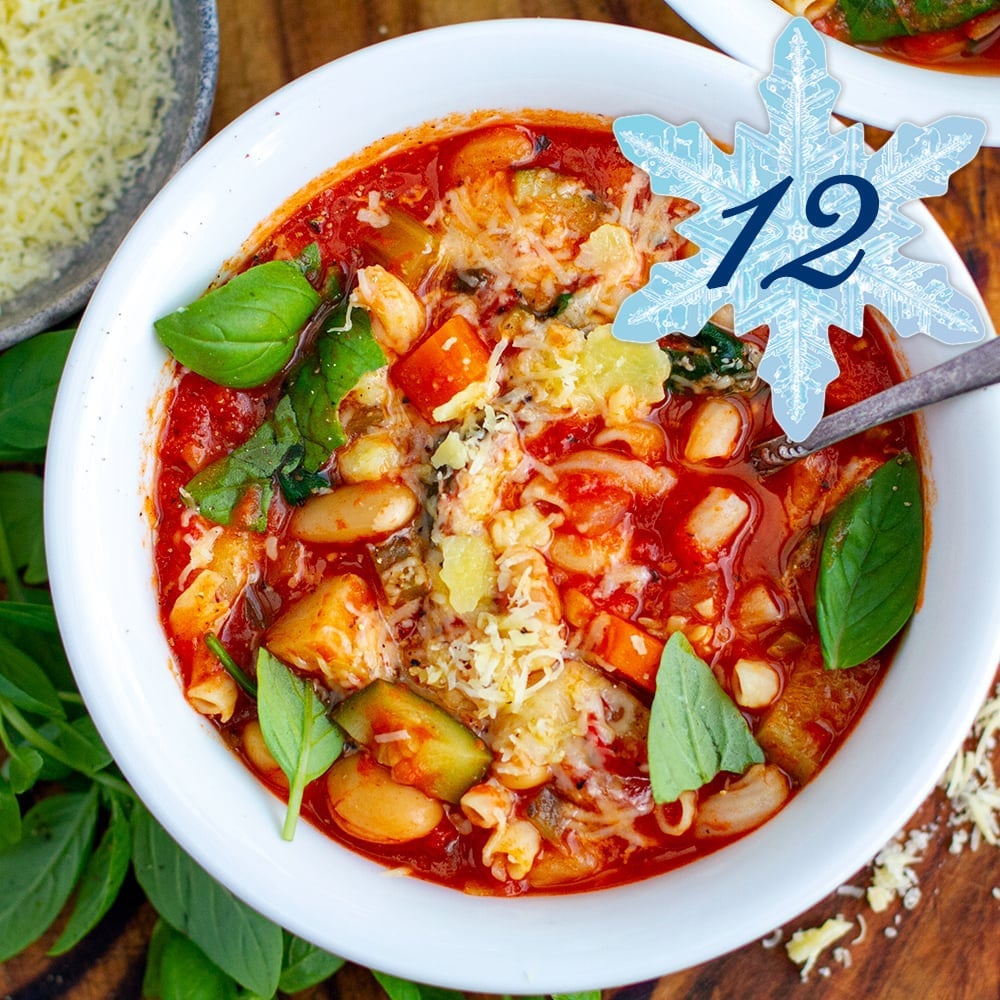 Minestrone is a popular thick and hearty Italian vegetable and tomato soup with the addition of pasta or rice and often beans. Traditionally, minestrone is made to use up leftover vegetables, so feel free to use whatever you have on hand or what's in season. Our Instant Pot minestrone has the addition of zucchini and spinach and can be made with regular pasta or a gluten-free alternative. This recipe was particularly popular with our Instagram and Pinterest followers.
Hearty, flavorful, and nutritious, these Instant Pot white beans with rosemary, garlic, and olive oil are the perfect example of healthy Mediterranean cuisine. It's a simple dish but it goes to show that with good, flavorful ingredients, even the humble beans can become a very popular recipe. Gluten-free, vegan-friendly.
"BEST cannellini beans I've ever eaten. Such a good recipe. I used Better Than Bouillon No Chicken Base, that with the garlic, rosemary, onion… Just delish right out of the Instant Pot. Five Stars! Thank you." – ★★★★★ – Nicole
Our Instant Pot Moroccan chicken stew with olives, potatoes, and apricots is a more recent recipe but it's gotten a lot of thumbs up and positive feedback on social media and Pinterest. It's beautifully spiced, a little sweet with citrusy, lemony notes. Perfect one-pot dish to serve with couscous, rice or cauliflower rice, or crusty bread on the side. It's gluten-free and Whole30-friendly.
"I love this recipe and substitute the potatoes for Japanese sweet potatoes and it's fantastic." – @acumennutrition on Instagram
You will love this creamy and buttery Instant Pot black dal recipe inspired by the famous signature Dal Makhani from London's Indian restaurant chain Dishoom. Made in a fraction of the time compared to the original. It's gluten-free and vegetarian-friendly and has been getting great reviews from readers and followers.
>"YES! LOVE eating this!" – @wokandkin on Instagram
"Yes, please!!! This looks amazing." – @robynmarie.alvarado on Instagram

Perfectly cooked Mediterranean-style Instant Pot egg bites with red peppers, sun-dried tomatoes, and feta cheese. This protein-rich breakfast recipe is partly inspired by the Starbucks sour vide egg bite. They are delicious and convenient and can be stored in the fridge for up to 3 days for those on-the-go breakfasts, lunch boxes, and snacks. Low-carb, gluten-free, with 8 (green) Weight Watchers Smart Points per serving.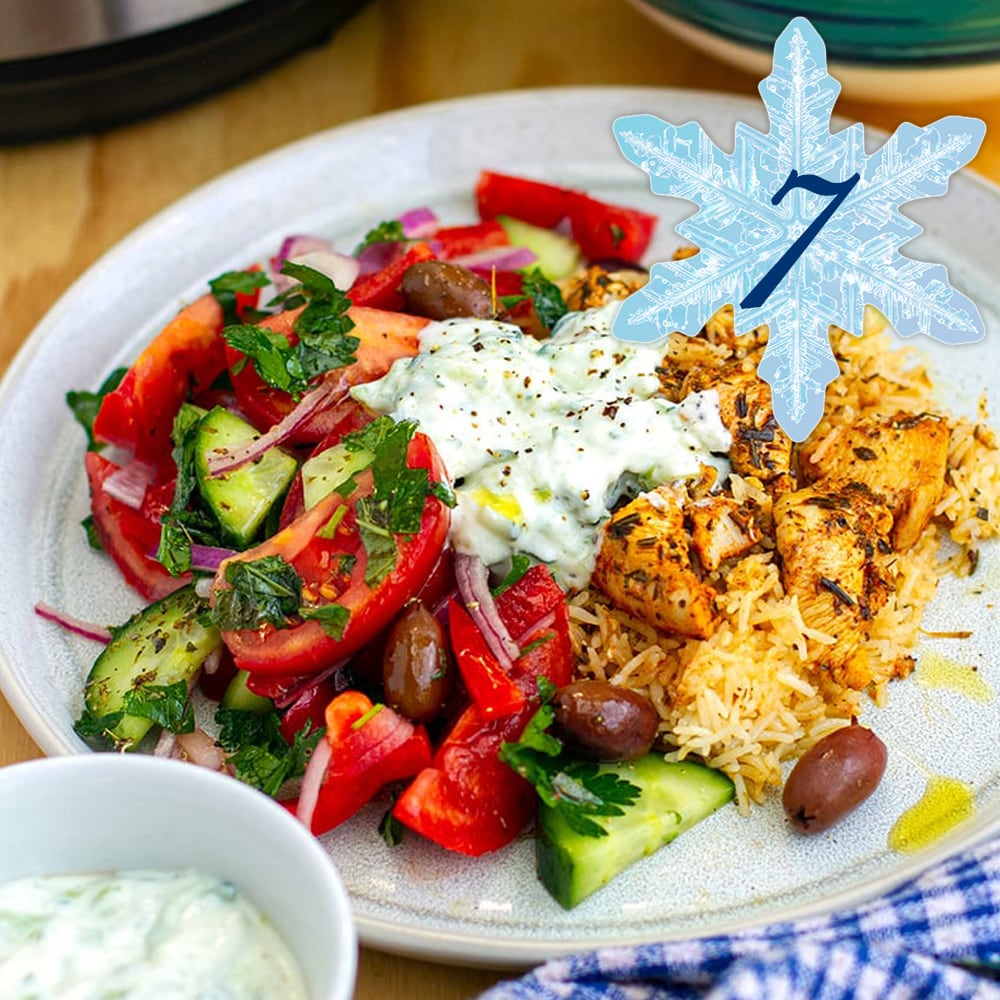 You and your family will fall in love with this recipe for Instant Pot chicken souvlaki rice served with Greek salad and yummy tzatziki yogurt sauce. Marinated chicken and rice are cooked as a one-pot dish, freeing up your hands to make the salad and the sauce. This amazing Greek dish is full of flavor and color and is nutritious and gluten-free friendly.
"I will never have to go to a Greek restaurant again! This was incredible" ★★★★★ Angela S.
"This recipe was really good. I think I left the chicken in too long on warm after the 5 minute pressure cook time so it came out tougher than I would like but it was still really delicious. The rice was so flavorful cooked this way. The tzatziki is a must on top. I got a little tired of prepping everything by the time i made the herb cucumber tomato salad so I just kind of winged in. Will absolutely make again and maybe marinate the chicken in the morning so the flavor makes its way through the meat and helps to keep it from drying out." ★★★★★ Taylor A.
"This recipe is as good as any restaurant. I doubled it and wouldn't change a thing." ★★★★★ Amy G
" This was really tasty and we'll definitely make it again. I added dill and fresh mint to the tzatziki and it was fantastic." ★★★★★ Melanie J.
This firecracker Instant Pot pulled pork is cooked perfectly until meltingly tender and finished with a sweet, smoky sauce, with a gentle chili kick. Serve in warm wraps, tacos, sliders or baked potatoes, or rice. This recipe has stovetop and oven cooking methods as well.
In Italian, the name means 'cheese and pepper' and that is exactly what this pasta dish is made with. It's the original version of mac and cheese traditionally made with al dente spaghetti, lots of black pepper, and even more cheese, usually Pecorino Romano but sometimes Parmesan. Our Instant Pot recipe is an adaptation of the classic you can make with hard aged cheese available to you.
Creamy and hearty yet healthy and light, this Greek Instant Pot Chicken Lemon Soup is also known as avgolemono. Thickened with fragrant and tangy lemony egg sauce, this luxurious soup with shredded chicken and orzo is silky and rich with no cream or dairy in sight.
"We just had this for dinner last night. So good!" – @13kelzbear on Instagram
"This is one of my favorite soups ever and I have been wanting to make it myself! Thank you for posting!" – @ninotchkai on Instagram
"Love this soup!" @janicewalnoha on Instagram
This warm and hearty Instant Pot vegetable stew recipe is super easy to make. Made with almost 10 veggies and healthy ingredients, this nutritious stew is vegan and gluten-free friendly. It's great for batch cooking and meal prepping as it keeps well and can be used over a few days. Stovetop instructions included.
" So yummy! Made it tonight. Left out the mushrooms because my son doesn't like them and it was still delicious! Thank you for my new favorite stew!" – ★★★★★ Jenny
"Made this last night, directions were perfect and the stew was great! *I added a sweet Red Pepper and a Jalapeno pepper Thanks" – ★★★★★ Elisa
" I have made this several times now and it is AMAZING" – ★★★★★ Tressa
This lemony, cheesy orzo recipe only takes 20-25 minutes from start to finish. Orzo is usually made from white flour or durum wheat semolina but can also be made with whole-grain flour and it looks like long-grain rice kernels. Tastes more like pasta than rice but has a very pleasant, rice-like texture. Orzo is great as a side dish and is often used as a base for salads, bakes, and soups.
"I made this tonight & it was really good! I cut back on the cheese though. It also was a bit too al dente for us, so I cooked it a little bit longer & it was perfect. Will definitely be putting this one into the rotation." – ★★★★★ Donna E.
"Yum! So easy to make and tasty!" – ★★★★★ WSGRunner
"I love this! So easy and so delicious. I only had a couple of blocks of frozen spinach so used those and cooked for 9 mins. Thanks for the recipe!" – ★★★★★ Simone E.
Making an authentic Thai curry can be a labor of love, especially if you make your own curry paste, but there is a much simpler and quicker way. This Instant Pot Thai curry is made in under 30 minutes using ingredients you can find in most grocery stores. This Instant Pot Thai chicken curry is quick and delicious, loaded with healthy protein and vegetables.
"I've made this and it's awesome." @ajpsea on Instagram
"I made this shtoop (soup/stew?) last night …. awesome!" @cathylee.cohen on Instagram
---
RUNNER-UP REcipes
It was a little hard to choose just 12 recipes because there were many other standouts this year. We thought we'd include a few more dishes that also got great reviews and lots of shares, especially some of our older classics.
This warm and spicy Thai-inspired Instant Pot red lentil soup is the perfect weeknight meal. It is packed with veggies, plant-based protein, creamy coconut milk, and a ton of flavor! This soup is gluten-free, dairy-free, and vegan-friendly. Recipe from Instant Pot Eats.
"Made this for my family and everyone could not stop talking about how fantastic it was! It will be a staple for sure." – ★★★★★ Sarah
"This one is definitely a winner! Although I've not made it as a soup yet since I prefer to eat it over basmati rice. I've made it with and w/o chopped jalapenos — both versions were excellent. I've also used Russian kale and leaf cabbage along with spinach. Moreover, I use the juice from two limes instead of one and add about a teaspoon of turmeric in the second cooking phase. Another change I've made is that I use vegetable stock in addition to about 1.5 cups of water." – ★★★★★ Dan S.
This Instant Pot Spinach Rice (also known in Indian cuisine as Palak Pulao) is a nutritious and healthy dish that can be served as a side dish with your favorite curry or a main dish with some vegetables or salad on the side. This rice recipe is super simple and is gluten-free, vegetarian, and can be made vegan-friendly. It's been particularly popular with our Pinterest followers.
"This was really good. I used jasmine rice. The store was out of basmati. This was the 1st time I've made rice in the instant pot. It turned out perfect!" – Brenda on Pinterest
"This was so so good, very easy!" – @TronBomber on Pinterest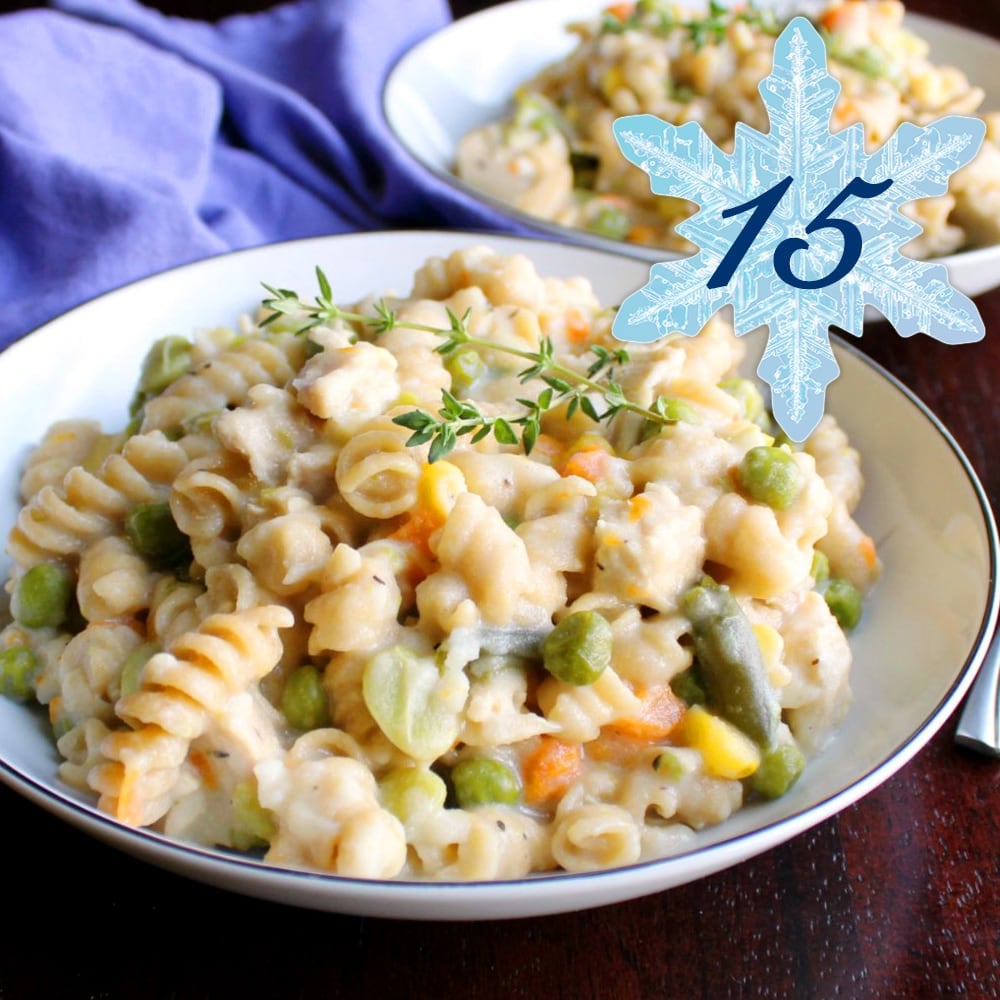 Looking for a quick and easy dinner that can be done in no time and using chicken and veggies from the freezer? This hearty meal of Instant Pot chicken and noodles is it! It's creamy, delicious, and will please the whole family. This is an older recipe hence we didn't put it in the top 12 recipes of 2020 but it is absolutely worthy and has made our previous top recipe lists.
"Sooooooo good! We used half garlic powder and half garlic salt as well as substitute Oregano with Thyme. Also, we used egg noodles. Seriously SO yummy!!" – ★★★★★ – Erin D.
"Made for the first time tonight and it was very good. I followed the recipe but I add d 1 can cream of chicken at the very end, which thickened it perfectly. Will definitely make again. " – ★★★★ – Lisa
"An unexpected hit only because I didn't think my kids would like it! I used 4 cups of stock instead of 5, and only 2 chicken breasts so I added the cornstarch/water mixture to thicken and it worked perfectly. Adding to my board!" – ★★★★ -Carla
"I'm making this for the 3rd time, and it's amazing. The only thing different I've done is use boneless chicken thighs." – ★★★★★ Tracie C.
---
Most Popular from Other Bloggers
Since we have a pretty big and engaged following on Instagram, it's always interesting to see which dishes were the most popular with that audience. We often share recipes from other bloggers and creators and thought we'd give credit to the most liked dishes.
This easy Instant Pot Beef Barbacoa Recipe is hearty and rich, smoky and saucy, and all kinds of delicious!! It takes a fraction of the time to cook in the Instant Pot and shreds effortlessly. It's perfect for tacos, burritos, burrito bowls, enchiladas, tostadas, or straight up with a fork!
The tomato sauce is so creamy, buttery, tangy with a hint of sweetness to it. The sauce is perfect to toss some pasta in it or keep it simple and serve the chicken with a side of greens.
This Instant Pot French Toast Casserole has all of the characteristics of french toast with the delicious gooey texture and flavor of a cinnamon roll.
Instant Pot Salisbury Steak is a quick and delicious dinner that is ready in just 35 minutes. On a cold winter day, there's nothing like this comforting recipe coated in gravy to satisfy your cravings. Serve it over mashed potatoes with some roasted asparagus for the perfect meal!
Pork tenderloins are so small and cook fast, so people often overcook them. This pork is so tender and deliciously flavored by a dry spice rub and an amazing honey garlic sauce. This pressure cooker honey garlic pork tenderloin is special enough for date night.
This instant pot cashew chicken tastes like the familiar Chinese takeout we all love, but in a better-for-you, Whole30, Paleo, gluten-free version that only takes 30 minutes. It's super simple and would be great for a quick weeknight meal.
---
WATCH OUR TOP 10 VIDEO RECIPES HERE