Learn how to cook salmon from fresh or frozen in your pressure cooker with plenty of flavor inspiration with our roundup of scrumptious and nutritious Instant Pot salmon recipes.
---
Who doesn't love a filet of salmon for dinner? It's light, fresh, diet-friendly, and downright delicious. Wild-caught salmon is one of the healthiest foods for the body, meeting our needs for omega-3 essential fatty acids and important vitamins and minerals like vitamin B-6 and B-12, magnesium, and vitamin C. Salmon is also high in protein, making it a great choice to pair with fibrous veggies for a filling meal.
Fish can be rather delicate – especially under pressure – so if you're not used to cooking it in your Instant Pot, we recommend following a recipe. Fortunately, we have a few tasty Instant Pot salmon recipes to share with you today.
---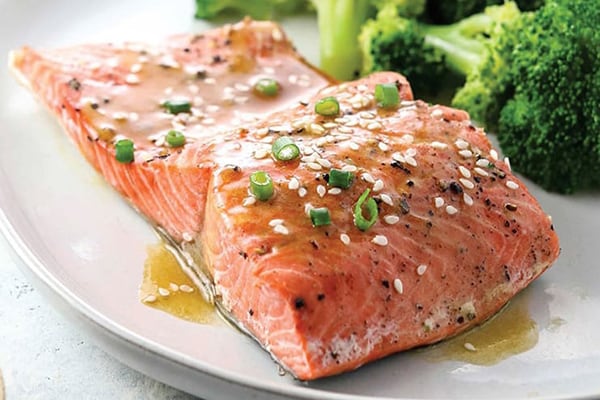 This quick and easy soy-ginger Instant Pot salmon and broccoli is a lovely, nutritious dinner meal. This is a guest recipe from The Fresh & Healthy Instant Pot Cookbook by Megan Gilmore.
First thing's first: you can make this dish in five minutes making it one of the quickest complete dinners on the list. With jasmine rice and a dried veggie soup mix, you can master the lazy cook's pilaf in the Instant Pot. Pair it up with salmon for protein and you've got a meal full of flavor without skipping a beat. Learn how to layer in your pot for ultimate efficiency with this recipe. Recipe from Health Starts in the Kitchen.
If you're looking for a full seafood meal in a hurry, this 15-minute salmon and stir-fry are for you. With Asian flair, lots of fresh garlic, and plenty of veggies to go around, you can cook everything at once. A little spicy, this meal has a great kick to it. Plus, you can swap out the veggies for what you have handy. Finally, it's paleo-friendly if you swap out soy sauce for coconut aminos. Recipe from Instant Pot Eats.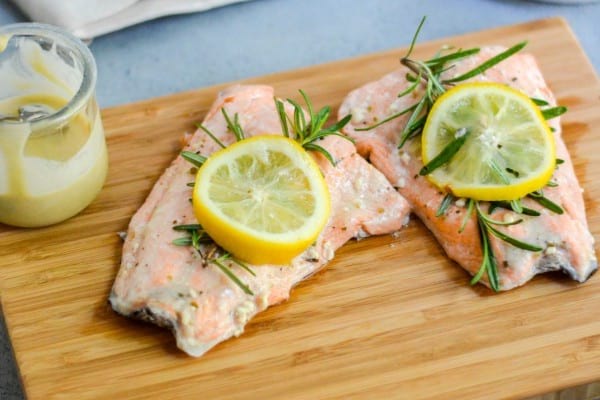 Let's take it to the coast with this gorgeous Mediterranean-inspired filet. This simply cooked salmon is topped off with fresh lemon, feta, rosemary and a creamy tahini sauce you'll be asking for seconds of. The salmon itself is cooked with a blend of red wine vinegar and even more lemon. This is fresh and summery, perfect for entertaining. You can use fresh or frozen salmon. Recipe from My Modern Cookery.
Soy Sauce, mirin, brown sugar, sesame oil, and sesame seeds come together to form the most beautiful teriyaki glaze over this Chinese-inspired salmon dish. Pair with some perfectly cooked brown or white rice, and some steamed broccoli for a full meal. This is a great meal prep idea, and a recipe you'll want to eat the leftovers of! Recipe from Tidbits.
If you're craving pasta, make this light and healthy soup. Everything comes together from frozen in this. Toss in some salmon, your favorite tortellini, and frozen veggies to get started. Cook with broth, and that's basically it! Oh, and there's bacon in this, so the food crush is real. Enjoy the gorgeous smoky flavor and the colorful nutrient boost in this comfort food dish. Recipe from The Lean Green Bean.
If you're craving Vietnamese, you'll love the sauce on these filets. Fish sauce, light brown sugar that caramelizes to perfection, soy sauce, fresh ginger, and lime come together for a unique explosion of yum in your mouth. Top these off with fresh cilantro and sliced scallions for true Vietnamese cuisine. You can serve with rice, noodle soup, or just some steamed veggies. Recipe from The New York Times.
If you like the skin on your salmon, this recipe is for you. Without a few extra steps, you'll either want to remove the skin or end up with soggy skin. This recipe takes that into consideration and puts those steps in place for you. It's served with crispy roasted potatoes and a roasted grape tomato salad for a light, fancy, and fun meal. Recipe from Pressure Cook Recipes.
This is quickly on track to become a weeknight staple. Risotto in the Instant Pot is SO easy because you hardly have to watch it, and you definitely don't need to constantly stir it. With creamy and tangy mascarpone and smoked salmon, this is your favorite morning breakfast minus the bagel, plus the rice for an awesome dinner that'll make you feel proud as a chef. Recipe from Gluten Free Pressure Cooker.
With even more Asian inspiration, these fillets turn out perfect every time. To master the recipe, use a low-sugar marmalade for a healthy and sweet spin that will give this its zesty, bright orange flavor. Serve over spiralized sweet potatoes or your favorite blend of veggies and rice. Keep it low-carb with a cauliflower stir-fry. Recipe from Two Sleevers.
Keep it classic with this simple recipe. You just can't go wrong with a humble blend of fresh garlic and squeezed lemon over top a beautifully steamed fish! This is a recipe the entire family will love and another fantastic addition to your meal prep menu for simple lunches. Serve with veggies or over fresh green salads. P.S. this recipe is designed to cook from frozen, so don't worry about thawing your salmon! Recipe from The Natural Nurturer.
We hope you find tons of tasty inspiration in today's recipe roundup for salmon in your Instant Pot. Enjoy meal planning, easy lunches, and delicious dinners and make sure to share.
---
SAVE THESE SALMON recipes TO PINTEREST