---
Ingredients
Cooked vegetables
1 kg /2 lb small to medium potatoes, washed but unpeeled
1 teaspoon salt
3-4 oz (100-120 g) fine green beans, tails removed and cut in three
Fresh vegetables
1 cup chopped red bell pepper
2/3 cup defrosted baby green peas (simply soak them in boiling hot water for a few minutes, replace with a chopped carrot for Whole30)
4 medium gherkins, diced finely
1/4 cup chopped parsley or dill
Generous pinch of black pepper
Tangy vinaigrette
1 small red onion or 2 shallots, finely diced
5 tablespoons red wine vinegar
5 tablespoons olive oil
2 teaspoons Dijon mustard or whole grain mustard
1 teaspoon sugar or honey (omit for Whole3)
1 teaspoon sea salt
---
Instructions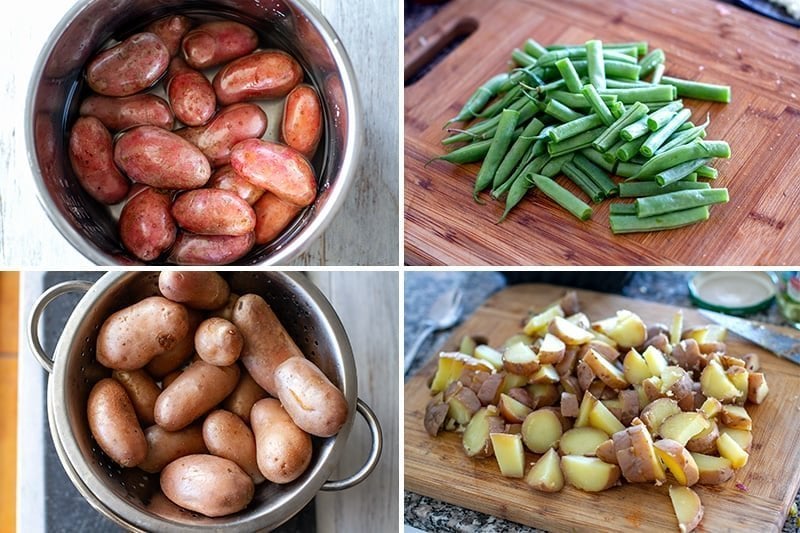 Add whole potatoes, 2 cups of water and 1 teaspoon of salt to the Instant Pot and stir around. Close and lock the lid, making sure the top valve is pointing to Sealing.
Set to Manual, HIGH pressure and adjust the time to 4 minutes. After 3 beeps, the Instant Pot will begin pressurizing and cooking will commence even during that time. The timer won't come on until the IP is at full pressure.
Once the timer stops, use quick release (QR) to let off the pressure. Be careful when you point to the valve to Venting and step away to avoid the hot jet stream. Strain the potatoes and leave in a colander or on a cutting board to cool down.
Add the green beans to the Instant Pot with 1 cup of water. Pop the lid back on and this time set the pressure to LOW for 0 (zero) minutes. Even though the timer is set to zero, the beans will still cook during the pressurizing of the pot. Once the cooking stops, use the quick release to let off the pressure. Don't leave the beans in there for too long as they will continue to cook and can get too soft for the salad. Strain the beans under cold water and set aside.
While the potatoes and beans are cooking, prepare the rest of the ingredients. Whisk the chopped onions or shallots with the other dressing ingredients and set aside. The vinegar and mustard will pickle the onions slightly and if you leave them overnight, they will infuse with flavours and get a little softer.
To finish the salad, dice the potatoes into large cubes or circles (any shape you like) and combine all other ingredients, the vinaigrette and fresh herbs.
---
Notes
Depending on the season, you can throw in other crunchy fresh vegetables such as fresh cucumbers, radish, or carrots.