We are continuing our Instant Pot Meal Plan series with the fifth edition! This week's menu features 5 dinner meals, 2 lunch dishes, and 1 breakfast, all made in your Instant Pot pressure cooker. We've curated a plan that is nutritionally balanced and features a variety of foods, cuisines, and some vegetarian options. Downloadable PDF with shopping list included.
---
You can find our Meal Plan #1. #2 and #3 for omnivores here, and our Vegetarian Meal Plan #3 here.
ABOUT THIS INSTANT POT MEAL PLAN
This meal plan is for omnivores and contains a variety of dishes including a vegetarian meal, soup, chicken and rice, pulled pork (can be served in a variety of ways, up to you really), and a pasta dish (using the same sausage as the soup, so we're being efficient with shopping)
Having a meal plan takes a lot of the guesswork out and means that you can stock up on all the food and ingredients you need ahead of time. The plan provides you with 5 dinner meals to choose from – you can cook all of them or pick a few you like – plus a couple of lunch-friendly recipes.
You can download this meal plan with the shopping list here.
Happy Meal Planning!
PS. If you make one of our recipes, take a picture and share it on Instagram. Use the hashtag #instantpoteats! We want to see what you are making in your kitchen. And don't forget to follow us on Instagram!
INSTANT POT MEAL PLAN #5
We'll kick off with five delicious dinner meals you can make in your Instant Pot. We selected a variety of dishes, including a vegetarian option.
A comforting and satiating vegetarian dish that is perfect for using up seasonal produce like Butternut squash, Kabocha squash, or another type of pumpkin/winter squash. The sweetness of squash cooked till soft integrates into the creamy garlic sauce, giving this dish a wonderful fall flavor. Get the recipe here.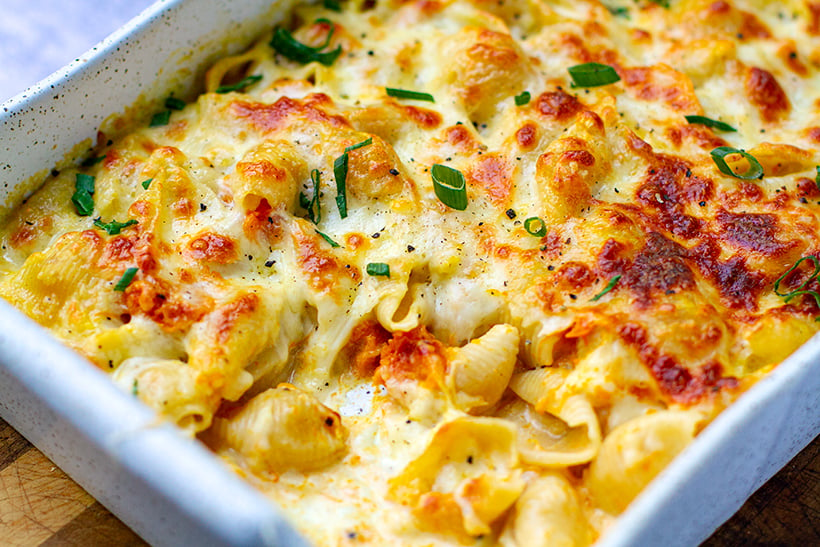 Shopping list: 10–11 oz / 300 g pasta shells, 10– 11 oz / 300 g pumpkin (butternut squash or kabocha squash), 3 cloves garlic, 1 tsp salt, 3 cups water, 1/2 tsp black pepper, 1 cup heavy cream, 250 g Cheddar cheese (2 full cups grated cheese).
Prep tips/make-ahead: You can use any medium-size pasta like penne, rigatoni, fusilli, or large shells. You can use half/half or thickened cream, or for a lighter version to lower the calories use low-fat cream and lighter cheese. You can use any kind of sweet or semi-sweet winter squash/pumpkin in this recipe. Kabocha squash is sweeter and more starchy than say Butternut Squash or other types of winter squashes.

Recommended sides: It's perfect with a side of green salad or steamed veggies.
A traditional Italian soup recipe normally made with cannellini beans, carrots, celery, kale, zucchini, and bacon, and finished off with crusty Italian bread, that is often stirred into the soup and left overnight to thicken up. You can use a variety of vegetables in this soup but this classic recipe has celery, carrots, potatoes, and chopped kale for extra nutrients and lovely green color. Adding pork sausage to the soup gives it a nice twist and extra protein. Get the recipe here.
Shopping list: 2 tbsp olive oil, 4 oz / 120g of bacon,1 large carrot, 2 celery sticks, 1 medium onion, 2 large white potatoes, 2 garlic cloves, 2 Italian pork sausages, 3–4 large kale leaves, 3 cups dried white beans such as Cannellini beans, 1 tsp mixed Italian herbs or dried rosemary, 2 cups tomato passata or tinned chopped tomatoes, 4 cups / 1 litre water, 2 tsp salt, 1/4 tsp black pepper, 1/4 tsp chili powder or flakes, 1/2 cup heavy cream, lemon, and bread.
Prep tips/make-ahead: Make sure to presoak the beans overnight. Canned beans can also be used. You can make it ahead of time and store it in the refrigerator for up to 3 days or freeze it for a couple of months. If freezing the soup, don't add the cream until it's been defrosted and reheated. Add the crusty bread when serving the hot soup.
Recommended sides: Finish off with heavy cream, lemon juice, and toasted Italian bread or sourdough broken into pieces
Comforting, a little creamy, and full of flavor. This pressure cooker one-pot meal is easy to make with simple ingredients and the whole family will love it. Get the recipe here.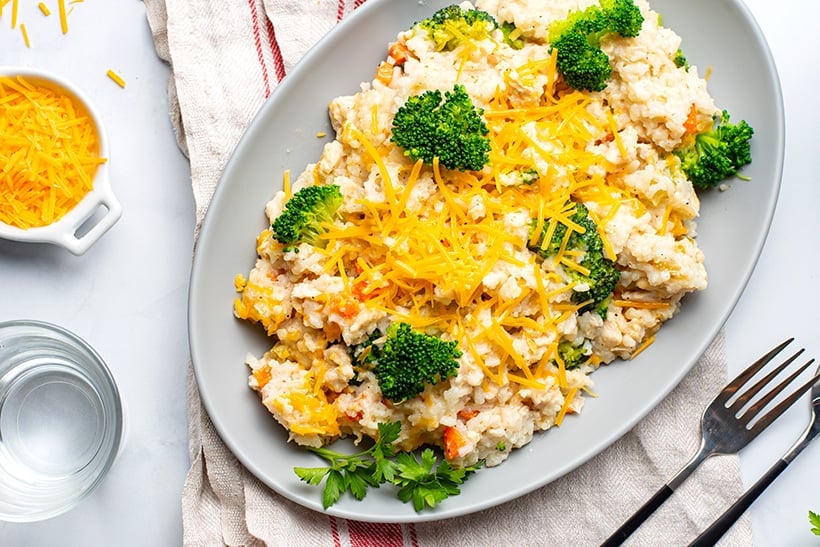 Shopping list: 1 tbsp olive oil, 1 tbsp butter, 1 medium onion, 1 large carrot, 1 celery stick/rib, 1/2 tsp salt, 3 cloves garlic, 1.5 lb (about 2 large chicken breasts), diced into small bite-sized cubes (1-2cm each), 4 cups chicken stock, ¼ tsp pepper, and 1.5 cups Jasmine, Basmati, or long-grain rice, 3–4 cups broccoli florets, lemon, 1 cup grated Parmesan cheese or any other regular hard cheese on hand, grated yellow cheese or yellow Cheddar, and fresh parsley for garnish.
Prep tips/make-ahead: Do not use parboiled or fast-cooking rice as it will overcook and get too mushy. You can use dark or white meat, make sure it's skinless and boneless to work with the timings in this recipe. It's important to keep the pieces small so they can cook well in those 5 minutes under pressure, so don't add whole chicken breasts or chicken thighs, make sure to cut them up. Do not add broccoli to the cooking stage of the recipe because it would overcook and get too soft. Instead, steam it in boiling hot water separately while the chicken and rice were cooking in the Instant Pot.
Recommended sides: Sprinkle some yellow Cheddar or another grated cheese on top, cover with a lid (not the Instant Pot lid but just a regular lid), and let it sit for a minute for the cheese to melt in. This would give it a little contrast of color and that extra comforting, cheesy feel. Serve with fresh parsley and a few florets of broccoli on top.
Tender meat in a sauce that gives it a real burst or explosion of flavors – sweet, salty, smoky, and a little spicy – kind of like a firecracker, hence the name. It's a mix of smoked and BBQ pulled pork with gentle heat. Get the recipe here.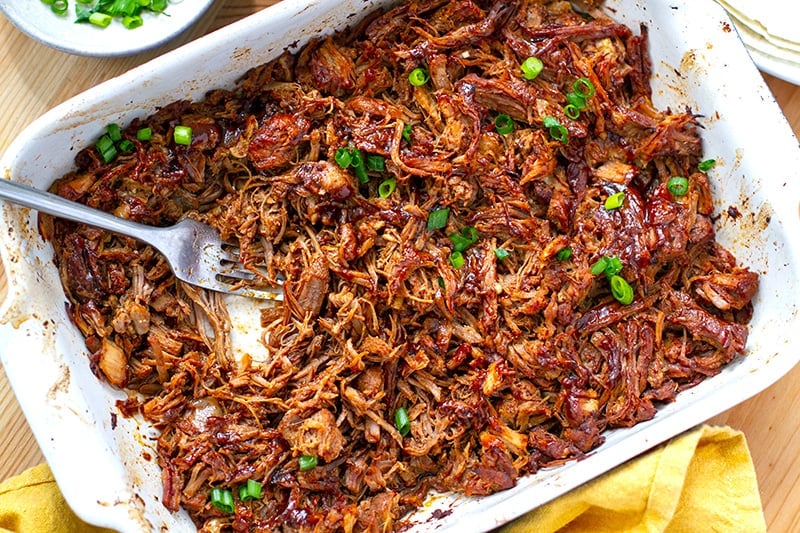 Shopping list: 2lb/900 g pork meat (por shoulder or diced steak), 1.5 tsp salt, 1 tsp pepper, 2 tsp smoked paprika, 1 tsp chipotle chili flakes, 1 tsp cinnamon powder, 1 cup chicken stock, 1 tbsp balsamic vinegar, 1 tbsp Worcestershire sauce, 1 onion, 4–5 garlic cloves, 2 bay leaves, 2 tbsp Worcestershire sauce, 1 tbsp Balsamic vinegar, 2 tbsp ketchup, 1 tsp smoked paprika, 1 tsp chipotle chili flakes, 1 garlic cloves, 2 tbsp maple syrup, 1-2 tbsp barbecue sauce of choice, chopped scallions, or cilantro.
Prep tips/make-ahead: Instant Pot model used: 6-quart, Dual. Suitable for 8-quart, add a little more chicken stock as the surface is large. This pulled pork can be made ahead of time and stored in the fridge for up 5 days or in the freezer. We often freeze in portions to use up in a single meal. Use this pulled pork in tacos, sliders, or sandwiches, with rice or beans, enchiladas, quesadillas, salads, and so on.
Recommended sides: A super simple coleslaw using 1/4 red cabbage, thinly shredded + 1 grated carrot, and 2 tablespoons mayonnaise, 2 tablespoons Greek yogurt, and a little salt and pepper. You can also add a little mustard.
If you're looking for quick and easy Instant Pot dinner recipes, this creamy Italian sausage pasta is a total winner. Learn how to make this dish with just 5 main ingredients for a speedy, budget-friendly meal you can serve up to your family or friends. Get the recipe here.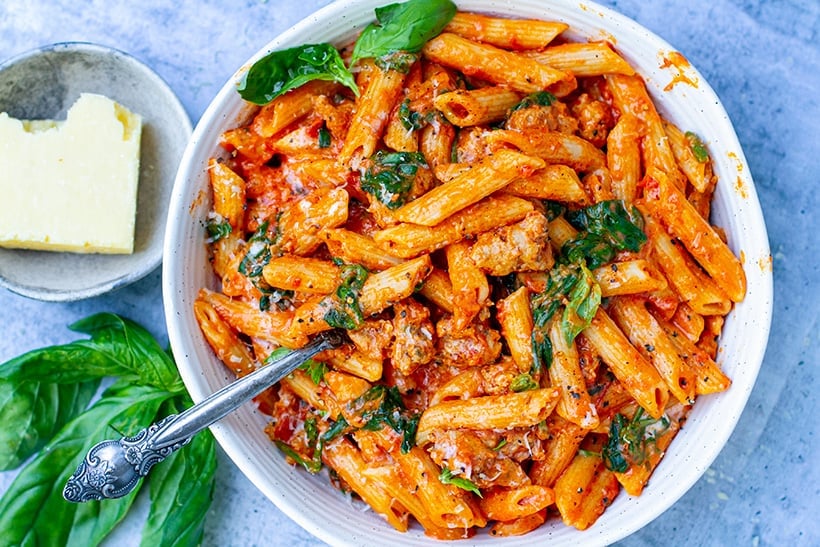 Shopping list: 10 oz / 300 g pasta, 1/2 tsp salt, 2 1/2 cups water, 8–9 oz / 250 g Italian sausage, 14–15 oz / 400 g favorite tomato sauce from a jar, 1.5–2 cups leafy greens (e.g. baby spinach, arugula), 1/3 cup cream (half/half or thick cream).
Prep tips/make-ahead: You can use Italian mild or hot ground sausage meat or squeeze the meat out of sausage links. You can use half/half or thickened cream, or a lighter version to lower the calories.
Recommended sides: Serve as is or with some shaved Parmesan or other cheese if you have some on hand. Sprinkle with a pinch of pepper. A simple green salad or steamed veggies can be served on the side if you like.
Thanks to the chickpeas, this salad will keep you full for hours. It's satisfying in a way that leafy greens never could be. The lemon-parsley vinaigrette is perfectly tart and fresh with a hint of spice and you can put it on everything. Get the recipe here.
Shopping list:2 (15-oz.) can chickpeas, 1 medium cucumber, 1 bell pepper, 1/2 red onion, 1/2 cup chopped kalamata olives, 1/2 cup crumbled feta, Kosher salt, ground black pepper, 1/2 cup extra-virgin olive oil, 1/4 cup white wine vinegar, 1 tbsp. lemon juice, 1 tbsp. freshly chopped parsley, 1/4 tsp. red pepper flakes, Kosher salt, and ground black pepper.
Prep tips/make-ahead: We know that this is a "chickpea salad", but you can totally switch out chickpeas for your favorite beans and pre-cook them in the Instant Pot. Creamy cannellini beans, black beans, kidney beans are all great options.
Serving suggestions: Switch out any of the salad ingredients for your preferred addition. Not a fan of olives or bell peppers? Cherry tomatoes and diced ripe avocado will fill that flavor gap. Want to keep it dairy-free? Sub in another form of protein in place of the feta, like a couple of hard-boiled eggs or a can of tuna, or a handful of chopped toasted nuts. If you have any extra dressing leftover, store it in an airtight container in the fridge for up to 10 days.
How to Cook Chickpeas in Instant Pot (Soaked and No-Soak)
All you need to make this Tex-Mex chicken fajita meal are a few simple ingredients. It makes for perfect make-ahead meal prep for the week ahead. Get the recipe here.
Shopping list: 1 tbsp olive oil, 1 lb boneless, skinless chicken breasts, 4 cloves minced garlic, 2 tbsp fajita seasoning, 1 (500mL) container fresh salsa (or jarred salsa), 1 yellow onion, 1 red pepper, 1 green pepper, and 1 yellow pepper. Optional toppings: 1/2 cup grated cheddar cheese, fresh chopped cilantro, and corn tortillas.
Prep tips/make-ahead: Cook peppers for a short period of time at a high temperature. Do not pressure cook the bell peppers at the same time as the chicken as they will become overcooked. When removing the chicken to shred, you can switch the Instant Pot to saute mode then cook the peppers and onions together. You can freeze the shredded chicken if you will not be eating it within four days. Store it in an airtight container for up to four months. But it is not recommended to freeze cooked peppers and onions.
Recommended sides: Refried beans, black beans, steamed veggies, or Quinoa black bean salad.
Make a batch of delicious Instant Pot Breakfast Potatoes with or without bacon, plus peppers, and onions. Top a pile of these savory potatoes with a fried egg and a drizzle of hot sauce for the perfect, filling meal. Get the recipe here.
Shopping list: 6 medium yellow potatoes, 1/2 lb uncooked bacon, 1 red bell pepper or green, 1 yellow onion, 1 tsp oregano,1/2 tsp garlic powder, 1/4 tsp cayenne pepper, salt and pepper,1/2 cup broth or water, 2 tbsp olive oil.
Prep tips/make-ahead: There is no need to peel the potatoes before cooking, but you can definitely pull out your peeler if that's more your style. To create crispy potatoes, pour them onto a rimmed baking sheet in a single layer and broil till crispy. Use either a green or red bell pepper for this recipe, or use half of each for a dish that is bursting with color! Replace the bacon with 1/2 pound of ground sausage for a different meaty flavor. Yukon gold or red potatoes work best for this dish, but consider using sweet potatoes for a unique twist!
Recommended sides: Top a pile of these savory potatoes with a fried egg and a drizzle of hot sauce. Other great toppings include chopped avocados, chili paste, chopped tomatoes, jalapeno slices, salsa, shredded cheddar cheese, fresh cilantro, parsley, or sour cream.
Another option is to premake potatoes in the IP ahead of time and pan-fry for that crispy finish when making breakfast like in this recipe from Where You Get Yor Protein: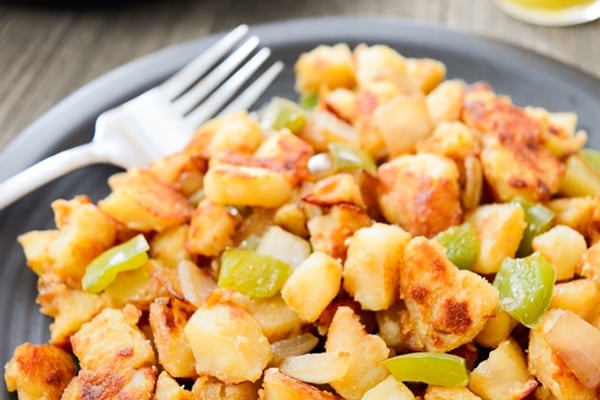 Download this MEAL PLAN & COMPLETE THE SHOPPING LIST here.
---
---
SAVE INSTANT POT Meal Plan #5 TO PINTEREST