We are continuing our Instant Pot Meal Plan series with the fourth edition! This week's menu features 5 dinner meals, 2 lunch dishes, and 1 dessert, all made in your Instant Pot pressure cooker. We've curated a plan that is nutritionally balanced and features a variety of foods, cuisines, and some vegetarian options. Downloadable PDF with shopping list included.
---
You can find our Meal Plan #1 and Meal Plan #2 for omnivores here, and our Vegetarian Meal Plan #3 here.
ABOUT THIS INSTANT POT MEAL PLAN
The goal of our meal plans is to give your ideas and inspiration for your daily meals. This week, it's a regular meal plan suitable for omnivores and contains dishes featuring a variety of protein sources such as chicken, beef, pork and lamb, as well as plant-based chickpeas. We have also provided some alternatives in case you don't eat that particular food. We've got carbohydrates like pasta, rice and root vegetables for energy and lots of veggies either in the dishes or suggested sides. For dessert, we have a delicious chocolate brownie cake!
Having a meal plan takes a lot of the guesswork out and means that you can stock up on all the food and ingredients you need ahead of time. The plan provides you with 5 dinner meals to choose from – you can cook all of them or pick a few you like – plus a couple of lunch-friendly recipes.
You can download this meal plan with the shopping list here.
Happy Meal Planning!
PS. If you make one of our recipes, take a picture and share it on Instagram. Use the hashtag #instantpoteats! We want to see what you are making in your kitchen. And don't forget to follow us on Instagram!
INSTANT POT MEAL PLAN #4
We'll kick off with five delicious dinner meals you can make in your Instant Pot. We selected a variety of dishes, including a vegetarian option.
Cook up a budget-friendly Instant Pot Bolognese sauce that can be served with pasta, rice, quinoa, zucchini noodles, or cauliflower rice. Making a Bolognese sauce in the Instant Pot pressure cooker not only saves time but also locks in all those gorgeous, hearty flavors and nutrients. Get the recipe here.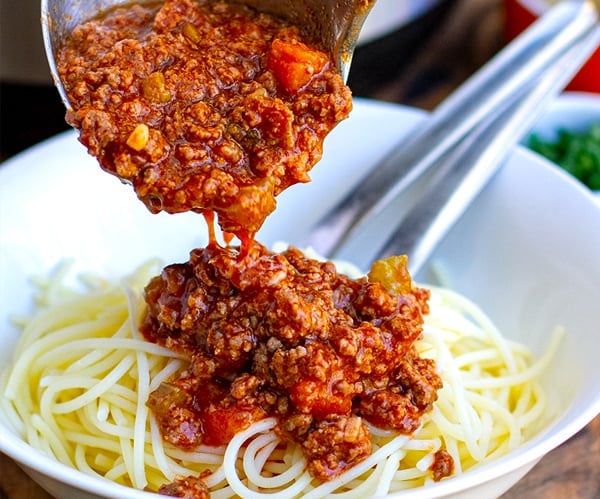 Shopping list: 2 tablespoons olive oil, 1 onion, celery, bacon, ground beef, 4 cloves garlic, 1/4 tsp nutmeg powder, 1 tsp dried thyme or basil, 2 bay leaves, 1/2 cup dry white wine, 1 cup chicken or beef stock, 2 tbsp tomato paste, a can or jar of tomato sauce or puree, 2 tablespoons all-purpose flour, fresh parsley or basil, pasta or zucchini noodles, and Parmesan cheese.
Prep tips/make-ahead: Bolognese meat sauce can be made ahead of time. You can make an extra-large batch to use some for dinner, leftovers for lunch, or to freeze for another dish. This sauce can be used with pasta but also turned into taco meat or a Shepherd's pie filling.
Recommended sides: While the sauce is on natural release, you can boil your favorite pasta. Spaghetti or fettuccine is more traditional with this meat sauce but it is equally delicious with penne or shells. For an extra hearty dish, you can mix the pasta with the sauce and transfer it into a casserole dish with grated cheese on top to pop in the oven for a delicious bake. For a low-carb/Whole30 version, briefly saute some zucchini noodles or prepare cauliflower rice. For veggies, go with a simple green or throw some broccoli into the cooking pasta in the last two minutes.
This Instant Pot Thai chicken curry is quick and delicious, loaded with healthy protein and vegetables. Made with red curry paste and wholesome coconut cream, this curry recipe is dairy-free, Whole30, paleo and keto-friendly. Get the recipe here.
Shopping list: 1-2 tablespoons olive oil, 1 onion, 4-5 slices of ginger, 2 garlic cloves, 1.4 lb / 650 g chicken (breast and thighs), 1/3 cup red curry paste (less or more depending on the spice level), 2 teaspoons sugar, 1 tablespoon fish sauce, coconut milk, lime, carrot, zucchini, broccoli, red pepper, coconut cream, and fresh cilantro.
Prep tips/make-ahead: This can be made ahead of time and stored in the fridge (up to 3 days) or freezer (up to 3 months). You can also do the prep like dicing the chicken and vegetables the night before or in the morning before work to speed things up before dinner.
Recommended sides: All you need is a side of rice or cauliflower rice for a low-carb/Whole30 version.
We've adapted the traditional Mexican dish to create this family-favorite Instant Pot pork Al Pastor and rice casserole. Pork shoulder meat is marinated with chipotle chilies, herbs, and pineapple and pressure cooked in the Instant Pot for that perfect tender and succulent result. The meat is paired with rice, beans, corn, and cheese and finished in the oven for a must-try casserole. You can use chicken or beef meat in this recipe! Get the recipe here.
Shopping list: 2 lb / 900 g pork shoulder, pineapple, 1 tsp cumin, 1 tsp oregano leaves, 1 tsp paprika, 3 garlic cloves, 3 tbsp chipotle chili in adobo, chicken stock, 4 cups pre-cooked white rice, 1 can of black beans, 1 can of sweet corn, 1.5 cups shredded cheese, onion, tomato, fresh cilantro, lime, and 1/2 cup sour cream.
Prep tips/make-ahead: You can cook the rice ahead of time or use leftover white rice from the day before (not earlier, rice doesn't keep well). 2-Minute rice packets are super convenient for this dish as well. White rice of any kind or brown rice can be used here. You can also add quinoa or any other pre-cooked grains.
Recommended sides: This is a complete meal that comes with condiments such as diced white onion, cilantro and tomato and a little sour cream on top. You can make an extra salad to go along with it. A simple coleslaw or shredded lettuce will work well.
This budget-friendly, creamy Instant Pot mushroom and chickpea pasta is a delicious meal for the whole family. It's vegetarian yet high in protein and comes with plenty of fiber and nutrients. The best part, the whole recipe can be made for under $7. Get the recipe here.
Shopping list: 1.5 tablespoons olive oil, onion, 8 oz / 250 g button/cremini mushrooms, 4 oz penne pasta (about 120 g), 2/3 cup frozen peas, 3 cloves of garlic, 2 cups vegetable stock (about 450–500 ml), 1 can chickpeas, 1/2 cup light cream, 1/2 cup grated Parmesan cheese (you can use Cheddar or another hard cheese here), 1 tablespoon all-purpose flour (for thickening the sauce), and Garnish with extra Parmesan and fresh parsley or chives.
Prep tips/make-ahead: This recipe uses penne pasta but you could also do a differently shaped pasta of similar size. For the mushrooms, use simple white cremini button ones but you could add a variety depending on your budget. Chickpea or garbanzo beans are out of a can so you can add them right at the end. If you wanted to use dry chickpeas, you would have to pressure cook them first separately. If you do that, make a larger batch and refrigerate or freeze the leftovers for salads, soups or other dishes. More chickpeas Instant Pot recipes here.
Recommended sides: This is a one-pot meal but you could make a side of steamed vegetables or a garden salad.
This lovely Instant Pot lamb stew uses Moroccan-inspired ingredients and spices and is cooked up with soft potatoes, carrots and peas for an incredible one-pot dish. Get the recipe here.
Shopping list: 1 tbsp olive oil, 1 medium brown onion, 3 cloves of garlic, 1.7 lb / 800 g diced stewing lamb, 1/2 tsp cinnamon powder, 1 tsp dried oregano or dried thyme, 1/2 tsp chili flakes, 1 tsp paprika powder, 1 tsp mild curry powder, 1/2 tsp turmeric powder (optional), 1 tsp coriander seed powder, 2 bay leaves (optional), 6 dried apricots, 1 cup (200 g) tinned tomatoes or cherry tomatoes with juice, 1 cup beef stock or chicken stock, 1 celery stick, 4 medium potatoes, 3 medium carrots, 1/2 cup frozen peas, zest of 1/2 orange
Prep tips/make-ahead: You can use various cuts of lamb suitable for long, slow cooking such as diced shoulder, neck fillet, shank or breast. Mutton meat (from an older lamb) can also be used but will have a stronger flavor. Diced beef and even pork would also work well in this dish. Moroccan recipes use a lot of spices, which is how you get those amazing tagline flavors, but if you don't have all of them on hand and you don't want to stock up your pantry with too many new jars, then feel free to buy a pre-mixed Moroccan spice blend like this one, and use 2-3 tablespoons instead.
Recommended sides: Serve it with rice, couscous or quinoa, or low-carb cauliflower rice.
Perfect for fall and winter, this Instant Pot butternut squash soup only takes 20-25 minutes from start to finish. it's great for making ahead and enjoying through the week for lunches or a light dinner. Serve up with a dinner roll or some crusty bread or crouton. It's gluten-free, paleo, vegetarian and vegan-friendly. Get the recipe here.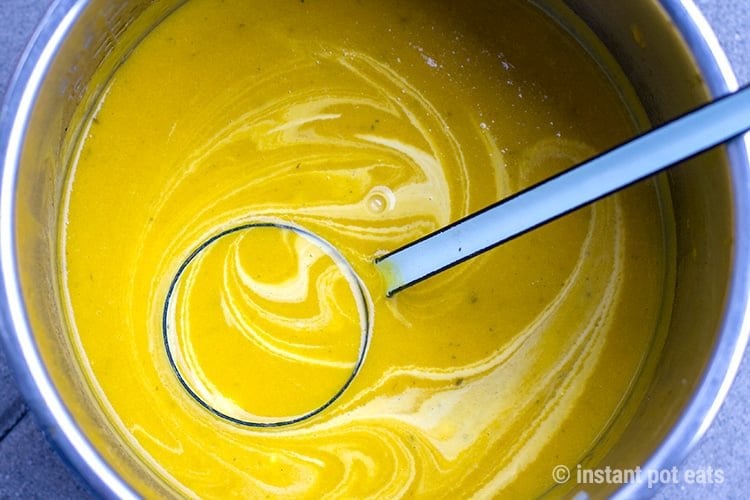 Shopping list: 2 tbsp olive oil, onion, 1 large celery stick, 3 cloves of garlic, 1/2 large butternut squash peeled and diced into large cubes (5 cups of diced squash or about 2 lb /1kg), 2 large white potatoes, 3 cups of vegetable stock (700 ml), lemon,2 tbsp double /thick cream or mascarpone cream (coconut cream for dairy-free), and garnish with parsley, pumpkin seeds, and fried shallots.
Prep tips/make-ahead: This soup will keep for 4-5 days in the fridge and even longer in the freezer, making it a perfect meal prep and batch cooking recipe.
Serving suggestions: Croutons, crusty bread or bread rolls. You can add canned chickpeas, lentils or shredded chicken for extra protein.
INSTANT POT LUNCH MEAL PREP: Buffalo chicken
Make a batch of shredded buffalo chicken in the Instant Pot to dish up for a quick and easy lunch meal. You can use buffalo chicken and simple coleslaw to make sliders or wraps or to make quick tacos with avocado and salsa. Get the recipe for buffalo chicken here.
Shopping list: from the Delish recipe 2 tbsp. extra-virgin olive oil, 4 boneless skinless chicken breasts (about 2 lb.), Kosher salt, 2 tsp. ranch seasoning, 3/4 cup of low-sodium chicken broth, 1/2 cup of hot sauce, 4 tbsp. melted butter, 4 cup coleslaw mix, 1/3 cup ranch dressing, 12 slider buns, and 1/2 cup crumbled blue cheese.
Prep tips/make-ahead: Buffalo chicken can be stored in the fridge for up to 3 days or in the freezer (in portions you might use for lunch). If you know how you're going to serve the chicken, you can prepare the sides like coleslaw or salsa ahead of time too.
Recommended sides: There are many ways you can serve buffalo chicken for lunch: sliders with chicken and coleslaw, sandwich or wrap, salad with lettuce, celery and blue cheese dressing, as tacos with avocado and salsa or slaw.
Are you ready for some chocolate?! This chocolate fudge-inspired Instant Pot brownie cake with toasted walnuts will be a dessert that impresses everyone at the table and makes your chocolate lovers very happy. Get the recipe here.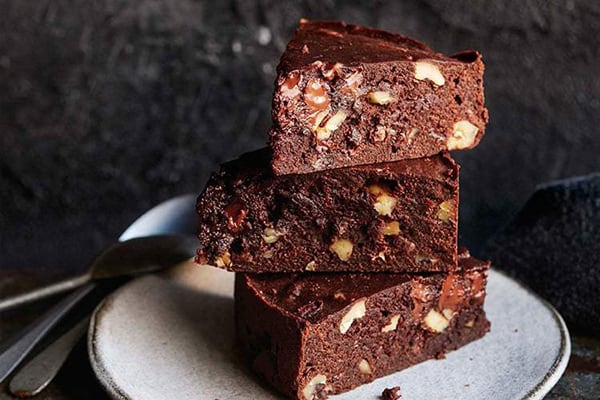 Shopping list: 3⁄4 cup unsalted butter, 3 eggs, 1 cup brown sugar, 1 1⁄2 tsp instant coffee granules, 1 1⁄2 tsp vanilla extract, 1⁄4 tsp kosher salt, 3⁄4 cup all-purpose flour, 3⁄4 cup cocoa powder, 3⁄4 cup semi-sweet chocolate chips, and 3/4 cup walnuts.
Prep tips/make-ahead: You can cut these into squares like brownies or slices like a cake, up to you. Store in the fridge to make it last longer.
Recommended sides: A hot drink! A dollop of cream or ice cream would complete the experience.
Download this MEAL PLAN & COMPLETE THE SHOPPING LIST here.
---
---
SAVE This Instant Pot Meal Plan #4 TO PINTEREST