We are continuing our Instant Pot Meal Plan series with the sixth edition! This week's light and healthy menu features 5 dinner meals, 2 lunch dishes, and 1 breakfast, all made in your pressure cooker. This healthy Instant Pot meal plan focuses on dishes with lots of vegetables, protein, and fewer refined carbohydrates or sugar. Downloadable PDF with shopping list included.
---
You can find other Meal Plans here and our Vegetarian Meal Plan #3.
ABOUT THIS HEALTHY INSTANT POT MEAL PLAN
This is a healthy, nutritionally balanced Instant Pot meal plan that you can use whenever you need a little reset. It's perfect for after the holidays when you might have consumed too many deserts and comfort meals.
This meal plan is for omnivores and contains a variety of dishes and foods, including a vegetarian option or two. You will find meals that have plenty of vegetables, complex carbohydrates or fewer carbohydrates than usual, naturally sweetened, with lots of healthy protein, including plant-based options.
Having a meal plan really helps to stay on track with healthy eating. It takes a lot of the guesswork out, which means fewer temptations to order takeout or reach out for junk food. The plan provides you with 5 dinner meals to choose from – you can cook all of them or pick a few you like – plus a couple of lunch-friendly recipes and a breakfast.
You can download this meal plan with the shopping list here.
Happy Healthy Meal Planning!
PS. If you make one of our recipes, take a picture and share it on Instagram. Use the hashtag #instantpoteats! We want to see what you are making in your kitchen. And don't forget to follow us on Instagram!
HEALTHY INSTANT POT MEAL PLAN #6
We'll kick off with five wholesome dinner meals you can make in your Instant Pot. We selected a variety of dishes, including a vegetarian option.
Kick-off the week with a nutrient-rich, veggie-filled soup that is comforting enough to forget about the fact that it's healthy and low in calories. With under 300 calories per serve, this is a winning meal that will nourish body and soul. Serve with light sour cream or Greek yogurt! Get the recipe here.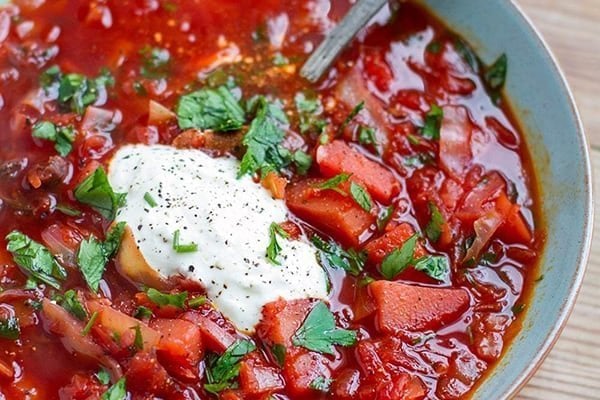 Shopping list: 2 tbsp olive oil, 1 medium onion, 2 large white potatoes (about 1lb / 450 g), 1 large carrot, (about 4.5 oz/ 125 g), 2 medium beets or 3 small ones, grated (7–8 oz / 200–250 g), 1/4 medium white cabbage (12 oz / 350 g), 4 medium cloves of garlic, 10–15 g / 1 oz dried porcini mushrooms, 3 tbsp apple cider vinegar, 1.5 tbsp tomato paste, 1 cube beef stock, 1 cube vegetable stock, fresh parsley and sour cream/yogurt to serve.
Prep tips/make-ahead: Use kitchen gloves when grating the beets or do it near the sink so you can quickly rinse your hands after handling the stain-prone beetroot. Dried porcini mushrooms add a lovely umami flavor but you can use regular mushrooms or dried shiitake mushrooms instead. This beet soup keeps well in the refrigerator – 3-4 days – and it's delicious cold or hot.
Serving suggestions: Traditionally, a dollop of sour cream or yogurt is added to a bowl of borscht. For extra protein, you can cook the soup with diced meat of choice and if you're plant-based, throw in a can of beans (which is very common in Ukrainian borscht soups). A slice of toasted rye bread or sourdough will also add some protein to this meal. Adding spinach or kale and beans will also provide extra iron for those on a plant-based diet. Fresh dill or parsley are the preferred herbs in Borscht.
This Whole30-friendly and nutritious stew is made with ground turkey and either potatoes or sweet potatoes and is super easy to make. You can add other vegetables to the stew or serve a side salad. This meal comes in under 300 calories per serving. PS. You can make this stew using leftover turkey meat, too! Get the recipe here.
Shopping list: 2 tbsp olive oil, 1 small onion, 1 medium carrot, 1 celery rib, 1.1 lb / 500 g ground turkey, 2 garlic cloves, 1.1 lb / 500 g white potatoes, 1 tsp rosemary needles (2 sprigs or dried), 1 large tomato, and 1 cup chicken stock.
Prep tips/make-ahead: Weight Watchers SmartPoints 10 (Green). You can choose a slightly leaner ground turkey for a lower point result. White potatoes can be swapped with sweet potatoes.
Recommended sides: It's somewhere between a stew or a thick soup and you can enjoy it as is or with a side of crusty bread
Five minutes of prep time is all you need to make this healthy Instant Pot salmon with just a handful of ingredients. Served with a medley of sauteed vegetables (also in the Instant Pot), this is a perfect, nutritious meal! Around 350 calories per serve and can be made more substantial by adding cooked quinoa, brown rice, or lentils on the side. Get the recipe here.
Shopping list: A few sprigs of parsley, dill, tarragon, or basil, 1.5 lb salmon filet skin on, 2 tbsp ghee or other healthy fat divided, 1 lemon, 1 zucchini, 1 red bell pepper, and 2 carrots.
Prep tips/make-ahead: The cooking time will vary, depending on the thickness of your salmon. 3 minutes is perfect for a filet that's about 1 inch at its thickest part. Ask your seafood person for a centre-cut piece, or heat end. The tail end is much thinner. If you don't want to julienne the veggies, you cut them up bite-sized and cook them longer, or steam them in a separate pot while the salmon cooks.
Recommended sides: Served with a medley of sauteed vegetables, quinoa, brown rice, or lentils on the side
This super easy chicken curry has only 300 calories per serve and can be served with 1/2-1 cup of brown rice or cauliflower rice for a low-carb meal and a side of broccoli. Did we mention, this recipe only needs 5 key ingredients? Get the recipe here.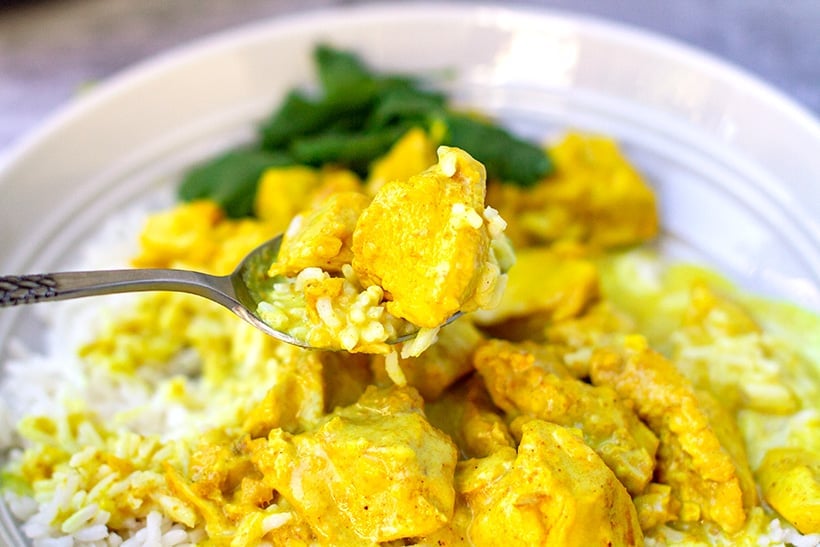 Shopping list: 1.5 tbsp olive oil or coconut oil, 4 cloves garlic (about 2 tbsp), 2 tbsp chopped ginger (thumb-size knob), 2 lb / 900 g chicken breasts, 4 tsp mild curry powder, 2/3 cup water or chicken stock, 1 cup coconut cream (thickened part of coconut milk), 2 teaspoons all-purpose flour, fresh cilantro, rice, and broccoli (optional side).
Prep tips/make-ahead: This is a great dish when you're traveling with your Instant Pot and want to make a hearty dinner without having to buy too many ingredients and it's not too spicy, kind of like a mellow curry so it's great for a family with kids. Suitable for gluten-free, low-carb, keto, Paleo, and Whole30 diets.
Recommended sides: Served over rice or cauliflower rice and a side of vegetables.
Loaded with hidden vegetables and made with grass-fed beef, these Instant Pot sloppy joes are a healthier, more nutrient-dense version of your favorite comfort food. This recipe is gluten-free, paleo and Whole30-friendly and comes at under 400 calories per serve. Get the recipe here.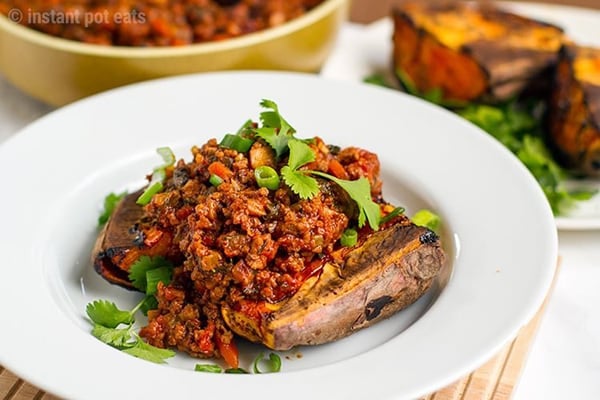 Shopping list: 1 tablespoon of olive oil, 1/2 large onion, 1 large carrot, 2 celery sticks, a handful of spinach, chard or another leafy green vegetable, 6 mushrooms, 3 garlic cloves, 1 lb / 500 g ground beef, 1 can of chopped tinned tomatoes (400 g), 2 tbsp tomato paste, 1 tbsp coconut aminos (or Tamari gluten-free soy sauce), 1 tbsp balsamic vinegar, 2 tbsp coconut sugar (brown sugar can also be used), 1 onion stock cube (or 1 tbsp onion soup powder) and a pinch of chili flakes.
Prep tips/make-ahead: There's a lot of veggies so that your kids will enjoy the familiar flavor and texture without even knowing how much goodness is hidden within. This yields a large batch of sloppy joes sauce without using too much meat, making it more affordable and more sustainable. This dish works great for Paleo, Whole30, and Gluten-Free diets.
Recommended sides: Serve over baked sweet potatoes OR with pasta, rice, beans, veggies, or sourdough bread.
The perfect combination of veggies, brown rice, eggs, and soy sauce makes for the savory fried rice flavor you love without all those added fillers. Enjoy for lunch with a side of canned tuna or salmon, cooked chickpeas or tofu, or leftover chicken for extra protein. Get the recipe here.
Shopping list: 1 cup long-grain brown rice, 1 cup vegetable broth, 2.5 tbsp olive oil, divided, 10 oz. frozen mixed veggies, 2 large eggs, 1/4 cup low sodium soy sauce (or tamari), 1 tsp maple syrup, 1 tsp sesame oil, and 1 tsp minced garlic.
Prep tips/make-ahead: Made with brown rice makes this dish healthier but keep in mind that brown rice needs to cook longer than white rice.
Serving suggestions: Side of stir-fried or steamed vegetables, simply shredded chicken or Asian chicken, shrimp or fish, grilled tofu or tempeh.
This Brazilian-inspired chicken salad dish is light on carbs and high in protein and fats to keep you satiated till dinner. The regular version has 500 calories per generous serve but you can use low-fat mayonnaise to lighten things up. Make a batch and enjoy it throughout the week. Get the recipe here.
Shopping list: 3 chicken breasts, 1 tsp garlic powder, 1.5 tsp curry powder, 2 sticks celery, 1 medium carrot, 2 scallions/spring onions, 1/3 cup raisins, 1/2 cup sweet corn, 1/3 cup mayonnaise, 1/4 cup Greek yogurt or sour cream, 1 garlic clove, 1.5 tsp curry powder, and lettuce.
Prep tips/make-ahead: Instead of using the Instant Pot, you can also pan-fry the chicken breasts for 6-7 minutes each side or bake them in the oven for about 20-25 minutes at 390 F/200 C. Weight Watchers smart points: 13 (or 11 with light mayo)
Recommended sides: Garnish with fried shallots and fresh herbs like parsley and cilantro, or crispy shoestring fry potato sticks.
For a balanced and satiating breakfast, it is important to include some protein and healthy fast, which makes EGGS the most obvious option. You can make a batch of hard or soft-boiled eggs to keep in the fridge for a quick and easy breakfast meal. Serve 1-2 eggs with a dollop of hot sauce and a sprinkle of salt and a side of fruit and unsweetened yogurt. Oh, did we mention that you can make your own yogurt in the Instant Pot too? Check out this recipe: Get the recipe here.
Shopping list: 4–6 large eggs; and if making your own yogurt: 8 cups whole milk, 1/4 cup plain whole-milk yogurt
Prep tips/make-ahead: 2% milk can be substituted for the whole milk.
Recommended sides: Fresh fruit and berries with honey and granola pair perfectly with this homemade Instant Pot yogurt. Add some healthy fat with avocado or smoked salmon to your jammy eggs.
Download this MEAL PLAN & COMPLETE THE SHOPPING LIST here.
---
---
SAVE INSTANT POT Meal Plan #6 TO PINTEREST