Today, we are sharing our fourth instalment in our series of Instant Pot cookbook reviews. We love sharing recipes with you, but we're also eager to share some kitchen library staples as the Instant Pot grows in popularity, and more resources are on the market. In this post, we're highlighting Eileen Laird's cookbook titled The Paleo AIP Instant Pot Cookbook.
The book: The Paleo AIP Instant Pot Cookbook by Eileen Laird
The focus: Learning to use your Instant Pot while following a strict elimination diet as a healing protocol.
Featured recipe from the book: Swedish Meatballs & Mushroom Gravy (AIP, Paleo)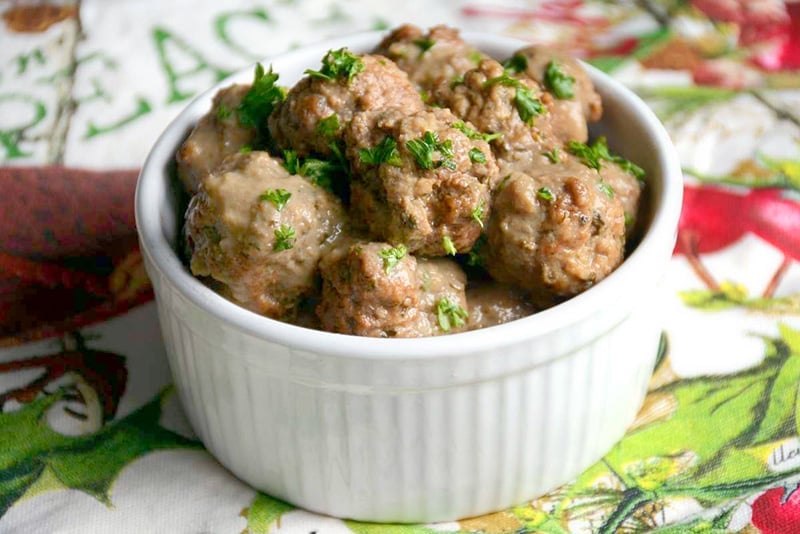 About the author
Eileen Laird is the author of The Paleo AIP Instant Pot Cookbook and other books, plus the head of the AIP blog Phoenix Helix. Her blog began in her effort to live an empowered and healthy life with autoimmune disease. In 2012, rheumatoid arthritis hit Eileen's life like a wrecking ball. She went from a fit, healthy woman who worked full-time as a massage therapist and hiked on the weekends for fun, to someone who limped crossing her living room and didn't have the strength in her hands and wrists to wash dishes.
She now manages rheumatoid arthritis with the best that paleo and conventional medicine have to offer. She follows a personalised version of the paleo autoimmune protocol, and prioritises healthy life choices (like plentiful sleep, stress management, self-love and time outdoors), in addition to medication. Through her blog and podcast, she hopes to inspire others to do the same. She writes about the autoimmune experience, details of healing diets, supportive practices, and other people's success stories.
About the book
If you're looking for nutrient-dense, this is the book for you. Above all, it's a resource for reversing autoimmune disease through a specialised set of eliminations. These eliminated foods are often underlying triggers of symptoms – particularly inflammation – for people with autoimmune disease.
If you're new to the protocol, don't worry; the book explains everything in a concise manner that makes sense. Over the years, both the paleo diet on its own and its sister diet, AIP, have grown in popularity… and for good reason! Unfortunately for many, time is of the essence and following the autoimmune protocol can feel extremely intimidating.
What makes this book especially unique is that it's a collection of recipes. The contents include over 140 dishes from 37 bloggers and recipe developers! Over half of those recipes are brand new, and can only be found in this cookbook.
The book starts off with a brief yet thorough explanation of both the autoimmune protocol and the Instant Pot, helping to get you acquainted with both. You can really feel confident heading into this journey whether you're new to AIP, pressure cooking, or both. It's then divided into easy-to-navigate sections like bone broths, veggie dishes, sauces and condiments, poultry, meat, seafood, offal, dessert, and extras. You'll also find a section for special diet modifications helping you to tailor these recipes to your own stage of healing, and wherever you are with eliminations.
What we love about this cookbook
If you ask us, this book is a necessity. It's the first and only cookbook that caters to both the autoimmune protocol and Instant Pot cooking, making it an invaluable resource for those who want to pressure cook their way through their healing journey!
If you've ever done the autoimmune protocol (or you're currently doing it), know this: it takes some serious prep work. The mental gymnastics with so many choices to make and so many foods to avoid can be really tough, but Eileen really breaks it down in this book.
First, there is a "fast food" section. Of course, with the Instant Pot, many people have redefined what fast food looks like for them, and with AIP, it can be even more important. This book has you covered for meals in a flash with plenty of no-fuss recipes.
One of the most crucial aspects of an elimination diet is focusing on the foods you can have and this book does just that. It emphasises healing foods with tons of nutrition. There's even a section just for nourishing, good-for-the-gut broth!
Some other highlights include pineapple and mango chicken thighs, chicken and okra stew with plantain dumplings, golden beet and caramelised leek soup, cauli-fredo sauce, and duck gizzards confit. There are so many dishes in here that will make you forget you're eating an AIP diet. Plus, there are so many wonderful variations of veggie dishes, offal, and other ingredients you may not have otherwise tried.
Perhaps the absolute best part of this cookbook is the reintroduction part. This cookbook can really carry you through on your journey. The first portion of the book sticks to strict AIP eliminations. Later, there are more recipes included for gradual reintroduction so you can use this cookbook as a resource during any stage of your healing.
At the end of the day, this isn't just a cookbook – it can be the answer to living a much higher quality of life for so many individuals, and we cannot commend Eileen enough for compiling this incredible collection.
Who is this book for?
This book compiles recipes using a very specific list of ingredients. You'll be missing out on grains, dairy, legumes, soy, and sugar like the paleo diet. The list gets a little shorter though. The autoimmune protocol also eliminates nightshades, nuts and seeds, and eggs. In short, this book isn't for the adventurous eater who wants to try anything and everything in their Instant Pot.
Instead, this book is for someone with an autoimmune disease who wants to use their diet as a healing tool in their journey. The autoimmune protocol is an elimination diet that is designed with reintroducing those eliminated foods in mind. Throughout the process, the individual can get to know which foods cause major flares, which foods should be eaten in moderation, and which foods should be eliminated entirely. Moreover, the autoimmune protocol is a great elimination diet for folks who want to address inflammation, improve gut health and permeability. This book is fantastic for those who want to create a stable and sustainable platform for long-term health while experiencing reduction in symptoms or symptom remission.
---