Today, we are sharing our latest instalment in our series of Instant Pot cookbook reviews. We love sharing recipes with you, but we're also eager to share great written resources as the Instant Pot grows in popularity, and more cookbooks or guides are on the market. In this post, we're featuring author Laurel Randolph's cookbook, Instant Pot Desserts Cookbook.
---
The book: Instant Pot Desserts Cookbook
The focus: Not only can Instant Pot make top-notch cheesecakes, but it can also make a whole book's worth of desserts. From puddings to cakes to pies to cobblers, you can make all in an electric pressure cooker with minimal extra equipment.
Featured guest recipe: Instant Pot Chocolate-Orange Lava Cakes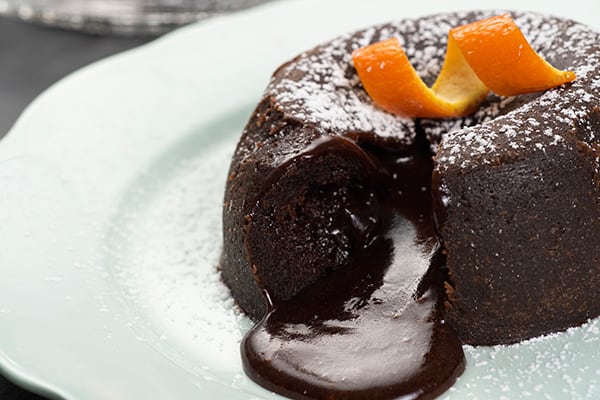 About the cookbook
Have dinner in the oven? Make dessert on the countertop at the same time. Is it too hot to bake? Use your cooker to make a cake without heating up your kitchen.
From cheesecake to bread pudding to pie, you'll be amazed at what sweet treats you can make in your Instant Pot. Perfect for beginners and pros alike, you won't need a bunch of extra equipment to make these desserts. Randolph includes lots of tips and tricks for "baking" in your pressure cooker, including Instant Pot basics, how to cook pot-in-pot, and recommended pans and accessories. Instant Pot Desserts features photos and instructions for different sizes and models of the Instant Pot with plenty of tasty vegans, gluten-free, and no-added-sugar options so everyone can indulge their sweet tooth.
What we love about IT
Besides all the delicious desserts and the gamut of types of treats covered in the cookbook, we love the "Notes" section of each recipe. Sounds odd to love a book for the blank empty lines it contains? Let us explain. In real life, you tweak a recipe according to what you have in the fridge or pantry. Sometimes those tweaks lend themselves to the most amazing dishes. Also, you change things according to your preferences or allergies, so a recipe is becomes customized for your family. All that said, if you don't take "notes" all that information will be lost. Hence why a section dedicated to you personalizing a recipe is a brilliant idea.
We are all individually different including how we measure, our altitude, and serving amounts. Randolph takes all these factors into consideration. She includes a conversion chart for metric and imperial measuring. She also mentions how altitude can affect pressure cooking. The general rule is adding 5 per cent to the cooking time for every 1000 feet you live above sea level.
The serving amounts are clearly highlighted at the top of each recipe. Sometimes you don't want to bake a whole cake when it's only dinner for two. Instead, try Instant Pot Spiced Poached Pears. Nor do you want to be tempted by leftover dessert the whole entire week. So then try Individual Butter Pecan Croissant Bread Puddings or Amaretto-Cherry Rice Pudding instead. It's nice to know exactly what you are getting yourself into when you are making dessert.
Who is this Instant Pot cookbook for?
Have you ever had a craving for dessert but it was only you craving it? So justifying the work to make an entire cake made no sense to you. So you end up going to bed with an unsatisfied craving only to convince yourself that you didn't need the calories. Or have you ever made a fancy dessert for a dinner party and were stuck with way too much leftover? Which made you hate the sight of the cake by the end of the week. This book is made for all those circumstances and more. The recipes are portioned out to be just the right amount of dessert for whatever sweet needs you have. The Instant Pot is great when you are having a dinner party and have no more space or time in the oven. It is also perfect for hot summer days when you don't want to heat up the house with an oven. This book is made for anyone with a sweet tooth and has a practical side to them.
About the author
Laurel Randolph is a bestselling cookbook author and recipe developer. Her first cookbook, The Instant Pot Electric Pressure Cooker Cookbook, has sold over half a million copies to date. She is also the author of The Instant Pot No-Pressure Cookbook, which was branded by Instant Pot. Randolph has written for EatingWell, EatenMagazine, The Spruce, Los Angeles Magazine, PasteMagazine, and more. She resides in Los Angeles, California.
Get Instant Pot Desserts cookbook here.
Photo Credit © Rebecca Peloquin
---