---
Description
Hearty and nutritious Instant Pot bone broth made with chicken, herbs and veggies in just 3 hours (instead of 12). Sip on it as is or use it in stews, soups, curries, pasta and risotto dishes. Keto, low-carb, gluten-free, Whole30, paleo.
---
Carcass and bones of 1 whole, free-range chicken (a little meat still on the bone)

1

medium onion, peeled and quartered

2

small carrots, cut in halves

2

celery sticks (I use up the smaller sticks with leaves on)

2

–

3

slices of fresh ginger

3

cloves of garlic

2

bay leaves

3

–

4

slices of red chilli (optional)
A handful of fresh parsley (good to use up the stalks here)
A handful of fresh cilantro/coriander (good to use up the stalks here)
A generous pinch of cracked black peppers

1 teaspoon

salt

1 tablespoon

fish sauce (optional, also you can't taste)

2 tablespoons

apple cider vinegar (white vinegar is fine)

2.25

–

2.5

litres (around

9 cups

) of water (ideally filtered)
---
Instructions
Place all ingredients inside the Instant Pot and stir. Place and lock the lid. Make sure the steam release handle is pointing to Sealing.
Press Manual/Pressure Cook function key and change the timer to 130 minutes. After 3 beeps, the pressure cooker will start to build up the pressure and will be ready to go (you will see the ON sign). This might take 15 minutes due to the amount of liquid, then the timer will start. Relax and enjoy yourself!
Once the timer goes off, allow the pressure to release naturally before opening the lid, this should take about 15-20 minutes, hence the total cooking time is about 3 hours.
Once the pressure valve is back down and you have opened the lid, let the broth cool down.
Strain the broth into clean jars or storage container, seal with lids and store in the fridge or freezer. Remove any visible chicken meat from the bones and store to enjoy with the broth.
You can use the broth to make chicken soup with fresh vegetables and cooked meat or to use it as a base for other soups and stews. I like it simply heated and served in a bowl or a cup with some fresh herbs, a little garlic, sea salt and lemon or lime juice. You can also add some miso paste, scallions/spring onion, chilli and Tamari soy sauce.
---
Notes
Want to enjoy the benefits of bone broth but find that even 3 hours still too long?  While we love making our own chicken bone broth, sometimes you may need a more convenient store-purchase option. Luckily, these days, there are some amazing brands that make a collagen-rich bone broth that you can store in the pantry to use quickly when you need it. We love the Kettle & Fire for their rich, homemade bone broths and soups (beef, chicken and vegetable). They are kindly offering our readers 15% off with a coupon code 'cravecollective' so make sure to check out their amazing range here.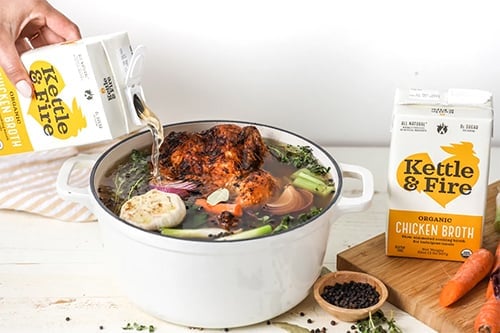 Keywords: Bone broth, Chicken, Stock, Pressure Cooker, Keto, Paleo, Whole30