We've compiled a list of some of the best Instant Pot Ground Beef Recipes to make in your pressure cooker. From hearty beef chili to cottage pie and meatloaf, these dishes will make for a hearty family dinner in no time at all!
---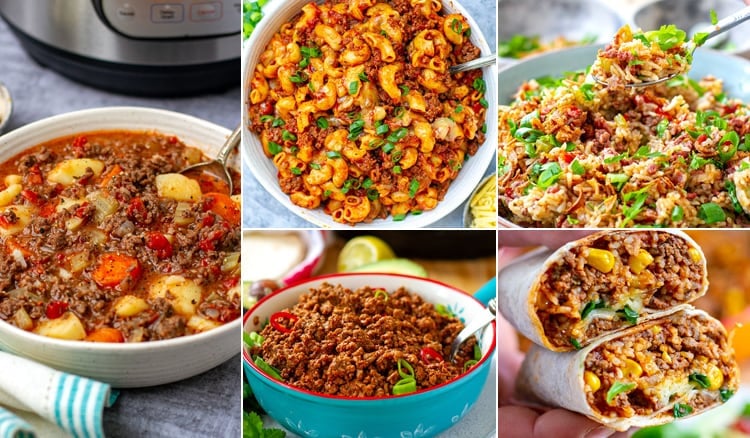 When we think about the most common family meal ingredients, ground beef or beef mince in the UK and Australia is the first to come to mind. It's affordable, highly nutrient-dense and super versatile when it comes to cooking.
Having a stash of frozen ground beef means that you will almost always come up with a meal.
With just a few extra ingredients and an Instant Pot, you can make a lot of classic recipes like Bolognese sauce and meatloaf, in a flash.
---
BEST INSTANT POT GROUND BEEF RECIPES
We've picked ground beef Instant Pot recipes that are well-rounded and serve a variety of diets. Many of them combine meat and vegetables for a complete meal, including comfort dishes that children will love.
Serve these with bread on the side or steam some fresh vegetables for a healthier take. No more boring leftovers or frozen pizza for dinner!
TOP 5 INSTANT POT GROUND BEEF RECIPES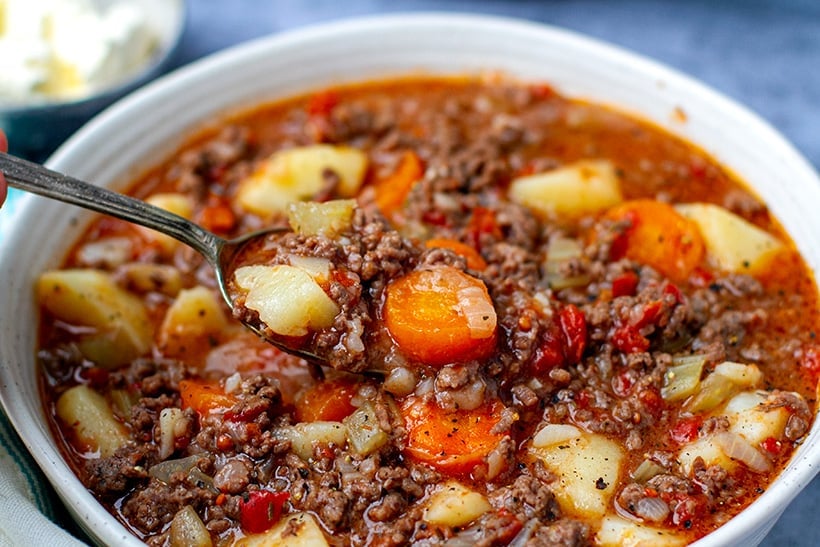 This hearty budget-friendly stew can stretch across multiple meals if you make an extra-large batch as it freezes well. It has ground beef, potatoes, onions, carrots, and celery, plus a few pantry items you most likely already have, to easily feed a family.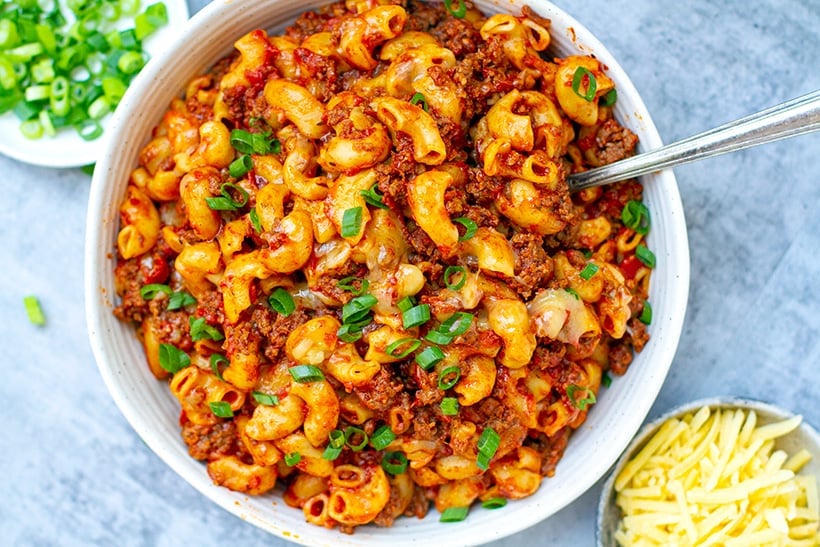 A crossover between pasta Bolognese, goulash, and mac'n'cheese. Three family favorites in one dish homemade with simple pantry ingredients, ground beef and elbow macaroni pasta. It's meaty, saucy, and comforting.
This flavorful, versatile Asian ground beef recipe is made with ingredients you may already have. Cook your rice right along with this pressure cooker Korean Beef for a flavorful one-pot meal. Recipe from Simply Happy Foodie.
A complete meal that's prepped and cooked in minutes in your pressure cooker! Save time by combining two classic comfort foods to get dinner on the table in a hurry. Recipe from I Wash You Dry.
A household meal staple, taco meat is affordable, freezer-friendly, and super versatile with different ways you can use up the leftovers. Make for meal prep or enjoy in tacos, burritos, nachos, enchiladas, pasta, and rice dishes.
GROUND BEEF STEWS
Beef chili on a cold winter's night will warm anyone right up. This popular recipe uses beef and chorizo to create an extra tasty chili con carne. Try serving this over white rice or steamed zucchini for a complete and delicious meal.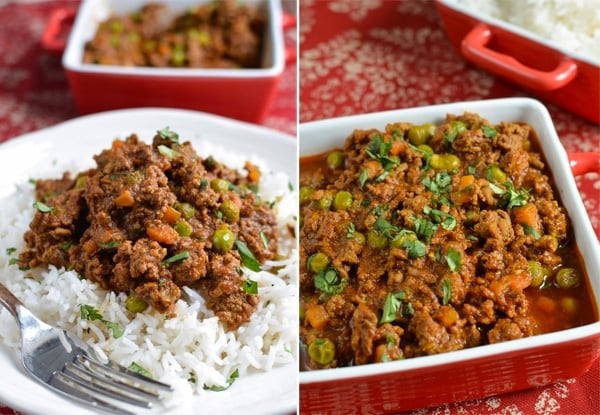 This dish traditionally uses lamb or goat meat, but if you don't have those on hand you can use ground beef. Eat this dish with naan to soak up the sauce or white rice for a complete meal. If you omit the peas, the dish can be Whole30 and paleo-friendly. Recipe from Slimming Eats.
SAUCES & SOUPS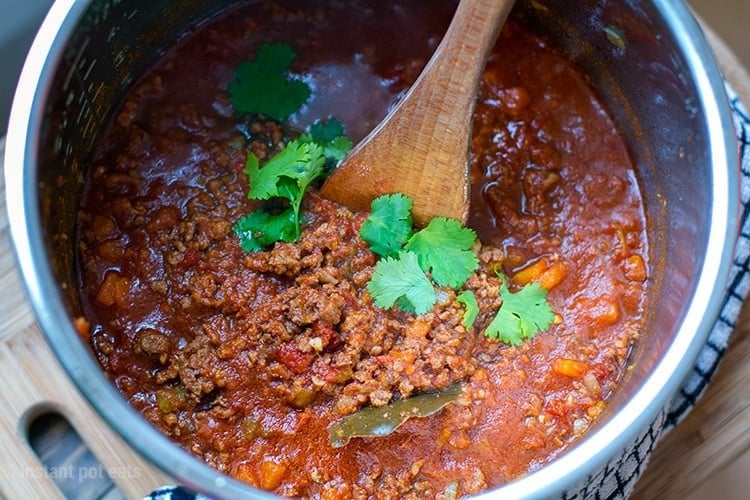 Made with ground beef, a Bolognese sauce is so versatile that it can be used over pasta, or you can turn the leftovers into other dishes. You can even adapt it to your dietary needs, such as gluten-free, vegetarian, or even vegan. The Instant Pot seals in all the flavors without you having to stand over the hot stove all day.
MEATBALLS, PATTIES & LOAVES
If you follow the Whole30 plan, you'll love these meatballs. There's no frying the meat beforehand so you can just dump everything in the Instant Pot once you form the meat into balls. The recipe is also paleo and gluten-free friendly and can be served over cauliflower rice for Whole 30. More Whole30 Instant Pot recipes here.
Meatloaf and mashed potatoes are two comfort food classics that you just can't live without. The Instant Pot makes it simple to get a full meal on the table in about 20 minutes. How can you beat that? Recipe from I Wash You Dry.
GROUND BEEF & PASTA DISHES
GROUND BEEF & RICE DISHES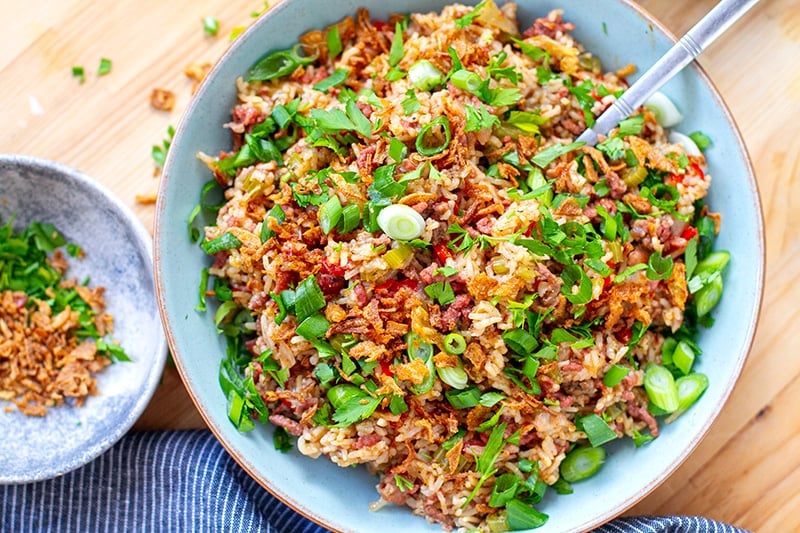 Dirty rice with ground beef, bacon, peppers, and Cajun seasoning mix. This dish is all about the flavor! It's a delicious Creole one-pot recipe the whole family will love. It's also gluten-free.
This tasty Picadillo recipe can be served over cauliflower rice, brown rice, or cabbage slaw on the side. Put the leftovers in peppers, quesadillas, or even tacos. The recipe is so versatile you will easily come up with new ways to use up the leftovers. Recipe from Skinny Taste.
GROUND BEEF & POTATOES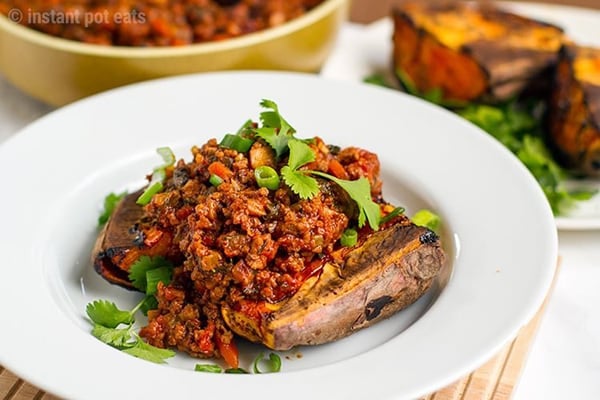 Loaded with vegetables and made with ground beef, this recipe is a healthier, more nutrient-dense version of your favorite comfort food. With half the calories of regular sloppy joes, you can indulge in this dish with no stress. Serve over sweet potatoes or with gluten-free buns
ASIAN INSTANT POT GROUND BEEF RECIPES
TEX MEX & LATIN AMERICAN DISHES
Inspired by Tex Mex cheesy nachos, this Instant Pot beef and rice casserole is hearty, delicious, and satiating – perfect for the whole family! Made with ground beef, rice, tomatoes, and a few pantry staples.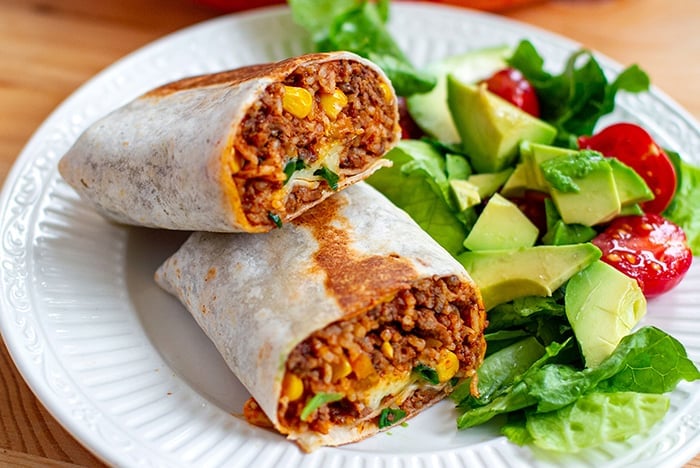 These fabulous Tex Me Instant Pot burritos feature tasty, spiced rice, beef and corn filling, grated cheese and fresh cilantro wrapped in a soft tortilla. Grill for a crispy finish, serve right away, or make-ahead for later as they store and freeze well.
INSTANT POT GROUND BEEF RECIPES FROM FROZEN
These Instant Pot recipes are sure to delight your family and spruce up weeknight dinners in your home. Whether you are following the Whole30 diet or are gluten-free, you will find something on this list to suit your dietary needs. Tell us in the comments your favorite ways to use ground beef in the Instant Pot pressure cooker.