Whether you're short on time or energy, these Instant Pot dump recipes will turn your dinner prep into a simple 3-step task: chop the ingredients, add them all to your pressure cooker and press the button. Now, walk away and relax!
---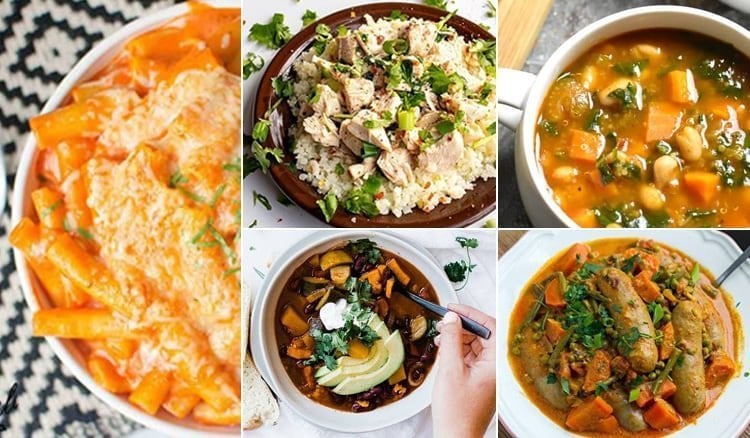 WHAT ARE 'DUMP' RECIPES?
Dump meals are just what they sound like! You dump in the ingredients, seal the lid and press a few buttons. There is no layering, no accessories needed and no need for any additional steps. It's really as simple as that, which is why dump meals are widely loved across the Instant Pot community. While they may have originated with the slow cooker, this is the next level of Instant Pot dump meals because they're done in a fraction of the time.
Today, we're sharing with you some of the most clever, creative and scrumptious Instant Pot dump recipes for easy cooking. That means no sauteing required, too!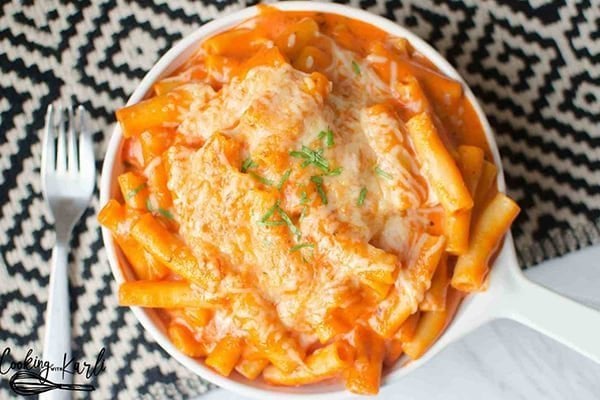 Creamy ziti in 20 minutes? Yes, please. This red-sauce pasta dish is an Italian cuisine classic, and effortlessly loveable in all of its creamy, cheesy glory. With just seven ingredients (two of which are totally cheese) and hardly any effort required, you'll love this recipe for life. Recipe from Cooking with Karli.

If you adore the comfort of chicken and noodles but don't feel like stirring a simmering pot all day for great results, this cozy recipe is just for you. With a blend of peas, green beans, carrots, and corn, it's budget-friendly for using frozen or canned veggies. It's a good one for the meal prep menu! Recipe from I Don't Have Time For That.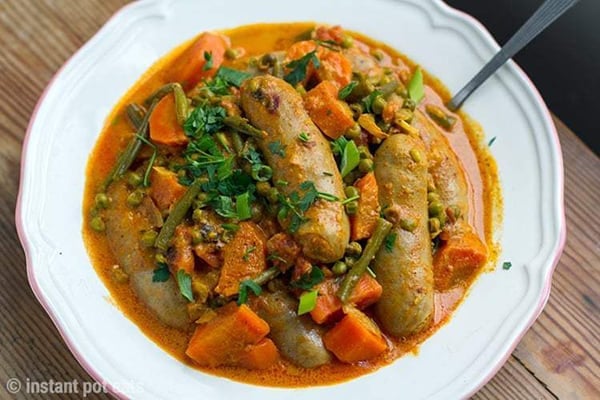 This 20-minute recipe is a blend of Indian and German cuisines with thick, pork sausages and veggies. There's a little chopping required, but it's not too much considering how quickly this one cooks. The rich and slightly spicy curry sauce is perfect for tossing atop a bed of rice, but it's really spectacular on its own. Recipe from Instant Pot Eats.
Who doesn't love a bowl of fettuccine alfredo? For your creamy pasta needs minus the red sauce, alfredo is the perfect alternative. You can add chicken of meatless protein if you like, too. The entire family will adore this meal, so keep the recipe handy because no doubt, you'll be making it over and over. Recipe from Simply Happy Foodie.
For a simple and healthy meal, you really can't go wrong with chicken. So versatile for any type of meal prep planning. Perfect for office lunches and a post-workout dinner by just adding some veggies, rice or pasta. Recipe from Instant Pot Eats.
Kimchi beef stew is a great spin on the classic recipe with tangy notes from this fermented cabbage condiment. Dried shiitake, gochugaru chili powder, dark soy sauce and gochujang, this recipe is jam-packed with amazing flavor and a hefty dose of spice. Recipe from Two Sleevers.
This healthier-than-takeout Asian noodle bowl is a super quick dinner with gluten-free brown rice noodles, chicken for protein, carrots and an awesome Asian-inspired sauce with all those flavors you love. Garnish with some chives and chopped peanuts for the best results. Recipe from Happy Healthy Mama.
Making a true lasagna is a bit of a task, and there's no denying it. Good thing we have this awesome soup recipe instead. You'll top it off with a few ingredients like that fresh ricotta that'll round things out, but otherwise, you set it and forget it with the noodles, sauce, and meat. Recipe from Eating Instantly.
Chicken and lentils? Yes, please! This protein-heavy dish is a healthy addition to the batch cooking rotation. In just about a half-hour, you get 11 cups of the good stuff. This is a good freezer meal. You can add in veggies if you like as well. Recipe from Skinnytaste.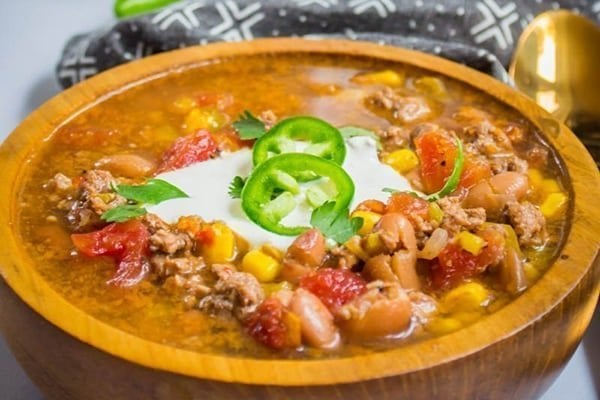 Like lasagna, making tacos is a real affair – or at least it can be with all the toppings and shells. This soup combines the key ingredients into a stellar Instant Pot dump meal. It does require a bit of planning as you want to soak the beans for 24 hours so they cook with all the ingredients in time, but otherwise, it's easy-peasy. Recipe from All The Nourishing Things.
A simple mix of white beans, tons of veggies and a carefully concocted blend of delicious spices give this spice its bulk and flavor. This is a fabulously filling and nourishing vegetarian meal that can be served as either a main or a side. The best part? It only cooks for three minutes, making the total cooking time from start to finish just 13 minutes. Recipe from Spice Cravings.
This meatless chili is plenty hearty and filling with sweet potato, three types of squash, tomatoes, peppers and two types of beans. For a meatless, protein-rich, nutrient-dense meal, this is truly a competitive contender – especially because it takes just ten minutes of cook time to create. Recipe from Oh So Delicious.
Rice pudding isn't just for the holidays. This sweet and spicy chai pudding is perfect for either breakfast or dessert with Indian cuisine flair. Garnish with your favorite additions. The chai spice makes this especially comforting and warming. Recipe from Instant Pot Eats.
Can you argue with a three-ingredient dessert? Nobody can, and that's why we're featuring two. Cobbler is a simple and even rustic dessert, perfect for using up juicy, ripe summertime peaches. You won't have any trouble making this, and you certainly won't have any trouble devouring every last bite of this cobbler's sweet, crumbly goodness. Recipe from 265 Days of Crock-Pot.
Finally, we have a cake! Just three ingredients again, and you can use any fruit you like. All you need is a boxed cake mix. Yep – it's as simple as popping open the pantry or heading to any grocery store for that awesome sweet tooth fix. Dare we say, this one is dangerously easy. Recipe from The Typical Mom.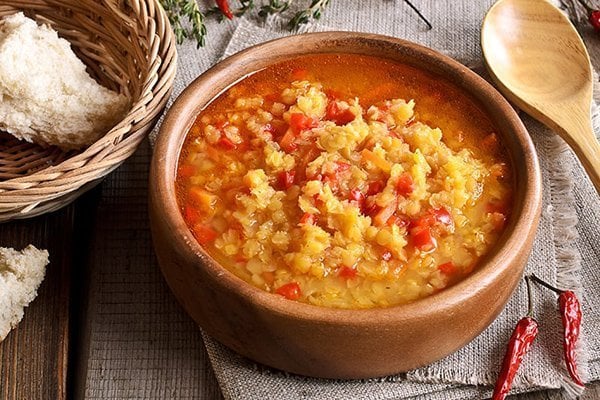 This gorgeous Instant Pot lentil soup is a delicious and healthy meal full of plant-based protein, fiber, and nutrients. It's tasty, simple to make and is vegan-friendly and gluten-free. Recipe from Instant Pot Eats.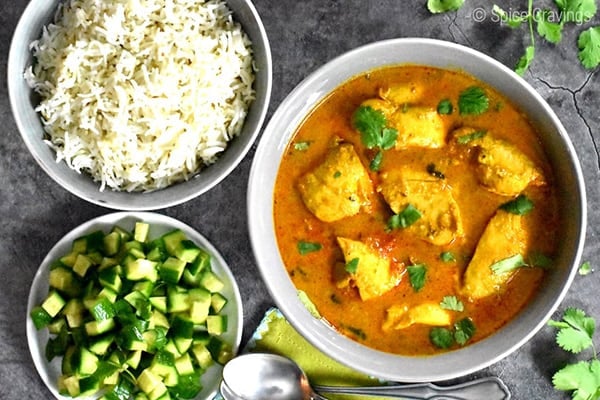 Not only can you make a hearty curry in a hurry; you can also do the rice in the same pot! This guest recipe is from Aneesha of Spice Cravings. Recipe from Instant Pot Eats.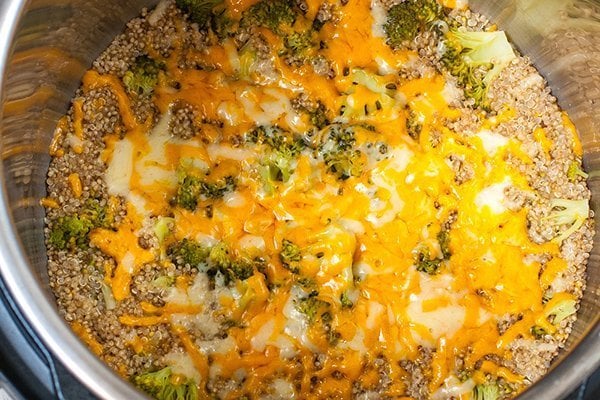 This is the kind of recipe you make when you want to eat something healthy but also something comforting. This casserole-inspired Instant Pot quinoa with broccoli and melted cheese is a one-pot, dump-it-all, vegetarian and gluten-free dinner recipe you can make in 10-15 minutes with your pressure cooker.
---
We hope you find these Instant Pot dump recipes useful and easy to make at home. Do you have your own go-to one-pot dish? Let us know in the comments below.