We've put together the most delicious, budget-friendly, family-approved Instant Pot ground turkey recipes making weeknight dinners easy, from stuffed peppers and cabbage rolls to lasagna and taco soup.
---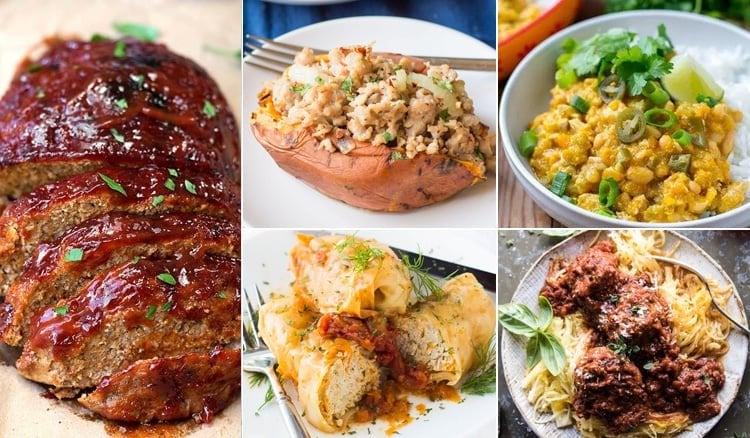 Minced meat is something many of us always have handy. We buy it on sale or in bulk, it freezes easily, it comes in the clutch when you need some protein on the table, and it can be used in so many dishes. Most of us probably have our go-to meatball or meatloaf recipes for ground beef or ground turkey, but perhaps you haven't quite figured out how to best use it in the Instant Pot yet.
Today, we're highlighting a collection of the best Instant Pot ground turkey recipes. These healthy, lean protein dishes will be useful for weeknight dinners, packing lunches for the week, and feeding your family.
---
Best Instant Pot Ground Turkey Recipes
Ground turkey is a healthier alternative to other meats and blends perfectly with different herbs, spices, and seasonings. Made the right way, you will get tender, fluffy meatballs, even though turkey is leaner than say pork or beef. Get The Recipe Here.
This recipe keeps it light and healthy with whole grain or gluten-free spaghetti, cooked to perfection under pressure. Instead of beef, this recipe incorporates lean turkey into the red sauce for a hearty and full meal. Serve this easy one-pot meal with a bit of Parmesan or bread. Recipe from Skinnytaste.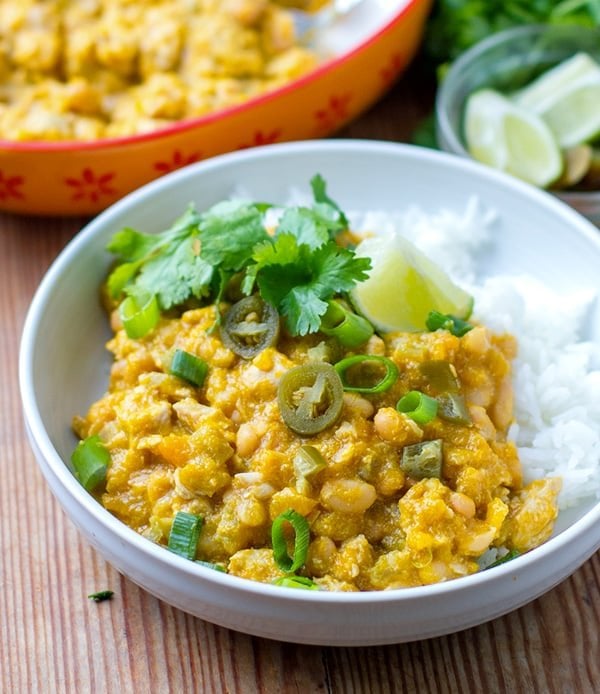 A white chili implies the use of white beans and white meat. This recipe does just that. Cooked in a pumpkin sauce and served atop white rice, it's a comforting twist on a classic recipe. Garnish with green onion, jalapeno, lime, and cilantro to deepen the flavor twist. This recipe makes a healthy complete meal to pack for lunch – perhaps just add some greens. Get The Recipe Here.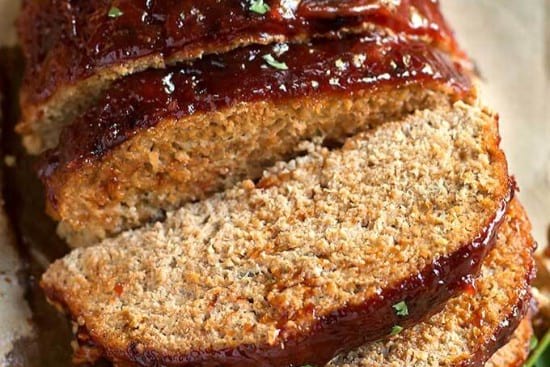 Meatloaf is great when made in the Instant Pot. The steaming process makes sure it's cooked all the way through, and you can really seal that flavor in by finishing it off in the oven while avoiding overcooking and drying out. This meatloaf is a pretty classic recipe using turkey and adapted for the pressure cooker. Sometimes, life just calls for keeping it simple. Recipe from Simply Happy Foodie.
Chili is a craving you just can't kick when it comes on. Indulge in this healthy turkey chili made in the Instant Pot with veggies, black beans, green chiles, and spices that will infuse every last bite of the dish with an unbeatable smoky and spicy flavor. Top with cooling cheese and/or sour cream for the best results. Recipe from The Kitchn.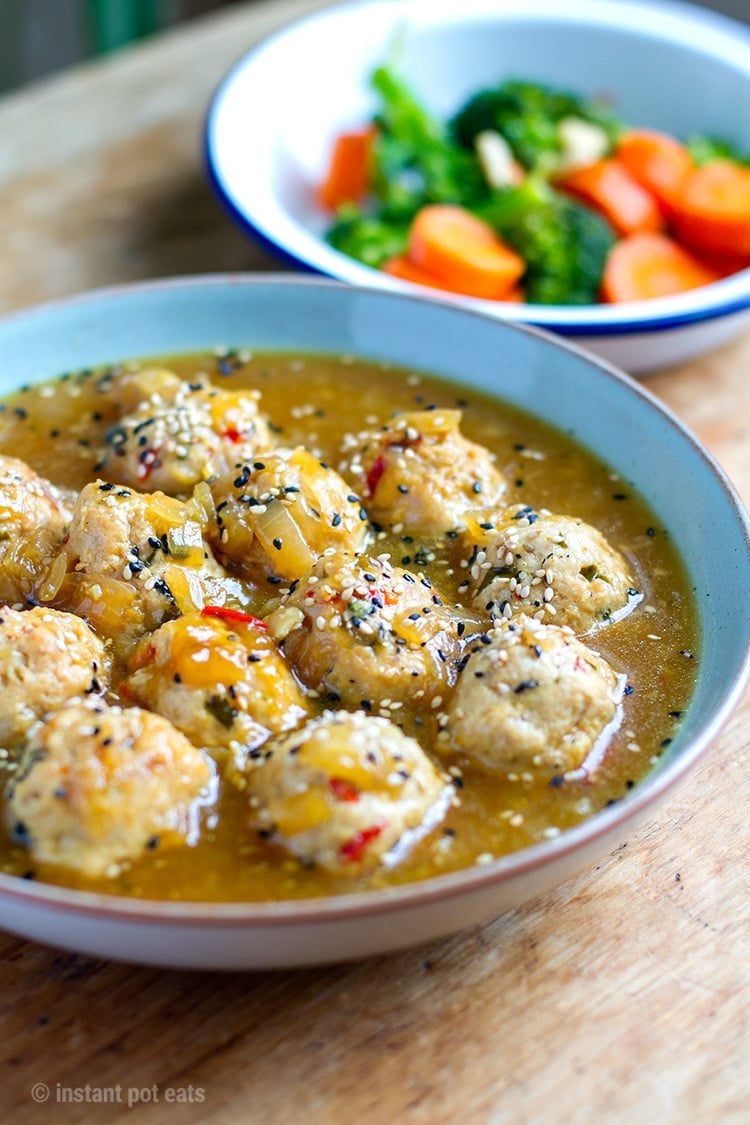 Let's kick things off with a meatball recipe. Meatballs are amazing in the Instant Pot because you can cook them from scratch in there, or cook a batch from frozen in the sauce for a meal later down the line. These lean meatballs are packed with red chili and cilantro, and chilled in a teriyaki-inspired Japanese broth. Get The Recipe Here.
This isn't your average bowl of pasta! If you're feeling like something fun and festive, this colorful meal is the one for you. The kids will also adore this one. This one-pot affair is packed with turkey, sweet onion, corn, tomatoes, and cheddar. It's everything you love about tacos mixed into a bowl of noodles… what's not to love? Recipe from A Cedar Spoon.
Instant Pot stuffed peppers are always a good dinner choice. Everyone loves cutting into one of these, and it's so easy to prep these for cooking ahead of time too. These bell peppers are filled with lean ground turkey, brown rice, seasoned bread crumbs, and cheese for a light, protein-rich, filling meal. Recipe from Cooking Light.
Can't decide between lasagna and soup? Fortunately, you just don't have to. Gluten-free noodles, meat, vitamin-rich spinach, bell peppers, zucchini, and cheese bring balance to this meal with a super healthy lineup. This comfort food recipe will help you unwind for a hearty meal without sacrificing nutrition. Recipe from Meaningful Eats.
Burrito bowls are perfect for those of you avoiding grains. This dish comes together with a protein-heavy blend of turkey mixed with taco spice, corn, beans, salsa, and rice which you can cook ALL at once. These bowls are perfect for packing throughout the week, and they'll fill you up with tons of fiber, veggies, healthy fats, and more. Recipe from Diethood.
This is one of those recipes that you will make and think how can something so simple taste so good. There are no robust or pungent flavors and the ingredients are pretty simple, but this country-style, rustic Instant Pot ground turkey stew is tasty and comforting. Get The Recipe Here.
Stuffed cabbage is a humble meal, but no doubt it takes a while to cook. It's a popular slow cooker meal, but some of us need dinner… and not in 1-8 hours! This recipe will have your meal on the table in around 20 minutes with a hearty filling of ground turkey, juicy ground chicken, and rice. Recipe from Girl & The Kitchen.
This perfectly paleo recipe takes everything you love about spaghetti and meatballs and makes it a grain-free, gluten-free reality for a lighter option when you just want a big ol' plate of pasta. Let's face it – we all do sometimes. This recipe is sure to satisfy, and everything cooks at once. Recipe from Half Baked Harvest.
Sweet potatoes are an awesome vessel for transferring tasty dishes into your mouth. This grain-free alternative to a starchy base like rice, pasta, or white potatoes is a great boost of nutrition offering up essential vitamins and minerals alongside filling fiber and protein. These make for great lunches that'll tide you over until dinner, and you can cook everything at once. Recipe from Hungry Hobby.
Make your all-time favorite Italian pasta dish at home in a single step! That means this recipe is a one-pot meal so you can spend less time savouring the cheesy, tomato-y, meaty goodness and less time thinking about the pile of dishes that need to be washed. Watch out – you're going to want seconds and thirds. Recipe from Life Made Sweeter.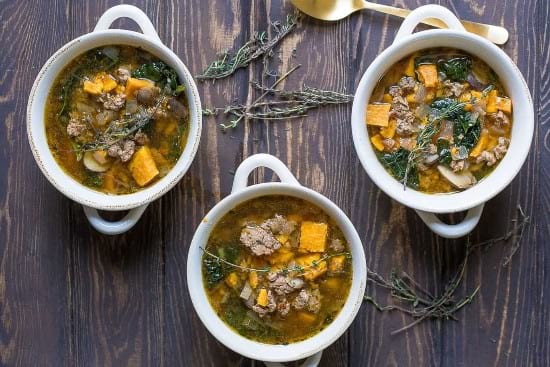 This soup is a perfect winter warmer boasting nutrient-dense kale for some leafy green action, immune-boosting sweet potato, and turkey sausage. You can up the heartiness by going 50/50 with pork and turkey, adding some more fat to the mix (and subsequently, flavor). Any which way you spin it, this soup is a hug in a bowl. Recipe from Wholesomelicious.
This turkey chili is meaty without the legumes making it paleo-friendly and low-carb. If you like a little chocolate in your sauce, mole is the right choice for you. This beautiful meal will warm you up and soothe your soul. It's a freezer-friendly meal too, so save some for a rainy day. Recipe from Real Food With Dana.
This classic is made healthier by swapping in ground turkey for beef. Add a healthy side pairing with a side salad, roasted veggies, or a small cup of fruit. Recipe from Eerhardts Eat.
Mmade with quinoa, ground meat, and veggies coated in a delicious flavored sauce inspired by Chinese takeout but healthy! It's a bowl loaded with beautiful colours, flavours, and textures. It's easy to make, simple, hearty, and perfect for meal prep or having easy access to healthy leftovers! Recipe from iFoodReal.
In this recipe with ground turkey, you will find a sauce that is spicy, sweet, sour and a little salty, perfect to serve with plain white or brown rice and vegetables, such as broccoli, spinach, and carrots. Final touches come from the sesame seeds, with their toast and nutty accents, and from the freshness of chopped chives, both adding deep Asian-inspired flavor and aroma to your meal. Recipe from Eighty Recipes.
The right mix of everything you need. Eat it for lunch or dinner – it's light and not too heavy. Recipe from Andi Anne.
Ground turkey is pressure cooked in chunky salsa to offer up a tender and saucy filling. They're so flavorful, that toppings can be kept minimal! Just a smear of sour cream or Greek yogurt and a sprinkle of shredded cheese, crisp lettuce, and tomatoes do the trick. You can kick things up with sliced jalapeño or make things extra gooey with a drizzle of queso. Recipe from Killing Thyme.
This easy instant pot turkey tortellini is packed with protein, spinach, and cheese tortellini. It's simple to make for the whole family. It is also macro-friendly. Recipe from Macro Miranda.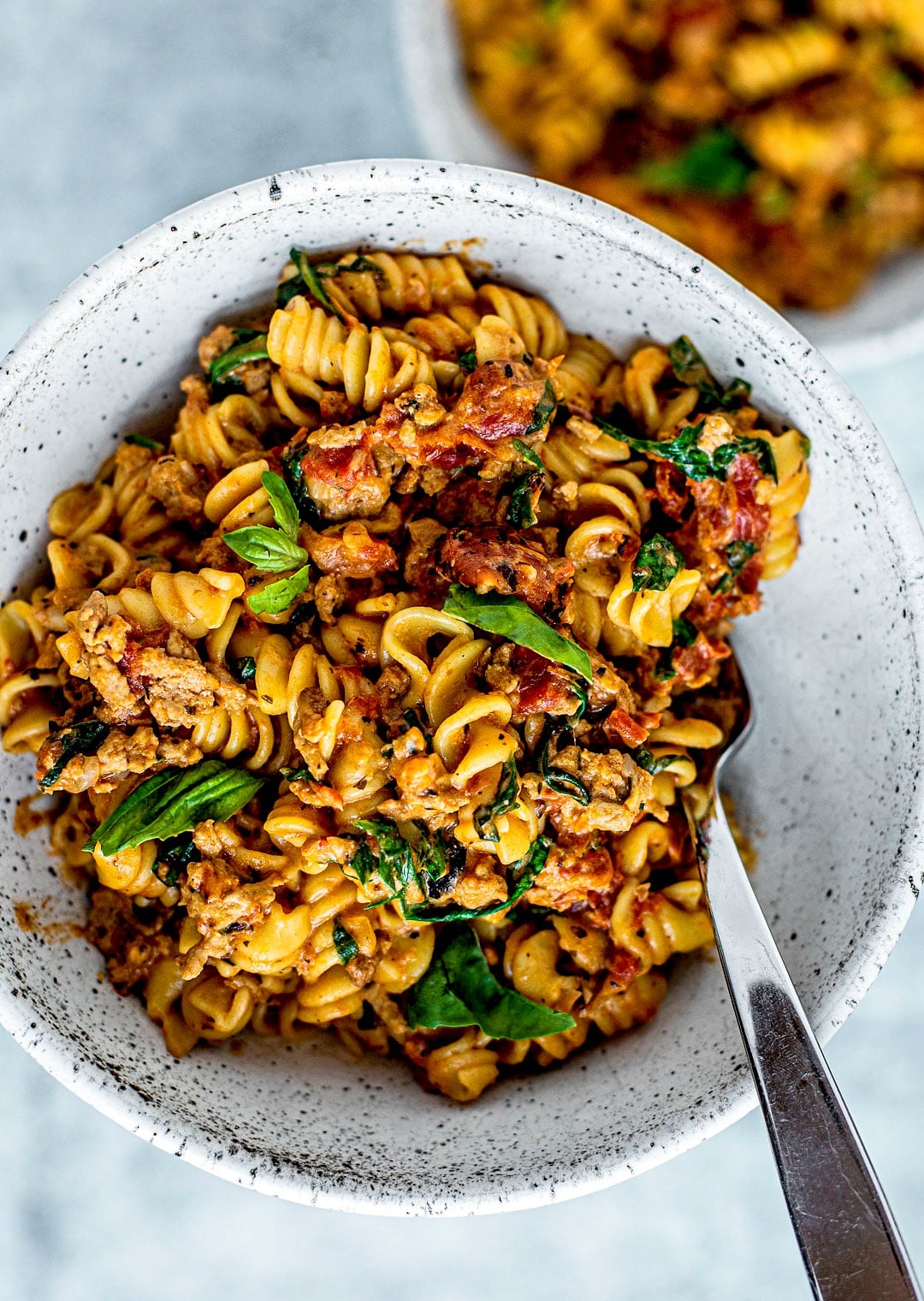 This Creamy Tomato Instant Pot Pasta is packed with flavor. We get the tanginess of tomatoes, the richness of cream cheese, and the heartiness of ground turkey all mixed together with a healthy dose of greens. Recipe from Killing Thyme.
Other ground turkey recipes can result in tough, chewy meat. But, instead of cooking all the way through, this recipes secfret is cooking the meat *partly* through, and finished by sautéeing in a delicious sweet/savory sauce. Recipe from Sweet Peas And Saffron.
Ground turkey is SO versatile. Remember, you can use ground turkey in place of ground beef in most recipes or mix and match. We hope you enjoy this collection of unique, nourishing, and family-friendly meals.